80. MANUALS AND LITERATURE; SOURCES, DESCRIPTION, CRITIQUE's, etc. Not just BMW. rev. 12/08/2016
Also ...& IMPORTANT! >>> see article 78 and 78A.

81. empty, on purpose

82A. INSURANCE: motorcycles & sidecar rigs (even cars & trucks); lots of things you probably did not think about, or know! PLUS: Negotiating with the insurance company. rev: 08/09/2016

82B. What To Do & NOT do, right away, if you have been in a motorcycle accident. Advice from a Motorcyclist's Lawyer! Rev. 01/13/2017.

83. Bob's 'sleeper' R75/5. The radical supercharged R75/5 rev. 11/20/2016

84. See 7B about control & other cables & problems.

85. Foreign travel: Using foreign computer keyboards: see article 78

86. empty on purpose
---
You got this far & STILL did not see what you wanted? You coulld scan further down (good to do to see what is available), or:

---
A FEW GERMAN WORDS YOU NEED TO KNOW: CLICK!
---
Oilhead motorcycle section:

O1. ABS brakes problems? Here is a link to an article on the R1100 and R1150, how to reset the ABS:
http://advwisdom.hogranch.com/Wisdom/ABSResetProcedurev1.0.pdf
ALSO See K14A & K14B in the K-bike section, well below.

O2. Salvage yards, for oilhead parts, etc: www.beemerboneyard.com
(973)-775-3495

O3. See article #30, above, about the ignition Hall effect sensors.
How to go about repairing the ignition sensors:
http://advwisdom.hogranch.com/Wisdom/oilhead_hall_sensors.pdf

O4. R1100RT: LCD Temperature & Fuel Gauge Calibration; Fuel Sender Testing & Cleaning, troubleshooting rev. 10/14/2016.

O5. Links to website with good tech for Oilheads, such as the ABS system; TDC locating mandrel, ignition timing box, etc. First, the main link: &nbsp http://users.rcn.com/dehager/

This next link is to an article on the same website; diagnosis & repair of the Oilhead Hall Effect ignition sending unit.
http://users.rcn.com/dehager/service/oilhead_hall_sensors.pdf
You may want to refer to my own extensive article: IGNITION

O6. Bleeding/servicing the integrated brakes system:
http://advwisdom.hogranch.com/Wisdom/service_abs3.pdf
http://advwisdom.hogranch.com/Wisdom/abs3_filling_adapter.pdf

O7. Link to German website, with LOTS of Airhead (and some R1100 oilhead, etc.) electrical schematic diagrams. Click on Shaltplan, shown in red on that page, for your model:
http://www.powerboxer.de/Schaltplaene-fuer-Boxer.html
GERMAN schematics, not necessarily for your USA or other non-German-shipped country bike. Use in conjunction with what you find on the Snowbum website. There is a LOT of information besides schematics on that German website.

O8. Death Rattle: Does your R850, R1100, or R1150 Oilhead, 1993-2004, make a loud rattle upon startup, or on the road?
http://www.mklsportster.com/Articles/mcncct.pdf
This article describes the fix, with photos. The rear-view engine cut-away photo is a REAR-view of an Oilhead motor. The left tensioner assembly is located on top of the cylinder, "facing" downward, in a position that allows oil to drain out of the tensioner sleeve during shutdown. The right side tensioner assembly faces upward from the bottom, it remains full of oil during shutdown. This is why the tensioner that is typically replaced is the left side one. You can get a complete KIT at a good price, with the CORRECT UPDATED PARTS that were the final improvement method (not the intermediate BMW attempt that used some NLA parts) from Tom Cutter at his BMW repair center: http://rubberchickenracinggarage.com/chain.html.
This converts to the final version using the tensioner sleeve & piston assembly, from the R1200S and RT (not R1200C). After installing, the noise will cease, and you can forget about the damage that could be caused by a timing chain tensioner failure. The conversion is to Hexhead parts.

If the upper left guide totally fails, the engine can be destroyed. You want to fix things well before that happens. Replacement of that upper left guide, by BMW repair manual information, means splitting the cases. For those with death rattle noises, and cam chain guide rail problems (and this information should be seen for information EVEN IF you are only replacing the tensioner), here is a lengthy video, that explains a lot ....and ....how to possibly fix the engine if you have that rail damaged, without splitting the cases. I suggest you watch the entire video.
https://www.youtube.com/watch?v=SkPrIEzaAMs

O9. DELETED, on purpose. Had been to bmwsportstouring website, but it has been hacked and probably virus laden now.

O10. Hyperlink to an article on what belts were used, which to use, how to adjust them, & at what interval replace them, etc.
http://www.bmwra.org/otl/belts/

O11. Oilhead HINTS rev. 09/25/2016

O12. Replacing an oil level sight glass rev. 11/18/2016

O13. Tool to lock flywheel and TDC locator:
http://users.rcn.com/dehager/service/oilhead_tdc_mandrel.pdf

O14. There is a new-style Teflon oil seal being used on ALL BMW motorcycles. I expect it will be used at more places for replacement purposes, as time goes on: SI-00-053-88-new-style-seals.pdf

O15. Adding running lamp function to turn signals, etc. Rev. 11/13/2016

O16. Control Cables problems. (Same as article 7B, Airheads section)

O17. empty on purpose

For information on electrics in general, see article 14A. Schematics are in article O7; and links to other sources are also on this website.

For batteries see the new battery article, #35, well above.
---
All the technical information on this site is:



Donate to help maintain this website!! DONATING Includes information on how I operate this website (and, MORE!)

This site has Google-sponsored advertisements on every page. Clicking & looking at the advertisements and then clicking on something inside the advertisement is the PRIMARY way this site is supported. Thanks!


---
CLASSIC K-bike motorcycle section:
CLASSIC K-BIKES ARE K MODELS K1, K75, K100, K1100 ...and to some extent, the K1200.

Snowbum does not work on, nor generally have knowledge about the following BMW motorcycles:
F series; K 1200; S1000R; HPx; K1300; K1600 series.

http://autos.groups.yahoo.com/group/kbmw This site can be quiet. Snowbum occasionally posts/responds here.

http://motobrick.com Forum style. Classic K bikes. Active, lots of opinions, watch for awhile to sort out who knows, who guesses, etc. Snowbum does not participate on this forum.

http://ibmwr.org The so-called BIG LIST. Has big sections on tech. Lots of K bike stuff (as well as other BMW models). Snowbum participates occasionally, on the TECH E-mailing list.

http://k11og.org/ Main page is seldom changed, that is, hardly ever anything added to it. The FORUMS are active.

http://www.rbracing-rsr.com/downloads/K1100LT_RS_Repair.pdf A copy of the entire BMW-produced K1100LT, K1100RS repair manual, dated 5/1999.

http://www.motobrick.com/index.php/topic,2252.0.htm Factory K75 and K100 service manuals.

http://largiader.com/k75/khistory.html Classic K bikes model history, K1, K75, K100, K1100. There are some things missing, & some that need embellishment, etc. There were changes in the rod lengths & pistons, the radiator got more fins, etc. But, Anton's history list is a good one. Use the main site, link just below, for access to his technical articles for Airheads & Oilheads, etc. THIS IS A REALLY GOOD WEBSITE! Anton is in the business of repairing BMW bikes, and I can recommend him for such work. http://largiader.com/

K1. Starter motor sprag clutch problems in classic K bikes rev. 08/19/2016

K2. Hints, advice, parts, LARGE variety of subjects! rev. 08/17/2016
Information on converting rear, or front, or both, turn signals, to have an added running lamp function? ....see article 34.

K3A. A version of the K100 schematic: K100 Schematic Diagram, pdf format

K3B. K100LT, schematic diagram of entire bike. This is a pdf, made directly from BMW's own information. It is for the UK ABS version. In general, covers the 1987-1989 era, probably more, however. http://bmwmotorcycletech.info/K100LT.pdf

K3C. This is the LEGEND for the above, K3B, schematic diagram. Three pages in Microsoft WORD format.
http://bmwmotorcycletech.info/LEGEND.docx

K3D. Heated Grips. This diagram/schematic is for the R100GS, but has the same basics for all the BMW motorcycles that I know of. It is a simple diagram for use on the K-bikes, just not exact colors, fuses, wiring, perhaps, as on your particular bike. http://bmwmotorcycletech.info/R100GS-heated-grips-wiring.pdf

K4. Brake squealing, any model, and very especially the K75? ...see article 53 which DOES include information for K75, & all classic K bikes, for that matter. That article also has a lot of information on bleeding the brakes!

K5. Salvage yard, for parts, etc.: www.beemerboneyard.com (973)-775-3495.
Some other salvage yards are listed in my references article (article 78-B).
You can also try: http://www.kbikeparts.com

K6. See article #30 ABOVE, about the ignition Hall effect sensors.

K7. U-joint Phasing photos, any U-joint driveshaft system, including Paralever Driveshaft models rev. 10/01/2016

K8. K bike instrument pod. Calibrating speedometer. Clock modification for 12 hour mode. Radio codes. rev. 08/18/2016

K9. K bike fork oil requirements rev. 08/14/2016. Front forks oil changing: See article in Section 54-10B.

K10. Fitting handguards brushguards to a K1100LT (and earlier models) rev. 08/14/2016

K11. EMPTY, ON PURPOSE

K11A. Troubleshooting the LE-Jetronic classic K bikes (2 valve K75, 2 valve K100). HUGE amount of technical information, and even a step-by-step article, but you MIGHT (?) have to delve deeply into searching the site to find things, especially if authored by VOGEL. The website may, by the time YOU read this, allow you to at least browse without registering (?). There is probably a link at the bottom of the article so you can register. The articles are VERY MUCH WORTH ANY EFFORT AT FINDING AND LOOKING AT THEM....and, may be very easy to find by now.

http://hrsbstaff.ednet.ns.ca/bvogel/K100/download/bike-wont-start1.htm

http://hrsbstaff.ednet.ns.ca/bvogel/K100/download/efi-web page/K100 troubleshooting Starting.pdf

Having access problems, or? You can try registering at: http://k100rt.aforumfree.com/

If you have trouble finding the troubleshooting article, look for Vogel's article entitled: "EFI/Electronic ignition K100 2V troubleshooting".

Here is a link for troubleshooting, that seems to be an abbreviated version of one of the above forum's articles, link above, but some charts & information WERE MISSING, strangely, in the following version. I'd not use this one, unless you have problems with the above several links. The charts, etc., might now be here....I have not bothered to compare the links again. http://tomwade.me/motorcycles/technical/k100troubleshooting.pdf

K11B. Troubleshooting the K1100, or, any early K with the Motronic system...an article by Frank Warner, detailing what he did regarding his high fuel consumption. The link worked in Dec. 2016. The article was dated in 2002. It is a cached-mirrored copy ...allow it to load, it may take part of a minute to do so:
http://www.oocities.org/fwarner_au/mc_things/K_fuel_injection.html

K12. EMPTY, ON PURPOSE

K13. Changing Coolant on a Classic K bike, how-to article. Discussion about various coolants. Heat on your legs. Heat insulation under the tank, etc. rev. 08/14/2016
ALSO contains notes on why the coolant job could be effected by updating of early K bikes from a 400 watt alternator to a 700 watt alternator, ETC.

K14A. http://bmwk10075abs1fix.web.fc2.com/ Repairs to fuel injection computer brains & ABS computer brains. Lots of good testing advice here too!

http://bmwk10075abs1fix.web.fc2.com/index.html Will get you to the main page, lots of technical information there!

Look at both of the above links, then Contact Tosi at: K100ABS@gmail.com Highly recommended by several people.

http://www.carmo.nl/index.php?language=en A place in the Netherlands that does all sorts of modules/computer brains, etc.

http://www.bba-reman.com BBA Re-manufacturing; 300 Myles Standish Blvd.; Tauntonk, MA 02780. (866) 573-2740; (508)-822-4490 I have had at least TWO different sender reports that do NOT recommend these folks, and NONE that DO recommend.

K14B. If you are having ABS codes problems, before you jump to conclusions, remove both ABS relays, clean internal contacts and clean the relay connection spades too, and add contact cleaner to them. This is also good advice for the ABS main computer plug connections. Here are a couple of articles to look at:
http://www.largiader.com/abs/absfault.html

http://ibmwr.org/ktech.shtml Scan down for the ABS articles

K15. Ignition. Considerable amount of information on the module & Hall devices; and, how to set ignition timing:
http://bmwmotorcycletech.info/Ignition.htm

NOTE: There is an article on this website that, in depth, explains how to check/adjust ignition timing when the ignition timing is specified in piston distance movement: http://bmwmotorcycletech.info/formulas.htm

See Airhead section article 30 regarding the ignition circuitry, lots of useful information on the Hall element, etc. The following article, while for a R1100RT oilhead, is useful for K bike owners; it is illustrated & is about replacing the Hall sensors for a R1100RT repair, & is SIMILAR for a K bike: www.ebbo.org/2av54.php

NOTE: If your Classic K-bike is having irregular ignition problems, and you can't find anything wrong with the ignition, remove the valve cover, and check to be sure that the cover is grounded to the engine by means of a coil spring that is mounted to a cam bearing mount.

K16. Adjusting the steering head bearings on a K75, K100, K1100:
http://www.largiader.com/bearings

K17. Brake light switch problems ....see article well above, 37B.

If you have a 1985 K bike, and a stiff throttle, also read that article 37B ...yes, a brakes switch article! Information is well down the article.

K18. Hyperlink to a forum-type website. http://bmwsporttouring.com

K19. Locks, gas caps, KEYS, etc. See articles #1B & #75A, WAY above, that covers all of these things in depth.

K20. EMPTY, ON PURPOSE

K21. Doing a rear main seal job is involved. Here is a video of the procedure to R/R the main seal on a Classic K bike. Useful for anyone wanting to know what/how in taking apart the bike ....even if not doing a rear main seal job.
http://www.youtube.com/watch?v=Kx3mVne8Q-Y
In GERMAN for sound. The mechanical support for the bike is flimsy in my opinion. They found one of the headers broken ....in case you wonder about the exhaust pipe being 'shown'.

K22. Information for Classic K bikes, NOT just the K100. Many Service Bulletins here too: http://k100rt.aforumfree.com/

K23. A lot of K bike information. Has wiring diagrams and a lot of other information. In German, but very useful! Covers all the Classic K bikes (K1, K75, K100, K1100, K1200). Lots more than that. Wiring diagrams are under Shaltplän. Use Google translator. http://www.flyingbrick.de/

K24. How to replace an oil level sight glass rev. 11/18/2016

K25A. Service Information Bulletin SI-2630R. Failure to use all fuel in the fuel tank, whining noise from the fuel pump. This is a link to a PDF file on this website. The sketches are not very clear, so look at them with a critical eye!


If you can furnish a really nice clear copy of that bulletin, let me know.

K25B. Replacing a fuel pump: K1, K75, K100, K1100 rev. 08/14/2016

K26. Engine oil, & lubrication in GREAT DEPTH: see article 51-C

K27. Worn rear drive splines? Bad U-joint? Upgrade? http://www.brunos.us/Bevel drives.htm
I suggest you look at all of the videos!
Two videos on K75 and K100 rear drive spline servicing, Bruno's driveshaft and rear spline rebuilding, etc.
https://www.youtube.com/watch?v=bI5mkHe-p0I

https://www.youtube.com/watch?v=EKfD76cF8bk

Doing a K75 rear drive input spline and driveshaft and swing arm lubrication? This is a link to a how-to-video, in German, but you will understand it. Note that normally one does not pull the swing arm, in this video I suspect it was done to replace the boot, and check the swing arm bearings. http://www.youtube.com/watch?v=Cs_RNtrN35A&feature=youtu.be

K28. New style seal used on R100 GS transmission output and airheads crankshaft ...and K bikes at the alternator drive:
http://bmwmotorcycletech.info/SI-00-053-88-new-style-seals.pdf

K29. Link to a 6 part video series on how to disassemble and reassemble a Classic K-bike, to do an input spline service. Includes a lot of service and commentary on things the servicer found on this bike along the way. Lots of good hints. Very complete, including the swearing.
http://www.youtube.com/watch?v=HZJdZ1HszkA

K30. Control cables problems (same as Airheads 7B) rev. 12/07/2016

K31. Re-keying locks, especially fuel tank lock. Problems with the fuel cap; and other details. Also: see my article 1B and 75A, well above, in the Airhead section of the Snowbum site, which have EXTENSIVE information.
http://www.motobrick.com/index.php?topic=494.0

K32. FUEL CAP on K bikes (and other bikes too). This is a video. It covers R/R cap internals. No information on keying locks. NOTE: The "kit" in the video, 16-11-9-062-461R was sourced from Bob's BMW. The "R" means Bob's is selling a repair kit. Be sure to get gasket 16-11-1-453-690. Also see my article 75A.
http://www.youtube.com/watch?v=Mwpt9IumBCc&list=FLzHD1dG8l54zGZ1y-nboxGw

K33. Adding running lamp function to turn signals, etc.

K34. This is a link to a sketch of the clutch disc alignment tool. It was posted 26 January, 2007, in Kbmw Yahoo Groups, and I have cleaned it up and posted it here for you.


---
Many of my Airhead articles are informative for K bike and Oilhead owners; and some, such as the brakes article, are informative for all motorcycles. Other examples are my articles 78 and 78A. Many other examples of useful articles are in the Airheads sections. Scattered in this long list of Technical Articles you are reading are stated references to Airheads articles that also apply to Classic K bikes, and/or Oilheads ....but I have probably missed a few. I suggest you look at the entire list of articles, and see what might apply to your Classic K bike. For information on electrics in general, see article 14A. For batteries see the new battery article, number 35. Both of these are in the Airheads section, quite far above.


---
I have a page that has some motorcycle and personal items for sale (or TRADE! ...some items even FREE!): SALE

---
Sidecar specific section:
When I ride my motorcycle, it makes me happy. When I drive my sidecar rig, it makes everyone who sees me happy ........and many want to chat with me. I suggest you allow extra time for your errands, drives, tours, etc.

This section begins with our present sidecar rig. The technical items follow.

http://bmwmotorcycletech.info/K1100LT-EML%20GT2.htm This is our present sidecar rig.


Previously Al Olme's sidecar rig. Shipped to me from Minnesota by HaulBikes (also known as Daily Direct); whose service is highly recommended by me & many others, including dealerships. I removed the Police-type saddle & Authorities radio trunk prior to Penny & my 2008 trip across the USA, installing the stock seat & large standard trunk. The Police/Authorities items have been sold. I have City-cases, as well as Tour-bags & use whichever is appropriate, even in combination sometimes. Specifications below are in brief, as I have done a LOT of modifications.

Tug wheels: 4.5 x 14" EZS.
Tug tire, REAR: 175/70-R14 rear (Likely will return to P165/70R14 at next tire change)
Tug Tire, FRONT: 165/70-R14 front (to POSSIBLY be 175 in future, or, remain same)
***I am experimenting with tire sizes on the tug***

Sidecar wheel: #300, 15" EML with 135R15 tire (to POSSIBLY 135/80-R15 in the future)

Tire pressures: Still experimenting with pressures on all 3 tires, even after all these years.

Front fork: EZS Leading Link, with special fender to accommodate the tire size.
Front shocks: Koni 7610-1282 shocks (modified by me).
Brembo twin spot calipers on front wheel of tug, dual front floating discs and floating calipers, with torque arms.
ABS system removed.
Single disc rear brake uses Brembo two-piston 38 mm P108 caliper.
Rear master cylinder 16 mm Magura.
Brembo F05 sidecar disc brake plumbed to the tug's rear braking system.
Front wheel offset to right by 1-3/8". Sidecar wheel lead 13-1/4". Toe-in 3/8".
The need for a steering dampener, hydraulic, my modifications, is quite minimal.
R1100S modified hand-guards.
Hotel-quality rugs in chair and chair trunk.
Multiple types of electrical outlets in chair.
Way over-designed/over-built TOP, designed/made HERE ...sheesh what a job!
See #9 below.

Some specifications, including empty and loaded weights & dimensions; plus a lot of factory brochures, and a LARGE amount of SERVICE information for the EML sidecar, will be found on this website, HERE:
http://bmwmotorcycletech.info/EMLsidecar8.htm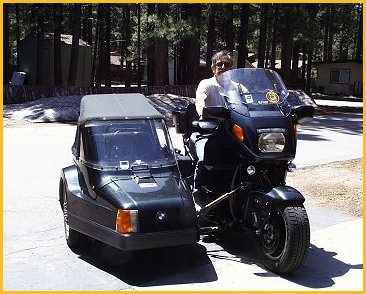 The SKUNK flag stands for Sidecars Up Nort Klub. Up Nort stands for anyplace Up North of someplace.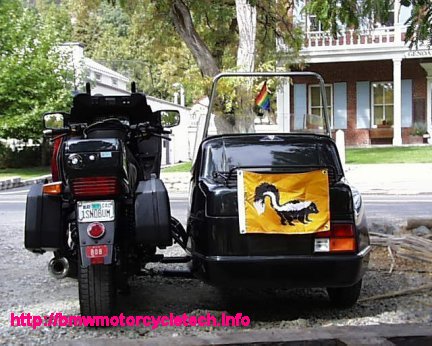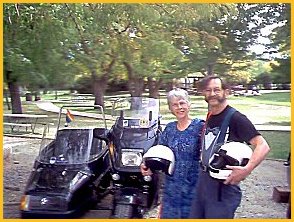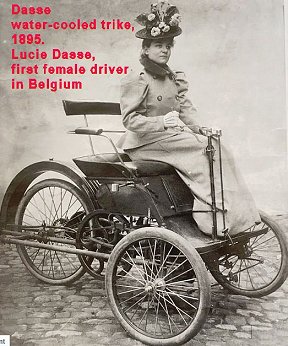 ---
Snowbum is active (and a moderator) on these sidecar LISTS:
https://groups.yahoo.com/neo/groups/SCT/info (any and all sidecars)
http://groups.yahoo.com/neo/groups/EML_SCL/info (EML sidecars)

---


SC1A. The good, the bad, literature and information, an overview of sidecars and sidecaring basics rev: 11/13/2016

SC1B. List of Sidecar groups on the Internet rev: 11/14/2016

SC1C. Hyperlink for the Evergreen Council group training schedule for Basic & Advanced training:
http://www.esc.org/step_national_schedule.php

SC1D. Hyperlink to a website that has a lot of photos, videos, links, etc., about sidecar traveling, much is out of the USA, some videos, etc., are in English, but the whole site is fun to look through. You could use Google translator:
http://www.sidecar-traveller.com/

SC1E. German website, lots of interesting things....if you do not read German, put the URL into Google Translations.
http://motorrad-gespanne.de/


***NOTE! If you use the Google CHROME browser, it has settings that can give you automatic translating for any website you visit.

SC1F. Source for Vintage sidecar items, numerous manufacturer's items here
http://floridasidecarproducts.com/

SC1G. Source for fuel tanks, valves, caps, gauge, etc:
http://www.tourtanks.com/

SC2. Sidecar Tech. Where to get information. Manuals, mechanicals, photos, licensing, modifications, subframes, mounts, brakes, alignment details/photos. R100RT-Ural rig mounts, etc. rev. 11/18/2016 Be sure to see SC3

http://www.sidecar.com Has a LOT of sidecar technical information that is FREE. Be sure to download, or at least read, the three articles/books on that site furnished to the USCA by the late Dr. Hal Kendall: How to drive a sidecar rig, and alignment, setup, LOTS OF THINGS. At the top area, click on Links and Books, .....then click on Books and Manuals. VERY HIGHLY RECOMMENDED!!! The translated German book is not only recommended, but is NECESSARY to properly & best use SC2 & SC3.

SC3. MAJOR sidecar resources list. rev: 12/09/2016 The article additionally has resources for handicapped persons; speedometer re-calibrator box, tires, USCA, ...a long list of resources is included. ALSO see SC2

http://www.haulnride.com A lot of sidecar information. Few seem to know of this website. It was originally set up for disabled drivers, and still has a huge amount of information for them, but has expanded.

SC4. There is a BRAKES section on this website. It has additional information on the installation of brakes of various types for sidecars. This is in addition to information in various SCx articles here. BRAKES

SC5. Sidecar and sidecarist humor ...and a wee bit of seriousness rev: 11/14/2016

SC6. Flying the chair; steering reversion; countersteering rev: 11/13/2016

SC7. Miscl. Sidecar Tech, including FUEL TANKS, brakes, TIRES, etc. rev: 09/04/2016

SC8. EML sidecars. MAJOR ARTICLE. Old sales brochure, plus LOTS of technical information on weight, dimensions, suspension & brakes overhaul; lamps, GT2; & other EML models, tires, etc. SOME EZS information too. Information on parts availability. Allow time to load! rev. 01/07/2017

SC9. EML sidecar tops; photos; description of various types of tops; & my own custom top rev. 06/11/2016
Also see SC8, just above

SC10. LEANER rigs. FLEXIT leaner sidecar; history, photos, etc. Other leaners; ....hyperlinks, etc. rev. 12/09/2016

SC11. EZS_steering_damper; including overhaul. Rev. 06/16/2016
See both articles 54-8A and SC2 for steering dampeners and shock absorber units that cover sidecar usages in depth!

SC12. My first "street" sidecar, a R100RT-Ural sidecar rig, was sold April 2006. Information & photos on that rig, including the subframes & a lot of other technical items. rev. 10/20/2016

SC13. empty on purpose

SC14. If you are adding lamps, or changing lamps on a K-bike, etc. K-hints

MORE on Adding running lamp function to turn signals, etc.
addingrunninglamps.htm

SC15. Lousy fuel mileage: see article 81

SC16. My present sidecar rig, see at the beginning of this sidecar section. Also see:
Our present Sidecar rig: K1100LT-EML GT2

SC17. My K1100LT has handguards.



NOTE: see article 82, well above; about insurance!


---
The technical information on this site is



If you want to donate to help defray costs, click here: DONATING


That page also has history and information on how (and why) I run this website, without my being obligated to anyone!


---
Motorcycle & personal items WANTED/SELL or TRADE/BARTER: SALE


There is also some FREEEEE stuff there!

You got this far, and STILL did not see what you wanted?
There is a very good SEARCH function (unless your browser has Java or other restrictions):
CLICK!

Return to the HomePage




Webmaster: Snowbum himself!
No one else is responsible for this verbose and messy website!

E-Mail: click
You'd BETTER have a REALLY GOOD reason to contact me!
(You SHOULD FIRST contact the appropriate LIST or forum for technical questions)

Specific revisions for this article are not listed here.
Last check/edit: Thursday, January 19, 2017