---
Snowbum's BMW Motorcycle Repair & Information Website








The ads above are Google-sponsored.
Clicking on them at every visit helps support this website!
Clicking on something inside an advertisement helps even more!


Photo Gallery #3

© Copyright 2021, R. Fleischer
https://bmwmotorcycletech.info/photogallery3.htm




This is

an Alfa Romeo Giulietta Sprint Specialé. This is a rare car and looks like a baby Ferrari, front and rear. It has a Cd of only 0.28. Engine is Alfa's 1.3L DOHC 4. Later, mid-sixties, the engine became the 1.6L DOHC. My car, with some aluminum body parts, was designed for racing & weighed less than 2000 pounds. I never raced mine. I liked it even more than my 2000 Miata, in some ways.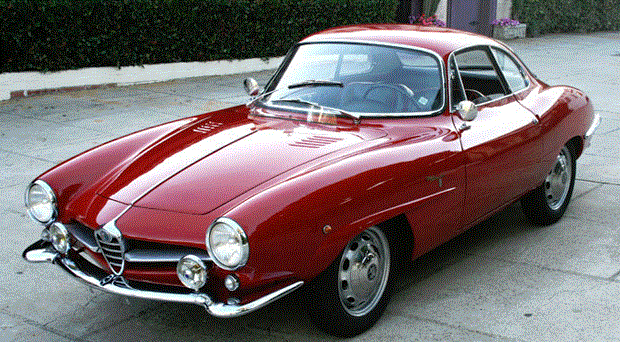 ---
Most know of him as Steve, but to us Southern California dirt bikers he was Terry (his real name was Terence). When raising Hell, or racing, he often signed in using a made-up name, mostly so he could have some fun ....and avoid the media. He was, rather too often, a rather wild sort, lived dangerously, used drugs sometimes, drank too much sometimes, & had a reputation in other areas. He may be a movies legend, but other than him being a very good dirt bike rider, and a good friend to some, there really is not a lot to admire. His dirt bike skills were good enough to be competitive (he was someone whose dirt skills I copied...some) and he probably could have, with time and practice, been in the top dozen or so. Besides bikes, and sports car racing, he had another life, Hollywood, that occupied him, and he was pressured considerably by the Studio Moguls....for whom he'd raise a middle finger now and then. Yeah, I know I shouldn't throw any ice water on 'A Legend'. Hollywood did go to his head some, but at the same time he disliked & scorned a LOT of what Hollywood was. Overall, he was a fun-loving motorcyclist who happened to be an Actor.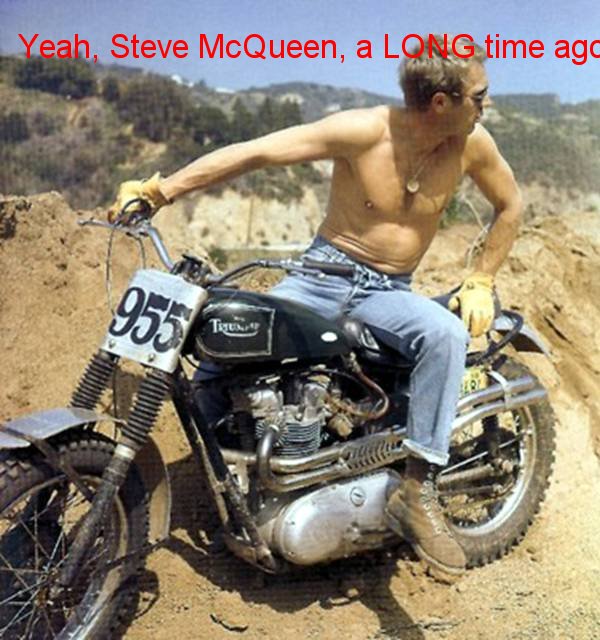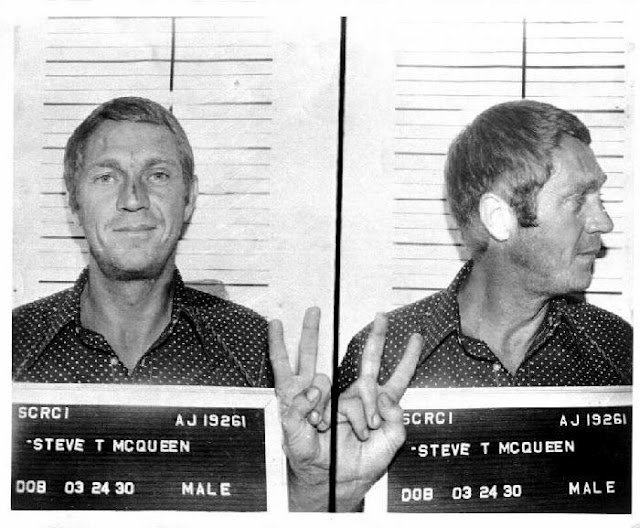 The police booking photo is a rather well-known, if not famous, photo of Terry (Steve). What is not well-known is anything truthful about it. Steve was arrested in Anchorage, Alaska, in 1972, for DUI. Stories abound about that incident. The somewhat more accurate stories say that Steve was doing spin-outs in a friend's 72 Oldsmobile Toronado (a very large front wheel drive American car) on a city street. Actually, it was in a JC Penney's parking lot. There is more to this 'event', .....it will remain in my memories. After the arrest, Steve left town quickly, & was convicted in absentia. It is true that when he was asked by the police at the time of his arrest to walk a straight line, he did summersaults!
Steve was a wild guy at times. He really wasn't someone one should look-up-to. There is a good bio here: http://en.wikipedia.org/wiki/Steve_McQueen. In rather a lot of ways, Steve was "just one of the guys".....and often tried to really have a good time, like any of us....which wasn't easy for someone who could be easily recognized (if not all dirty, muddy, etc...).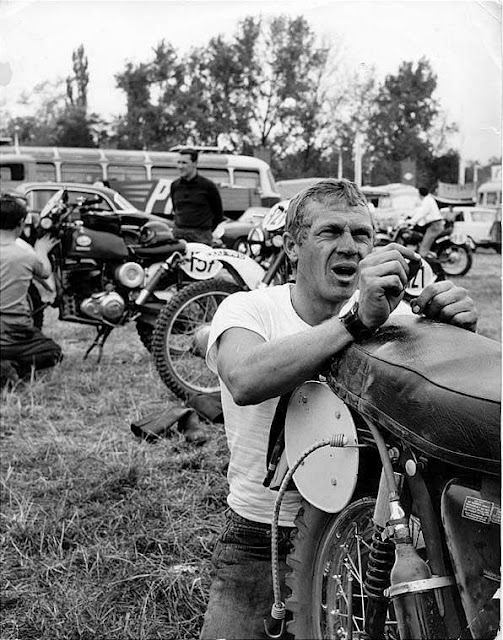 I think the below photo was taken outside of Munich, in late 1962. In the hack is the actor James Coburn. On the rear of the bike is James Garner. Shirtless rider is Steve, & to the right is the Director of the movie The Great Escape, Jon Sturges. They were all on-location for this movie. At this time Snowbum was well out of Boot Camp and on assignment ...AH ...memories!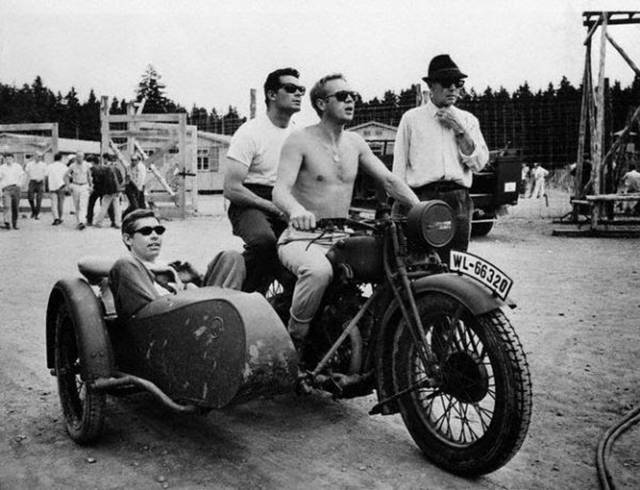 I don't know if Steve's carrying of the shorty carbine (on the day this below photo was taken) was due to his being concerned about being murdered. There were some threats from Manson, the murderer, regarding a studio and Steve's turndown of Manson's story. Probably more here: http://en.wikipedia.org/wiki/Steve_McQueen. This was the Jaguar XK race car. Tom Garitt (a friend of mine & fellow weight lifter, back in the ancient Venice Muscle Beach days) openly asked Terry why he never bothered to work out & get much more muscular and defined ...and that "...it might help his movie career...". Steve was reasonably lean, but nothing close to body-builder muscularity. His exercise was mostly riding dirt bikes (which he did very well). Steve's answer to Tom was succinct, and very profane. Steve died in November of 1980, from the complications of surgery for lung cancer, at a 'clinic' in Mexico.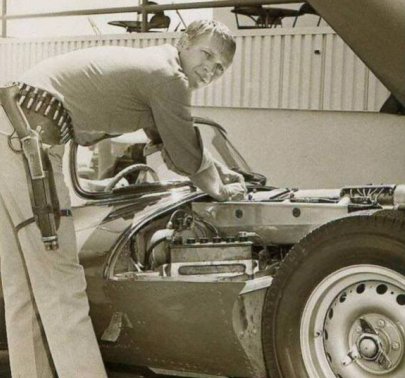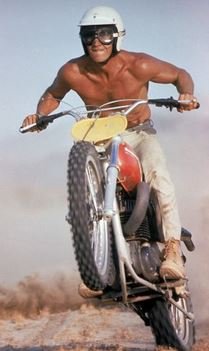 ---
No comment needed!: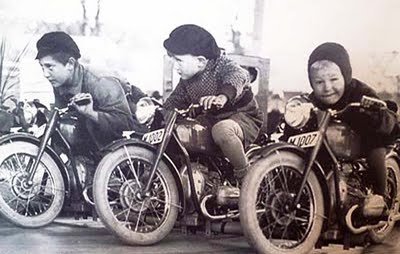 A rather rare to see nowadays, Peel fairing. Look up the Avonaire and Peel fairings on Google!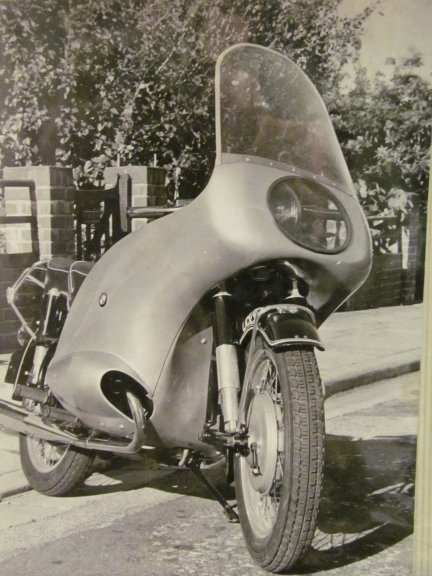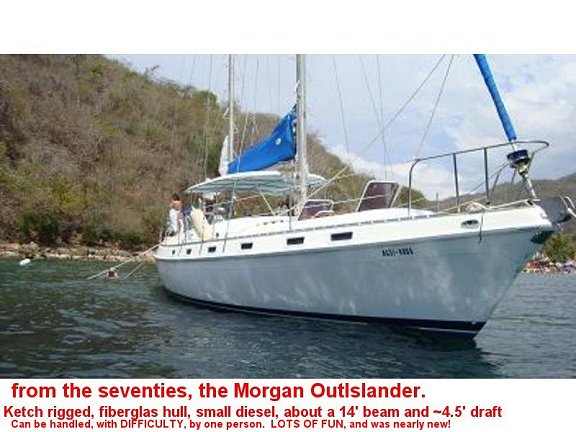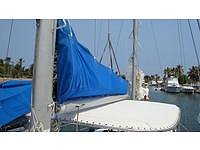 A couple I first met in the islands had a nearly new Morgan Out-Islander. I knew only barely enough about sailing as I needed to know to get into deep trouble (pun intended). I was never really much interested in sailing; but, there is always the first time thrill. I took "The Boat" out myself (with their prompting and permission ...& probably prayers), and returned it safely. It was quite a handful. It had been set up for one person to run it, but really was a lot of work when trying to get under way & coming back and maneuvering to its slip. I was way overly-proud of myself; but, maybe just lucky! Later, after hiring a very experienced sailor to instruct me in how to really and properly handle it in a variety of situations, I rented the Out Islander, fully provisioned, & had a couple of friends with me, & spent a truly wonderful time sailing the BVI. I have quite a scrap book of photos from that trip. I spent quite a bit of time at "Abe's" on Little Jost Van Dyke ...drinking ...dancing....
I anchored at an infamous port at one of islands, & stayed aboard after the evenings festivities ashore (& some on-board). After my new local friend left the next morning, I had coffeeeee & being curious, I snooped around the boat, into every drawer, etc. I found a quite modern sextant, which I attempted to use, for fun. Some old training came back to me.

I never did anything even near to this sort of sailing again, have no desire to do it again (my prior luck might not hold out!).

It is, for me, like many things I have done ...doing things just once, such as bungee-jumping; BTDT (Been There, Done That). It was years later that I finally thought about why I never again got into this sort of "Sailing". I like the solitude of my backpacking trips into the mountains where I lived most of the time; there is much to see, to identify with, to feel, to smell, etc. Out on the ocean, nothing happens for very long periods of time, just incessant ocean with nothing to see much of the time but more ocean. It was too much unending isolation for long periods of time. There wasn't enough 'happening'; or, often enough. For me, nearly every aspect of the sport of motorcycling was on or near the top of my pleasure pyramid, with snow skiing and sex just below that. Well, maybe I'd reconsider the order of those things! Quiet backpacking fit me. My backpacking the Pacific Crest Trail, ever-so-long-ago, in 1977-78-79, when things were such that one hardly ever saw another backpacker....I liked that. At times, small airplane flying (and aerobatics) was #1 on my pyramid. Someplace, also, I could fit in gourmet food and sex. Heck, maybe I need more than one pyramid!

Sailing, as in 'commanding one's own' ... is NOT like cruising in a huge long sailboat (or, motor-sailer). In the late seventies I went on several trips to the Caribbean, mostly to the now familiar British Virgin Islands (BVI), but also spent some time in the American Virgin Islands. Here's how I got to Tortola from Puerto Rico ...yeah, the airplane is just what you think it is.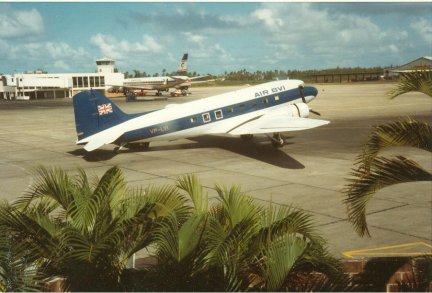 On St. Thomas, I stayed for some time at the St. Thomas Diving Club (previously called the Villa Olga), which was run like a motel when I was there. At one time ...long before I visited, ...this was the Russian Embassy. That is our room, and my wife took the photo, guess who the pilot was, coming in for a sea landing! The other photo is a broader view. Yes, that is a natural sea-water swimming area, a natural reef. There were spiny urchins one had to try to avoid stepping on. For a close-up of the airplane, see at the end of this article. My wife 'found' a large tarantula in our room at the Villa Olga; ...dutifully put it into a jar; then, instead of killing it, like I likely would have done, set it outside. I don't like spiders much, after nearly dying from a spider bite once.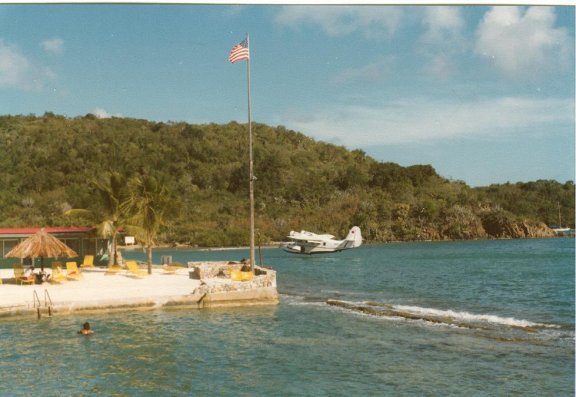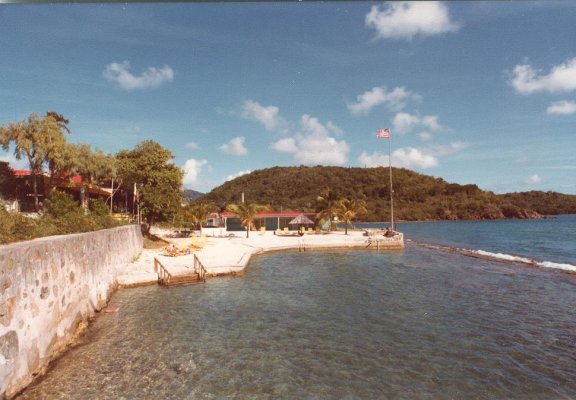 On two of these late 1970's trips I was with my wife, both of us passengers on a commercial Windjammer Barefoot Cruise, both times on the same ship, a French Cadet Training ship of about 215' in length called the Flying Cloud. You could dive off a tall mast; visit a new small island nearly daily; have lobster feeds on the beach with small groups of like-minded active people. We 'people' swam, drank, had great food, but did not have 40 foot tables loaded with exquisite French cuisine. It was all much more fun than 5000 person Cruise Ships (OK, truthfully, I have never been on such a 5000 person ship). Of course, none of those huge cruise ships can even get into the ports of many of the small islands. Having 'dinner' ashore at a one-person fish shack, on a remote tiny island, with your Captain, in our case, Laurie MacLeod, and a few passengers, is a lot of fun. Larger islands like Virgin Gorda, etc., were also fun ...they have little population, & are interesting places. Here's two photos of the Flying Cloud ...and the second photo has, guess-who, ready to JUMP/DIVE! It is a LONG climb on the rope ladder to our perch! Yes, I also have a photo of me, and also of my adventurous wife, in the air, on the way dooooowwwwwnnnnn! ...trying to make perfect dives ...well, acceptable dives. Just why we crazies never broke our necks...? Well, if the Captain could do it ...yeah, I have a picture of Laurie doing it earlier ....he simply jumped, feet downwards, holding his nose.....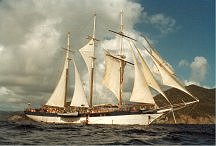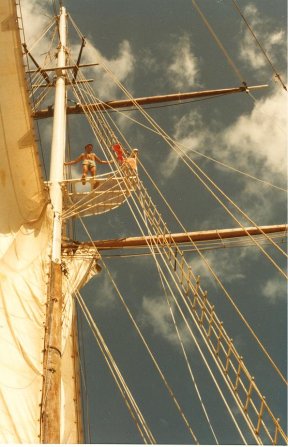 I well remember Treasure Island, the same island as in Robert L. Stevenson's book. Real name of that island is Norman Island; and, yes, I swam from the ship to ...and into ...the treasure cave, see second photo. Note the rope around the rock ... the rope was used as a hand-hold for those who could not safely swim (some passengers did not even know how to swim!) the distance, which was considerably further than the photos seems to indicate. The first photo is of me & my wife, Jean. I had a full beard then.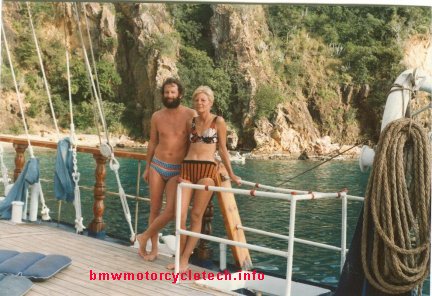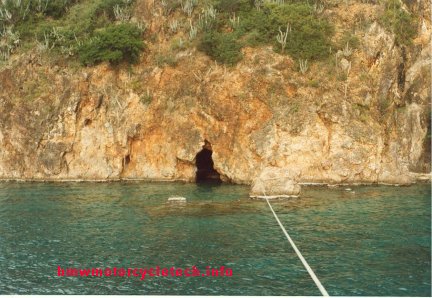 Most all of our sailing was to quite small ports (or, often just anchoring well-off some beach) where large cruise ships just can't get into. It is likely much more fun than some impersonal "small city" hotel ship of 3000-5000+ passengers (I think!). No on-deck swimming pools for us, no suit & tie for dinner. A lot of "adventures".
On my very first trip to this area, while in Charlotte Amalie, I saw some WWII-era twin-engine airplanes carrying a few passengers. I had a twin-engine seaplane rating, which is rare among pilots. On a whim (more-or-less), I applied for a 'part-time job', mostly ferrying passengers back & forth between Charlotte Amalie & St. Johns Island. I was hired after a flying checkout, credentials check, etc. This 'work' paid for a goodly part of my two-weeks-long vacations. The flying was quite irregular, and so there was plenty of time for fun, such as diving along the reefs, including an underwater museum trail, etc.
In my various trips to all the various islands I met a number of interesting folks, caroused, lived-it-up; generally had a great time. Below is a photo of one of the several seaplanes the company owned. These are called amphibians. Note the name of the company I worked for: Antilles Air Boats. If you do not know what the Antilles are, look it up. The company had two types of these old birds. These airplanes were surprisingly easy to fly. Not quite as noisy as you might think with those big old engines. Look up: Grumman G76 Mallard ...and ...Grumman G21 Goose. Even today, there are plenty of these old flying boats in service, and there is a place in Carson City (Nevada) that works on them, which is only 5 miles from where I live now.... hmmm....yeah, go ahead, guess...!
NOTE this:
""On September 2, 1978, Charles F. Blair, Jr., former Naval Air Transport Service, USAF General, & Pan American Airways pilot, husband of actress Maureen O'Hara, was flying a Grumman Goose that belonged to his company, Antilles Air Boats, from St. Croix to St. Thomas in the US Virgin Islands, when it crashed into the ocean due to engine failure. He and three passengers were killed, seven passengers were severely injured.""
I dug into what I could find out about the aircraft (it was likely one I had flown...why no confirmation...I never put but three of my flights into my Pilots records booklet) and the accident. The accident was investigated thoroughly, and there were a number of serious discrepancies found. Although the government never cited the weight of 11 total people, that was, IMO, likely a major factor, as the airplane could easily fly on one engine with a normal passenger load, but only problematically with such a large weight, although he might have then tried to fly just above the ocean, by half a wingspan, the so-called air cushion of that type of flying might have supported the aircraft. Likely, the sudden failure, resulting in very increased air drag from the cowling damage, and, well...we just do not know, and never will, all contributed. AFAIK, no Goose was ever rated for more than FIVE passengers. The 11 person weight (again, my speculation), was the most probable cause of the accident, but we don't really know. Apparently, those in maintenance, and officials of the company were knowledgeable and looked the other way regarding certain required maintenance items. The mechanic was not certified to sign off on his own work; and the airplane was slightly over-due for scheduled maintenance. The left engine failed on the flight. It had been in storage for many years, and was not airworthy. These big old radial engines were never as reliable as the much later boxer engines (or, turbines, even later). The #5 cylinder failed, and tore the cowling, apparently bending it such that it became a HUGE drag. The right engine had an improperly maintained propeller, and so could not develop proper power. There were other things not properly maintained. Investigation showed that Blair flew improperly at a low altitude (skimming the waves, actually) rather than setting the aircraft down in the water. He was probably trying for the cushion effect I mentioned. Not only that, but the passengers were never informed as to safety measures before the flight. I am sure glad I was not piloting that airplane when the engine failed under the various conditions described.
Here is a Wikepedia article, that seems to cover, well, the aircraft problems and Blair's extensive flying background, etc: https://en.wikipedia.org/wiki/Charles_F._Blair_Jr.

Yes, I flew this as pilot in command. I made dozens of trips in the islands, carrying paying passengers.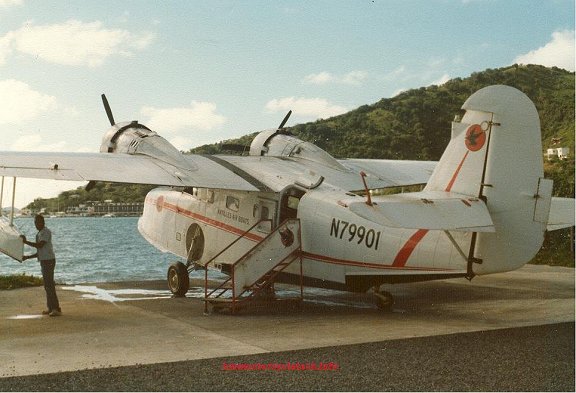 ---
© Copyright 2021, R. Fleischer
Return to Technical Articles LIST Page
Return to HomePage

Last check/edit: Tuesday, June 29, 2021