---
Snowbum's BMW Motorcycle Repair & Information Website







The ads above are Google-sponsored.
Clicking on them at every visit, and clicking on something
in an advertisement ....REALLY DOES help support this website!
Thanks, too, for the donations! DONATING (that page also
explains the history of this website, and how it is run by me)


SUPERTECH!...at the Boyertown Museum of Historic Vehicles

© Copyright 2023, R. Fleischer
https://bmwmotorcycletech.info/SuperTech.htm

SuperTech has returned! The following rather longish article is a description of what SuperTech was; what to expect at the next SuperTech.

The date, etc., for SuperTech is typically 'announced' on the Airheads List, and in the Airheads Beemer Club's monthly publication, Airmail, well ahead of the usually February event.




The last of the "original" yearly SuperTech series, as organized by Todd Byrum & Bob Sipp, was held in Boyertown, Pennsylvania, January 31-February 2, 2014. Todd & Bob then retired from putting on that event. Bob couldn't keep away from it all, because he was back for the 2019 SuperTech.

The original yearly SuperTech series was replaced by the Maryland Airheads Supertech for awhile, & it was held in Easton, MD, .......but..... SuperTech then returned to Boyertown, PA.

Supertech is back to being held at the Boyertown Museum of Historic Vehicles at 85 South Walnut St., Boyertown PA.

The Boyertown museum http://boyertownmuseum.org was always a wonderful venue to hold this event. They have many new vehicles and renovated spaces; and, rooms, etc., for Supertech sessions. So even if you've been there before there's more to see. I was thrilled to see that the UPSTAIRS-located Carriage House, ....with its complete blacksmithing and leatherworking facility ....was available for a lengthy look-see. At the end of that large room was a complete early era machine shop, run by a motor and jackshafts with flat belts, etc.

NOTE: I have purposely NOT put photos of the Carriage House nor the museum cars, bicycles, ETC., in this article. I want you to experience these in person!

I, Robert Fleischer, aka Snowbum, was one of the Instructors....AND ... the Saturday evening banquet keynote speaker, for 2011 and for 2019.

For 2011, the most requests, pre-arrival, were for me to talk about myself and my background (yes, really, talk about myself), which I merrily did verbosely (as is my normal style)....helped along by a PowerPoint presentation I had made. Luckily, I had a back-up CD...because my USB 'thumb drive', "disappeared" during my pass through Security at the Airport ('...no, you can't wear that around your neck, put it with your tray stuff....'). Security, and me, never found that thumb drive at the Airport. So much for the safest place for something valuable during a trip. I have my suspicions.

For 2019 I avoided having a PPT presentation; and, after the Saturday catered dinner at the Museum, I spoke from memories, on BMW's, etc. For that particular Sunday morning, there were no other seminars, so everyone was in one area of the museum area, for a totally open 2+ hours, with me, at the podium, trying to answer any question posed. This was also a time for the awards, raffle prizes (most folks got at least two items), etc. YOU, a future attendee, can probably expect some seminars to be available on Sunday morning. You won't be disappointed.

A request from someone in the audience was that, in the future, I specifically put dates for things in my discussions/seminars/etc, as will a more even flow of dates of things as I spoke of them. Should I asked back again, I will comply.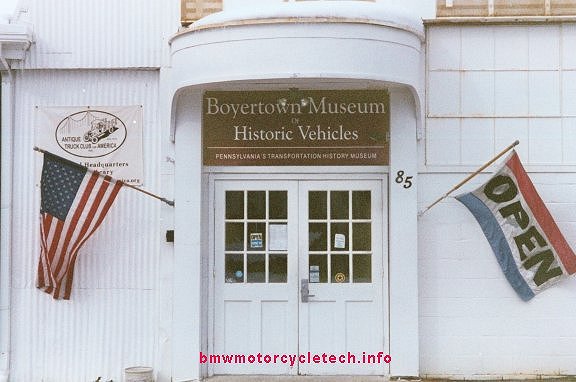 Being invited to teach at the original SuperTech and to be the the featured (keynote) speaker for the Saturday evening dinner, was quite an honor for me. Being invited to return, for 2019, was truly over-the-top.
SuperTech is held on the first or second weekend every February in the Boyertown area of Pennsylvania, about 50 miles northwest of Philadelphia. For years it was held at the Museum of Historic Vehicles. You always have full access to the Museum, which you WILL be interested in seeing. The weekend was filled with various technical seminar sessions. About 60 Airhead owners and wannabe's typically attended SuperTech. It was ~70 for 2019. SuperTech is about BMW Airhead Motorcycles, plus the camaraderie. Training sessions (or, call them seminars) were extensive & could be intensive, on how various parts of your BMW Airhead motorcycle operate, & on how to maintain various sections or items; or even overhaul items on your Airhead BMW Motorcycle. Some Seminar information was typically carried over by attendees for other bikes, cars, whatever, in their life. Just about any subject, from electricals to wire wheels re-spoking to overhauling transmissions, to spline lube jobs, ...really anything from carburetor synchronization methods (in real time too) to whatever you can think of. There are three seminar rooms, plus a larger area in the museum. Things are going on all day.
A very complete set of clean cutaway mechanical items, of such as crankcases, rear drives, transmissions, carburetors, electricals, and even mufflers, was always on hand for you to look at ....and get your hands on them! Contrary to other events you may have been to, at SuperTech you are encouraged to touch, feel, & experience! I have photos of many of these cutaways, ETC, later herein, and I added closeups from my 2019 trip.
Specific information on attending SuperTech is published in the Airhead Beemer Club's monthly magazine, AIRMAIL. It is also announced on the Airheads LIST, etc. Attendance is LIMITED & typically fills-up early, with a waiting list. If you want to attend SuperTech, DO sign up as soon as the event is announced! At the bottom of this long page I will publish details on the very next SuperTech, so you can sign up immediately.

If you are curious, click here for what the 2019 Seminars, ETC., schedule was like: Schedule
The lamp, below, was made for me, Snowbum, by Al Vangura, may he rest in peace. I cannot mention Al, or this lamp, or even re-read this paragraph, without getting emotional. The lamp, the shop coat, & the wine, was presented to me at the 2011 Saturday banquet. These are treasured things for me. The wine is labeled with the Airheads Simple by Choice logo, titled Slash 5 Merlot, & also marked 'From Estate Grown /5 Brake Fluids' (yes, no /5 came with brake fluids). I promised to wear that special shop coat at all TechDays, no matter where I attended. Naturally, I wore it at the 2019 SuperTech. I have not opened the bottle of wine;....AND, what does /5 brake fluid wine taste like, anyway?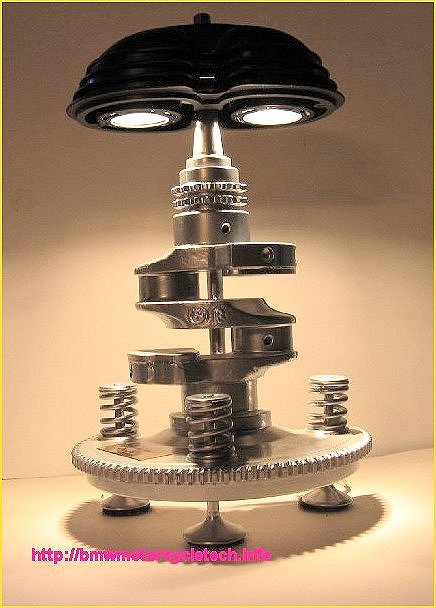 Outside my shop: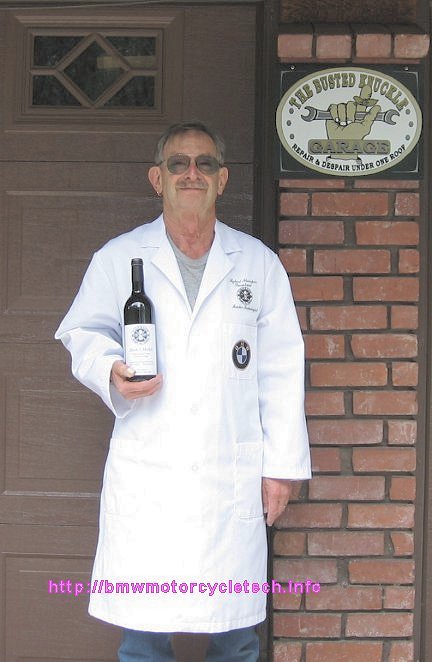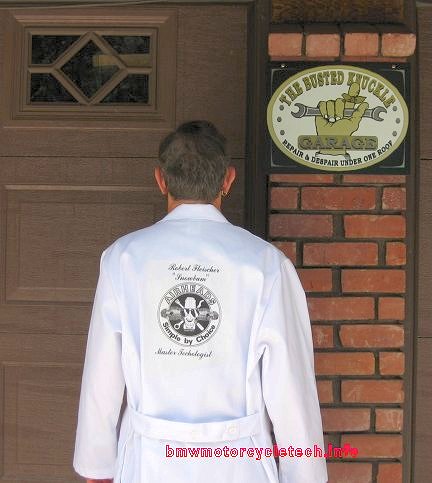 One of the MANY cut-a-ways at SuperTech ...
yes, it works; yes, you can play with it .....
....& are encouraged to do so.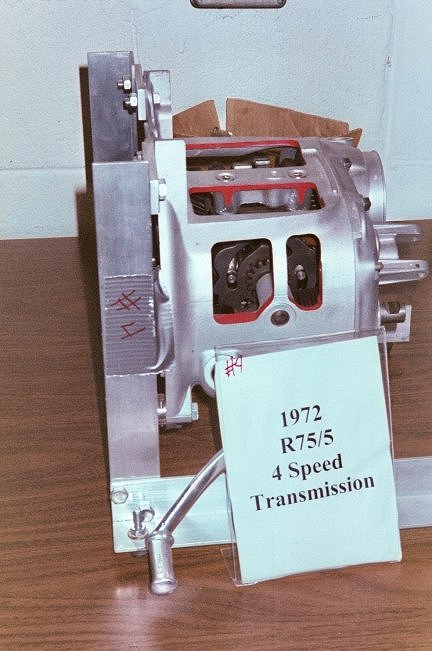 This is the Alternator test & instruction setup.
Run by an electric motor. Fully functional.
Snowbum used this during presentation
of his Seminar in 2011.
Yes, there are cutaways of the 1981+ ignition,
a starter motor, Bendix gear...and LOTS more!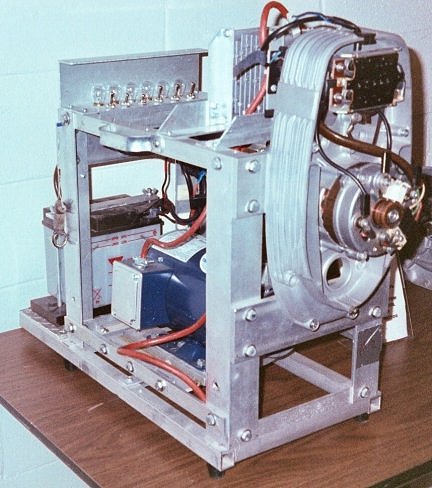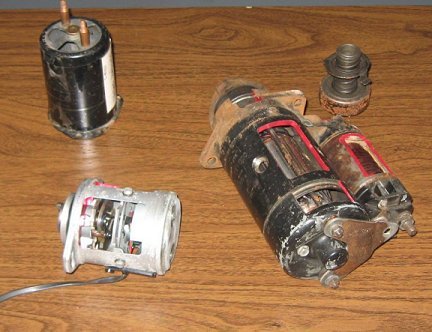 One of the Seminar rooms. NOTE the
cutaways on left side tables, this is how
it was in 2011; ...there were MANY MORE,
not seen in this photo. For 2019, the
expanded cutaways were centrally located
in the main entrance area room of the
museum, for all to see, & touch, at any time.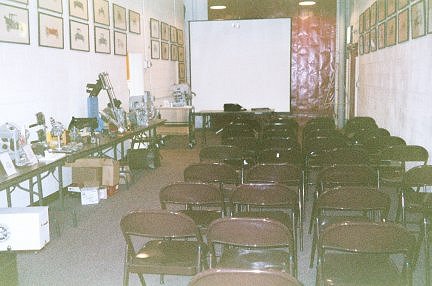 Another view of a seminar room.
There was also another table, not in
these photos, full of cutaways.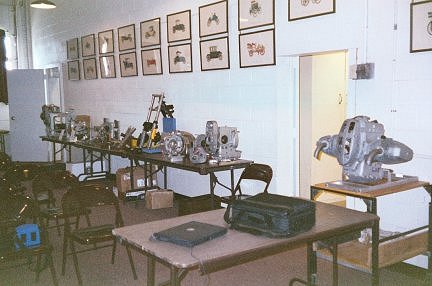 Below are more cut-a-ways photos.
There were MANY not shown here.
The oiling system: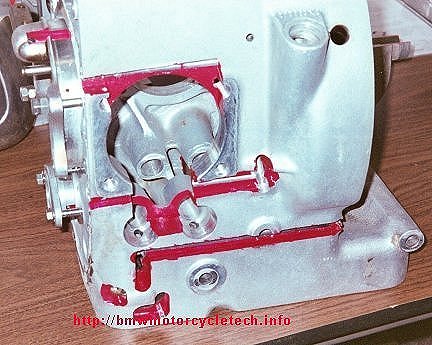 The transmission, driveshaft, and rear drive cut-a-ways in the
below photo have been done in such a way that you can easily
rotate the transmission and even shift its gears from one
gear to any other.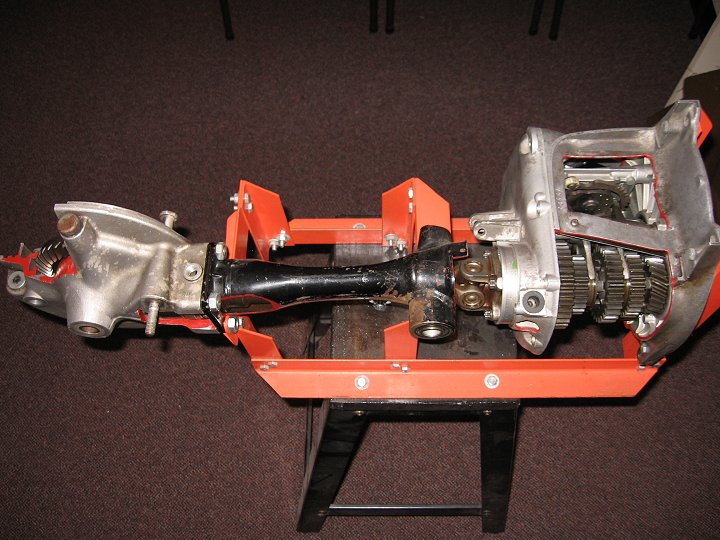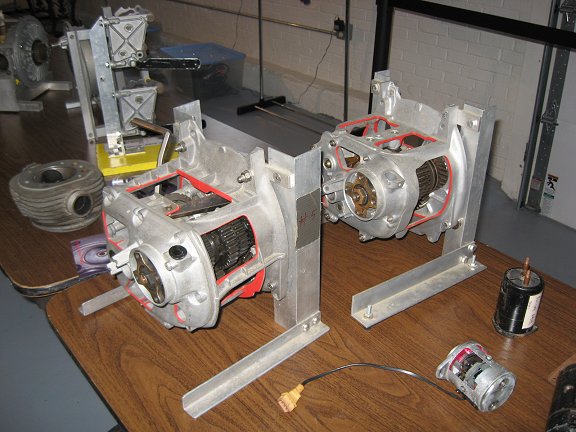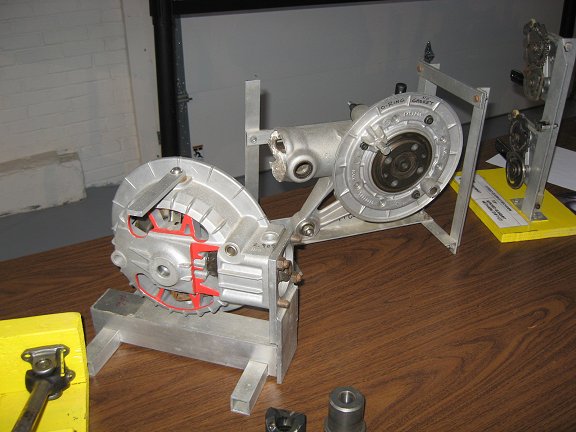 Yes, the insides of a muffler!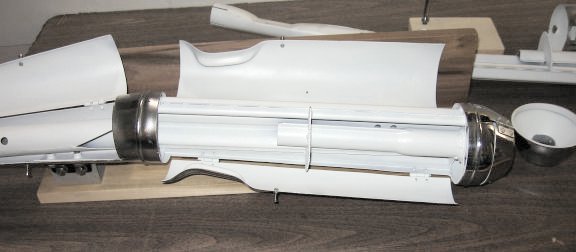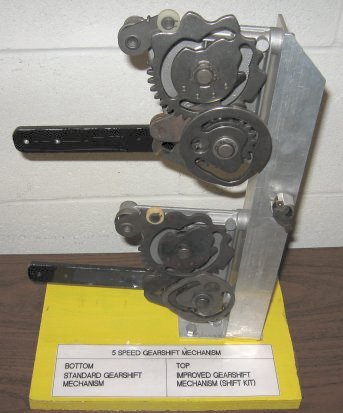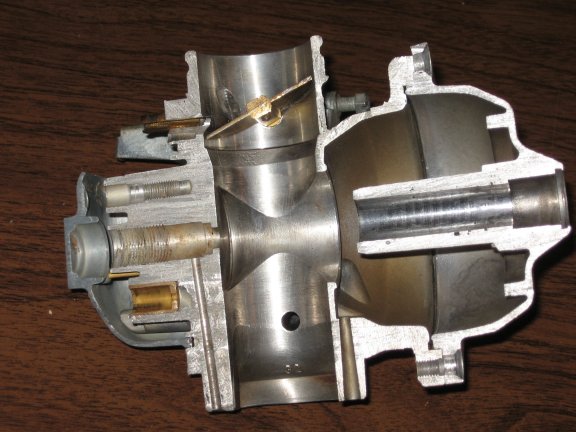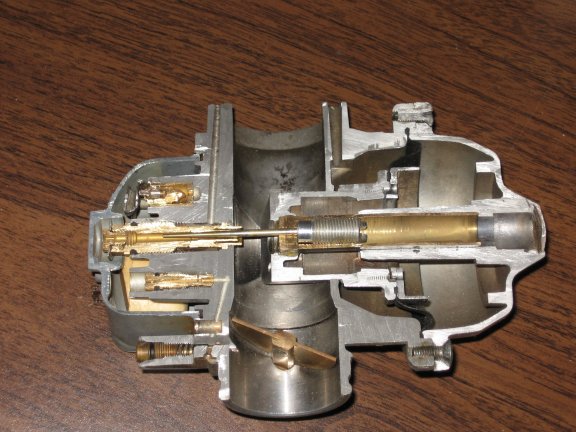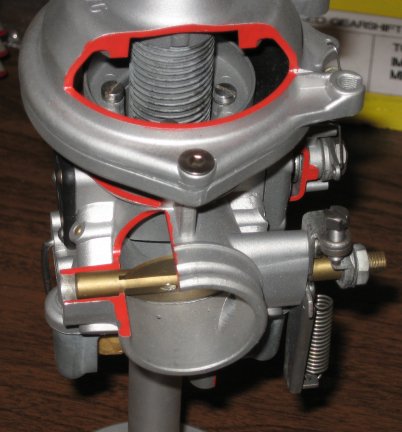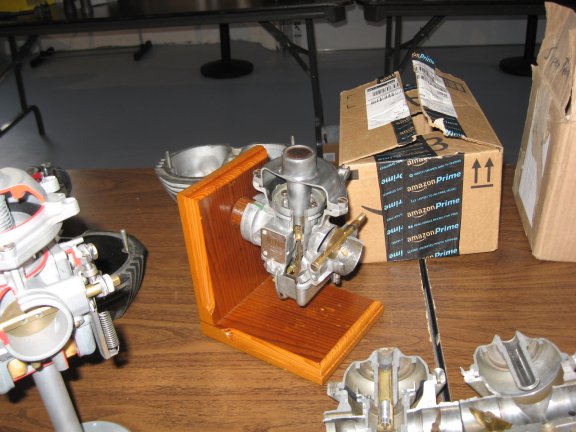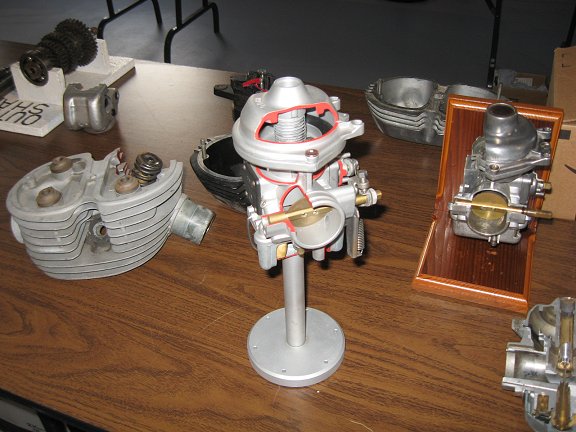 Here's a blurb for the past 2023 SuperTech:

Feb 10-12, 2023 Pennsylvania Airhead SuperTech
Boyertown Museum of Historic Vehicles in Boyertown, PA
The Pennsylvania Airheads will again host the SuperTech event this winter over Super Bowl Weekend. This will be a weekend extravaganza of airhead tech sessions and expert advice and experience as well as some great camaraderie. Training sessions will cover how systems and components work, how to maintain and overhaul them, how to get out of trouble on the side of the road and how to keep these great bikes safe and reliable. Sessions will mostly focus on the 'later' airheads from /5 through end of production. For newcomers, the BMW Airhead cutaways and other possible goodies will be there to peruse.
We will gather for dinner and tire kicking on that Friday night for those arriving early and the tech sessions will begin at 9:00am on Saturday morning. We'll have a light lunch and finish the sessions around 5pm. Attendees will have time to clean up and rest before the catered dinner that evening with a very special guest speaker, Bob Henig of Bob's BMW. We are sorry that Bob couldn't make it last year but we are super psyched to see him this year!
Sessions will begin again Sunday morning and activities will conclude by noon. This event will be held in eastern Pennsylvania and will be open to only 60 attendees. Registration opens December 1st. We will have a standby list once the max number is reached in case of last minute cancellations. We are hatching plans to make this one the best ever so stand by and book your calendars. Hope to see you there.
Registration fee is $155.00 for members and $175 for non-members. If you plan on bringing a Saturday dinner guest an additional $45 is required.
Please send your check payable to:
Rob Price
205 South Marmic Dr
Holland PA 18966
Please include your name, address, email address, member number and shirt size. Again, please include your name, address, email address, member number and shirt size.
We are working hard to have rooms "blocked off" at the Motel 6 in Pottstown PA. and the Comfort Inn in Pottstown PA.
Also, you'll be added to the Supertech email list when you payment arrives along with a confirmation email of your registration. Response to this event have been overwhelming. We've been super busy lining up the best stuff we can!
Thank you,
PA SuperTech Commission


The date, etc., for SuperTech is typically 'announced' on the Airheads List, and in the Airheads Beemer Club's monthly publication, Airmail, well ahead of the usually February event.
For 2024, SuperTech will be held February 9-11.
---
Revisions:
10/29/2016: Update article entirely. Change from all details to announcement for the new Maryland SuperTech. Metas, scripts, HTML, all improved.
11/25/2016: Remove Boyertown and Md from <title > area, as it confused some, who thought it was only in PA.
11/27/2016: Metas, scripts, borders, clean up HTML.
11/30/2016: Update the New SuperTech announcement at top of this article.
11/30/2017: Update for next SuperTech.
03/05/2018: Preliminary update for the New old-Supertech, back in Boyertown. Cleanup. Add 10pxl margins.
03/14/2018: Updated.
03/20/2018: Updated.
04/29/2018: Updated.
08/21/2018: Updated.
12/25/2018: Minor updating. Same on 01/14/2019.
01/17/2019: Added some more cutaways photographs from my 2011 trip to SuperTech.
02/05/2019: Added some more cutaways photographs, and edited all text, from my 2019 trip to SuperTech.
06/23/2021: Minor text and layout changes.
10/25/2021: Updated with 2022 information. Same, 12/01/2021
11/06/2022: Updated.
12/30/2022: Slight updates.
08/19/2023: Minor changes....adding and 'adjusting' some words, several places, about when and in what publication and on-line, the event is announced, ETC.
11/18/2023: Slight updating.

© Copyright 2023, R. Fleischer
Return to Technical Articles List Page
Last check/edit: Saturday, November 18, 2023