The ads above are Google-sponsored.
Clicking on them at every visit helps support this website.
Clicking on something in the advertisement helps more!



References & Resources,
for BMW Motorcyclists

https://bmwmotorcycletech.info/references.htm
78A

© Copyright 2019, R. Fleischer
No revision dates are shown for this page.
Listings on this page are NOT NECESSARILY endorsements, but ARE sources I think worthy of consideration.
This link is the place to find things LIKELY NOT in this article: https://bmwmotorcycletech.info/url.htm.
I try to keep the below information up-to-date, but I also depend on YOU to inform me if there are errors.
e-mail: https://bmwmotorcycletech.info/emailimage.htm
---
SERVICE VIDEOS, WEBSITES, ETC, for Airheads:
This section is for top-notch information, much of which is not covered adequately in my own website. Use of these few sites is very highly recommended by me, Snowbum.
(1) Brook Reams has done a number of articles and video's, generally step-by-step how-to's. He has a large number of photos posted. His work, articles, etc., are very good. He shows his learning-while-doing, which you will find refreshing...AND informative. While I do not necessarily endorse all his methods & work, there is a tremendous amount of information available from Brook, which can GREATLY add to my (Snowbum's) way of doing articles (which tends to be somewhat boring, even tedious); and, my methods. Brook, in general, is meticulous in his work, and his photos, videos, and text, are excellent.
https://www.flickr.com/photos/brook-reams/albums
https://brook.reams.me/
https://www.youtube.com/channel/UCQzNs09m3GMIJmFTBFEeM6w This, Brook's Airhead Garage, is one of the places Brook's has some of his popular videos.
I suggest you spend a lot of time on the ALL 3 of the above links, and look at EVERYTHING!
(2) A good source of reliable videos: Boxer2valve.com. NOTE!! I have been unable to find a link on their site for the very good videos they do. All the videos are posted on https://www.youtube.com Use the search function on that youtube website, and search for 'boxer2valve'.
You will find their videos have this logo attached:

(3) Largiader.com An excellent site.
(4) W6REC.com Duane Ausherman's newly updated site. Especially good for pre-Airheads, but also numerous articles on Airheads.
I make NO OTHER recommendations, unless listed specifically, in the rest of my below article.
If you read all the articles at https://bmwmotorcycletech.info; and, read all the articles in the above sites, you will get a huge education about Airheads (and, much is applicable to other vehicles too). It might take you many months.
NOTE: There are many videos by other folks available on the Internet! There are also a huge number of "opinions" posted on various Groups, Lists, Facebook pages, ETC. ETC........>>>Be super cautious! Be especially cautious about Facebook Groups, and ADVRIDER.
---
Want to know what was available from the BMW USA importer, in August, 1968? Bikes. Prices. ALL accessories?
https://bmwdean.com/butlerandsmith.htm
---

A:


Accessory sockets with USB outputs; including the cable to USB output types:
Recommendations for DIN adaptors to USB connectors; also wired versions. It is not easy to find these, and especially for good reliable ones with plugs that do not release from vibration, etc....and at a reasonable price. I tested several BurnsMoto (Cliff-top) products for temperature, output, regulation, and some other things and the price is reasonable. These connect to your bike's electrical system, either to the battery, or to the system after the ignition switch, or simply plug into an existing DIN jack (or, one you add) on your bike. These adaptors I recommend are NOT cheaply made cigarette lighter socket plugs but quality Hella-DIN German socket types, that grip well too. All have 5 volt USB type outputs. Single and dual versions, either with 2.1 or 3.3 ampere ratings for output. NOTE! The BurnsMotor(Cliff-top) items, as well as every similar product that I have tested, have a tiny current drain when plugged-into your bike. Thus, if you intend to leave them connected all the time, I suggest you wire the socket into the bike so power is ON to the adaptor socket only when the ignition switch is ON; unless you use a Smart Charger most all of the time when not riding the bike. You could always install an on-off switch too.

I have thoroughly tested a number of these. I have many of the ones I tested offered for sale at a large discount. See my sale page: https://bmwmotorcycletech.info/sale.htm

The 3.3 ampere plug-in unit (with the soft bluish light built-in) and the cables units have a no-load drain of about 0.006 to 0.007 ampere. The 2.1 ampere version drains 0.018-0.020 ampere. The standard 5 volt USB output is solid, well-regulated, and was tested between 11 and 15 volts input at the DIN plug. BurnsMoto.com WAS the only source for any sort of these things that I found in the USA. The product is made in Taiwan by Cliff-top who have some models that are not seemingly available in the USA, but BurnsMoto.com have what you likely need.

In June, 2016, Optimate came out with a line of these types of USB adapters, with the Hella DIN male plug to fit BMW bikes. Rated at 3.3 amperes. The one you are likely to want is model USB-O-105 (the O might be a zero??), sells for about $25.00. Seems to have some advantages over the BurnsMoto unit. It has a 90 degree USB outlet and top USB outlet, which can be handy; and it also shuts totally off after 3 hours of non-use. Also shuts off if battery falls to 12.3 volts and below. Waterproof seal cap. I have NOT tested these units. tecmate.com Also try Amazon, ETC.

For a full discussion: https://bmwmotorcycletech.info/accessoryoutlet.htm


Adventure Touring: www.horizonsunlimited.com This is the PRIMARY source for world-wide Adventure Touring. This is the group and site originally started by Grant and Susan Johnson, primarily for folks planning motorcycling trips from country to country. It's membership covers all sorts of off-roading, everyplace.

Adventure Rider: An Internet-based discussion site, everything from serious, to tech, to poor taste and profanity. http://advrider.com

Off-road enthusiasts: www.rawhyde-offroad.com For in the Western U.S. Interesting rallies.

Accel m/c products; 10601 Memphis Ave #12; Cleveland, OH 44144; (216) 688-8303; part of Mr. Gasket group.
www.mrgasket.com


Accel points amplifier wiring schematic, see page 38 here: http://www.rubberchickenracinggarage.com/Downloads/TomCutterDualPlugIgnition.pdf
The sketch is for dual plugging coils, but OK for single plug coils.

Antique motorcycle club of America: Box 300A; Sweetser, IN 46987

Antique BMW bikes:
Old BMW motorcycles, information. Up to 1977. http://www.bmw-grouparchives.com
E-mail to: info.konzernarchiv@bmwgroup.com

Andreas Harz BMW Group Archiv info.grouparchiv@bmwgroup.com




B:


Brakes and parts: www.vintagebrake.com Michael (Michael Mercury Morse) is a great resource for information and parts for disc and drum brakes. He can even reline your brake shoes with modern material....and arc the shoes to fit your brake drum, ETC.! Information on proper pad materials; antique and strange brakes too. Responsive and knowledgeable! 15069 Lupine Lane, Sonora, California 95370-9729; (209) 533-4346. SNOWBUM'S PERSONAL CHOICE FOR INFORMATION AND PARTS!

Brake parts: Snowbum has no experience with these folks: www.cyclebrakes.com

Brake adaptors, gaskets, seals, hardware of various sorts, also banjo bolts in various sizes: BrakeQuip.com

There are places that can resleeve/overhaul master cylinders (these are the only names I have collected so far):
Ted Porter at www.beemershop.com
http://www.whitepost.com/
http://www.karpspb.com/
www.applehydraulics.com http://applehydraulics.com/motorcycles.htm
http://www.cycleworks.net
http://www.autosportseattle.com/
S A Master Sleeves Brake Repair, 33 Main Rd, Wynberg, Capetown, So. Africa 2721 761 6962

Resurfacing disc brake rotors: www.truedisk.net (they are in Michigan).

Fork Braces: See T: for TRIPLE CLAMPS; and also see F: for fork braces

SS braid covered brake lines:
Galfer brand NOT RECOMMENDED due to fit/quality problems.
Spiegler is OK.
Bud Provin will make up lines for you. Very knowledgeable guy. 802-483-2460 Pittsford, VT. BMW and Brit bike work. http://thenickwackettgarage.com/bmwtwin/

Brush guards: Stock BMW are OK, and if not available for your model K or Airhead, both BMW and aftermarket versions are often adaptable.

For other aftermarket brush guards:
https://www.cyclegear.com/. Do a search at that website for "aluminum handguard kit". Clever mount system that has a lot more adjustability than other brands. The plastic guards can come off in the summer with just a few screws. The screws get stowed back in the threaded holes in the aluminum guards, and the plastic pieces nest together and take up very little room.

ABS brake brain repairing: see my technical articles list, under K-bike

BOOTS: Fork Boots, see gaiters

Old style BREATHER DISCS: Newly made. $5 including postage. Dave Thompson dtvic@comcast.net

Rubber O-ring for BATTERY COVERS: stiffer, probably better material; $4 including postage. dtvic@comcast.net




C:


Center-Stands: https://bmwmotorcycletech.info/reynolds.htm

Cylinder repairs of all sorts of types (read this entire section & be sure to read this linked article): https://bmwmotorcycletech.info/cylinders.htm

Millennium Technologies 1404 Pilgrim Rd; Plymouth, WI 53073 (920) 893-5595. Can do Nikasil cylinders.

Repairing any type of cylinder, and they can plate them with a hard substance: http://www.bore-tech.com

In New Zealand: http://www.nzcylinders.com/

http://www.powersealusa.com Same sort of work as above. Nickel-carbide, similar to Nikasil. These folks can repair major damage; can PLATE and HONE a cylinder to match pistons, which is a better way to go for Airheads, particularly the R100 cylinders which have very thin walls, & can be easily distorted. NOTE: It has been reported to me that the following two companies are doing most of the work, and other companies might be sending their jobs to these two: www.powersealusa.com and www.usnicom.com
PowerSeal seems to have a lot of very satisfied customers. I suggest that you be sure they understand that BMW piston clearances are very small, & I suggest you tell them the specifications. Remove the studs and the pushrod tubes before sending. Tom Cutter who does business as www.Rubberchickenracinggarage.com can take care of your cylinders, & send them to PowerSealusa, etc.

http://www.usnicom.com Repairs aluminum cylinders, repairs nickel-silicone coatings, plates, bores, welds, hones...etc.

U.S. Chrome 650 Oak Park Ave., Fond du Lac, WI 54935 (920) 922-5066

Beautiful work restoring damaged Nikasil cylinders (and perhaps other work??). Maria Slater, Langcourt Limited, 2080 McMillan St., Auburn, AL 36832 334-887-9633

Millennium Technologies 1404 Pilgrim Rd. Plymouth, WI 53073 920-893-5595

Cylinder stud area threads (CASE threads) repairs: see T for tools section.

Control Cables: Custom motorcycle control/drive cables: Terry Cable, Hesperia, CA (800) 854-4691

Clock REPAIRS: see speedometers.
Clock: VDO 370-995 Cockpit Series; also see 332-103 (hour only).
Clock: do it yourself repairs: http://www.flickr.com/photos/getproductions/sets/72157627860750305/

CLUTCH: Resurfaces CLUTCH parts, thicker clutch discs, etc. Southland clutch 101 E. 18th St.; National City, CA 91950 (619) 477-2105 (800) 310-2588 M-F 8a-5P, PST. http://www.southlandclutch.com/

http://wirewerkes.com has some clutch centering tools

EZ-Clutch (and variations): The pre-1981 clutches have a heavier pull at the bars, some dislike that, or cannot easily physically cope with it. There are several types of modifications to fix this, besides the large expense of installing a 1981+ clutch with its attendant transmission modifications. Modifications involve a single pulley device or a lever arrangement. One that is available for purchase is from Craig Vechorik ('Vetch'), dba Bench Mark Works. (662) 465-6444; located in the USA; www.benchmarkworks.com/articles/howto/clutch.html. Bench Mark Works also has it available from their place in Canada. There is also a type you could build, that has some advantages over Craig's...as the original cable end can be used.

CANISTERS: See I: for Ignition.

CAMSHAFT TIP: The tip of the camshaft on Airheads through 1978 are sometimes broken off. This is always due to over-tightening. You can fix it! You do NOT have to leave it broken and use a Boyer ignition. Contact: Paul Tavenier repairhead@sbcglobal.net. There is information on this Snowbum website on fixing the cam tip so you can use it: https://bmwmotorcycletech.info/cams.htm. Paul also makes the very nice points setting tool.

Carburetor parts: The cheapest source for standard STOCK parts is from your BMW dealership, and sometimes from your favorite Independent servicer. Beware of non-original diaphragms, wrong rubber O-rings, etc., from sources other than BMW. For non-stock parts, if not found at those places: Bing Agency 800-309-2464

Carburetor Synchronizer: "Harmonizer". POSSIBLY ONE OF THE VERY BEST synchronizers available; ....but,...it is VERY sensitive ...and you might even want something less touchy. The maker of the Grok Harmonizer died in April 2016. A few units were still available that were made before his death, via his daughter: vonstriver@gmail.com. If you can't find the specs, details, etc., anyplace, try here:
http://advrider.com/index.php?threads/harmonizer-vacuum-multi-tool-it-aint-your-daddys-twinmax.701625/
September 2016; a capture from an Advrider thread:
""Thank you all for your messages, we were pretty shocked how quickly those 9 went. I have some good news and some bad news. Bad news: We only have the supplies to sell about 30 more harmonizers of this model. Afterwards it will need to be redesigned due to a sensor being discontinued. This may take upwards of a year or more. My dad was aware of this and had already started researching replacement designs but had not finished. Luckily, he had an engineer friend who has come to our attention and knows a lot of my dad's design secrets! This has all been very confusing/exciting for us to figure out.. mostly confusing, but we are slowly sifting through the information. Good News: We are getting about 20 harmonizers ready to sell here on this forum by Friday. I will put a paypal button in a new reply on this thread. Some time afterwards, we will be putting the remaining 10 up for auction on eBay.""

It is possible that the Harmonizer may be built again, even improved. Best to check on the status, as I do not necessarily keep the above paragraph up-to-date.

Snowbum uses a Walus Engineering dual-differential gauge, that has not been available for many years. Occasionally one comes up for sale, on such as Ebay. Snowbum also uses the shorting of spark plugs method, but usually uses the Walus on dual-plugged Airheads.

COVERS (Motorcycle covers): I personally visited this company and have seen their mini-factory. This is a family-run business, consisting of mother, daughter, and son. Company name is E-Z Touring, owner is Betty Cook. 161 SE Dimick Lane; Madras, Oregon 97741 1-800-443-1443;

1-541-475-3857 outside the USA. http://dev.eztouring.com/ bettyc@crestviewcable.com. They use high quality materials and construction. The material is USA-made 1.9 ounce rip-stop nylon; sewn with 16 ounce Nylon thread; grommets are Nylon & are substantial-sized compression ring types. The seams are excellent. Recommended!

CRAVEN: See L: for Luggage.




D:


DIN plug to 5 volt USB outputs adaptor: See C

DRIVESHAFTS: Due to excessive driveshaft angle on the Paralever models, the U-joints tend to fail around 35000 miles. Much higher mileages are also seen; particularly with lowered suspension settings or lots of passenger carrying. That is due to the decreased driveshaft U-joint operating angle. The project to utilize constant velocity joints, that OAK advised on originally, finally ran out of funds & was never completed. Driveshaft and/or U-joint rebuilding places I know of are:

1. Erich Demant, in Germany, erdemant@aol.com, removed a rubber part that tended to twist and go out of phase. He designed and built/sold a beefed-up and greasable modified joint, ETC. This particular fix was superb. Erich died in April 2009. I was informed that Erich's business has been taken over and the shafts now being made again:
Andreas Mattern Welschhof 7; 76872 Freckenfeld; Tel.+Fax: +49 (0) 7275-2144; Mobile: +49 (0) 171/7397329
ifaandreas@t-online.de

2. Oak recommended Machine Service Industry at 1-800-677-8711, quite some time ago. Ask for Mitch, the shop foreman. I'm not happy with them.

3. Driveshaft (K bikes too!!!), U-joints, Modifications to them, splines repairs, etc.: www.brunos.us Brunos is in Ontario, Canada. He ALSO DOES non-G/S type of early airhead shafts. See later in this References page, for SHOCKS, and more contact information for Brunos. Very solid reputation. I have been informed that he may not be doing any work anymore, but I suggest you ask him.

4. Driveshaft remanufacturing service for the BMW Airheads (regular & Paralever shafts). For the Paralever shafts, replaces the rubber damper with Urethane. Installs heavy duty U-joints with grease fittings, with circlips. 12/12K warranty. $450. He rejects a fair amount of shafts, from his mods, and I am not sure correctly and for that reason and because I think the #5 below is better, I am more in favor of that one. Guy Hendersen's version does have a decent reputation, but some have failed early, but I do NOT have enough information, it possibly is not due to the modified design. (209) 962-7500 guy@hendersenprecision.comhttp://www.hendersenprecision.com/index.html Sales@hendersenprecision.com Hendersen Precision; 22105 Feretti Road, Groveland, California 95321

5. SNOWBUM LIKES the following driveshaft assembly product. Ted Porter's Beemershop, www.beemershop.com is stocking them. Photo below, was grabbed off of Ted's website. Looks like someone has finally solved the wear and service problems. I thought about doing this with small U-joints like this once myself. This driveshaft assembly is owner serviceable; replaceable U-joints, yokes, & flange. No special tools needed. It has grease fittings. Looks much better than brand-new BMW shafts. It is made by Emerald Island, same place that makes the Omega alternator and other items. There is a lengthy but good write-up on the Henderson and this one, here:
http://www.gunsmoke.com/motorcycling/r100gs/drive_shaft/index.html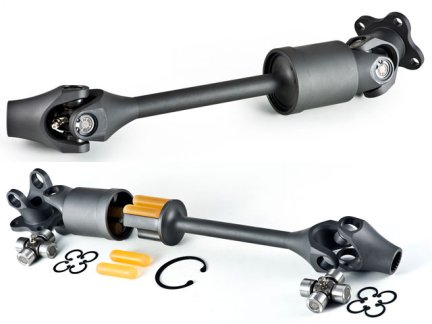 DECALS/STICKERS:
Obsolete ones: http://www.motorbikestickers.eu/shop/ http://www.heritagestickers.eu/cat/
Some obsolete and not so obsolete ones:
(1) your BMW dealership;
(2) http://www.benchmarkworks.com/




Disabled Riders websites:
http://www.disabledriders.com/
http://www.disabledmotorcyclerider.com/disabledmotorcyclehelp.html
http://www.disabledmotorcyclerider.com/ for shift kit photos, etc. Not the only source for the Kliktronic electric shifter, dual clutch/brake controls, etc. $$$$ prosthetic hand unit also available. Automatic (rpm controlled) clutches for Harleys and some others. Video of Kliktronic use: http://www.youtube.com/watch?v=IIr_2dmQ6ck
http://www.haulnride.com Lots of information, regarding accessibility things.
http://www.amputee-coalition.org/inmotion/may_jun_06/motorcycle.html

SOURCES for goodies like shift kits, wheels, controls, subframes, etc., for handicapped/disabled riders:
http://neffdesign.org/




Del'Orto Carburetors: There is an EXTENSIVE article on them on this site: https://bmwmotorcycletech.info/dell.htm. Any BMW bike dealership or good Independent servicer can order the parts for these carbs as used on the R90S. The carb and parts distributor for the U.S. is Hermy's BMW, Port Clinton, PA




E:
((Electronics. Electrics. Earplugs. Exhaust, etc.))

Earplugs: Earinc.com

http://katdash.com/ Designer & builders of the plastic LED's replacement unit for the Airheads instrument pods.

Dyna Ignition items. Dyna Performance Electronics; www.dynaonline.com 164 S. Valencia St; Glendora, CA 91741 (626) 963-1669. Website has a lot of technical information.

www.euromotoelectrics.com/ All sorts of BMW & aftermarket electric items, including Bosch & Valeo starters & parts, EnDuraLast Alternator, spark plugs, etc. for Airheads (and Moto-Guzzi). Also K bike parts....including for the fuel system. Euromotoelectrics "Omega" type of alternator (that is NOT the permanent magnet version they also sell) is NOT made by Jeff Lee of Emerald Island (Taiwan), but is a Chinese clone. Numerous other items they sell are also Chinese-made clones. I don't have reports of problems, but the quality of workmanship is reported to not be the same. There have been a few problems, not excessive AFAIK, with the Rectifier/Regulators failing on the Permanent Magnet alternators.

The REAL Omega type items, from Jeff Lee of Emerald Island, known as Ei, and also called Repro-works. This is the real stuff, not Chinese copies. Ei manufactures beautifully designed and made products, mechanical and electrical. Wide range of items,....not just the famous Omega alternators and ignitions. Updated driveshafts, rubber parts, rocker arm bearings....ETC! There are two sources in the USA (I have not listed sources in other parts of the World, and the name Omega, etc., of the products may be different):

http://beemershop.com. All of the Ei items may not yet be shown on their website; at least most are, last time I looked. (831) 438-1100. Ted Porter, the owner, said that Beemershop will be stocking ALL of Emerald Island's products. QUALITY stuff!

The other source for Ei items is Motorrad Elektrik; Rick Jones, www.motoelekt.com (256) 442-8886. Rick is a very helpful and knowledgeable guy.




Rebuilds Japanese m/c electricals: alternators and starters, etc; Rick's mc/ Ent. 33 Newton Rd, Plaistow, NH 03865 (603) 382-5299

www.vellemanusa.com Source for various electrical 'kits' such as for eliminating points (points boosters, also called points amplifiers), which can be modified to handle the very highest powered ignitions, should that be what you want. Most amplifiers are rated at only 4 amperes.




Electric wiring, relays, terminals, etc. ....of many types:
For DYI types, the Bosch (Tyco) type of relays at your local autoparts store works fine.

http://easternbeaver.com Has many things not easily found, and has headlight relay kits too.

http://cycleterminal.com/ A USA source for connectors and terminals, good quality stuff.

www.Rockypointcycle.com (same as Northeast Cycle Works). Adjustable voltage regulators, Boyer ignition, Mikuni carburetor kits, stainless steel nuts and bolts kits, etc. (978) 212-5432 9 Bonazzoli Ave., Ste 3, Hudson, MA, 01749. Owned by Bill Blake william.blake1@verizon.net


Exhaust system parts, pipes, mufflers, etc.:

Some do not fit properly. The BEST are probably from Keihan (from England). You can purchase their mufflers, pipes, etc, in the U.S., from such as Bob's BMW; Beemershop; RubberChickenRacingGarage. They FIT!! That includes the pipes, etc., that they sell. These are QUALITY products. All stainless steel, polished exterior, will last nearly forever. Quiet like stock. Do NOT rot out, do NOT rust. Not cheap, but cheaper & better than BMW. Prices can vary considerably depending on who is selling them, so check around, and you may want to check with UK sources, like Motobins. www.Rockypointcycle.com has a selection of SS mufflers, crossovers, header pipes.

Emgo mufflers are "OK". Don't use steel wool on them. They will last longer if lightly wax/buffed. Mixed reports on contacting the company for information or service or warranty.

MAC muffers and head pipes: MAC systems may not fit correctly; inner diameters are smaller which affects engine power; crossovers have too small a hole where they fit to the main pipes. Welds are not the best, I suspect they are not heat-treated, or, just improperly welded. The pipes have a double wall construction which, unfortunately, is not what you might think, and the way they do it is NOT going to prevent bluing. You may have some fitment problems with side-stand conversions, etc. You can make them work. Some folks have had warranty problems, with MAC not being responsive. Marginally acceptable. NOT RECOMMENDED.

Staintune: Good mufflers, etc, from Australia....ask if they will ship to other countries.

Exhaust system parts replacements/repairs:
There are various brands available: Epco; Keihan; Sito; and whatever JC Whitney is selling; etc. For quiet sound, good fit, stainless steel, etc. ....Keihan, from England; see a few paragraphs above.

Exhaust pipes: Bub had various exhaust systems, and also made 40 mm necked to 38 mm for /5, and lots more stuff. Bub Enterprises went out of business; but, effective early 2015, is supposed to be back in business as BDI: http://www.bub-design.com/

OTHER viewpoints on /5/6/7+ BMW mufflers: Reviews (well, MANY comments) on not only the items I have on this References page, but on other muffler (silencer) makers. Worth a long look. I stand by my own comments though. http://w6rec.com/duane/bmw/muffler/slash5_muffler.htm




F:


Fairing repairs: The BMW fairings are SMC material. Do not use polyester's for repairs. Use two-part Epoxies.

Hannigan fairings: NLA, biz for sale. Paris, Arkansas. This phone MIGHT work: (800) 324-7660; you can also try 501-936-4603.
http://parishometown.com/hannigan/ MAY have information

Flywheel resurfacing: http://www.Truedisk.net in Michigan

Flasher relays: See https://bmwmotorcycletech.info/electricalhints.htm See item #23 in that article.

Fork tubes: Forking by Frank. 945 Pitner Ave., Evanston, IL 60202 (847) 475-1003. Also known as Frank's Maintenance & Engineering, Inc. The company was purchased, and I think quality is improved from some problems they had, and now is GOOD. You may have to continue to telephone them to get to a real person. NOTE!.....previously I suggested getting fork tubes from Ed Korn!....see under T, for TOOLS, well below....I do NOT know if tubes are still available from him, or from Dan, who purchased all or most of Ed's business. I think Ed is the co-founder of Tormach, who manufacturer speciality machinery. http://www.tormach.com You might try to contact him there, if so, PLEASE let me know about Ed, tubes, and anything else.

Fork Braces (& top triple clamps): www.toastertan.com

FRAME/FORKS/WHEELS: www.motorcycleframeman.com The Frame Man: straightening of frames, forks, and wheels. Located at 1645 Silica Avenue, Sacramento, CA. Uses FACTORY BMW JIGS. (916) 920-1010; (916) 927-9712

G.T. Enterprises http://www.snowcrest.net/gte/index.html Fueston@snowcrest.net Located in Montague, California. He was an apprentice many years ago at Buchanan's.

Buchanan's. http://www.buchananspokes.net/ Highly regarded shop that has been been doing this work for decades. Special spokes also available.

Fast track m/c frame straightening; Mesa, AZ 602-649-1093

Fork boots: see gaiters, under G

Original style foot peg rubbers, to 1976: wirewerkes.com also has some clutch centering tools, harnesses, etc. All are made in USA.




FUEL TANK REPAIRS:

This is listed first, for a reason! http://gastanklining.com. Gastanklining@gmail.com (818)-759-4724. They can repair any tank, steel, fiberglas, etc. They repair and then line the inside with an epoxy, and it is not affected by ethanol. THEY DON'T DAMAGE THE OUTER PAINT! Company name is GTL Advantage. Located at 6909 Farmdale Avenue, Unit A, North Hollywood, CA 91605

www.gas-tank.com/bike.htm This is Moyer Fuel Tank Renu. Every sort of fuel tank repair for any vehicle; even the worst possible condition tanks can be repaired, and lined so they never rust again. 1-800-328-9550 2011 Western Ave., Greensburg, Pennsylvania 15601 Moyer@westol.com

Will repair K bike and other aluminum fuel tanks: www.advancedwelding.info Located in Mountainview, California.

John Borella 860-774-5535 ABC#7221 borella_ent@hotmail.com

Holt BMW in Ohio does tank work....740-593-6690

http://www.fueltankservices.com/




FUEL TANK SEALANTS:

KREEM: NOT recommended.

POR15 Rustproofing coating; see internet for sources. Works FAIR to decently to quite good, but it is dependent on the quality of the preparation work.

Damon Products Red-Kote: Radiator shop's "Red Kote" jobs are usually cheaper.

http://www.caswellplating.com/epoxy-gas-tank-sealer.html. A premium product, with somewhat less serious prep needed. Works well on aluminum, steel, and fiberglas tanks. Works when others don't. Works when POR15 or Kreem have failed.

Special sizes of fuel tank valves: Pingel (888) 474-6435 www.pingelonline.com

Fuel injector cleaning:
www.rceng.com
http://witchhunter.com/

Fuel pumps for adding outboard fuel tanks, etc: Use the FACET brand of pumps.

Fuel hoses for Airheads: see item 11 in: https://bmwmotorcycletech.info/fuelmiscl.htm




G:


Gaitors: These are often installed by owners onto their RS and RT models, or other models that do not have them, so that tiny stones, etc., do not damage the fork tubes, which, in turn, damages the fork oil seals. There are two types of standard gaitors (gaiters), and it is important to know the differences between the part numbers....details are found in this article: https://bmwmotorcycletech.info/frontforks.htm

Rancho Shocks/Gaitors: http://www.gorancho.com/ Quite a few colors are available, even pink, green, etc. Blue is RS1950; Yellow is RS1951; Red is RS1927; Black is RS1952. Available from a wide variety of autoparts stores including NAPA. Sometimes you can get brand new ones for free from places that install Rancho steering dampers.

GRIPS: Rather than replace old grips, particularly those that cover heated elements, you might consider purchasing Grip Buddies, and install them OVER your old grips. I recommend you get only the ones from: www.originalbeemerbuddies.com They are not cheap, but are really nice. You can expect more comfort, better grip, work OK with heated grips, although the heat takes longer to reach peak amount.

GRIPS, heated grips, grip heaters: see H: just below, for heated grips.




H:

Hearing: See E, for earplugs.

Heated Grips: The factory heated grips are OK. My aftermarket recommendation is the Oxford heated grips. Wire these through the ignition switch, not directly to the battery, as there can be a very small current drain from the controller. Hot Grips (brand), Oxford Heaterz and Hot Hands, etc. http://lockitt.com

Heated clothing: Aerostitch; Widder. Gerbing brand is not recommended. The original Gerbing heated clothing company was sold by Gordon Gerbing, who has nothing to do with it now. However, his health improved, and he started his own new company: http://gordonsheated.com/. I have no first or second hand commentary on that new company, but the website says the old warranty is back too!

Hones: www.brushresearch.com

Handicapped riders: See under D: for disabled

Hannigan FAIRINGS: NLA, biz for sale. Paris, Arkansas. This phone MIGHT work: (800) 324-7660; you can also try 501-936-4603.
http://parishometown.com/hannigan/ MAY have information.
ALSO: Hannigan Motorsports; 4044 US Hwy 641 S Murray, KY 42071 270-753-4256
ALSO: Hannigantrikes.com; hannigan@apex.net
For Hannigan fairing installation instructions: https://bmwmotorcycletech.info/Hannigan-fairing-installation-instructions.pdf

Helmet testing and ratings: http://sharp.direct.gov.uk




I:


Instruments: See S: for such as the speedometer, tachometer, etc. (INCLUDING the instrument pod) See C: for clocks

Ignition: Rebuilds ignition canisters: Dwight Small, 1437 N. Denver Ave. #298, Loveland, CO 80538; (970) 214-2610. rbike.ignition@gmail.com
Also, Tom Cutter: rubberchickenracing@gmail.com

Automatic advance springs for the ignition: https://www.motobins.co.uk/

Snowbum's ignition system articles. Start with this one: https://bmwmotorcycletech.info/ignition.htm

Ikon shocks: see S: for SHOCKS




J:




K:


KEYS:
http://motokeys.com/ Eric Johnson, a fellow Airhead rider. Brass and steel keys. Can cut from codes. Information on brass and steel keys, including BMW keys.

Here are friendly and helpful locksmiths, Trudy & Alex & their white dog Maggie:
They have quite a collection of the 3-digit coded keys for various BMW item locks, even have a ring of masters to attempt to make copies of any that they do not have a supply of. Lots of vintage keys, knowledge, etc. Key Kraft 1585 Church Street at 28th Street; San Francisco, CA 94131 (415) 285-0134 Open Monday through Friday 9:30 a.m. to 6 p.m.

Valley Lock and Safe, 1929 Esplanade, Chico, California, rekeys Airhead locks, etc. (530)-242-4042)

Larry "Stoner" Stonestreet; Stoner's Beemer Stash. Keys, motorcycles, Airhead parts & Accessories. 951-813-1704. Stoner is well known, respected, & helpful. CA.STONER@YAHOO.COM

https://bmwmotorcycletech.info/locks-caps-etc.htm covers locks, keys, luggage, ...
I have a separate article, #1B, for fuel cap locks, etc.

Koni shocks: see S: for SHOCKS




L:


Lacing wheels: This is for bicycles, but VERY useful! http://www.sheldonbrown.com/

LITERATURE/manuals: see under S: for service manuals (and other literature)




LUGGAGE:

Krauser bags, etc. ...for OLD parts: Michael Krauser GmbH; 86415 Mering-kornblumernring-12, Germany. Tel 08233-1461 Fax 08233-1445 Krauser.motorrad@t-online.de. Krauser is now owned by Hepco & Becker, who still make the classic Krauser panniers ...but now have Hepco quick release locks. For the offset saddle bag hinges, try Bob's BMW, and ask for Hepco-Becker #4654119 cover hinge for classic Krauser pannier cases. One CAN remove the Hepco badge and use a BMW badge. Krauser can still supply the old keys, particularly the S-150 that may be difficult to find. $$.

Hepco & Becker and Bagster: Imported by: Rosel Import, ltd, Huntington, NY 888-482-5538

For a lot more information, and on keys, luggage, etc, etc...... see item #5, in the following article: https://bmwmotorcycletech.info/locks-caps-etc.htm

Here is a link to a How-To article, replacing bad Krauser luggage locks with hardware store items:
http://www.vintagebmw.org/v7/node/6637

CRAVEN parts, History, and AFAIK the present status (and Primmer's and Rodark's parts):


Ken Craven died quite some time ago. To the best of my knowledge, initially things went to sales@cfgsiteservices.co.uk. You probably found them unresponsive, & you might have found a website for Craven stuff, and found it also unresponsive. Nash Morgan; Lightmoor Works, Speech House Road, Cinderford, Glos., GL14 3HU England Tel. +44-1594-827649 was the contact. All Craven items were next sold to Phil Primmer, http://www.westcountrysidecars.co.uk

On 01/13/2009, I received the following information, which I have edited for clarity: "We acquired the Craven Equipment business from Phil Primmer of West Country Sidecars who retired. It is taking us some time to sort out all the drawings, moulds and tooling but we hope to be in a position to start production late in 2009. We will start by making the more popular top boxes, panniers, racks and fittings and hope to eventually have most of the Craven range in stock. We will supply individual parts to repair or complete old sets of luggage and carriers but in the meantime we are not able to help with any spares as there was very little stock. We also will be producing Phil Primmer's own panniers and rack that were designed principally for Vincents and we hope to finish of the moulds he was making in order to produce Rodark Panniers. We welcome enquiries in the meantime. At the moment we do not even have any permanent premises and the preferred method of contact is by email sales@draganfly.co.uk. Craven Equipment Long Beren, Upper Oakley, DISS, IP21 4AX "

The following was posted by on the Airheads List June 7th or 8th 2012; it is confusing as to the company name:
"When the Kennel company sold the Craven molds, tooling and hardware to Phil Primmer of South Country Sidecars-UK, he didn't find out until AFTER the deal they did not sell him the Craven name/logo rights. They wanted a royalty for every product made and Phil told them to shove it. The molds were useless, the tooling almost completely worn out and I bought what little hardware he had left. Phil's sister tried to sell the whole thing on Ebay with no luck - Phil retired and the Craven brand died."

Not willing to let things just die without the full story, I made inquiries and the following was received back quickly, this was probably June 12th, 2012:

"Craven Equipment Broad Street, BUNGAY, Suffolk, NR35 1EE Telephones, Monday- Friday from 9:30; (01986) 894 798 or 892 826 Facsimile (01986) 894 799 http://www.cravens.org.uk/ contact@cravens.org.uk

Thank you for contacting me, we are in pre- production stages at present and are going to be making a range of racks, panniers and top boxes. "

I then sent a message back to them inquiring about WHEN parts and Craven luggage might be actually available.

The last communications was on June 15th, 2012, when I received this:
"We already have some of the parts available and we hope to have the panniers & top boxes in the next couple of months. Iain".

I have updated this area more than once. Here is the latest:
As of the update of 12/22/2017, Craven is now back in partial production; and already has a LOT of items available, including many parts. On the site link here, is ALSO their version of Craven's history:
www.cravens.org.uk

http://bmwdean.com/craven.htm for additional photos and information.

Luggage repairs: http://www.customtankbags.com/ Click on left for pricing, then scan way down that pricing page.




M:


MAILING LISTS:
www.micapeak.com/mailinglistroundup All the mailing lists for micapeak.com

Manuals/literature: See under S: for service manuals (and other literature). Also see: https://bmwmotorcycletech.info/manuals.htm

Manufacturing: An approximately 1 hour video on BMW motorcycle manufacturing, of present models, not Airheads. This video is from 2015. It very clearly shows all the factory automation/robots, ...but also the handwork that is needed (but not like in the Airhead days). If not for all the automation, the new price of BMW bikes would be at least double.
https://www.youtube.com/watch?v=fjQ6Gdk-QYw

Master cylinders: Rebuilding/resleeving. A few do this successfully. Sometimes it is not cost effective.
www.autosportseattle.com
https://bmwmotorcycletech.info/Beemershop.com Ted Porter. The Beemershop is in California.
www.applehydraulics.com
www.whitepost.com White Post Restoration. Click on SERVICES. Will do MC, slave's, calipers. Also does shoes and pads 540-837-1140




Museums:

A.M.A. Heritage museum; Westerville, Ohio. http://www.ohwy.com/oh/m/mocyhemu.htm http://www.americanmotorcyclist.com/hof/About/hall-of-fame-information

http://www.themotorcyclemuseum.com/ Rocky Mountain M/C museum; Colorado Springs, CO.

LOTS of other motorcycle museums throughout the USA, but The BARBER Motorsports Museum is TOPS! http://www.barbermuseum.org/




Machine shop work; including overhauling rear drives, shaft splines, U-joints, cylinder heads, exhaust ports etc.; & rebuilding:

www.brunos.us Bruno's, Iron Bridge, Ontario, Canada (705) 843-0822. I am not sure he is still doing work, so, ask.

http://hansensmc.com Hansens BMW, Medford, Oregon, (541) 535-3342

http://home.jtan.com/~joe/randy_long.htm Longs Mechanical Services, R.D. 1, Box 685-K, 74 Risbon Road, Honeybrook, PA 19344 (610) 286-5870. Randy Long has a good reputation, over-all. All sorts of Airheads machine work, including rear drive spline repairs, but does not bore cylinders. Randy overhauls heads.

Paul_Sturges@hotmail.com 1906 Birch Ln, Newburg, OR. (near Portland, Oregon). 503-550-9674; 503-538-5160. Exhaust port threads, etc. I don't know what method he is using, this is a listing, YOU make inquiries, as I don't know what he does.

http://Beemershop.com Ted Porter, in California. Quality workmanship. Very knowledgeable, very good work on heads, etc.

rubberchickenracing@gmail.com Tom Cutter, in Yardley, Penn. Not sure if Tom still sends his work to Randy Long.

www.murphsbmw.com in Eugene, Oregon.

http://www.flyingtpot.com/main.htm FlyingTpot does a lot more than side-stands. Click in the middle on that page (on the eye). They have saddlebags (Panniers) & mounts for pre & post Airheads, do exhaust port repairs, cylinder head valve jobs, ETC. Ask about specific details.




METRIC nuts, bolts, banjo bolts, etc:
Lots of sources. Your local hardware store may have what you need. Pay attention to the markings, be sure you obtain the proper strength! There are places like Rockypointcycle.com that have sets (kits) of stainless steel nuts and bolts for your specific Airhead, etc. Be cautious, and understand how to use, and not use, stainless steel items. There are wholesale suppliers that have extensive metric parts. Just one such is www.denniskirk.com Take a look at that website, and enter METRIC BOLTS into the search box. You will get a hundred+ pages of such, including banjo bolts in all sorts of styles and sizes. The following are the two places Snowbum recommends for metric items:
http://www.metricmcc.com/ http://www.mscdirect.com/

MUFFLERS: See E: for Exhaust




N:




O:


Odometer parts: See under S: for Speedometer/Odometer parts.
Odometer gears, all models: http://www.odometergears.com/products/BMW/R+&+K+Motorcycles/42
Odometer reset knob (that pesky rubber button): http://advrider.com/index.php?threads/bmw-odometer-reset-buttons.361995/

Ohlins shocks, service: Lots of places such as Ohlins Service, Lenny Albin, Superbike Chassis, Anthem, AZ (623) 810-6700.
Recommended: Ted Porter's BEEMERSHOP.www.beemershop.com

Offroading: See A: adventure touring




P:


PARTS, new:
Do NOT forget to use your favorite BMW bike dealership; or, buy your parts from a truly knowledgeable aftermarket supplier who runs a repair center; and WHO KNOWS YOUR BIKE. Two are:
(1) Ted Porter's http://www.beemershop.com on the West Coast, in California. BMW parts for all models; AND, Ted also stocks the full line of Emerald Island (Ei) parts...electricals, mechanicals, etc. Check the Airheads section of the website. LOVERLY stuff!
(2) Tom Cutter's http://RubberChickenRacingGarage.com Tom is on the East Coast in Pennsylvania. Send an E-mail detailing what you need, where you are, etc. rubberchickenracing@gmail.com

You will save time, and save money, by going to them. They know the parts, what fits what, and they know the details. BMW Dealerships may not have this knowledge! My suggestion is to become friendly with ONE GOOD aftermarket independent source for parts and service. See also under R: for repairs.

Other sources for new ....and used ....parts:

Sometimes the American Dealership fiche's will say something is no longer available. It is worth a try to purchase from Europe. In particular, you may find all sorts of parts, even obsolete fairing items, from http://www.meyer-bikes.de/

http://www.motobins.co.uk/ Sales@motobins.co.uk In England. Catalog worth sending a few dollars for, see its hints sections. Many airheads around the world use this company for parts.

Martindale Motorcycle Works (took over Mike Hamende's Airhead Salvage). 632 NW River Road; Martindale, TX 78655 Owner is Mike Orloff. (512) 357-2842 http://www.martindalemotorcycleworks.com/

Stoner's Beemer Stash, Larry "Stoner" Stonestreet. ca.stoner@yahoo.com 39628 Avenida Miguel Oeste; Murrieta, CA 92563 951-813-1704. You can often find Stoner at various rallies, either helping at the Rally, or, selling parts. He has at least one yearly swap/sell meet at his house, as well as a yearly Tech Day. Dates are announced in AIRMAIL. He is a good source for used parts, sometimes has motorcycles for sale. Reliable & honest.

http://www.emersonmotorworks.com

Larry's part time West Coast Beemer Recycle 559-456-3245.



Classic K bike parts:
http://www.kbikeparts.com/
http://www.beemerboneyard.com

Rancho m/c dismantling, 3559 Recycle Rd; Rancho Cordova, CA

www.beemerboneyard.com Mostly K & Oilheads 973-775-3495

www.benchmarkworks.com Vetch is one of the most knowledgeable guys around for pre-Airheads, but also has parts for Airheads. Mississippi.

www.re-psycle.com They also sell rebuilt bikes, do rebuilding, service, restoring, etc.

Racing and modification parts, just about everything for every area of all models of Airhead, including all sorts of camshafts, and lots more. Parts and rework. http://www.motoren-israel.com/

www.euromotoelectrics.com Oil, fuel and air filters, starter motors and parts, alternators, all sorts of electrical parts.

Parts Unlimited, rear of the catalog has electrical components from such as Rick's Motorsport Electrics in NH 800-521-0277 or Electrex in Oceanside, CA 888-369-8359. Parts Unlimited is a good source for OLD British and Japanese bike parts.

While well known for his driveshaft repairing, Guy Henderson carries the small rubbery button that fits over the button on your odometer on later models; which is usually hard to find. (209) 962-7500 hendersenprecision.com Hendersen Precision; 22105 Feretti Road, Groveland, California 95321

REALLY OLD BMW parts:
www.ulismotorradladen.de
www.bmwbike.com this is Mark Huggett's site. Pricey though.
www.benchmarkworks.com Vetch.
www.meyer-bikes.com


WWII R75: Club links, parts, etc: http://www.wehrmachtsgespann.de/

NON-BMW parts: Willies, in Camp Hill, Alabama, recommended by Flicka, of Wagners Ural. 1-800-334-4045.

PLATING: In this paragraph, 'plating' does NOT mean Galnikal or Nikasil or similar, for cylinders. There are innumerable places that do various types of plating. Some are MUCH better than others. The one listed here is in California, and is an OLD company, with a lot of experience. They specialized in Show Quality plating. They can do chrome, brass, CADMIUM, copper, nickel, etc. Can polish SS too. Rumor is that they have a 'grandfathered' license to do such as Cadmium plating, which is just about illegal in many areas, including Europe. They can re-plate your bolts and nuts, etc. ...if you clean them before shipping to them. Ask them about how to prepare your items. Custom Chrome & Bumper. The Company name hardly tells all of what they do. (530) 673-2360; (800) 573-2360. 335 Garden Hy, Yuba City, CA 95991. www.customchromeandbumper.com

****UPDATE, 12/23/2017: The company may not be in business. Their site, or part of it, was declared a hazardous waste site, I think that State began getting after them in 2012 (??). I have no other recommendations for a plating company.


Paint & painting:

Snowbum's paint codes article: https://bmwmotorcycletech.info/pcodes.htm

Color-Rite. Can match any color. Chief Tech is Doug Hodgins >45 years experience. Small to large containers available; as well as aerosol cans and a 'trick' touch-up pen. www.color-rite.com In the USA: in Whittier, CA (562) 947-9796. In Canada (418) 876-3867; if you are not French speaking, ask for Reggie.

RSBIKEPAINT.com in U.K. 0044 (0) 1707 273219 Sales@rsbikepaint.co.uk

Holt's, in Ohio. 740-593-6690 (also does fuel tank repairing. Original Glasurit paints. Meticulous workmanship.

Powder coating:
(1) Fusion Coatings, Livermore, CA.
(2) This company does it really right, even cooking the parts first; then coating, then fusing at temperature. HIGHLY recommended. Greber Machine Tool and Custom Powder Coating; 313 Clark St. Elyria, OH 44035 440-323-8588

Pre-purchase inspections: Contact any knowledgeable Airhead owner or independent BMW motorcycle service company. Some folks advertise that they will do this, one such is Jeff Trapp in Wisconsin jefftrapp@charter.net

Panniers: see S: for saddlebags.




Q:




R:


Recycled parts: See S: for Salvage.

Rear drives, driveshafts, U-joints, etc., repairs. See M: for machine shops:
Hansens in Medford, Oregon.
Randy Long in Pennsylvania.




REPAIRS:
See M: for machine shop services.

Below are those shops I know of, either personally or otherwise feel confident about. These are NOT in any special order of listing:

Ted Porter's shop, in California: www.beemershop.com tedporter@beemershop.com. Beemershop has a very good reputation for everything BMW. BMW and aftermarket parts, including shocks and other suspension components (knowledgeable shock tuning tech too), Omega-type alternators and ignitions; ...the full line of products from Emerald Island, ETC. 5100 Scotts Valley Drive, Suite #100
Scotts Valley, CA 95066 USA 831.438.1100

Bud Provin; in Vermont. Does business as: The Nickwackett Garage.
Very knowledgeable guy; who freely offers his advice on all matters for BMW bikes (INCLUDING Airheads); and participates on the Airheads List on the Internet. SOLID reputation. 802.483.2460 Pittsford, VT.
BMW and Brit bike work. http://thenickwackettgarage.com/bmwtwin/

Bob Clement; in Montana. Decades of experience. Bob's Motorwerks (406) 445-2044. Does every kind of Airhead and pre-Airhead work, including transmission and engine rebuilding, etc. bmwmontana@aol.com

Tom Cutter's Rubber Chicken Racing Garage; http://www.rubberchickenracinggarage.com/ in Yardley, Pennsylvania. A huge amount of BMW experience and background, Airheads, Oilheads, etc. 215-321-7944 rubberchickenracing@gmail.com

Anton Largiader, in Virginia (dba Virginia Motorrad). LOTS of experience. BMW motorcycles only. www.largiader.com http://largiader.com/shop/ http://vamotorrad.com/

Charles Murphy, in Eugene, Oregon, dba Murphs BMW. (541) 689-9954 murphyslawinc@comcast.net. BMW Airheads, Oilheads, and MotoGuzzi's. Run by a real old-timer with a LOT of experience. Ask to see his collection of Airheads and pre-airheads and to tour the storage areas and shop. Last time I, Snowbum, visited him, he was using copies of some of my articles (my ego runneth over!). www.murphsbmw.com

Dave Gardener, previously at BMW of Colorado Springs, was doing business as Recommended Services ...San Francisco area of California. Recommended by many including Matt Parkhouse. He retired and closed up in 2015. Listed here for reference purposes.

Matthias BMW Service; 1412 Santa Fe Ave., Long Beach, CA 90813 (562) 688-3821. Well known, recommended by many. He, too, has closed his shop.

Machine shop work ...BUT ...also overhauls rear drives, shaft splines, U-joints, cylinder heads, shock overhaul ...etc. In Canada: Bruno's, in Iron Bridge, Ontario (705) 843-0822 www.brunos.us. I think he's been ill and closed his shop.

Some types of service, TOOLS, pre-purchase inspections, instructions on repairs, etc., is available from Jeff Trapp. jefftrapp@charter.net http://www.northwoodsairheads.com/ In Madison, WI.

http://katdash.com/ Designer & builders of the plastic LED's unit that replaces the printed circuit board in the Airheads instrument pods. You will LIKE this item, their products, and their service!

Judson Cycle, Lake Crystal, MN (507) 947-3852. No recent information.

Repairs driveshaft U-joints: Machine Service Industry, in Green Bay, WI. 800) 677-8711 The shop foreman is Mitch Lamal

Repairs/Service of every sort, including overhauls: /2 era bikes in particular.

Scottie Sharpe; 2102 Walsh Ave. Suite H, Santa Clara CA 95050 408-475-2696. http://blog.scottiesharpe.com
http://www.facebook.com/scottiesworkshop.

workshop@scottiesharpe.com On the West Coast of USA, in California. Specializes in pre-Airheads, and Isettas. Can do almost anything.

Radios: www.CarRadio.com

Relays: Versatile inexpensive relays that can work fine for most functions in your motorcycle, such as switching higher power headlamps, running horns, starting, etc., are the Bosch (now Tyco) 330-073, rated at 30/40 amperes and 12 volts, SPDT, 5 pin, with tab for screw (tab area can be removed). Relays are available in single and dual pole, single and double throw. Also commonly available is the Blazer DF005 or DF005W which also has a tab/screw mounting. These do not contain the diode(s) used in some of BMW's relays, but you can add them, externally.

Rocker arm needle bearings: Improved type. Beemershop.com




S:


SADDLES, SEATS:
I strongly advise that you think very seriously about your saddle. It will make a tremendous difference in your riding day, this is especially so if you ride long distances. Also...if you can, I strongly advise doing a ride-in/ride-out, with custom fitting, while you are there. This is not available from all saddle makers. Done really right, you will be happy you did. I suggest, that if the situation warrants, you plan to ride in the day or night before, get a motel, and have the seat done the next day. Be very sure of the type and style of seat you want. I suggest you ask, at Rallies, where hundreds of motorcycles are likely there, to sit on someone's motorcycle, on the center-stand, for AT LEAST 10 MINUTES!!! Get a feel for the seat comfort, fit, bottom and side support, lumbar support, ergonomics for the controls, etc. Do this for many many motorcycles. As you sit on the bike, ask yourself how each item I have mentioned really feels to you. Pay less attention to color, style, etc. It took me many years and miles to get the perfect seat for me...which may well not be perfect for you. Take advantage of what I have taught about seats at TechDays, most of which is here, highly condensed. Consider that as you age (even if you put on a lot of weight...or not), that your butt is less supportive to your internals, and your bone structure will be more and more noticeable. Thus, the wider the seat area that supports you, the more comfort you are likely to have. Pay attention to the forward part of the seat. Unless you have a rather tall inseam, as you age, you will find seats that are wide at the front, instead of tapered, will make it more and more difficult or uncomfortable to access the sidestand, etc. I cannot overemphasize the need for a truly supportive and comfortable seat. Flat board seats just don't 'do it' for TOURING.



Russell Cycle Products:
Russell Day-Long touring saddles (800) 432-9566; 530-336-5323, 4917 Shasta Dam Blvd, Shasta Lake, California, 96019. Previously in Fall River Mills, CA., now owned by Terry Bradford. The "Russell Day-Long" is what Snowbum has ridden on for many decades, on many bikes. The basic design Snowbum preferred (when younger) used an crosswise S spring from right to left, that is, across the saddle wings. This design was the original Bill Mayer (Sr.) saddle, and he sold the design, etc., to Russell. Takes a bit of time to 'break-in', and worth it. Available in both leather & artificial materials. Very supportive. If you can possibly go there, I suggest you make an appointment for next day, that is, stay overnight at a local motel. They make the saddles to fit YOU, each is custom. You will not be sorry! I love these saddles for the comfort, and longevity. They do offer mail order. They will have you take some measurements, etc., when you mail-order. They also have a 'sport model', with lower, and to me, softer wings, etc....it works better for those with short inseams and who are much older. Like me. I've done a lot of touring, including 7 trips to Alaska, all except one (ouch!) on Day-Long saddles. When I was younger I used the S spring type of Day-Long, ...now, at my advanced age, I use the Sport Seat, which, with a somewhat narrowed front area as I requested, is lower and works better with my 29" inseam, and I suggest you request, or at least consider, a very tall lumbar support area, that actually contacts and supports your back in your normal riding position. If you cannot ride-in, I suggest you pay a lot of attention to all the measurements and fit, etc., that they will ask for, if ordered for shipment. My present Sport saddle from them (on my 1995 R100RT) was done that way, as weather at nearly the last moment precluded me from riding through icy mountain passes to get to them for my scheduled ride-in appointment. They did a superb job for me. http://www.day-long.com

Rick & Val Mayer. (866) 357-2888; In the Anderson, California area, west of Redding. NOT recommended.

Bill Mayer. In Ventura, California. Much better, over-all, than his brother Rick's, just above. http://www.billmayer-saddles.com

Neither Mayer brother uses their father's original type of design, which uses an S shaped spring cross-wise across, this is inside the saddle 'wings'. That basic design is still being made by Russell (Day-Long), see above, Russell Cycle Products.

Rich's. In Washington State. Reportedly good service & good reputation. This is a place, like Day-Long, to ride-in and have it done there. www.richscustomseats.com/ Rich's Custom Seats; 8264 NE State Hwy 104; Kingston, WA 98346; (866) 328-9774; (360) 881-0881; (360) 881-0521. Snowbum has NO personal experience with Rich's.

Corbin: I don't have a Corbin butt & never owned a Corbin saddle, but have ridden short distances on several of them. I haven't found them comfortable, and had no wish to ride further. I don't particularly like the company customer support, nor some of their "show" designs. YOU may like them. Ask questions. Sit on the designs (on motorcycles) that you like, for perhaps 1/4 of an hour.

SADDLEBAGS: See L: for Luggage.

Siebenrock products:
(1) Tom Cutter: http://rubberchickenracinggarage.com
(2) Ted Porter: http://beemershop.com




STAINLESS STEEL NUTS AND BOLTS KITS, ETC:
I suggest you carefully consider SS drawbacks, such as corrosion (anti-seize compound helps) where SS studs and bolts screws into aluminum castings. Consider also that SS can be considerably weaker than standard 8.8 grade metric steel bolts. Be cautious!

www.Rockypointcycle.com Also same as Northeast Cycle Works. Adjustable voltage regulators, Boyer ignition, Mikuni carburetor kits, stainless steel nuts and bolts kits, etc. (978) 212-5432 9 Bonazzoli Ave., Ste 3, Hudson, MA, 01749. Owned by Bill Blake now. William.blake1@verizon.net




STICKERS/DECALS:
Obsolete ones: http://www.motorbikestickers.eu/shop/
Some obsolete and not so obsolete ones: (1) your BMW dealership; (2) http://www.benchmarkworks.com/

Salvage yards and used parts sources: See P: for parts, new and used.

SERVICE: See R: for repairs

SERVICE MANUALS:

Article 78: https://bmwmotorcycletech.info/url.htm

Article 78B: https://bmwmotorcycletech.info/manuals.htm

Source for bulletins, sales brochures, parts and service literature, etc. It dates back to the 1930's. It is not just the antiques. There is even information on the Krauser's here. This is John Lacko's website. http://beemergarage.com/literature.html

Many manuals are available FREE on the Internet, from a variety of sources. BMW dealerships can obtain many official BMW manuals of all kinds.

There are articles on my website about manuals. https://bmwmotorcycletech.info/manuals.htm; and, ...on the Technical Articles List page: https://bmwmotorcycletech.info/technical-articles-list.htm. There are listings of some manuals and literature, scattered through-out.

While this is listed in my manuals article, here is one source from that article. A vast collection of service manuals, etc., for ALL SORTS OF MOTORCYCLE BRANDS, including BMW: http://carlsalter.com/motorcycle-manuals.asp




SHIPPING:
www.haulbikes.com A shipping company originally recommended to me by Felicia Landes of the well-respected Ural dealership, Wagners; and since by many others. I've had good experiences with them myself. They have very specially outfitted semi-trucks and they are in the business of transporting bikes and race cars. GOOD service & reliable. Internet tracking.

www.funtransport.com A company that is part of Federal Companies with whom I have had good service. Internet-Tracking.

www.eagleoneexpress.com No personal experience nor enough information.




Shock absorbers:
I recommend that you do not use progressively wound rear springs ...the softer section will jackshaft more & I do not like the over-all handling. It is important for the shock absorber springs to match the use & rider weight. The perch adjustment found on most rear shock absorber units do not a stiffness adjustment as thought by many, but adjust the height to compensate for a passenger. This is just one situation where a quality shop with lots of shock absorber experience, such as Beemershop, can help you. http://beemershop.com Several brands, custom suspension units, testing machinery, etc.

Koni: (Ikon of Australia has taken them over) ...rebuildable ...various sources:
www.koniracing.com I do not know if they do bike shocks.
http://ikonsuspension.com/content/international_distributors.shtml is a link to various distributors of parts & service & a fair amount of information on various models of Ikon (and, thereby, Koni). Ted Porter's Beemershop is one of those listed for servicing Ikon/Koni shocks.

Wilbers: Ted Porter's Beemershop sells and services Wilbers shocks, which are of high quality, and set up individually for your needs. He also has the proper machines and thus can service OHLINS and other shocks. http://www.beemershop.com

Link to an article about disassembly of a Koni's or Ikon:
http://www.flickr.com/photos/getproductions/sets/72157638678210483/

White Power & other shock absorbers ...sales, modifications, customization, etc: Lindemann Engineering, Campbell, CA http://www.le-suspension.com

Ohlins: shocks & service: Lots of places, but also Ohlins Service, Lenny Albin, Superbike Chassis, Anthem, AZ (623) 810-6700




SIDESTANDS: See my article (which covers many more brands than the article name): https://bmwmotorcycletech.info/FarleyBrownSurefoot.htm

SILENCERS: See E: for exhaust/mufflers.




Speedometer & Tachometer parts; instrument pods ...and repairs:

Video about how to open the instrument pod on the twinned-instrument type pod: https://tinyurl.com/y8repbux. See this ALSO for information on the just below Katdash.

Katdash.com Replaces troublesome flexible printed circuit board for the instrument pods, with LED lights in a new molded plastic assembly. They also sell a sound-less flasher relay that fits 1974-1980 models, and works with LED lamps AND stock lamps. The KatDash is a nice & interesting unit that solves problems!

Instrument housings, NEW: http://www.bmwbayer.de/ http://boxer2valve.com/ Seibenrock
Available from at least the last two, boxer2valve and Seibenrock, are gaskets, housings, the big plug with wires, trim pieces....ETC.
NOTE: see the video, https://tinyurl.com/y8repbux, or the website http://boxer2valve.com/, to more positively identify your exact year of the housing, as the writing and identification for the center indicators has varied over the years. For additional identification, see my ring gears article: https://bmwmotorcycletech.info/ringgears.htm which has information on dial colors, pointer colors, etc., as they have also varied over the years....colors AND positions, and under-tank master cylinder models (to 1980, ATE brakes) had brake failure lights.




Terry Vrla; 776 SE 3rd Ave; Hillsboro, OR 97123; 503 421 5782 Airhead instrument pod overhauls, repairs, parts, etc. Speedometers, Tachometers, can even fix the pod threaded insert areas.

PERHAPS second choice after above Terry Verla: http://Foreignspeedoinc.com, in San Diego.

http://www.speedometer.com/bmw_cycles.html Repairs and calibration on speedometers, odometers, mechanical and including the electronics type on the K bikes. I think he can do actual circuitry repairs. Rick Borth

North Hollywood Speedometer: www.nhspeedometer.com

Palo Alto Speedo; mixed reviews. I cannot recommend them for electronic tachs at this time. www.paspeedo.com in California.

West L.A. Automotive 877-900-9009 310-838-7350 In Los Angeles www.speedometerplus.com

Southern Electronics, Inc, in Richmond, Virginia. Speedo & tach repairs ...and can do things quite in-depth. They can do mechanical and electronics units, even BMW radios. 800-446-2880; 800-572-2880 www.instrumentclusters.com Their radio site is http://www.CarRadio.com

One specific item! ...while well known for his driveshaft repairing, he has the small rubbery buttons that fits over the button on your odometer on later models ...a hard to find item. Guy Hendersen (209) 962-7500 guy@hendersenprecision.com http://www.hendersenprecision.com/index.html Sales@hendersenprecision.com Hendersen Precision; 22105 Feretti Road, Groveland, California 95321

ODOMETER gears, all models: http://www.odometergears.com/products/BMW/R+&+K+Motorcycles/42

SPLINES: see section M: for machining.

SPOKES: Spokes, wheels, rims, rebuilding, etc., for your wire-spoked wheels: http://www.buchananspokes.com/

STICKERS/DECALS: Get obsolete ones. http://www.motorbikestickers.eu/shop/
http://www.heritagestickers.eu/cat/

SWITCHES: Rocker switches to fit BMW rectangular holes: Cole Hersee 57000-04, etc.




T:


Throttle-Rocker: www.throttlerocker.com 800-757-2453; Scotts Valley, CA 831-458-1264

Triple clamps and fork braces: www.toastertan.com




TOOLS:

Snowbum's lengthy tools article: https://bmwmotorcycletech.info/tools.htm

Clever BMW tools, videos, and help:
Ed Korn previously did business as Cycle Works, in the town name of Oregon, in the State of Wisconsin. He did machine work, designed & made lots of useful tools (& some parts) for everything from the Isetta cars through the /2 era & for all Airheads. Many were very cleverly designed, & he had instructions, videos, ....all sorts of stuff. Doing a run-through of the website was informative to many folks. Ed sold the business to Dan Neiner, who runs it as Cycle Works LLC. The present location of Cycleworks is 5405 SW U.S. Hwy 40, Blue Springs, MO. 64015. (913) 871-6740. Dan@cycleworks.net NOT .com. The website is: http://cycleworks.net/ NOT .com. Dan Neiner will sell ...or loan-out ...his version of the cylinder stud hole thread repair tool & Helicoil items for $45. I suggest you review what is on that website. There are many tools for Airheads and other BMW bikes. Some really nice tools. You will appreciate many of them. Take a look at the simple bearing pullers and the tools for the timing chain and sprockets job, etc.

When you simply cannot find a German tool you need: http://www.samstagsales.com/

Jeff Trapp jefftrapp@charter.net http://www.northwoodsairheads.com has a number of interesting tools for Airheads. Jeff does repairs, inspections, instruction on repairs. Jeff has his own tools, some, or many, are probably inspired by Ed Korn's tools or even copies or near copies. He typically provides extensive detailed instructions. Jeff has available a complete "loaner" kit ...everything, jigs, longer BMW helicoils, drill, tap, etc. ...for repairing bad cylinder stud hole threads. http://www.northwoodsairheads.com/Cyl-Stud-Jig.html

Cylinder stud repair tools: https://bmwmotorcycletech.info/tools.htm SEE ITEM 20 IN THAT ARTICLE, for how-to-do-it videos, etc.

Some clutch centering tools, harnesses, etc. All are made in USA. http://wirewerkes.com

http://www.motoscrubs.com/Joes_tools.htm Limited number of items, but includes a seat hinge fix; some specialty wrenches and sockets, etc. ....Take a look; and his prices are quite reasonable.

Tank Bag repairs: http://www.customtankbags.com/ click on LEFT for PRICING, and then scan way down that pricing page.

Tachometer repairs: See S: for speedometer




U:


USB adaptors, DIN plug to 5 volt USB outputs: See under A:
There may also be some of the adaptors available after my testing, in my sale page, at a considerable discount!
https://bmwmotorcycletech.info/sale.htm




V:

Repair videos: http://www.boxer2valve.com

Voltmeter that fits the dash: VDO 332-103 Vision
Also, see more of the VDO line here: https://www.egauges.com/Voltmeters-12-Volts-s/22268.htm

Ammeters versus voltmeters: https://bmwmotorcycletech.info/amp&voltmeters.htm

For a small, rectangular, accurate, self-illuminating DIGITAL voltmeter, that you can mount almost anyplace, then see the DATEL unit. There is more information on voltmeters in my electrical hints and other articles, but here is a snippet:

"To install a rectangular type digital voltmeter, my favorite meters came from www.datel.com, now http://www.murata-ps.com/. Good quality, rugged, reliable, accurate, red or green or blue digits, all of which light up themselves; work fine at any temperature. I recommend red digits, easy to see; easy on your eyes at night. See also www.bikemeters.com or www.digitalmeter.com (Retail outlets primarily, Datel type meters, with information, so snoop around). I recommend Datel's (murata-ps.com) model number DMS-20PC-1-DCM-C. These draw about 13 ma when powered. If you want a panel bezel, that is DMS-BZL4-C, with gasket. The meter will read accurately from +8 to +50 volts D.C. These are two wire, self-powered, need no lamps. They are fully encapsulated in a polycarbonate rectangular body, & are very rugged. Red digits for the above number. If you want blue digits the number is DMS-20PC-1-DCM-B-C; green digits is DMS-20-PC-1-DCM-G-C. The LED's are 0.37" high. Do not purchase the 0.01 volt resolution type (has an extra digit), as it is way overkill; and the always changing indication on the right-most digit will drive you crazy. You need only 0.1 volt resolution even for the most critical alternator voltage regulator work on your bike. You'd only use your new digital meter for such work by using the meter with leads attached as a test instrument. There are cheap "equivalents" to the Datel unit, sold on Ebay. They seem to be OK."

Vintage BMW group: VintageBMW.org




W:

Wiring harnesses: Custom made, high quality, cheaper than BMW (and can make them for models BMW no longer supplies harnesses) http://www.brittsandbeemers.com/wiring-harnesses/ They are in Caldwell, Idaho


WIRE: Sources for small amounts of colored/coded wires (new wire; you can always get used wires from wrecked cars ...but new is much nicer!):
http://eagleday.stores.yahoo.net/neauwi.html Metric sizes
http://riwire.com American gauges sizes


WHEELS:
Straightening: see also under F: for frame, wheels, etc.

Buchanan Spoke & Rim, Inc. (626) 969-4655. Respected in the Industry for a very long time for all sorts of wheel work. http://www.buchananspokes.com

http://www.woodyswheelworks.com/ Can do Akront, GS cross-spoked wheels, straightening of wheels, special spokes and modifications, etc. Woody's is in Denver, Colorado (866) 936-0232 (303) 936-0232 Good workmanship!

David Moore Wheel Service 9383 Buena Vista St., Apple Valley, CA 92308 (760) 240-3543

Balancer's, for wheels with and without tires, etc: http://www.beemerbalancers.com/
There are a number of types of wheel balancers on the market. My advice is to avoid the "Chinese-made cheap ones". Be sure any balancer, of any type that you purchase, is well-made, and if it uses bearings, that they are SMOOOTH-feeling as you rotate them....ETC. Ask for advice on the Airheads LIST.

Windscreens: Fairing screens, and almost any plastic windshield, is available from stock; or, custom types also available, from Gustafson Plastics, St. Augustine, FL. 888-824-3443.

There are a number of makers, including Parabellum http://parabellum.com/.

Also: www.bikescreen.com




X:




Y:




Z:




MISCL:
---
Revisions: NOT normally noted for this article.
© copyright 2019, R. Fleischer
Return to Technical Articles LIST Page
Last check/ edit: Wednesday, September 18, 2019