---
Snowbum's BMW Motorcycle Repair & Information Website








The ads above are Google-sponsored.
Clicking on them at every visit helps support this website!
Clicking on something in an advertisement helps much more.


BMW COMPANY HISTORY
The complete story ...well, nearly!
Extensive listing of BMW car & motorcycle Roundels.
Part numbers & descriptions.
Information on other ""BMW's"": EMW, Cemec, Ratier.

© Copyright 2023, R. Fleischer
https://bmwmotorcycletech.info/roundel.htm
68B




The long listing of Roundels, descriptions & part numbers, is near the end of this article.

Some of my own mileage Roundels: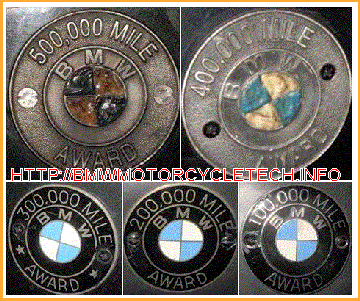 I finally received my 600K badges, which
are very different from previous ones (above).
A paper certificate also came with the badges.
The brown/gold framing is by me, on my photo
of the roundels.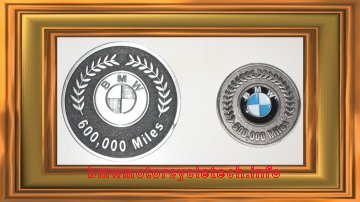 Below are ones you may see on various
owner's bikes, yes, even the 1923 version.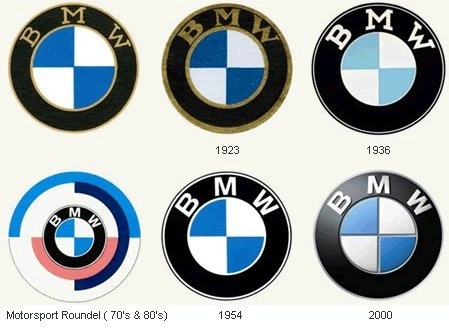 There is a fair amount of confusion over the exact appearance of Roundels over the years. Some sources will show the UNDATED roundel above, as year 1927. These same sources almost always say that in the 1923 roundel, above (the same is seen in 1933); the 1936 above is the same as their 1954; the above 1954 is the same as their 1979. The above 2000 is spoken of as if it was from 2007, which is NOT SO. The earliest Roundels had gold colored letters and gold colored ring surrounding both the outside and the separation from the outside black area and the blue and white portion. There is confusion over the exact thickness of the gold rings, and the FONT used, in any specific year. What is for certain is that the serif was dropped in the later roundels. I have found a large number of errors in the font and roundels as published, even in the BMW Owners News. BMW is very protective of its Roundel. I would not be surprised to find BMW asking me to remove them from my website at some time! I would not, for my own roundels!

---
The true history of BMW is more convoluted than you probably think it is. Various literature has assorted PORTIONS of correct information, but not the entire story, and in MANY instances, what is published is just plain WRONG. What follows in this article covers branching, sub-branching, and all sorts of intrigues....but I begin with a section to whet your appetite, because MOST folks have NEVER heard of these things.
Note: When I began the intense research for this article, I started to make a Family Tree for BMW. It became very unwieldy so I dropped it from this article. I'm sorry to say it, but I should not have dropped it, as it can be useful for those who understand things best by sketches and photos
---
First, for your information, this section; between thick black lines; has some unusual "BMW" motorcycles.

NOTE-1: There have been single and twin cylinder "BMW's" produced in the era of, roughly, 1945 to 1956. These motorcycles may be seen with a BMW roundel (even if not a real BMW bike), or the EMW (Eisenacher Motoren Werke) roundel; and, other identification roundels/plates/etc., and may be identified by names such as CMR, EMW, Ratier and Cemec. There were also Chinese and Russian "copies". The article below does NOT treat these various bikes.

Note-2: A rather comprehensive/compact article of information about production, serial numbers, how to identify, images, etc., was published on pages 34-36, of volume 46, number 4, Winter 2022, of Classic BMW Motorräder, the magazine publication of the Vintage BMW Motorcycle Owners club.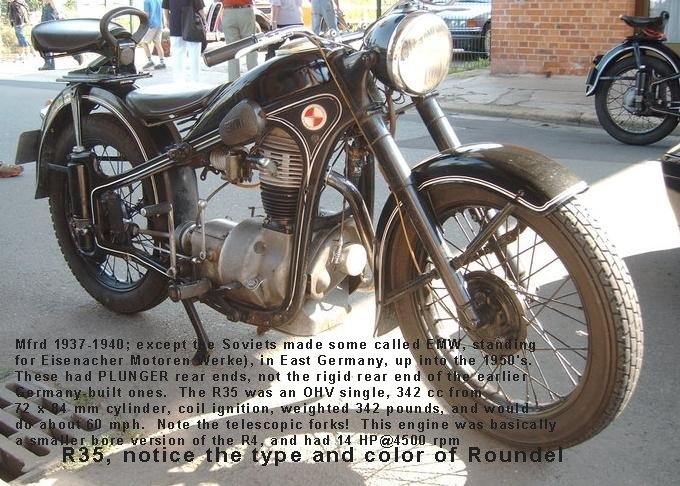 https://www.emw-r35.de/ ...a quite valuable website. Not only some additional detailed history besides what is in the photo above, but even has maintenance and repair literature, etc. If you have one of these motorcycles and don't have all this information, you may well want to print nearly everything! It is in German, which you can easily get translated by putting the website address or page/etc., into most any internet-based translator.

The R35 was a regular model in BMW's lineup in the late 30s. The Wehrmacht liked it & ordered many. BMW was building engines for the FW-190 & other planes & the Munich factory was full. So they sent production of the R35 to Eisenach, the plant they got when they bought Dixi in 1928 & got into automobiles. Eisenach is in Saxony, which ended up in the Soviet Zone after the war. The Soviets continued to build the R35 with the spares they found there after the war, & then started producing their own. They continued to make these motorcycles until 1957, with three distinct generations of the model, the last with plunger suspension. They were forced to change the name in 1948 when BMW sued them to stop using their name & roundel, so they came up with the white & red EMW logo. I am surprised BMW did not, again, sue them....but haven't found the full history of the original lawsuit.

Here's some tech specs, etc: https://www.motorcyclespecs.co.za/model/bmw/bmw_r35.htm
I captured this poor photo from an Airheads group page on Facebook, on 08/18/2015. NOTE that this Roundel has both the BMW & CMR letters ...& note that the 'propeller' (which it is not) has blue AND RED sections.

After WWII, there was a large parts depot in Paris. A company named CMR made motorcycles from parts, etc:
http://bmwvmca.org/ may have considerably more information on them, but the exact page URL keeps changing. Last time I checked, this URL worked, and had the list of production, serials, etc:
http://bmwvmca.org/joomla/index.php?option=com_content&task=view&id=541&Itemid=37

CMR then became Cemec https://en.wikipedia.org/wiki/CEMEC, making bikes primarily from leftovers. I do not know if any of these were sidecar rigs. They were R12 engines put into Plunger type frames. The combination of, essentially, R51-R61-R71. The company ended up making some of their own parts, with some changes to them.
They were bought out by Ratier https://en.wikipedia.org/wiki/Ratier, who made an OHV boxer-engined bike. They were then (??) purchased by Dassault ...and any production stopped in the 1960's (some say earlier).



---
The BMW company:
The real story, including Roundel background information (& the controversies).
The true story of BMW is often distorted, embellished, or just plain WRONG. Even BMW personnel will sometimes offer-up wrong information, lest your questioning of them lead to a excessively long discourse ...or; worse, THEY may NOT really know the true story. My information is believed to be accurate, and was based on a LOT of research.
I will put the most common misconception here:
It is quite popularly believed that BMW's Roundel is a BMW artist's rendition of an airplane propeller, as it seems natural to think it is a propeller, as BMW really did make aircraft engines. However, the Roundel is not a rendition of an airplane propeller. It remains, in some quarters, somewhat of a controversy; and, the myth is perpetuated, even by some who think they are telling the real story. In some instances, I think that even BMW personnel, to avoid a long involved explanation, simply 'agree' that it is an airplane propeller. I have even heard of BMW's own Mobil Tradition folks passing out wrong information!
Many of us (me included) think that the controversy started in a BMW Journal in 1942, when Wilhelm Farrenkopf did an article showing an aircraft & a spinning roundel. It is entirely possible that a much earlier event started this controversy, because, in 1929, BMW acquired a license to make Pratt & Whitney radial aircraft engines. The "story" goes that the advertising folks used a Roundel, & made it blue & white. I have not researched that. BMW did get a license from Pratt & Whitney to build the Hornet radial engine. But, the engines that BMW built, as far as I have been able to see on photographs, such as from the Deutsches Museum (Munich) all have Pratt & Whitney emblems, because they ARE Pratt's. HOWEVER, the BMW 132 engine, which WAS developed from the Pratt & Whitney engine(s), DOES have the BMW Roundel on it. When the 132 is on display, it is clear that BMW used its Roundel.
---
National Geographic did an excellent 47 minute video of the BMW company. REALLY worth watching...covers cars, motorcycles, aircraft engines, lots more! Mostly cars. https://www.youtube.com/watch?v=fVuStnVJV1A. There are errors, but it is a good watch. That link was not working in April, 2018. I have not bothered to find what the link is later than that checking date. Check and see if it is working. If not, try a Search on the internet for it.

The following is a really good book. I can quibble with it, but if you are really interested in BMW's origins, particularly at the very beginning, and the Victoria motorcycle and the engine BMW furnished for it, 'supposedly' based on the flat twin Douglas, then purchase the book and read it. BMW Motorcycles, by Ian Falloon, probably dated 2015.
---
What follows below is my in-depth-researched BMW history. Google and Wikipedia searches might turn up even more information specifically on Rapp, Popp, etc. Everything below is believed completely accurate.
"BMW" came about from mergers, buyouts, etc. The information I provide below is more interested in the motorcycle side of the company, as the CAR side of the company is pretty-well-handled by the National Geographic video, if with some errors.
If you have the idea that BMW had many many twists in its early days; that there were both combined & distant things going on, such as aircraft engines, engines for other company's motorcycles, FURNITURE making, cars, & eventually BMW's own fully branded products, you surely would be thinking accurately!
In 1913 a company was founded called Rapp Motoren-werke. The company was started by Karl Rapp; it made aircraft engines. It's own design was not very reliable. Max Friz developed an altitude compensating carburetor for those early engines, that invention was quite a good one. More on Max Friz later. The company needed something to sell, so they began making engines for Daimler.
BMW had already existed in the early 1900's; and THAT 'BMW' made engines & brake parts for a company named Knorr-Bremse, of Munich ...before & during WWI. Knorr-Bremse still exists, making brake parts for railroad vehicles. J. P. Vielmetter had purchased Kontinentale Bremsen-Gesellschaft for the Knorr-Bremse company before WWI, & turned that into what might be called BMW, making brake parts for railroads ....& engines & other aluminum parts for other companies. The BMW board of engineers at that time were Wilhelm Strauss & Franz-Joseph Popp. Popp, who had previously worked for Knorr, contacted his old Knorr-Bremse friends, & arranged for 'BMW' to have a contract making these mentioned items. Popp's idea was to keep 'BMW' going, by most any means, until the economy improved.
It was some years later, in 1921, that BMW showed some of its auto parts & motors; and, a pamphlet on BMW's own motors, at the Berlin Auto Show. See below, ...it was in this period of time, that Castiglioni purchased his BMW shares back from Knorr-Bremse ...and had also purchased a large block of shares in Bayrische Flugzeugwerken AG. BMW & Knorr-Bremse separated from each other, & BMW moved to Lerchenauer Strasse ...Popp stayed with BMW.
The head of the division at Daimler that contracted with Rapp, was Franz Josef Popp. Popp eventually went to Rapp to oversee production, & became involved in managing Rapp. It was Popp who convinced Rapp to hire Max Friz, who was a Daimler engineer. Friz designed an engine for Rapp. Friz's first engine for Rapp used the BMW nameplate.
July 15th, 1917, the owners of the company (Rapp did not have control) fired Rapp, & now needed a new company name. The new name, as of July 21, 1917, was Bayerische Motorenwerke Gmbh. Thus; BMW, AGAIN! It was Popp that actually hired Max Friz for BMW. Popp was the Director of the company until 1942. Popp was given a certificate confirming his position as General Manager ...that was in late 1917, but he actually became a Director of the Company, a minor point, actually. As near as I can find out, Max Friz became part of the company, or at least the engineer, in 1917.

As you can see, the involvements were quite twisted in the early days.
WWI ended in 1918. Under the Treaty of Versailles of 1919, production of aircraft engines in Germany was forbidden. A bit before the Treaty was in effect Franz Zeno Diemer, a test pilot, test flew a DFW 37/III from Oberwiesenfeld airfield. Powered by a BMW type IV 6-cylinder engine, it reached an altitude record of around 32000 feet. The record was not recognized by the Fédération Aéronautique International, as Germany was not allowed to join. The You Tube video, see the hyperlink well above, mentions this aircraft and altitude reached.
BMW built several types of aero engines. One of them was 19 liters & put out 226 horsepower. BMW built some engines for trucks & boats (4 cylinders) but they did not sell well. BMW then developed the M2 B15 engine, which was a 2 cylinder boxer motor. Photos of this engine, and a cutaway view, are here: https://bmwmotorcycletech.info/photogallery2.htm. It has been said that BMW developed that engine for industrial use, but I am not so sure about that, although it is possible. I have been UNable to find actual records. What I DO know, in detail, is that this engine was supplied to several motorcycle manufacturer's with quite some success. This engine is the basis for the Boxer motor that BMW motorcycles are famous for. The motor was used in the Victoria KR1 motorcycles (made in Nuremberg), and was quite successful into the early 1920's. Note that the engine was mounted fore and aft, which is 90 degrees from what BMW's own boxer engine'd motorcycles use. That means that there were some overheating problems with the Victoria KR1. The engine was also used in some airplanes, & the Helios bike produced by Bayerische Flugzeug-Werk, & the Bison also. The gearbox was also supplied by BMW. Photos of the extremely rare Victoria KR1 motorcycles are in the same photo gallery: https://bmwmotorcycletech.info/photogallery2.htm.
Complications are always with us when trying to understand BMW history, but some say that the company sold its engine production to the above company, and that included the BMW name, and then BMW moved into the airplane works factory building, and that this happened in 1922. They say that the Aircraft company had started on March 7th, 1916, so this became the new founding date of BMW. I believe those using the date of 1926 are wrong. Note that this information conflicts somewhat with that of two paragraphs up. I believe my original information is correct. Are you sufficiently confused? The next section will likely confuse you more!
---
Backing up a bit; the following is important for full understanding of the true basis for the Roundel:
When Rapp left & BMW Gmbh came about, it continued to be Friz for engineering and Popp for managing. They decided to get a new logo. The original logo was Rapp's, had been designed by Rapp's brother Ottmar. Rapp's logo looked something like today's Roundel, but in the center was a black horse. Why? ...well, Rappe (yes, with an e on the end) means black horse in German. So, Friz & Popp wanted to keep something of the old logo, so they simply used the blue & white of the Bavarian National Flag, eliminating the horse. There was no propeller involved. Popp wanted the new logo & company properly registered for legal reasons, so he registered the logo & name on December 10th, 1917 (some say October 5, 1917), as #221388, & they used "Roundel" as an actual name. REIGEN is German for the English 'roundel'. The registration was done at the Imperial Trademark Center or something like that name. I have heard, but have not proven, that the blue and white areas were reversed from the Bavarian Free State flag, it being illegal to do otherwise. Friz and Popp added the letters BMW at the top. Over the many years since, the emblem has changed some, and the font of the "BMW" has changed some, but the basics remain. Note, again, that the Roundel design had nothing to do with aircraft engines. Confusion over this probably comes from a 1929 advertisement, in which aircraft had the roundel image in the rotating propellers. This advertisement came at the beginning of the Great Depression, and at the same approximate time, BMW obtained a license to produce Pratt & Whitney radial aircraft engines. BTW...If you compare BMW radial engines, with the Pratt & Whitney engines, you will see resemblances! The idea that the roundel had something to do with aircraft propellers was, again, as noted earlier, wrongly concluded by many, due to the publishing in a BMW journal of 1942, written by Wilhelm Farrenkopf, which had an image of a spinning roundel and an aircraft.
The above information was how the trademark patent and some other things came about. NOTE that the Application for the Trademark Patent stated that the symbol for the company and its products were for a wide range of things, including land-sea-air vehicles, autos, bicycles, vehicle components, and engines and furniture! So, it was Max Friz and Josef Popp who did the roundel. However ...there is a somewhat confusing bit here, as there SEEMS to be involvement in the Roundel by Camillo Castiglioni, the previously mentioned Italian Financier. I won't get into all the paperwork I had to find, translate, etc., to show why I believe Castiglioni was involved ...but I think I have it all figured out ....and why Castiglioni was involved, perhaps not in the Roundel design (that is UNclear) ....so, read on a bit...
Here's the last part of the confusing beginnings of BMW....
Gustav Otto was the son of the famous inventor of the 4-stroke combustion engine, Nikolaus Otto. We used to call this engine style the Otto-cycle engine. Gustav was a pilot, and he started a flight school, called Otto-flugzeugwerke, in 1913, located someplace around Munich. That company was purchased in February of 1916 by a consortium of companies including MAN-AG & some banks. These investors immediately started business as Bayerische Flugzeugwerke AG. BFW (NOT BMW). ((side note: The Wikipedia article I linked, well above, mentions MAN-AG.....etc)).
That company had problems & branched out, producing aircraft for others, & also made furniture (a nice fit for the business ...as aircraft were mostly constructed of wood) ....and after 1921 they made the Flink and the Helios motorcycles. I have already noted that Helios (not sure of Flink) used the BMW flat 2 cylinder engine, see my link to the page with the Victoria, etc. I do not think of these motorcycles as BMW's.
In late 1921, Camillo Castiglioni, the Italian financier, purchased some of BFW. Popp was somehow involved, perhaps as advisor; I've found no records about his position. In 1922 Castiglioni AND Popp bought out MAN-AG's interest in BFW. The company was now, essentially, Castiglioni's. He then bought BMW's engine business, which at that time was owned by Knorre-Bremse AG.
At this point; I'd expect your head to be really spinning! ...but ...there is a bit more (sorry!):
>>>> Castiglioni then merged BFW and BMW! <<<< Whew!
Some books have the situation mixed-up, and ONE of the mix-ups came about because Bayerische Flugzeugwerke AG was restarted in 1926, and BMW had stock or some other fairly decent interest in that company. Popp was BMW's representative on the Board!

Ready for another twist?
>>>>That company name, BFW, changed later ...to Messerschmitt! YES, the SAME company that made the bubble ""cars"" (motorcycles)! https://en.wikipedia.org/wiki/Messerschmitt_KR200
BMW's first motorcycle that THEY produced fully and directly, was developed by Max Friz, who, I believe, and noted previously, joined BMW in 1917 after having a lot of success as an engineer for Mercedes, especially the Grand Prix winner of 1914, the engine being a 4-valve overhead cam type. I think Friz was also the designer of BMW's WWI aircraft engine, the Type IIIa, which I mentioned earlier. The first real BMW motorcycle was being engineered in 1922. ...but.... the model R32 was not unveiled until the Berlin Exhibition of 1923.
As it is said, The Rest Is History.
---
Much later history of BMW motorcycles ...in the USA:
Some of this information comes via Tom Cutter, posting to the Airheads LIST on 9/29/2009, ....and more to me directly, ...in Feb. 2016. A fair amount of the information is also from ME, as I was involved, on the West Coast, in sales and service, & as a roving BMW troubleshooter tech, and was also head of the shop, at Winklemann's BMW Motorcycles.
BMW importing was done by Max Hoffman, who also imported VW cars. In the late 1950's, Butler & Smith Trading Corporation purchased those importation rights. They moved to 63rd Street in New York City, and in 1971 they moved to Walnut Street and Hudson Avenue in Norwood, New Jersey.
Butler & Smith was owned by Michael Bondy. Bondy (see information considerably below on Bondy and Earl Flanders) sold to the Adams Family before the move to New Jersey. The owner was L. Irwin Adams, and B & S was run by his son, Dr. Peter Adams.
The last day of operation by Butler & Smith was the end of September 1980. Tom Cutter said HE personally locked the doors on September 31st, & drove to the home of Dr. Peter L. Adams & delivered the keys ....everyone else had cleared out the previous Friday.
There never were any people involved named Butler nor Smith. The name came from the address of the Corporation from whom Michael Bondy bought the importation license; that corporation happened to be located at Butler Street & Smith Street in Brooklyn, N.Y.
Many years later the Adams Family sold out to BMW of North America, who used the Walnut Street facilities for some years.


Notes from Snowbum: Tom made a typographical error in his List posting of 2009, as there is no September 31st (he corrected that in the information in the surrounded box, 2nd photo below); & I also think he meant 83rd street, not 63rd.
Below is an early advertisement from the mid-fifties.
Here is a bit about Flanders:
Earl Flanders was a machinist in the 1940's, and when WWII ended, work for the government greatly decreased, so he began making parts, particularly handlebars, etc., for his motorcycling buddies. This was a garage operation, and soon the business expanded into a substantial +-sized Quonset hut on some property Earl purchased. This was all a project of the Pasadena Motorcycle Club. It was just down the street from Johnson Motors, the Triumph distributor. Earl and wife Lucille put up a building made from old motorcycle shipping crates, and the city building inspectors did not like it, so Earl put up a real building in 1948. Soon they had a couple of dozen employees. Earl arranged 'Black Market' (the only way to get chrome plating done back then) handlebars plating at a place in Bakersfield, California. This situation made for a goodly business, that lasted a number of years. Earl moved the business into a larger building. Earl was pretty well-known by then. Michael Bondy (see several paragraphs above) contacted Earl and wanted Earl to distribute NSU motorcycles; which he did ....and 2 years later, Earl became the west coast distributor of BMW motorcycles and parts .....actually as a distributor under the Butler and Smith Company. This lasted until 1971. Earl sold handlebars, tires, motorcyclists clothing, and all sorts of accessories too. He and Lucille retired in 1977, and Earl died around 1984. His son took over, as I remember.
B & S took over from Flanders eventually, and established a distributing center in Compton, California. See the right lower corner of the below advertisement ....and note the mention of NSU in Canada.
Flanders Company present-day website does not say anything about the past distributorship. http://flandersco.com
NOTE: I raced at the Bonneville Salt Flats, in Utah, USA, in 1971, proudly setting a new world's speed record which lasted 6 years until a FACTORY team broke it, this was in class A-C-1000. My record was set, as is usual, by running in two directions, averaging the speed of both, over a 1 mile distance. The race was held, as usual, under the auspices of the American Motorcycle Association, Inc. There are four signers on my certificate of Speed Record. The OFFICIAL TIMER was Earl Flanders!
See the lower right corner of the ad, just below: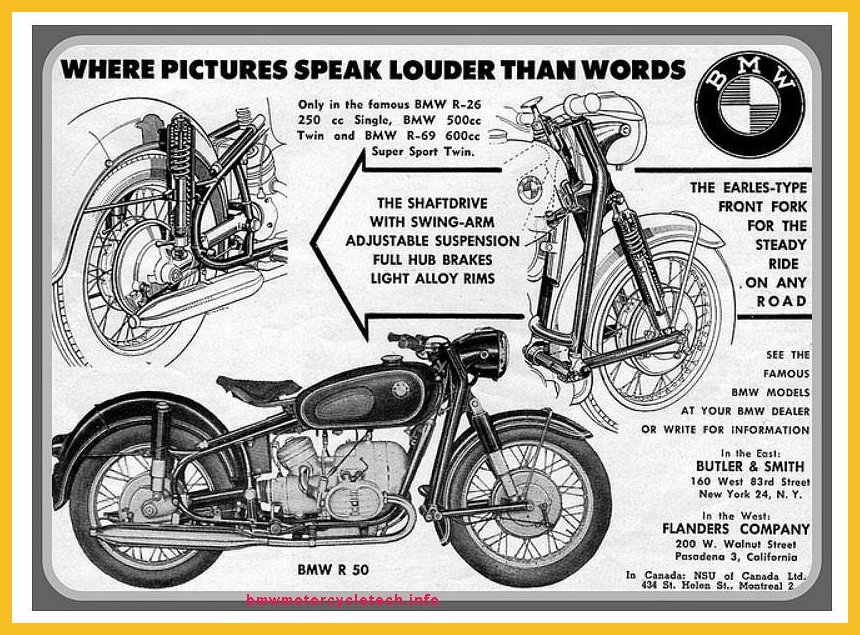 Tom Cutter posted this, as part of a message from him to the Airheads LIST, on 02/07/2016. I underlined some important parts. I have made only quite minor changes, such in punctuation, spelling, and perhaps a missing word or two.
The name "Butler and Smith" was purchased in order to obtain the import/export license of a company located in Brooklyn New York, which was situated at the corner of Butler Street and Smith Street.
The actual motorcycle operation of Butler and Smith Inc. was located in Midtown Manhattan until the late 60s, at which point it moved to Norwood New Jersey. At around that time a second subsidiary distributorship was opened in California, first in Pasadena, and then it moved to Compton.
Butler and Smith Inc. was the US importer of BMW motorcycles until September 30, 1980. At that time BMW of North America took over direct distribution of BMW motorcycles in the US and Canada. There's a lot more to the story, all of it is as boring as watching people rent cars in a small town. The only reason I know what I do know about them is that the first BMW dealership I worked for was located in Vermont, and part of my job was to drive to Norwood New Jersey, and pick up new motorcycles and parts. It was on one of those trips that I was offered the position of service training instructor, working with Udo Gietl, and Gene Shirley. Butler and Smith Inc. was owned by L. Irwin Adams, and managed by his son Dr. Peter Adams. I was employed there from 1976 until 1980 when they closed. For what it's worth, I was the one who locked the doors on the building the last day and delivered the keys to Dr. Adams. (not that that's worth anything)
---
ROUNDEL'S (BMW emblems):
The earliest Roundels had gold colored letters & gold colored rings surrounding both the outside & the separation from the outside black area & the blue & white portion. There continues to be confusion over the exact width of the gold rings, & the font used, in any specific year. For certain the serif was dropped in the later roundels. I have found a large number of errors in the font & roundels as published, even in the BMW Owners News. Since my own information is only partially known correct for sure, I am not making definitive claims, except to those I know and can back up with definite information.
There are quite a large number of various sizes & styles of BMW Roundel's. Car dealers have some types, bike dealers have some other types. BMW comes up with new ones now and then. The bike dealers should be able to order the car types; & vice versa. Some Roundels have holes for use with flat head screws (taper seat screw) ...some have holes for use with oval head screws. A few have underside pegs, used with clips, these are on cars mostly. Most popular are the various stick-on types.
In common use are these styles: Flat Style, Jewel or 3D, Raised Edge. Jewel style means they are smooth & rounded, & the back is metal ....they look like they are encased in glass or clear plastic. Flat Style emblems like the old /6 & later tank emblems are a simple thin circle of aluminum & the logo is laminated onto them. 3D style emblems have a depth look, are plastic backed & have a raised chrome-like rim around the edge. Vinyl stickers are flat, flexible, & may look like 3D. Emblems generally have a self-adhesive backing.
There is a type of Roundel that I have not listed. These are the mileage-award Roundels. Early versions (500K and under) of are 70 mm & have holes for tapered-head screws. You can see mine, at the top of this article ....and the smaller ones that BMW used for my 600K badges.
Warning! This applies to ALL cloisonné (enameled) type roundels. DO NOT over-tighten the screws you use for mounting the roundels. Use the proper original type of screw heads. Use a single drop of Loctite medium strength (usually blue) on the threads when installing. If you over-tighten the screws, by even a bit, you will crack the enamel!
---
16-11-1-230-769 (use rubber pad 16-11-1-230-506). These is a 70 mm screw-on enameled type (Cloisonné is often used to describe these) used on the /5 fuel tanks. Some books may show the rubber pad as obsolete, but they are available from Bob's BMW, who carries a decent variety of Roundels ...even the Motosports ones. Bob's stocks SS screws; to replace the 07-11-9-928-420 screws. 16-11-1-230-506 should be the number for the rubber gasket.

NOTE: There are other types of screwed-on badges, such as on the /2, etc., on QUITE OLD BMW motorcycles. Bob's BMW carries some if not all of these. $$$. San Jose BMW carries quite a variety of variety of roundels. Ask your local favorite dealer ...or INDEPENDENT SHOP! ...such as Ted Porter's Beemershop, or Tom Cutter's Rubber Chicken Racing Garage.

51-1-40-035-269 Serif lettering on the tank emblem, used from 1951-1965 ...such as on the R69, etc. These are 58 mm diameter, $$$$, and as now shipped by BMW the metal portion is silver, not gold as in the originals. Base gasket is 51-1-46-040-110. The screws are 4 x 2 fillister head, 51-1-45-590-033.

51-14-8-080-181 Without Serif (Sans-serif), used from 1966-1969; for these, you will want the SS screws, Bob's has them: 07-11-9-901-310. See also the above screws and base gasket.

51-14-5-096-147 R60S rear fender emblem. Can't find my references, probably an error here. I can't find my ancient parts book.

16-11-1-232-908....then 16-11-2-325-179; 70 mm stick-on types. They've been replaced in some literature by 46-63-7-686-746, see below. Some catalogs show the -179 as a current product. Used on K tanks, many other places, all BMW bikes. The -179 is a good number. There is a car part number, 36-13-6-758-569 that looks at first glance to be identical, but it is actually nicer, with the BMW and the round lines being slightly raised. These used to cost about $8, and the car part is the one to get. ...in my opinion.

---
Aftermarket Roundels:
1. Copied from the Airheads LIST, and edited, due to updates:
A test run was made of roundels using the TT colors until I had them in hand. Picked them up yesterday after inspecting/approving the color match. I'm trying to get a feel for demand so only ran 20 pieces. You can see them compared with the 70mm tank roundels here: http://www.pbase.com/image/167682024. These can be used on luggage, rear fenders and cowls. I'm sure folks will think of other places. If you are interested ping me at: info@toastertan.com
Stephen, Airhead Custom Parts, www.toastertan.com
---
-746 type and substitutes, etc. (and, note the paragraph above, 70 mm stick-on types):
46-63-7-686-746 2-3/4" (70 mm) in diameter, flat style, adhesive backing, used on tanks from '74; NOT for R100GS/R/Mystic.
36-13-6-758-569 Often used to replace the above -746, as it is a bit better looking. Car Division part. 70mm.
51-14-2-328-269 is 70 mm (2-3/4") in diameter, used on late models, such as K1200RS and R1200C. 3D type. Used on tanks. This will replace the above -746; look nicer and hold up longer.
---
51-14-2-291-869 70 mm type with adhesive back, but also has two removable posts (by snapping off). Use on K12RS and R11RS.
52-53-7-686-465 82 mm in diameter; for the R100GS/R/Mystic; thin metal, for fuel tank emblem on many models, including R100GS/R/Mystic, R1100; R1150, ETC. Gold letters. This used to be 16-11-2-325-183 (I think). $
36-13-1-181-079 is 70 mm in diameter, convex, self-adhesive. Version of this requiring back clip: 36-13-1-122-132, the clip is, I think, 36-13-1-121-???
36-13-1-181-104 is 81 mm in diameter, convex.
36-13-1-181-080 is 64.5 mm in diameter, used on some car hubcaps.
36-13-1-181-106 is 57 mm in diameter, used on car wheels, flat, sticky back.
36-13-1-181-081 is 58 mm in diameter.
36-13-1-110-858 is 60 mm, flat, used on car wheels.
51-14-8-164-924 is 2-1/4" in diameter (about 57 mm), 3D style. This has 2 locating pegs on the backside, which can be removed.
51-14-8-132-375 is 3-3/8" in diameter, similar to above, it is a snap-in type, used on BMW car hoods.
36-13-1-181-082 is 45 mm (1-3/4 inch) and has a thin round-convex self adhesive back and will usually fit the back of helmets. Was used on some car wheels.
52-53-2-325-201 is 45 mm, tail badge used on the tail trunks on many of the 650 models, K1200, R1100, R1150, R850, ...and the /6 airheads.
36-13-1-182-254 is 64.5 mm in diameter.
51-14-8-203-864 is a trunk lid badge.
32-71-1-238-280. Check this one out if you want a BMW emblem to fit the steering damper knob hole (if knob has been removed) ...even has an alignment notch.
51-14-2-303-355. Tiny BMW roundel used on City Cases of R, F, K models: 16.2 mm diameter (5/8"). Cloisonné (enamel) on metal. $$$
51-14-2-308-800 Small BMW roundel, might be nice for carb tops, these are 20 mm diameter (13/16"), 'jewel' style. There are other small roundels that might be nice for the carburetor tops:
52-53-7-686-463 is 26.7 mm in diameter and has a flat top.
51-14-2-300-880 is 21 mm in diameter and has a domed top.
52-53-2-325-185. This is the flat style, of 11/16", use at carb tops and??
51-14-2-328-447. 11/16", Jewel-style, adhesive backing. I have not yet looked into this, but some books say it is 26 mm and 3D style, adhesive.
46-54-2-300-045. 38 mm (sometimes said to be 1-5/8" or 4cm) 3D plastic enclosed/flat-backed roundel. The flat backing is black plastic. Used on large K bike saddlebags, and probably others such as on Airheads and Oilheads. Number is BELIEVED correct, but I am not 100% sure. I took the number off ETK, and have not tried to order or see these from stock. These measure 38 mm ...but if you use some of the popular BMW parts-on-line search engines, they may be described as 4 cm for this ROUND emblem.
52-14-2-325-181. 2-3/8" flat style.
82-23-9-400-504. 3" weatherproof vinyl sticker with a 3D look.
82-23-9-400-505. 6" weatherproof vinyl sticker with a 3D look.
82-23-9-400-506. 12" weatherproof vinyl sticker with a 3D look.
80-52-9-419-918. This is a ROLL of NON-weatherproof 1-1/2" stickers, 24 total.
53-53-2-325-181 60 mm (2-3/8") stick-on.
16-11-1-230-506 This should be (?) the number for the rubber gasket that goes under the early fuel tank Roundel, such as 16-11-1-230-769. See that number near top of the roundel numbers listings, for screws & further information.
This article does not, and can not be, a 100% listing of every Roundel ever made. BMW seems to have new ones now and then, and certain ones in the Motorsports era are not listed as I never bothered to get the part numbers, etc. I would greatly appreciate; if you have specific information on the size, type, description including part number, and especially if you have a high resolution image to send me, that you would contact me with the information!
https://bmwmotorcycletech.info/emailimage.htm
---
Revisions:
2007: This becomes a new page. Incorporated all the roundel information previously in the Hardware article #68, now called 68A. Initial upload. Added more background, history & the controversy information. Two uploads this date!
03/04/2008: Minor corrections and add rubber gasket.
07/06/2008 : Clarify some details about Knorr, in BMW history, etc.
07/03/2010: Add 52-53-2-325-201.
10/22/2010: Update the numbers and details for -269 badge and gasket and screws as on the /2, etc. Add info on use of screws.
04/13/2011: Remove old roundels photo group of 6, add much cleaner copy, identifying the years too.
09/11/2011: Slight editing for clarity, and also add a few more roundel's.
06/17/2012: Add section on Butler and Smith and Bondy, the Adams Family, etc.
10/13/2012: Add QR code, add language button, update Google Ad-Sense code.
03/17/2013: Update article with additional history and special notes, insert the old advertisement, etc.
02/11/2014: Added more information about the Victoria, and referenced my Gallery, which has it added.
10/01/2014: Clean up for ease of use.
02/14/2015: Clear up, by emphasizing certain things, and links, some of the history, as a few comments provided to me showed that people did not read this article carefully enough.
03/27/2015: Added a note and another jpg, EMW.
08/18/2015: Added initial CMR roundel and information in two places near top of the article.
02/07/2016: Update meta-codes; increase font size. Left justification for all, clarify things abp.
02/08/2016: Update history of BMW on West Coast.
02/09/2016: Add two roundels for carb tops, etc.
10/22/2016: Metas, scripts, H.L., clean up excessive HTML too.
04/11/2018: Add further historical information from WWII era and afterwards. Reduce excessive html, colors, fonts. Improve layout. Add 10 pxl margins. Minor improvement in explanations and descriptions.
06/20/2018: Add Toaster Tan information on his new aftermarket roundels.
08/13/2018: Add more information about Earl Flanders and the tie-in with B & S.
01/07/2019: Fix minor typos and grammar, and add info on my record run and Earl being the official record Timer. Set article aside until I can work on it after moving to Carson City.

01/04/2020: Update links a/r.
06/27/2020: Add link https://www.emw-r35.de/ and, on 12/19/2020, add note regarding what is on that site.
11/24/2021: Minor cleanup of grammar mostly.
02/13/2023: Finished an update in various places, for clarity, particularly for ownership transfers, and to complete the non-BMW "BMW's", that have been in process, but not published for the internet until now.

© copyright 2023, R. Fleischer

Return to Technical Articles LIST Page

Last check/edit: Tuesday, February 14, 2023