---
Snowbum's BMW Motorcycle Repair & Information Website
The advertisements above are Google-sponsored, and they are at the
TOP ONLY of most all pages. Clicking on advertisements helps support
this website & the testing I do. Another way this site and my work is
supported is by donations. donating
That article has a considerable amount of historical information,
including how I run this site.
PHOTO GALLERY #1
https://bmwmotorcycletech.info/photogallery.htm
© Copyright 2021, R. Fleischer





---
My grandfather; mom's side of the family; was a rather
short man, only 5'2"; here, he is in his twenties. I made this
photo from a very old glass plate negative which I found
in my dad's photographic darkroom.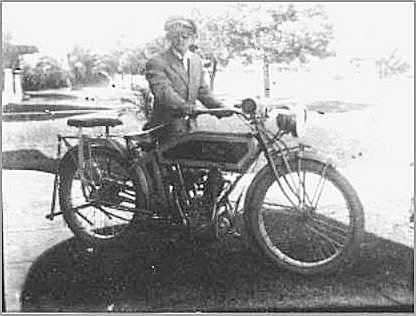 One of my R60/2 bikes. Hand-formed aluminum fairing
items, by Heinrich. I think I took this photo at the BMW
factory distributorship picnic in 1963. I don't remember
the details on the second photo ...wasn't mine.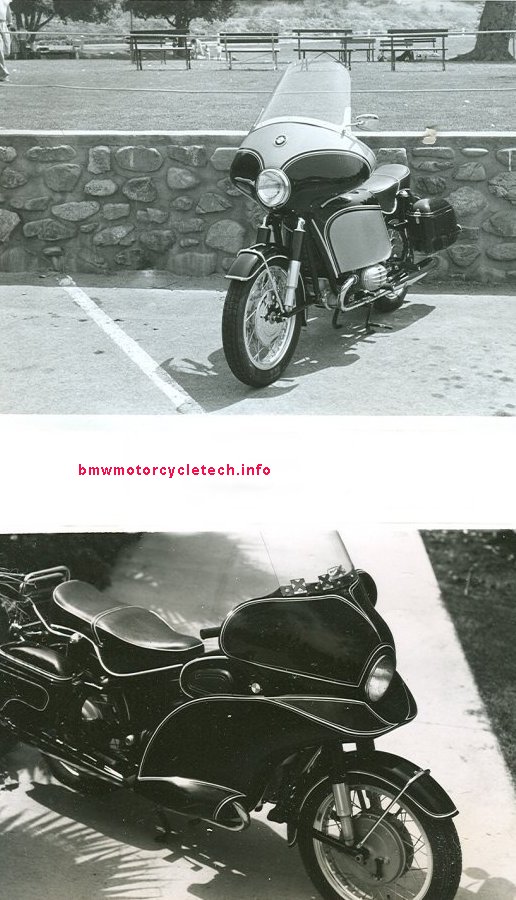 Vincent Black Knight. Mine was almost exactly the same.
Back then I had thought I had the only one in the USA.
I had eight various Vincent's. I raced one at paved tracks,
another was used for both my world's record run at
Bonneville (August 1971) and also for touring. The others
I either displayed; or toured on.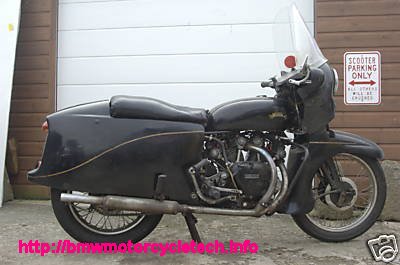 Below is my 1984 R100RT. It has an aftermarket tall windshield, big rear trunk, backrest, tank cover, Russell Day-Long saddle, turbo clutch (grabby when cold), radio, Brown side-stand, Reynolds RideOff center-stand. I installed running lights conversions of my own design. It does not have dual-plugging. This bike became my second-to-last 2 wheeler Airhead for long-distance touring. I kept records of the amount of time spent on fixing & modifying this motorcycle after I purchased it. Over 100 hrs. I think the large trunk was from Luftmeister. I modified the backrest with a sturdy internal metal plate. This bike was used as a test-bed during the EnDuraLast permanent magnet alternator final development, particularly installation details & instructions. The motorcycle was sold in January 2014.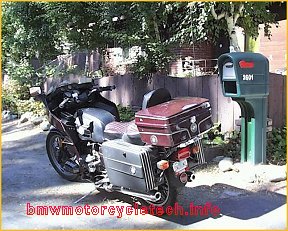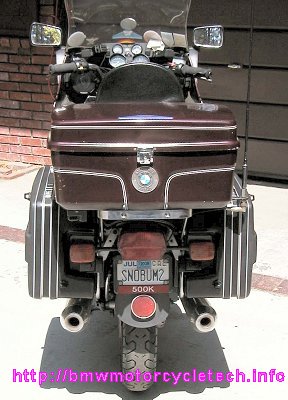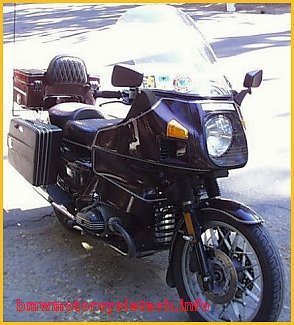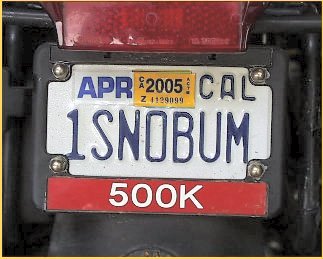 One of my license plates. The 500K signified my mileage, at that time, on BMW's. I have received the
factory awards badges for 100K, 200K, 300K, 400K, 500K and 600K. These are for miles, not kilometers.

Below is my 600K. The actual emblem for on-the-bike, is on the right, and is considerably smaller than all the prior large, thick, screw mounted ones.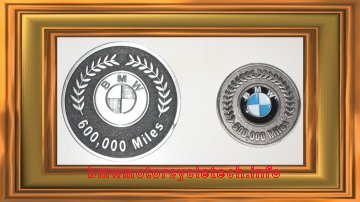 I left my badges on my last motorcycle (95R100RT) and last sidecar rig (K1100LT-EML) when I sold them. I kept the certificates and plaques.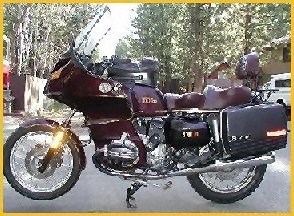 Above is a different motorcycle from the earlier shown one. This is my 1983 R100RT, before I put the Ural Hack on it. This bike, with hack attached, is described in several different articles on this website, including technical articles on the subframes, mounts, brake modifications, etc. The engine changes included dual-plugging. Several photos of the bike with the sidecar attached, are below. Other articles have photos of it before the sidecar was installed. I purchased this 1983 R100RT brand-new.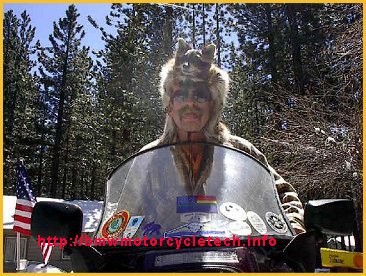 Above on my head is Rocky, my pet Raccoon. I am sticking my tongue out at the photographer. Yes, this is the 1983 R100RT sidecar rig. This was the first STREET sidecar rig I ever built for myself. I built this rig to be exceptionally sturdy, quite capable of off-road riding; & did so ...much to the chagrin of those who said a RT fairing, etc., would not hold up. NO problems, ever.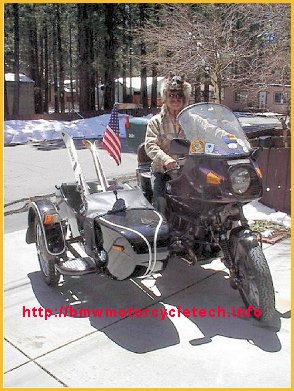 Above is another view of Snowbum & Rocky. For downhill skiers, the skies are a different, longer, set: Kästle RX National Team skis. I still have them. My back started giving me big problems shortly after I purchased those skis, which are available for free, boots too; they have maybe 5 hours on them. My history with sidecars goes WAY back. I was involved initially as a 'wrench' for a race team, then became the 'monkey', and then became a driver. Sometimes I would do all three on any particular racing weekend. Back then I had never driven a sidecar rig on the street!... and many years later, circa 1999, I drove a friend's Ural-Ural rig (he was brave enough to sit in the chair!). He lived in the mountains in Oregon. It was not long afterwards that I purchased a brand-new Ural sidecar (that same friend delivered it to me!...hundreds of miles...), and I began the lengthy process of mating, installing, aligning, and much more. Details in excruciating accuracy and detail are on this website. See some details just below: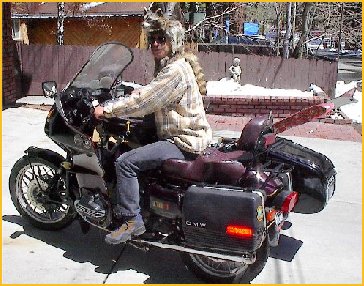 The Airhead-Ural hack rig was my 2001-2 project. I sold it when I decided I wanted to build a K1100LT-EML rig. Note the two pairs of skis. Normally by mid-Winter that fence is topped by lots of snow. It was a warm day, still plenty of snow on the mountains to go skiing. In the background, the 'little boy that pees'....yes, he does, his penis is hooked up to my house sprinkler system. The original statue is the Manneken Pis (Fountain in Brussels); the work was done in 1619. The sculptor was Jerome I. Duquesnoy, Court Sculptor to Archduke Albert. The Archduke, appreciating Jerome's work, provided funds to let Jerome spend the rest of his life sculpting, etc., in Rome. Jerome I. was the father to Francois Duquesnoy, also a sculptor. A younger son, Jerome Hieronimus, lived from 1602-1654. Jerome was arrested for molesting two boys, was strangled, his body burned at a stake.
Below, here I am again, on the same rig, at a yearly Griffith Park Sidecar Rally. The spare fuel can & the spare wheel/tire are not in this photo ...as this photo was taken just two days after I got the rig running, and took it on its 'initial short tour'; about a 1200 mile round trip!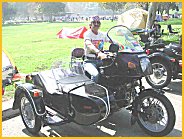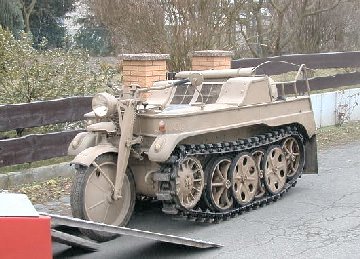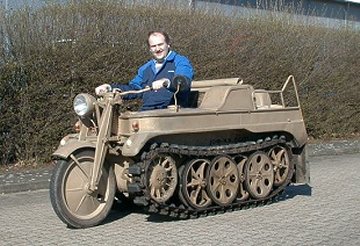 This is a Kettenkrad, you can Google for information...or; just see: https://www.kettenkrad.de/.
But, here's my info, in brief, not from those sources:
This is a German Sd.Kfz.2. It stands for Sonderkraftfahrzeug 2 or better known as the Kleines
Kettenkraftrad HK 101 or Kettenkrad for short.
"Ketten" means tracks, and "krad" is the German administrative term for a motorcycle. The bike was specifically designed to fit into and be
delivered by the Junkers JU-52 aircraft. It would carry soldiers, pull heavy loads, and could be used in extreme conditions without the front wheel. There was a trailer available that was specified to carry about 800 lbs. 8345 of these bikes were manufactured in WWII. After WWII, 550 were made for agricultural purposes. The only one in the USA that I know of, is at Blue Moon motorcycles in Georgia.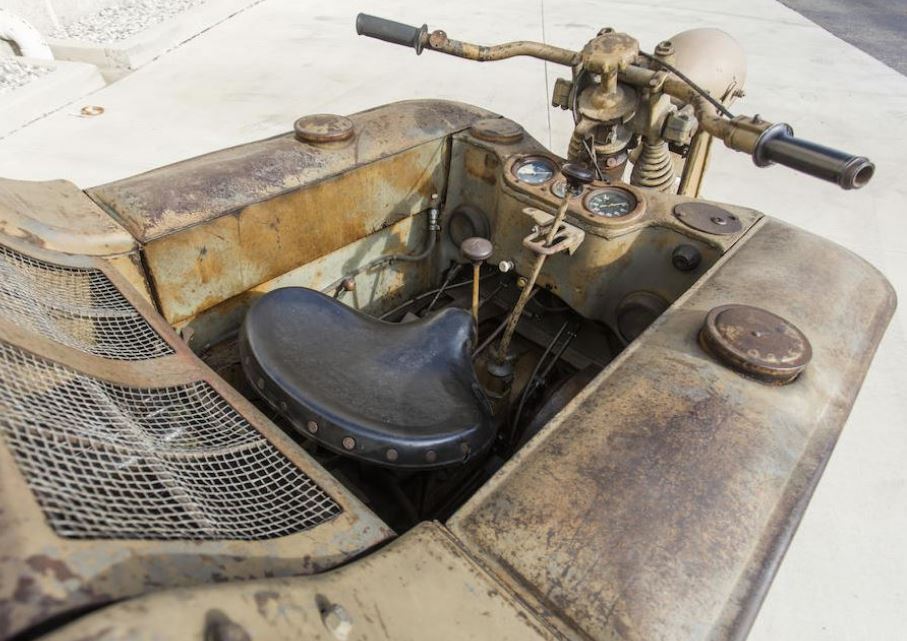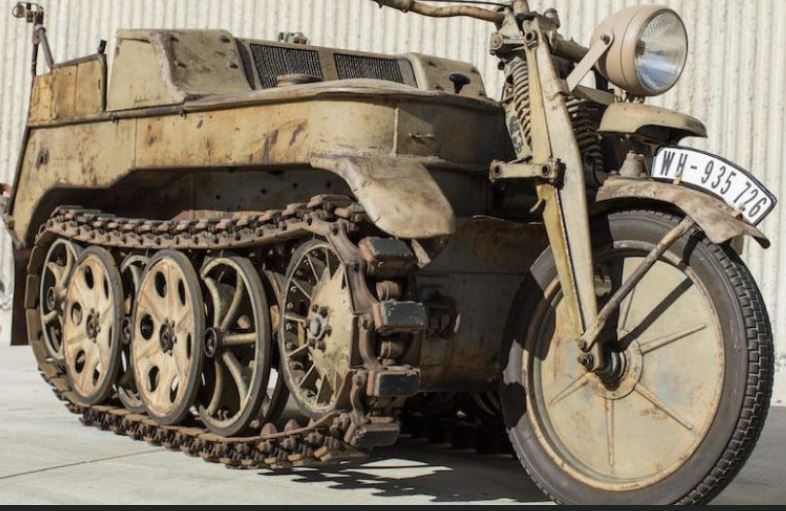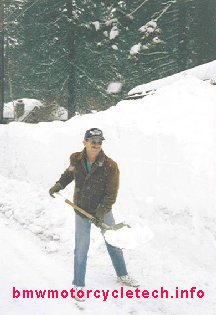 "Another Shoveling Morning". That amount of snow behind me was common at Lake Tahoe. This is outside my Tahoe house ....you can faintly see the edge of part of my roof at the upper mid to right side.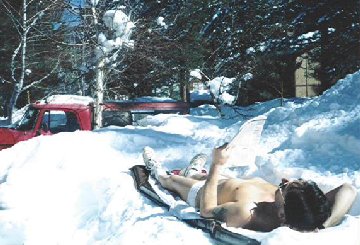 Winter lunch break. My red 1968 hopped-up 4WD Dodge Power wagon is in the background. I'd taken the 318 out of it, put in a 535 (Marine 440++), and many more changes. When I originally hopped-up the engine, I installed a Hemi crank and 6-Pack rods, and Indy iron exhaust manifolds with 4" outlets, reversed and upwards, feeding DUAL turbochargers from a Piper Comanche 400; using Bendix aircraft injection. It had a 435 transmission and 2 speed transfer case. The power was awesome ...as was the fuel consumption and the endless replacing of twisted axles and driveshafts. I was offered a lot of $ for the turbos & associated items, so I sold them. I then installed a nearly stock Chrysler 440. I sold the Dodge, together with many-shelves-full of New Old Stock parts, at the end of May, 2003; "Big Red" had been very well-known hereabouts. Haven't seen it since the sale.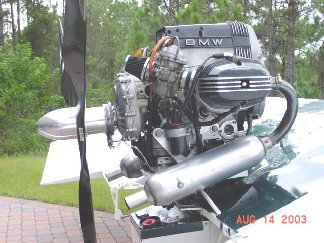 Yes, this engine is on an airplane. Note the sensor wire coming from the oil filter chamber, the dual plugging, etc. There are a lot of ways to install an Airhead engine on an airplane.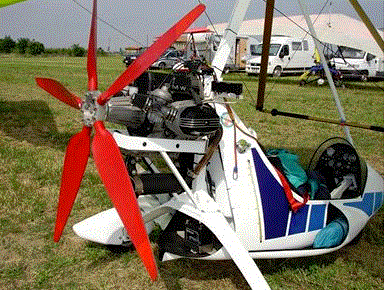 Many BMW engines have been put in small airplanes, gyrocopters, etc. Here is a link that covers a LOT of the details you might be interested in:
http://www.aircraftgraphix.com/bmw%20conversion.htm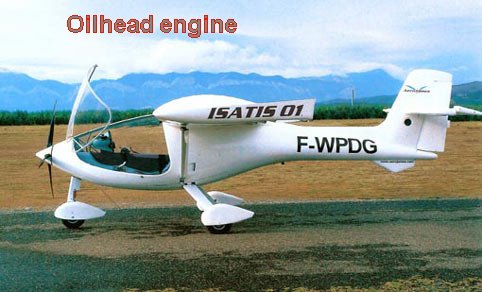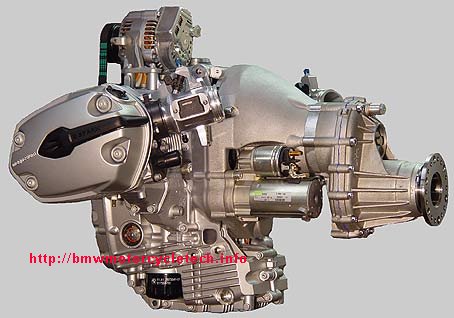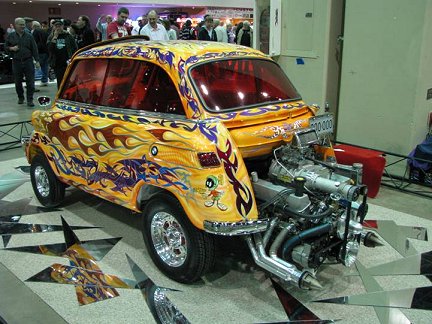 I had a BMW 600. Did NOT look like this one!!!
I can't imagine actually trying to drive this.

Below is photo of my BMW 600. I purchased it brand-new. It cost quite a bit less than a BMW bike. Note the original 1956 date of the license plate, & the last sticker,1959. I was driving this car to work, at Telemeter Magnetics, where I was an electronics design engineer (magnetic core computer driver designing! ...yes, 1959....) when someone ran a red light and crashed into the left side, just behind me. I got two cracked ribs. The history of my ""medical care"" at UCLA is a story in itself of near-incompetence. The car, bent in half, should have been totaled by the insurance company, but they insisted on having it repaired. Considerably later after its full repair I sold it to a BMW Airhead owner, who was fully informed of its accident history. He wanted this little car very badly, he had VERY bad vision and his almost new R75/5 bike scared him. He gave me cash and his 75/5, which had less than 1000 miles. This was a fantastic deal for me. The 600 car had a 600 cc boxer engine, similar to the R67 in many ways, but while the R67 had 28 hp at 5600 rpm, the stock USA car version had about 20 at at 4500 rpm, throttle restricted. There was an unknown (to most everyone) very powerful spring/etc., under the throttle below the driver & chassis pan. If you removed that spring you could now get full throttle at the carburetor, which you could NOT in stock form; overpowering that spring was nearly impossible. The purpose of the hugely powerful spring assembly was to limit top speed, yet leave the capability...perhaps the spring was not used on European models? With the spring in place, and NO engine tweaks, the top speed was an indicated 65 mph, without the spring it was ~82 mph, with a few minor tweaks. I , of course, removed the spring. The car weighed ~1200 pounds, and was slipperier through the air than a bike, so then, with considerably increased hp, I drove it as fast as an indicated 80 mph, pedal to the metal on the freeways, delivering blueprints. The oiling system was not the same as as the R67, & there was a very large shrouded fan to cool the engine, which was quite happy running at WOT. The front suspension had oiling reservoirs built into their huge castings, & so as long as you put oil in them at rare intervals, the suspension was self-lubricating.
http://en.wikipedia.org/wiki/BMW_600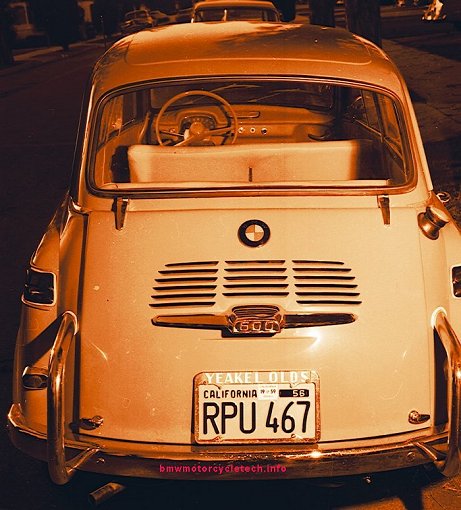 Below is a view of the right side of a BMW 600, showing the passenger door. This photo was grabbed off a Wiki page, which had a lot more information, including a photo of the front door being opened, which was quite unique to these cars. This car has special wheels on it.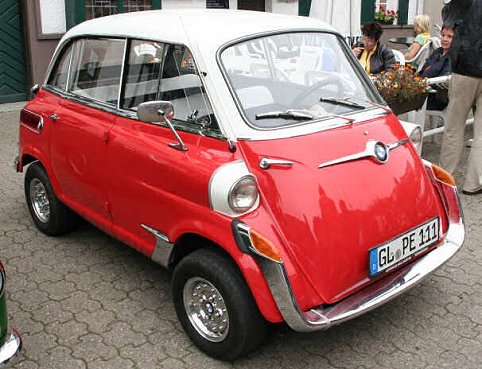 Below is a another view of the 600 car, this is actually a scale model. Notice the hubcaps, which were the types actually shipped on all, AFAIK.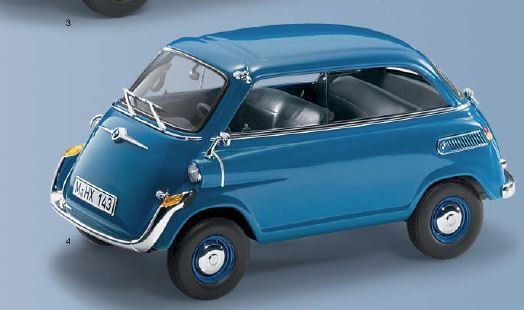 There were a lot of variations, and there were right hand drive models too. see: http://en.wikipedia.org/wiki/Isetta

Here is a video about the Isetta 300, the single cylinder engined version of the car, it is shorter than the above cars.
https://www.youtube.com/watch?v=k0dEzY-xld8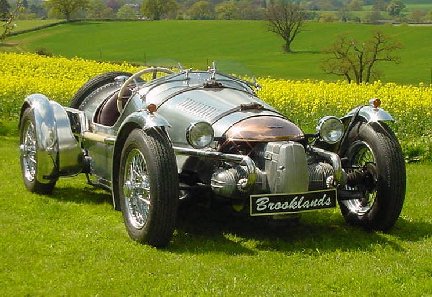 A kit car, from the Pembleton company ( England). I suspect you recognize that engine! That particular version may or may not be shown in: https://www.pembleton.co.uk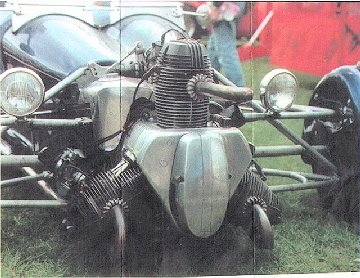 Home-made three cylinder radial engine, using BMW cylinders, mounted at the front of a 'car', a-la-Morgan three wheeler. Look up the Tarkus on the Internet, or, for a quickie look with some info, go here:
http://anarchadia.blogspot.com/2012/04/vintage-thing-no105-tarkus-radial.html
The car was made by Jake Challenger, in the UK. I think he did several versions.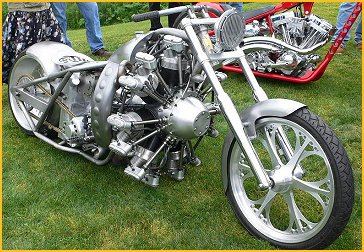 I've flown that engine!! Note the direction of the engine mounting in the motorcycle, and compare to the next photo.


Two photos below, somewhat similar to previous photo above, but ...look closely at upper and lower areas of the telescopic forks, at the belt drive from the engine crankshaft, etc.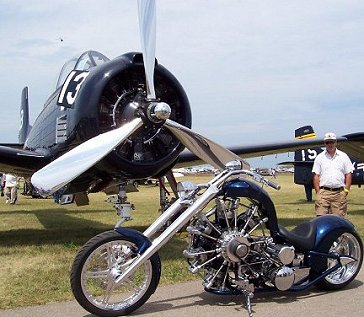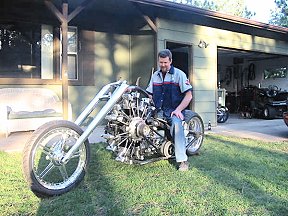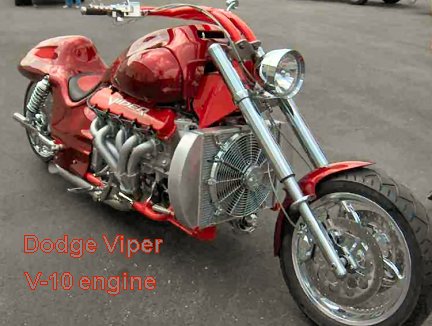 Couldn't resist putting this photo here.



This was my Vespa P125X, with added racks, fairing, full factory electrics, etc. I did a 99% restoration on it and used it for daily transportation from my vacation home, a condominium in Palm Springs, California. One year it was all decked out with flags and banners, etc., & I was #1 in line to actually open the Palm Springs Gay Pride Parade. I took this scooter touring & camping more than once. Yes, that windshield decal does say MARINES, with a rainbow background. I LOVE driving folks nuts.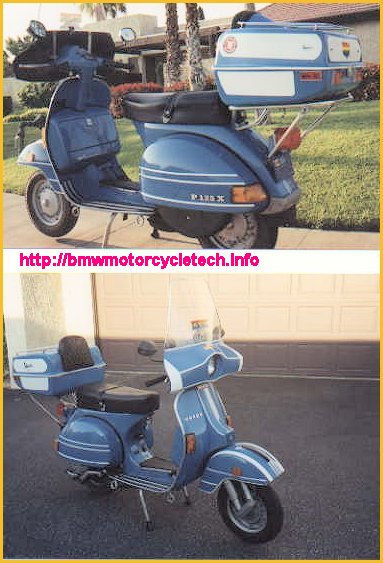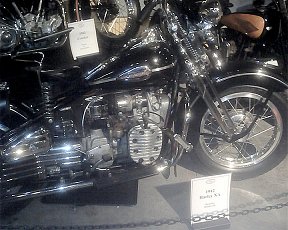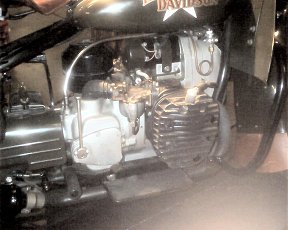 Harley-Davidson model XA, 1942
---
© Copyright 2021, R. Fleischer
Return to Technical Articles LIST Page
Last check/edit: Tuesday, June 29, 2021