The ads above are Google-sponsored.
Clicking on them at every visit helps support this website!
Clicking on something inside an advertisement helps even more!
I appreciate your remembering to click on various advertisements,
at the top of every page you visit!
AND....thanks for the occasional donation!

Snowbum E-mail address;
contacting Snowbum
http://bmwmotorcycletech.info/emailimage.htm



>>>>>Read all the way to the end of this article >>>>>BEFORE contacting me!

Your technical query regarding BMW motorcycle maintenance or about sidecars, etc., may well help others. PLEASE post technical inquiries to the appropriate LIST or forum. I will tell you to take your question to a specific venue if you contact me directly, without a very good reason for doing so. Not being a member of an appropriate list/group/etc., is NOT a good reason. Posting to the Airheads LIST for any and all Airhead questions benefits more than just you!

More and more I am pressing DELETE, without any reply; in some instances I am responding to 'take it to the LIST'. In rarer instances you get a brief technical reply. I am getting more and more cranky about this direct messages though.

I do NOT like being telephoned at all hours & asked technical questions. My phone number is NOT listed on this website. If you find my telephone number, and call me with technical questions, YOU MAY BE BLACKLISTED BY ME, and any messages automatically deleted without looking at them.

You CAN get advice from me, and many others, on the various LISTS & FORUMS.

I monitor & participate on mostly the Airheads List

but also the SCT sidecar List, the K-BMW List, Tech LIST (of the IBMWR), & USCA and USCA-West sidecar Lists, the EML sidecar List....and the Airheads Beemer Club Facebook page, and two other Airheads Facebook pages. For BMW Airhead motorcycle Technical advice it is BEST, for ME, for you to make inquiries on the Airheads List. Please do not make inquiries on Facebook, if you wish ME to answer. I dislike doing technical replies on Facebook, but I do participate, but NOT STEADILY. Facebook is a LOUSY platform for technical replies ....and.... it can be difficult to find information a while after a thread is finished. It is also difficult to see entire threads, at least sometimes.

I do NOT participate but quite rarely on FORUM style sites; such as on BMWMOA.ORG; and, almost never AdvRider or Boxerworks, nor even on airheads.org. Best to never direct inquiries at these places if you want an answer from ME.

I am OK with you doing a Cc to me at the same time, same message, that you post to the Airheads LIST.

Only in an instance where the information should be private, due to extreme embarrassment, or other REALLY GOOD reason, should you E-mail me directly.

DO NOT think that the question has probably come up so often you should contact me directly. I don't buy that false argument. POST TO THE AIRHEADS LIST, or other appropriate place.

The amount of personal mail I receive takes up WAY too much time every day, week, month. In some months it reached WELL over 100 hours of my time. Quite a few people seem to think I have nothing better to do but to answer them PERSONALLY about their specific problems. Instead of making inquiries at the appropriate LIST, or, even, gads! ...taking the time to check the LIST Archives .....they are contacting me DIRECTLY. Many do not even search my own website, which you are on right now. There is a very powerful search engine on this site: http://bmwmotorcycletech.info/search.htm

I get an amazing number of off-list inquiries about things, that ARE DEALT WITH IN ARTICLES ON THIS SITE. IF YOU ARE TOO LAZY TO SEARCH FOR THE INFORMATION; AND I AM FEELING GRUMPY, CRANKY OR OVERWHELMED ...GUESS WHAT HAPPENS TO YOUR MESSAGE?


There ARE times when a personal note to me

is

appropriate:
I welcome personal responses ONLY to:
http://bmwmotorcycletech.info/prostatecancer.htm
http://bmwmotorcycletech.info/sale.htm

If your question TRULY fits the embarrassing, etc., situation, you certainly may contact me directly. BY E-MAIL. My E-mail address is located in the photograph.

This was my 1984 R100RT. I no longer have it.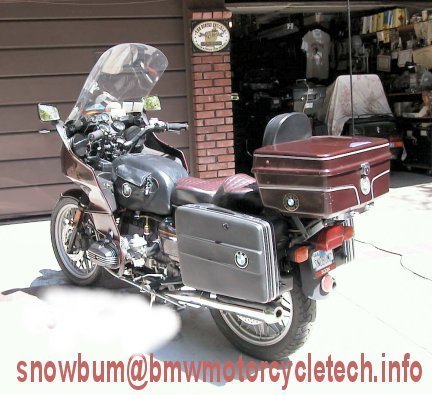 Return to Technical Articles LIST Page

Return to HomePage

Last check/edit: Tuesday, March 21, 2017