---
Snowbum's BMW Motorcycle Repair & Information Website
The ads above are Google-sponsored.
Clicking on them at every visit helps support this website!
Clicking on something inside an advertisement helps even more!!
Lake Tahoe facts and information
https://bmwmotorcycletech.info/laketahoefacts.htm
© Copyright 2020, R. Fleischer
"Tahoe" comes from a mispronunciation of the Washoe Indian name for Lake Tahoe, da ow a ga; which means "edge of the lake"
Lake Tahoe, photo by Snowbum, taken from the southeast area, at the lower level at Heavenly Valley: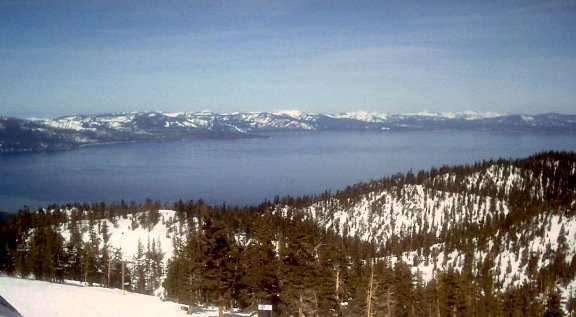 Snowbum getting caught up on his reading!
Gads...I had brown hair then....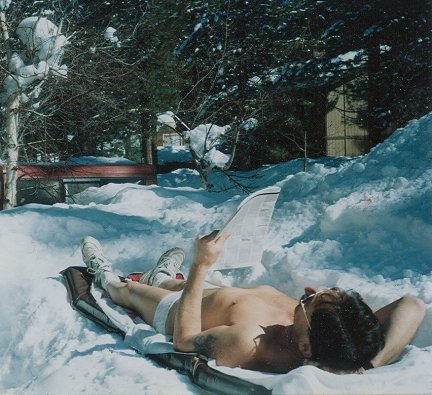 One of a number of easily hiked-to waterfalls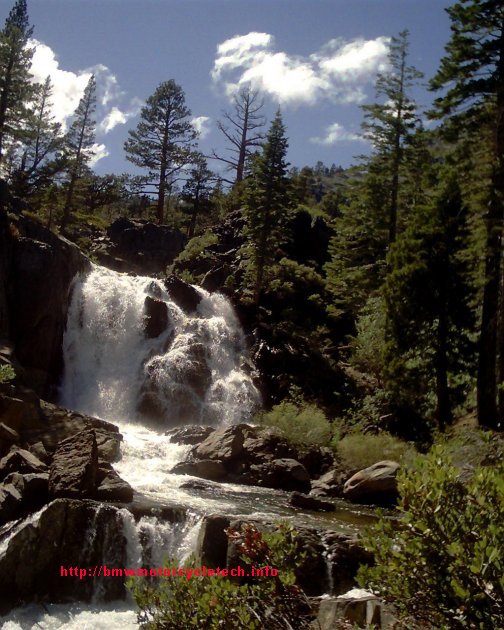 Shoveling snow (Snowbum also had an ancient 1969 snowblower)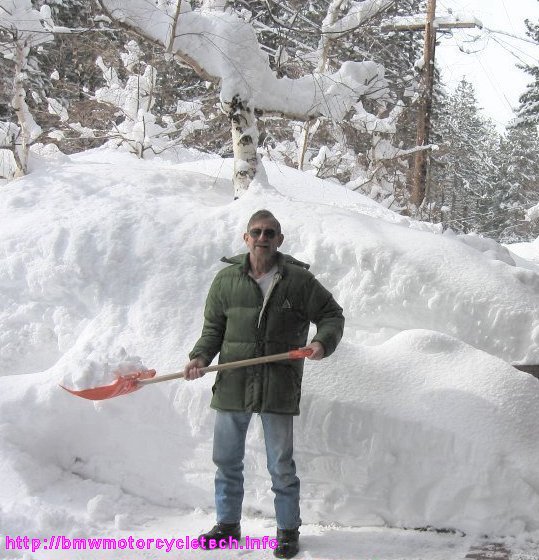 Snowbum lived from 1973 to 2019 at Lake Tahoe in the south shore area and city called South Lake Tahoe.
Lake Tahoe is a substantial-sized and very deep naturally formed lake. Lake Tahoe was formed about 2 million years ago by upheavals in the mountains surrounding it, and later by glacier action. It is the 10th deepest lake in the World, and the 2nd deepest in the USA.
The geographic center of Lake Tahoe is at 39°06'30" N; 120°01'51" W.
The Lake is relatively irregular in shape, that is, it is not a clean round circular shape. Its general dimensions are a length of 21.9 miles, width of 11.9 miles, and ~ 72 miles of shoreline, of which over half is in California and the rest is in Nevada. The lake is bisected by artificial State lines; that is, part of it is in both States. 5 Counties have a portion of the Lake, 2 in California, and 3 in Nevada.
The surface area of the lake is about 193 square miles (equivalent to about 122,000 acres).
The surrounding mountains vary from ~9,000' to nearly 11,000' above sea level (these figures do not mean above lake level).
The Lake's water, taken as a whole, is 99.994% pure (distilled water is 99.998% pure). The Lake contains ~39 trillion gallons.
Lake Tahoe is the largest alpine lake in North America and the second deepest lake in the U.S.
More facts are available at http://tahoefacts.com
Lots of photos of Lake Tahoe are HERE:
http://www.tahoefacts.com/#/lake-tahoe/
Lake Tahoe is fed by 63 streams; and 2 hot springs.
The average elevation of the surface of the Lake is 6225.1 feet above average sea level. The average depth is 989 feet, the maximum depth is 1645 feet (slightly in dispute). One survey by the Federal Government, with a rather accurate instrument, measured it at 1637 feet.
The Lake has a stated natural rim, which basically means that if the water level rises higher than rim level, water would flow out of the lake into the Truckee River; but there is a dam there. The Natural Rim is officially set at 6223 feet above sea level. The lowest level recorded was in 1992, when the level was 6220.2 feet. There is only one outlet, and it is located at the Northwest part of the lake, at the town of Tahoe City, where the Federal Watermaster controls a rather small dam, which is controlled to not let the maximum lake elevation exceed 6,229 feet. The outlet supplies lots of fun for rafters, etc., as the water makes its way to and through Reno, Nevada.
The clarity at the present time is about 70 feet in depth. Clarity is measured by the Secchi disc method.
The water temperature at the surface is about 40-50° in February & March, & about 65-70° in August-September. After one goes down just a few feet, the temperature is relatively stable, and by the time one goes down to 600 feet, from that point onwards it is a constant 39°F. Due to its depth, Lake Tahoe never freezes, although mild freezing at very shallow shore areas does happen here and there.
Many drowning victims are never recovered from the Lake. The cold water at lower depths preserves the bodies and prevents the formation of enough quantity of gases to float the bodies to the surface.
Lake Tahoe has, IMO, an excess number of various Agencies having control over it. One such, the Tahoe Regional Planning Agency (TRPA) was particularly egregious to locals in the past, and some of that feeling persists. TRPA controls almost everything that has to do with building, and much more. TRPA does some good things, but is rather political, much more than they admit, and they are influenced by corporate lawyers.
---
Most questions about the Lake Tahoe region have to do with how much snow we get, what the temperatures and weather patterns are like ....and how much water is in the lake.
There is enough water in Lake Tahoe, to cover the entire State of Texas to about a foot; or, to cover California to 14-1/2 inches. The typical Spring Runoff causes the Lake to rise about 15 inches. Some literature says that, every day, enough water evaporates from Lake Tahoe to supply 3-1/2 million people. The figure some literature use is 1,400,000 tons per day; but, the real figure is just under 900,000 tons per day.. The official figure for an average day, averaged over many years as the lake rises and falls a bit over time, is 219 million gallons of water evaporates from the Lake EVERY DAY. Lake Tahoe can, and does, cause its own weather system(s), and clouds & much more can influence weather headed our way.
There is enough water in Lake Tahoe to supply everyone in the United States with 50 gallons of water per day for five years. The amount of water that evaporates from the surface of Lake Tahoe every year could supply a city the size of Los Angeles for 5 years.
The Lake Tahoe area does not get a lot of rain, but does get a fair amount of snow in the Winter; but that can also be highly variable. Snow has fallen in every month, but it is very unusual in the Summer. Snowbum, that's me, has lived here since 1972. I have seen a lot of weather, sometimes unusual weather. June 17th is Father's Day. One year we had 4 inches of snow on that day.
Most storms come in from the West, but occasionally we get a quite cold storm coming from the East, which typically drops very fine light fluffy snow, that 'powder skiers' LOVE. Due to the abundant sunshine and relatively mild temperatures (even in the Winter), the snowpack, if not fresh, can often turn to rather a hard-pack, somewhat icy in the early morning hours, and locals call that type of snow "Sierra Cement". On such surfaces, which is NOT always, local skiers know that by mid-morning, skiing is great ...but can be grabby by the mid afternoon. Spring skiing brings the skiers out earlier in the day; many then leave by noon, more perhaps before 2 pm when things get too slushy/grabby for good skiing.
Typically, a storm comes from Alaska, down the Pacific Ocean, comes onshore, and then makes its way towards Tahoe from the West. The moisture-laden lower atmosphere heading eastward rises as it hits the WESTERN mountains surrounding Lake Tahoe and the rising causes the type of weather changes that encourages this mass of air to drop copious quantities of snow on the lower elevations of the Eastern side of those Western mountains. This means that the eastern slopes of the western mountains of the Lake Tahoe Basin usually get more snow than at the Eastern mountains surrounding the Lake. Due to the way the mountains surrounding the Lake are, goodly amounts of snow can fall on the mountains on the southeast areas, such as where Heavenly Valley Ski Resort is located. Re-saying all this more simply: Most storms come from the West, drop snow on the West side of Lake Tahoe, and then continue eastwardly across the Lake Tahoe area, rising again over the surrounding eastern mountains, and then drop down into the Carson City valley area, dropping some more snow.
Lake Tahoe is surrounded by mountains. It is, for practical purposes, a split, or opening, in the Sierra Nevada Mountains.
Highest temperature ever recorded at South Lake Tahoe was 99°F on July 22, 1988. Lowest temperature I know about, and HIGHLY UNUSUAL for any minus temperatures was MINUS 29°F on February 7, 1989 and same on December 9, 1972.
Greatest snowfalls since 1860 in a 24 hour period (at 6900 feet) was 46 inches on October 21, 1967. 1967 was an unusual year, and in March, between 10th and 14th, there was 92" recorded in the city. The January 12, 1952 storm brought 44 inches in the first 24 hours and that storm produced 155 inches between the 10th and 17th of the month (South Lake Tahoe recorded 153.6 inches!). Snowbum was visiting Lake Tahoe as a youngster during that snowstorm!...and has some really good stories about conditions back then (see some photos in the photo galleries on this website)....as well as copies of many recollections in the newspaper.
There was a storm on February 3, 1989, that, over 24 hours, brought 51 inches at the 6900 feet elevation.
Storms can last minutes ...or days. There was a good one in March of 1982, that lasted awhile and dropped 187 inches of snow. That was, in my mind, eclipsed by the January 4th 1982 snowfall as measured at Echo Summit, which is on the West side of the Lake Tahoe basin, it was recorded as 67". This was the 2nd greatest U.S. snowfall record, eclipsed only by April 14-15th, 1921, of 76" in 24 hours.
Greatest rainfall in a 24 hour period: 8.6 inches on December 23, 1964.

In a very unusual situation, Lake Tahoe recorded almost 28 inches of rain in December 1964.
Weather at Tahoe tends to be quite dry as far as humidity goes, this is particularly so in Winter. The number of times, on average, that this area gets 90°F weather is approximately twice a year.
The typical weather, YEAR-ROUND, is rather mild. In Winter it is often so sunny & mild that one can go outside either bare-chested or with a T-shirt. January is the coldest month, with a maximum of 41°F, and a minimum of 15°F. These are the AVERAGES.
In Summer, it is rare to be hot & sticky. 70°F with light winds is a typical day in Summertime. Some Summers we have had a week or three of low eighties. In Winter, teens to low thirties is typical. Now & then we need well-insulated jackets. Some Winters have been very mild; and, daytime temperatures in the high forties to even as high as low sixties were common during February 2015, and in the 2017-2018 Winter.
With the low humidity, the weather is rather pleasant when it is in the eighties, as well as when it is below freezing.
We occasionally would get hail in Spring; sometimes it was small in size, and came down as 'corn snow' ...which is like large grains of sand. We coud also get hail up to 3/4" size.
A typical ENTIRE Winter here will have a total snow drop of 18 to 20 feet at Lake level. Obviously this is NOT the measured amount at any one time! Much of the snow dropped here will do so over a 50 day period. Typical Winters are not so typical, recently!
August is the warmest month, with the maximum TYPICALLY about 79°F; but sometimes reaches the low to mid eighties. In September, the average is about 70°F during the daytime; in October about 60°F. It is not terribly unusual for August into early October to have days with maximums of the mid-eighties.
On average, 232 days a year minimum temperatures (at night typically!) are just about at the freezing point (32°F). Zero degree days, while not overly rare, are also not overly common ...perhaps 8 such per year.
There was a mudslide on Hy 50, well West of the Tahoe Basin, on 04/09/1983, and the Hy was closed for over 2 months. There was a previous mudslide in approximately the same place, on January 24th, 1977, and the highway was closed for ~ 1 month. Another shorter closure in October, 2004.

While the Tahoe area gets a lot of snow sometimes (NOT always), other areas, such as Mammoth, get plenty too, and manage to have skiing available late in the season. I have skied there in JULY on excellent snow. Unusual things sometimes happen. In February of 1989, there was the most snowfall since the infamous Donner Party in the 1800's (a 45 foot pole was buried), and, Emerald Bay froze over. In 1996 a series of powerful Pacific storms left the Tahoe Basin without heat and without electricity...a State of Emergency was declared. Three years later nearly 6 feet of snow fell at lake level, and plows could not keep up.
It was a windy day, November 8, 2012. Waves off-shore at the Incline Village area of Lake Tahoe ...brought out an OLD surfer ...whose name shall be unmentioned here.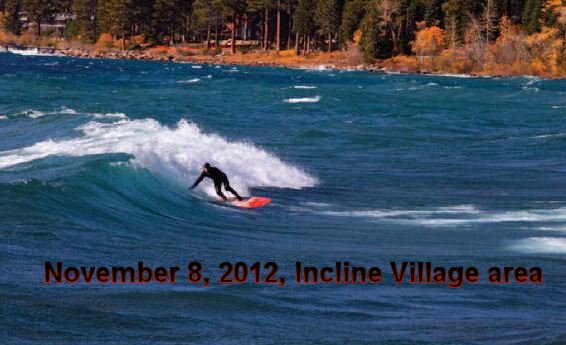 ---
rev:
03/06/2016: Metacodes, layout.
08/19/2016: Metacodes, scripts, H.L., cleanup html
02/11/2018: Clean up layout. Reduce html, fonts, colors. Update slightly.
02/24/2019: Typos fixed.
© Copyright 2020, R. Fleischer
Return to Technical Articles LIST Page
Last check/edit: Thursday, December 10, 2020