---
Snowbum's BMW Motorcycle Repair & Information Website







The ads above are Google-sponsored.
Clicking on them at every visit helps support this website!
Clicking on something inside an advertisement helps even more!


Snowbum's Sale, Wanted,...and even some free stuff

This is the only page in this entire website where I am offering to sell/barter/buy/trade ...and even offer you free stuff! Things I WANT are listed at almost the bottom of this article.

https://bmwmotorcycletech.info/sale.htm
© Copyright 2023, R. Fleischer

You may contact me at: Emailimage


This SALE article is where I am posting things I do not need, and items occupying too much storage space. I am only listing some of the items here, and will add more from time to time as things are sold. I also have a page on my electronics repair shop website for more things that I wish to sell/trade/give free/whatever:
https://fleischerelectronicsservice.com/bargain-basement.htm

---
1. The famous Texas Instruments TI-30X calculator. This hand-held computer does just about all scientific notation calculations, and same for engineering, and also has the usual other formats. No batteries to change, as this is the "solar or any light source will charge it's internal forever battery model". Super clean, with the travel case and Quick Reference card that fits in that case. There is NO visible wear on the keys...they are all bright and legible....so is the main screen, the solar cell, etc. Really looks almost brand new and just out of the box. It was assembled by Texas Instruments in Italy.....this is NOT a cheap junk calculator from China, etc.
$20 + shipping and it is yours. Guaranteed!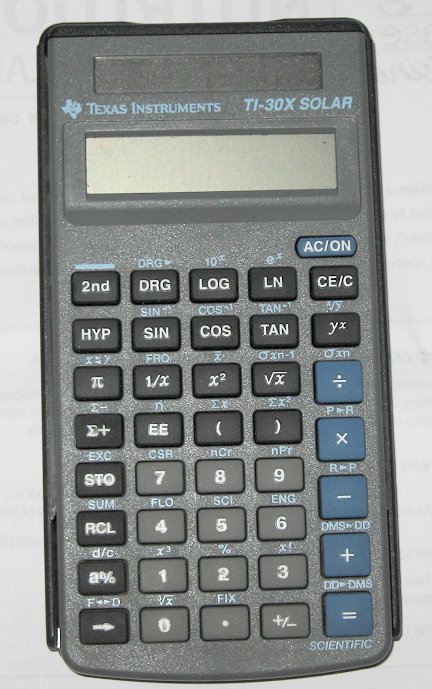 2.

Smith Corona Spell-Right 100. Combo dictionary, calculator, etc. Very nice condition. $10.00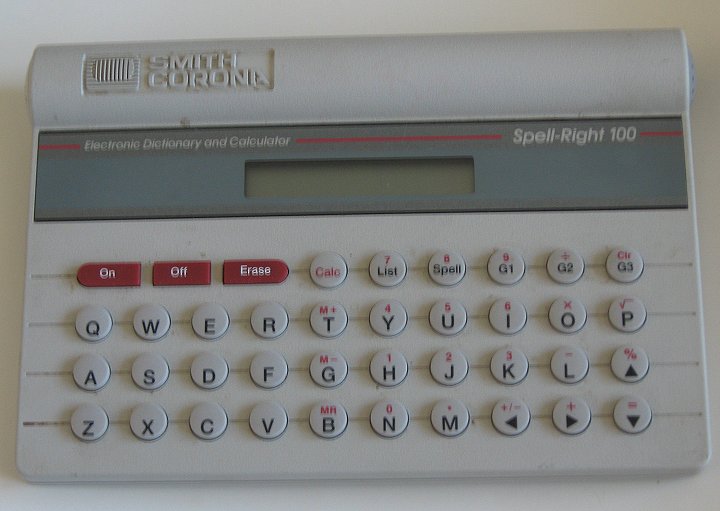 3A. Camping equipment: Besides my down sleeping bag, and backpacking/camping cooking utensils, there is a fair amount more. The only items I will keep, at least for awhile, are the MSR stove, fuel cans, and the 12 volt blender (for making margarita's at Airheads, etc., campouts).

3B. Humidor, wood, glass insert in top, with a lot of premium cigars in it, and three humidroles. Front of humidor has a humidity gauge.
Includes some super-premium cigars, and genuine Cuban cigars. Yes, there are a couple of Cohiba's, ETC. $100.00 humidors, cigars, etc.

4. WHAT ARE THESE?...answers below....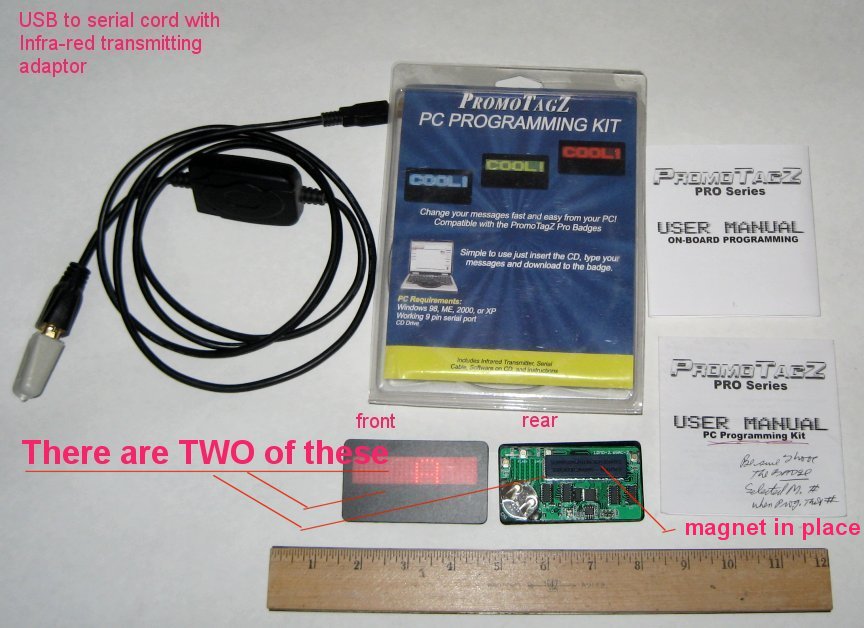 These are called PromoTagz. The particular ones I have for sale are the Pro LED Badges, originally intended for small to large companies who wanted to promote their products or services. I used them for cutsy sayings; and/or my name, and various BMW motorcycle messages, etc. There are TWO of these badges. I had one for my wife, one for me. Each will hold up to 16 different messages at one time, selectable by pressing one of the rear tiny button switches. These badges also have button switches for changing display speed, flashing settings, ETC. You can have your name and/or message SCROLL, if you wish, and adjust the speed easily. It can be programmed to flash, too. While you can program the units from the rear button switches, it is much faster and nicer to do it with the programming kit, which I include. Simply install the program (it's on a mini-disc, fits into any computer CD/DVD slot tray), and then plug in the cord to your computer. At the end of the cord you will see the infra-red transmitter. Compose your message or even just a name, into the computer display, using your keyboard. When ready, simply place the infra-red transmitter near the infra-red receiving device located on the back of the badge. Click the download button on the screen, and...you have your name or message programmed into the badge. You also control the flashing rate/speed (or, non-flashing) and scrolling rate (or, non-scrolling)...ETC., right from your programming screen on your computer. You can install one or more names/messages (1 to 16). The back side of the display has a place where a strip of strong magnets are bonded, it is shown in place in the photo. Simply remove the magnet, and use it to hold the display to your shirt, etc. Of course, you can write a new name or message to any of the 16 programming slots, at any time. It really is easy to use/do. These badges use one cheap and very common lithium battery model CR2032, and they last quite awhile. My photo shows the brightness when the battery is nearly dead! These badges have had little use, and work perfectly. I can program them prior to shipping them to you, or, you can do it yourself...it's easy! My price to you, for both badges, and for the full programming kit, is REDUCED TO $75.

5. For a CPAP machine: FOUR each, brand-new, in original unopened packages, Res-Med masks with the soft 'pillows' attached. Size Medium.
Often called the F10 model. Let's make a deal on these!

6. I have BMW stuff I have been giving away free..., typically at TechDays.....I have not always catalogued these items. Airmail and BMWMOA magazines, emblems, ETC.

7. RAM type mounts. Assorted styles. 1 lot. $20 total for all these items; plus shipping. It will all fit into a priority mail flat fee box from the postoffice.

8. All sorts of small stuff, including a multiple cell battery charger for such as those small rechargeable batteries you have been collecting.
9. SOLD!
10. Singer buttonholer adapter. Like new. Not sure it was ever used. Lots of anvils too. FREE, plus shipping.




11. SOLD!

12. https://fleischerelectronicsservice.com/bargain-basement.htm

13. Sold!

14. GONE!


15. RF modulators. I have two of these. They plug into a wall power socket. These convert audio and/or video signals so that you can use any TV (output is selectable for Channel 3 or Channel 4). Input can be a Wii, VCR, Video camera, DVD Disc player, FM receiver, any of the popular game boxes, ETC. You simply connect the audio and video output of your goody, to the input of one of these RF modulators. Inputs provided include Right and Left audio, and Video (including a separate S-video jack too). FREE. These are small, and would fit in a Flat Rate postal box. If you take both, I will toss in some cables. $10 each.
I think I may have given these away...have to look.

16. For Olympus D500-L or D600-L: extra memory cards, A.C. Adapter C-7AU, manual, etc.

FREE + shipping for all of it. I no longer have the camera, it was accidentally destroyed...boooo hoooo (dropping things from high up will do that).

I've got other types of memory cards, memory sticks, etc etc

17. SOLD!

18. SOLD!

19. GONE!

20. I made this gym workout belt when I had a very boring 'lots of time for goof-off' Government assignment in the Middle East. It's very thick heavy duty leather (much thicker than an average man's leather belt for pants) and has a very large heavy duty buckle. It's quite nice. $30 plus shipping. There's quite a history behind me/it, where/when, how, etc. If you are lucky (and I've had enough to drink), I might tell you.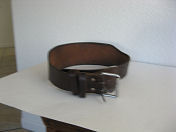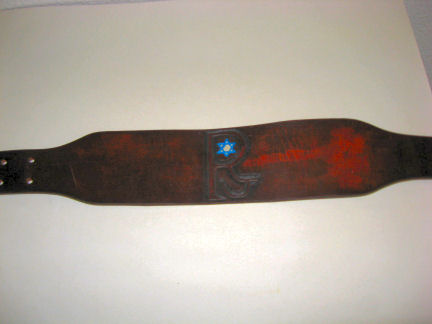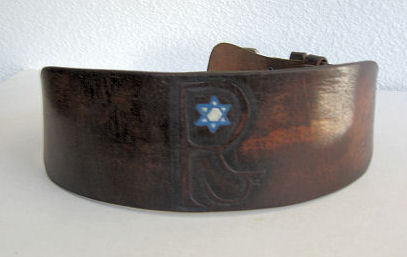 21. I have a LOT of speakers I want to get rid of. They take up a huge amount of my shelving....I have them from 18" diameter down to a few inches in diameter. Many are brand-new, most are name-brand, a few are completely rebuilt. Some are musician's high power speakers. Priced to sell! WAY too many to have photos here for all of them. Ask as to what you want/need. The photos here are just to remind you what a speaker looks like. I also have dozens of small ones for small radios, etc.).
I also have a few speakers already mounted in speaker cabinets...those are lower power-rated, for use in stereo equipment, etc. I think I put a photo of all of those in my bargain basement site https://fleischerelectronicsservice.com/bargain-basement.htm In section 8 of that article.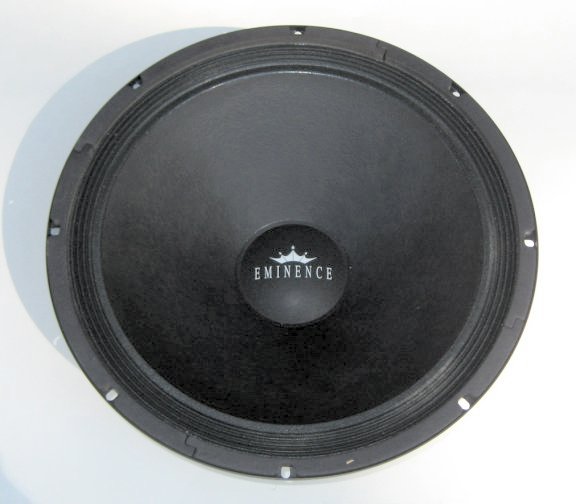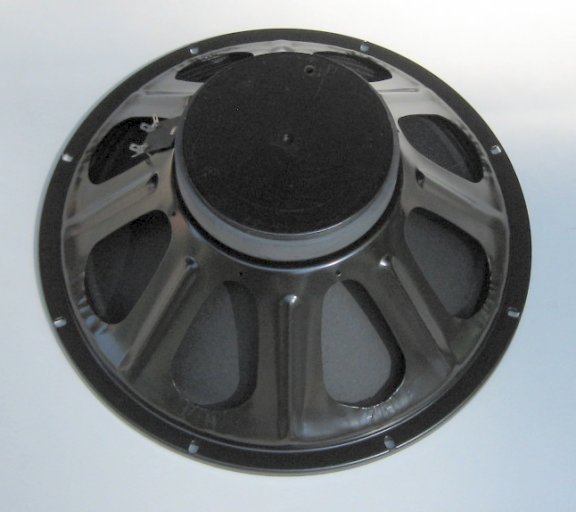 22. Bureau of Standards fan-style A.C. dynamometer voltmeter, mirror scale, jeweled bearings, and in original wood-case with leather handle, etc. In perfect working condition, and extremely accurate. Suitable for actual use or for a museum, these are valuable for their preciseness; and, especially, the dynamometer style of internal coils movement which eliminates the errors other types of meters exhibit, due to waveforms distortion. When I did a lot of electrical work, sometimes on home power systems, etc., I used this meter. Once I even had it with me in Court, when a group of homeowners sued the power company for overvoltage and distorted power, and I was called as a noted expert, and I had this meter which was the same type the power companies used. This meter is LARGE, approximately 10-1/2" x 6" x 8", and extremely accurate. Price reduced to $150. GUARANTEED! A loverly piece of crafstmanship.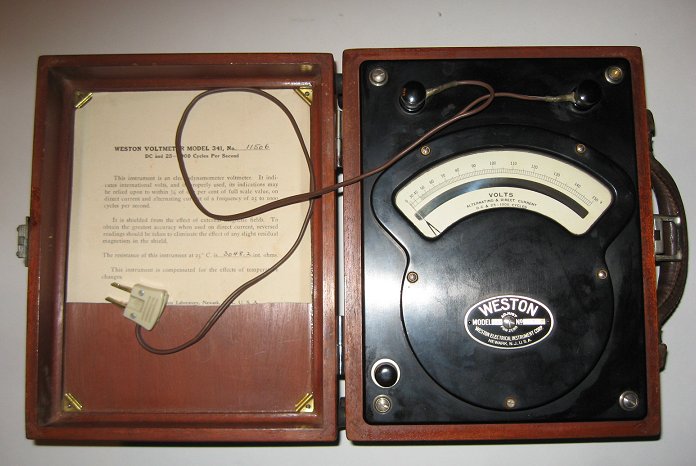 23. SOLD!
24. I have a fair amount of assorted computer items. ASK! Also TWO HUGE boxes of older and newer telephone stuff, so if you need phone system items, I may have them! I've got all sorts of computer and home systems items. I need to take photos of this stuff...probably won't. I have big boxes of phone stuff of all types! Cheap...or, free.
A pair of small desktop type computer speakers...Free with sale of other items. Same for a brand-new laptop computer clip-on LED lamp, that runs off the laptop power.
Lots more stuff. ASK for what you need, or, maybe I will eventually photograph more items for this SALE page. Maybe not.
25. Leather jacket: Gave it away!
27. Gone!
28. Royal typewriter. NOT a reproduction! This is the real deal, circa 1940, model NEW No. 1, aka KMM....and was the top of the line, with all the bells and whistles, etc. .... AND it works perfectly. In super good condition, & very nice appearing...in fact, it looks much nicer than in the photo....its original paint, for example, is not faded (I had to flatten the photo in order to show the keys properly due to lighting reflections). This is the rare & original round-key model. The narrow white fuzzy vertical streaks above the top row of keys do not exist, they are a reflection from the shiny nickel rims of the keys. I still use this occasionally. True museum quality. Included is an extra (new) ribbon, full info manual, & dust cover. Guaranteed to work properly. No problem obtaining ribbons, although you get two that should last a long time. You can even get them at WalMart. $150.00 including that mentioned thick manual with history, etc. Typically these sell, whenever available, for $300 or more. A working-well antique. I probably even have some carbon paper for it, to make duplicates the old way.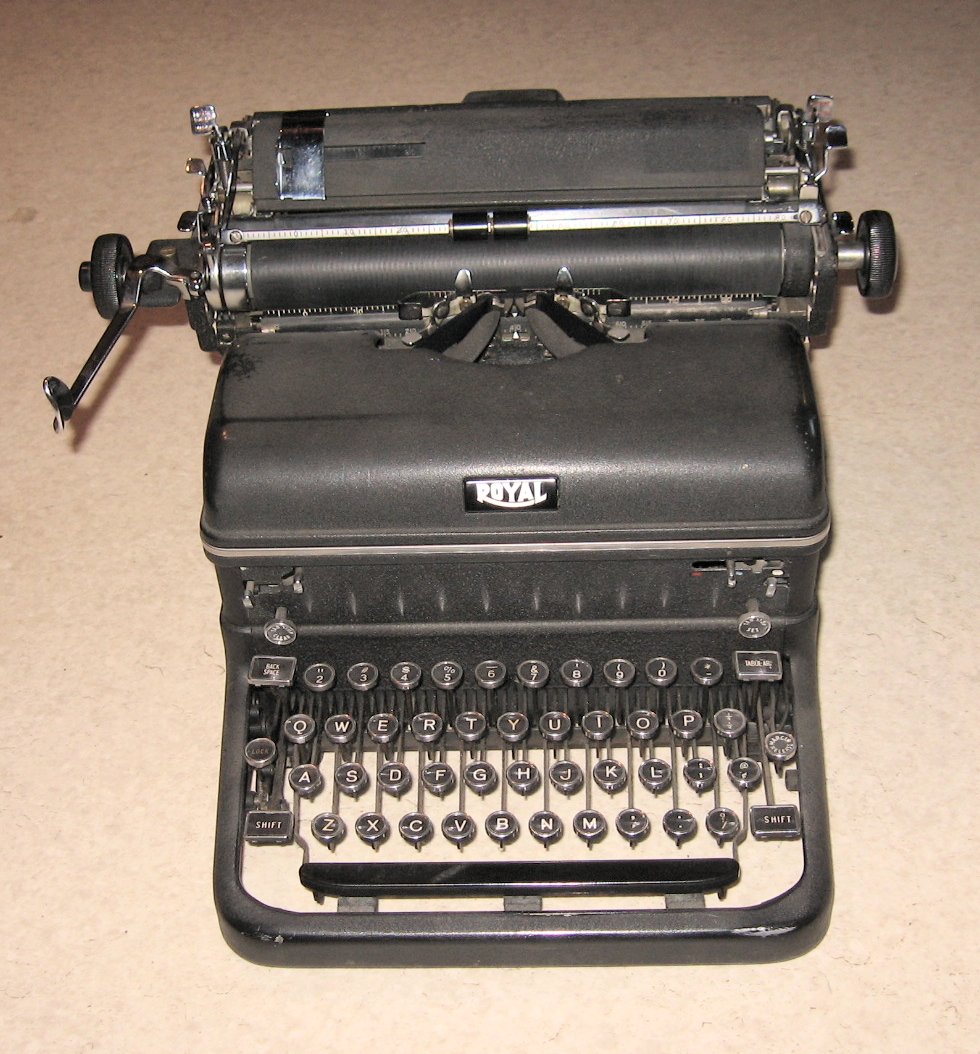 29. Remington, long carriage, reliable manual (not electric) office typewriter. This is still in use now and then in my electronics business. Due to a change in my type of invoices, etc., I hardly ever use it anymore. Make me an offer I can't refuse.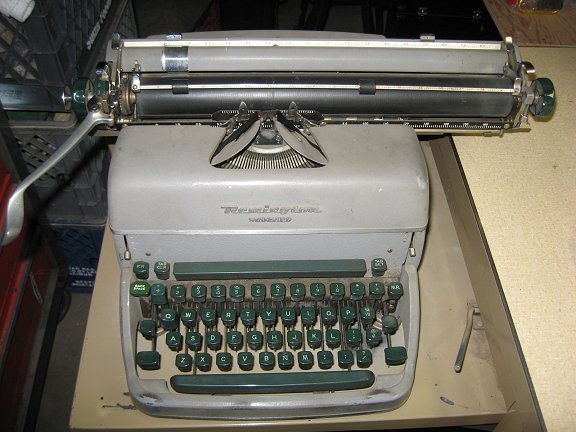 29. GONE!

30. SOLD!

31. This is best-of-the-best of items I own. This collection takes up a large amount of storage room that I badly need. It is much more than just a complete service for 12 (and spares) ...of Oscar Bucher's super fine custom-made stoneware. Suitable for anything from a family dining table....to a King's Castle from the middle-ages; ...yes, really. 9 or 10 large boxes of Bucher's items. I was not just a Bucher admirer, ...I commissioned him three times, to make all these items for me. The photo below is of the first of the three Commissions to Mr. Bucher. These items were displayed at my home at S. Lake Tahoe, but I tended to rotate what was on display. Figure on three times as many items, in total, plus the VERY nice flatware. Suitable for a real man's castle.

I served lunch and the occasional fancy dinner to my friends using these items. You would not believe the ruggedness and quite extra large size of the plates in the lower right corner; yet, at the same time, the goblets are very thin, yet sturdy, and have a wonderful feel in hand and mouth. The workmanship is impeccable, Bucher was a master potter, and some of his regular single pieces sell for thousands. All of my pieces have the same lovely matching pattern; just as I requested. There are MANY more pieces than in the photo...some of them quite large. Not shown is the outrageous punch bowl and its cups, the samovar, and many other pieces including more of what you see in the photo. Included are all the details, even the original Commissions is included. I will consider a trade, or cash sale, or inventive other ideas. The value is $$$, but we can dicker. I will NOT sell individual pieces (my wife might, if I am dead!). I have a full set of flatware for you, included, that matches the King's Castle idea, and it all goes to the purchaser. There ISN'T any finer or better stoneware. Bucher was a Master Craftsman.

Here's his bio, as used by a shop that has a piece or two of Oscar's work (NOT my items):

"Oscar Bucher is an award-winning ceramic artist who has been working with clay for over 50 years. His pieces have been exhibited in numerous museums and galleries throughout the United States, Europe and beyond, including the International Ceramic Competition in Faenza, Italy and the Fletcher Ceramic International in Auckland, New Zealand.

Raised in Switzerland, Bucher completed his studies in business /accounting. He worked as an auditor for Arthur Anderson accounting firm in Milan and Paris. Not finding the work fulfilling enough after four years Bucher decided to return to his first passion: creating with his hands which led to going back to art school to study ceramics at the former Eidgenössische Keramische Fachschule in Bern.
In 1960, he immigrated to Santa Barbara, California to establish his own pottery studio. His groundbreaking work consistently won awards and helped popularize high-fired ceramics in Southern California during the '60s and '70s re-emergence of Arts and Crafts movement.
In 1975, he established the Ceramic and Glassblowing Programs at Santa Barbara City College and taught as the head of the Ceramic Department for over 20 years. He curated numerous workshops with top artists including Paul Soldner, Don Reitz, Otto Heino, Yoshiro Ikeda, Lana Wilson, Patrick Crabb, Philip Cornelius, and many others.

He is well known for his unique glaze treatments, including his own crater/lava glazes, along with a diverse approach to form that includes both functional and sculptural pieces in porcelain and stoneware. As The Santa Barbara Independent noted in 2007, "Oscar Bucher, in particular, shows himself to be the master of many styles and techniques" and his recent work dramatically highlights this life-long interest with an eclectic approach to the craft. He continues to operate his studio in the rural foothills of Santa Barbara and currently exhibits his work at Gallery Los Olivos.
"

Oscar's is in his eighties, like me, and I doubt anyone will ever replace him.
I've never seen any goblets that approached these; and same for the other items.
Owning these means pride of ownership!
Hopefully I'll be invited to your annual dinner party!

I want this collection to go to someone who will appreciate it. So far I have refused to have it displayed/shown at any store or gallery. I prefer these items go to a museum, or to just one person as one lot. Keep in mind that what you see in this photograph is only a fraction of what is included. These have been valued in the thousands. They are a prized collection of mine, and I am concerned that they go to someone who will appreciate, and take care of them, and pass them down to the next generation(s), forever.

The top left three items are not part of the Collection, nor is the figurine in the top right, but you can have them. I wish I had taken a photo of the rest of the items, before we packed these things and moved them to my storage area....particularly the tall Samovar and the spectacular punch bowl with its special cups that hang on curved pegs on the sides of the huge punchbowl.

I served more than a few dinners to special friends on these, including one very memorable "Tom Jones" dinner that is still talked-about in the Lake Tahoe area. Have you a big fine house ...or a castle?

If these do not get spoken for/sold/whatever, then I contemplate having the entire collection assigned for sale by some recognized Premium Gallery. I hope to have them sold, or a decision, before I die of old age. For an outright sale, I'm asking $4000 for the entire lot, including all of what is and is not shown here, the flatware, etc. This price is way under what Oscar Bucher's items sell for. I don't want to split the collection up...but, I suppose I might have to.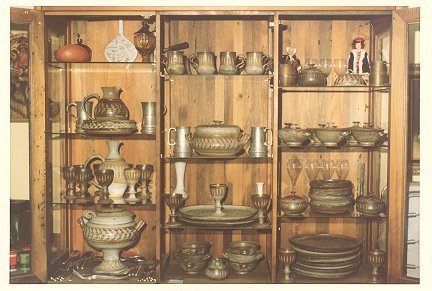 Above photo shows only a small portion of what I have. NONE has ever been sold by me, so if you get this fine set, you have the only such in the world.
---
You may contact me at: emailimage

---
https://fleischerelectronicsservice.com/bargain-basement.htm
---
WANTED! Things I'm interested in getting (trade/barter ....and/or ...I will pay cash or add cash as appropriate):
1. BMW SNABB Katalog that is marked on the rear cover outside as 01-01-9-796-621.
2. Replacement for my awfully worn SNABB Katalog which is 01 09 9 796 332 1.5 V/81

MORE WANTED:
I want to see or look/read, or even obtain a copy of ....the following BMW Service Information sheets (aka as SI's):
1. #2570, dated December 1992, subject is seasonal storage
2. #2592, dated July 1993, subject is the ignition/lock special tool/bolt
3. #2619, dated February 1994, subject is the Maintenance list
4. #2638 and #2638R, dated November 1994, subject is the recall on H.B. advance. Normally filed in Section 32 of Factory Service Manual.
5. #2671, dated 05-22-95, subject is 1995 specifications
6. #2705, dated 10-11-95, subject is the Advance Notice of the Brake Hose Recall. Normally filed in Section 34 of Factory Service Manual.
7. #2724, dated 11-20-98, subject is the ignition canister units
8. #2737
9. #2714, dated 11-2-95, subject is fuel tanks
10. #2730, dated 12-20-95, subject is Approved Tires
11. #2798
12. #2799
13. #2385, dated December 1989, subject is new locks system, and bulletin is further numbered 46-024-89


---
For anything on this entire page: I may trade/barter. I also may dicker on combining things! Ask or make me an offer. See if you can convince me to give you something for free.


After we agree about an item and its shipping; and if you own me, or I owe you, payment in cash can be done in several ways.

By PayPal:
Click on this link: https://bmwmotorcycletech.info/emailimage.htm which is a photo which shows my full E-mail address which is also my PayPal account number. If you send PayPal funds as "family, personal", "gift", or similar, I do not have to pay their fees.

Go to http://www.paypal.com, & pay using my e-mail address as to where you are sending the funds. I can also send a money request to you through PayPal, but my last try at that made me pay their fees.

By personal check or cash (please do NOT send cash via snail mail) or United States Postal Service Money Orders (which I can cash and pay for your item's shipping at the same time at the Post Office). If you wish to send me a personal check or bank draft, money order, etc., my new mailing address is: R. Fleischer; 1903 Teal Drive, Carson City, NV, 89701. ALWAYS let me know how you wish to pay, AHEAD OF TIME.

The United States Postal Service has been improving its "Service". Internet tracking is standard for most all mail, as one example. I always go to USPS.com for the latest information before quoting you costs. I usually ship things to USA addresses via Priority Mail or First Class, or the new version of Parcel Post. The Post Office also has a version of its Priority Mail that uses a flat fee, weight is not considered. This Class is very nice, often.

I ship most packages out of the U.S. by First Class Package International for the lowest postal rates. Insurance for that type of shipping may be available now.

For international mailings, there is also Priority Mail or Express Mail where insurance & tracking are available; although that type of service usually costs much more than First Class Package International. "First Class Package International" shipments seem to take from 2 weeks to 5+ weeks.

I will NOT ship First Class Package International to international locations without YOUR understanding that shipment might take as long as 5 weeks, sometimes more. I WILL provide, upon your request, a copy of the mailing receipt, as proof I mailed the item; plus, whatever type of proof of shipment is available (typically via Internet tracking). For very expensive items there is a USPS service called Insured-Registered mail, which is very secure for expensive items, whether domestic or foreign; it is rather typically slow.

Sometimes, UPS is considerably cheaper than USPS, sometimes that is reversed. I sometimes check both, and often also check Fedex.

I provide Internet Tracking Numbers and other information to anyplace I ship to.


RE: PayPal:
On 10/19/2021 someone sent me a donation. In the past, I could acknowledge such, by getting their E-mail address from my PayPal account, so I could thank them, and sometimes offer some sort of technical advice, etc, as appropriate. PayPal NO LONGER has the sender's E-mail directly showing. This might be due to European regulations that PayPal put into effect for all accounts. Thus, now-a-days I respond to the sender by sending an E-mail through the PayPal system of responding, and I won't know if that got send/received. If you are a Member of the Airheads List, I can look up your e-Mail address, as I am a Moderator.
Snowbum
---
©

Copyright 2023, R. Fleischer

Return to Technical Articles LIST Page

Last check/edit: Friday, August 18, 2023