---
Snowbum's BMW Motorcycle Repair & Information Website








The ads above are Google-sponsored.
Clicking on them at every visit helps support this website!
Clicking on something inside an advertisement helps even more!

Snowbum's 1995 R100RT (Monoshock)
sold .....including many tools & parts.
(1995 was the last year for the R100RT)

(This article also includes some history on my immediate prior bike,
the 1984 R100RT)

https://bmwmotorcycletech.info/1995-R100RT-Sale.htm

© Copyright 2020, R. Fleischer




It's the end of an era. With my health deteriorating, Penny and I downsized & moved to a 55+ Community in Carson City, Nevada.

So ...my Sidecar rig and my two-wheeler, the 1995 R100RT, went up for sale.

The motorcycle was stored at my Lake Tahoe home until May 7th, 2019, when the buyer came for it. The sale included most of my Airhead parts, etc.

The sidecar rig was also sold, & it went bye bye in June, 2019: https://bmwmotorcycletech.info/K1100LT-EML GT2.htm

A bit of recent history, a short version of the 1984 R100RT story:
Even after being sold, it was kept most of the time in my garage at Lake Tahoe; and I maintained it, and rode it occasionally; ...until early January 2014, when the long-time owner finally brought a trailer and picked it up and took it home. In the below photo, the purchaser, a friend of mine, arrived with a newly purchased used trailer, which was found to need some work. We fixed up lights for the trailer, added the metal storage box, and in the photo we have the wheels off in order to install new wheel bearings, and Bearing-Buddies. Two days later both the RT and the HP2 that were in my garage were wrapped extensively in plastic film, and it all left me, BOO HOO!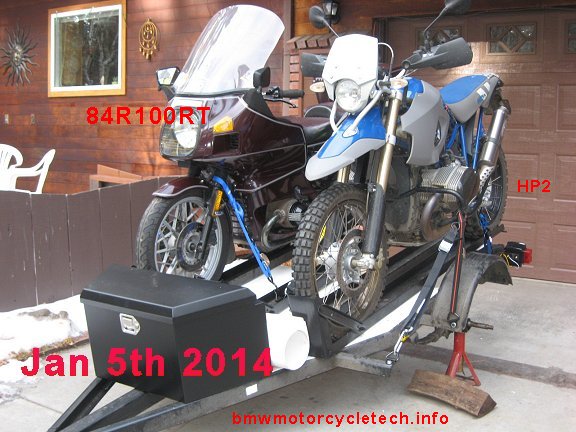 It remained a California-licensed vehicle, and the owner wanted to keep my license plate as a sort of honor to me, SNOBUM2 ...so I transferred that particular license plate rights to him. He may have changed to SNDBUM by now, not sure.
I had not intended to get another 2 wheeler, but just occasionally ride a friend's Ninja 250 (he also had a 500), and a dirt bike, all of which I have access to, ....& to ride only when my back and left leg was up to it. I day-dreamed about doing some vintage racing (don't ask on what bike). Things changed in Spring of 2015, back and leg problems or not. I just could not stand not having an Airhead to ride for over a year. ...so ...I purchased one ...the 1995 R100RT, and had it shipped to me from Minnesota. This is a model I had never owned before, a Monolever RT....and it was the last of them produced by BMW.
---
You are probably reading this article because you want to know about the 1995 R100RT, because it was up for sale, as Penny and I planned to downsize to a small cottage in a Continuing Care Retirement Community (CCRC), and I would have no storage nor workplace to maintain anything, let alone ride motorcycles (which I decided, since I am in my eighties, and have a serious disease which is causing me problems, ...to finally give up motorcycles ...I thought, not sure now). After 2 years on a waiting list for that cottage, we gave up on it (It was at the Rose Villa community, located in Milwaukie, Oregon), and we decided to move to a rental house in a 55+ community in Carson City, NV. As I type this in January, 2020, that move was done in stages, over a number of months, as I had to find another house, rent it, build another shop, put my Tahoe house up for sale, etc. Just about everything is now done.
Below is the 1995RT, with the seat and windshield all exactly as I received it from the seller, photographed by him before it was shipped to me. I received it in the Spring of 2015. This is not the seat on it now (I had the seat 100% re-done with much higher lumbar support, over-all lower in height, & a narrower front area) and also not the windshield I rode behind (the one shown is quite tall, but is included in the sale).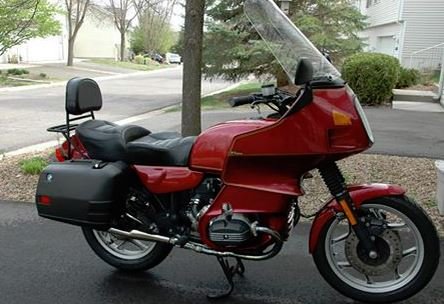 Below is a photo of how seat I had made for me looks now. Note the extra high lumbar support. The wings are also different, hard to see in the photos, but are softer, shorter, less stiff. This is a modified version of the Sport Model of Russell Day-Long's wonderful special seats. This seat is not even broken-in, as I have not been able to ride the bike ...a long story of problems, which I shall spare you of.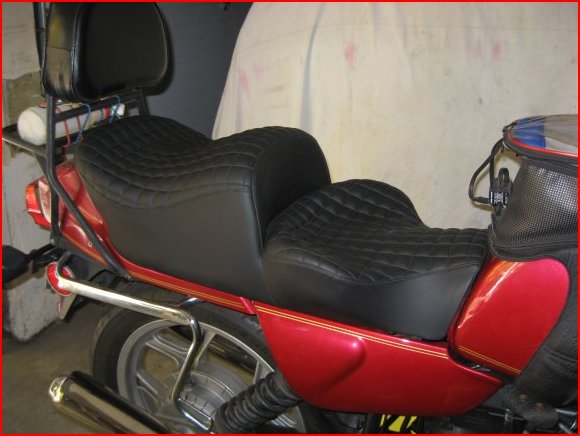 SO....long before my recent health problems ...I had made what I THEN thought would be the 'final decision' ....that I would fix up this 1995 R100RT to what I wanted, and it would definitely be my last motorcycle;... mine until I hung up the keys and quit riding 2 wheels (which has happened years before I expected it to). I made some changes to the motorcycle, and quite a long list of service was done by me (who else?). 100% in-depth service (and removal of everything rear of the clutch, for just one example). As things went, & they went awfully slowly for a variety of reasons, none of which had anything to do with work on the bike, ....it was my laziness, energy level, and life's responsibilities (such as my work with the Kiwanis), and physical deterioration, that caused the slowness. The results were that it was quite awhile before "I'm done, time for a Test Ride"....but, that finally happened. I had even cut down the windshield and put my Kiwani's Club decal onto the windshield. See photo below. It wasn't a short ride. I was having too much fun. It is only 7 miles to the mountain twisties. I left the Tour Bags at home. Note that shorter windshield. The extra tall windshield went with the motorcycle sale, as well as the one in this photo.
One of the many changes was to try out an idea for a side-stand modification, that worked OK, but could be much more improved. Details and photos of that experimental side-stand are in here: https://bmwmotorcycletech.info/FarleyBrownSurefoot.htm
The buyer may like it, hate it, remove it, modify it....or, whatever.
This 1995 R100RT has an EnDuraLast permanent magnet alternator & an Alpha ignition. This motorcycle will maintain its battery charge even at idle RPM, and in such as city traffic, & there is a fair amount of extra watts available, if needed.
It has BMW heated factory grips. I kept the original alternator and ignition for the next owner to use, sell, whatever. I installed special electrical outlets, and that now 15" height Parabellum windshield, for which I cut down the Parabellum the bike came with; and, as noted, I had the original owner's even taller windshield on my storage shelf for the purchaser. I had purchased the bike from the original owner, who had purchased it brand-new. He is 6'7" tall, and with a 38" inseam and very light for his height; very different from my 5'8" at best, and 150 pounds and 29" inseam; this led to adjustments and to the redone seat, windshield, etc. I've changed/modified other items, improving reliability, etc. You would find this motorcycle comfortable ....and everything falls to hands (and feet) without straining or otherwise uncomfortable movements. If you were big and tall, you would probably want to adjust the footpegs, shifter, and, maybe even put on the tall windshield....all very easy to do.
I left possibly the most important modification for last. This was to modify the seat to fit me and my particular riding position. The next photo shows a side-view of how the bike appeared for its 'finished' test ride, Nov. 13, 2016. Note the much lower windshield (It is Parabellum style, with air venting), different seat style, etc. I left the bags off for these photos. I disliked having the as-purchased very nice Day-long seat re-done because it was like new (see photo a few paragraphs above), but it would not be comfortable for me on a long tour. The seat was removed and sent to Russell-Day-Long. They re-made it to my specifications. It is their Sport model, so the seat wings are softer and considerably less prominent than on the original Day-Long; and, the front of the seat is narrowed from normal, at my request. That was done for help in reaching the side-stand, reaching the ground with my left foot; and, for help in side-gripping the seat with my thighs (I do like riding in a sporting manner). I asked for a very high lumbar support, which is not overly clear from this photo, so see other photos in this article. My longish test ride in November 2016 was wonderful.
The below photo shows my usual tank-bag, electric heated vest controller mounted to the back of the tank-bag, the extra-sturdy rear rack, etc. This tank-bag is of all BMW-sold parts, but I am using a combination of different BMW-sold bag items.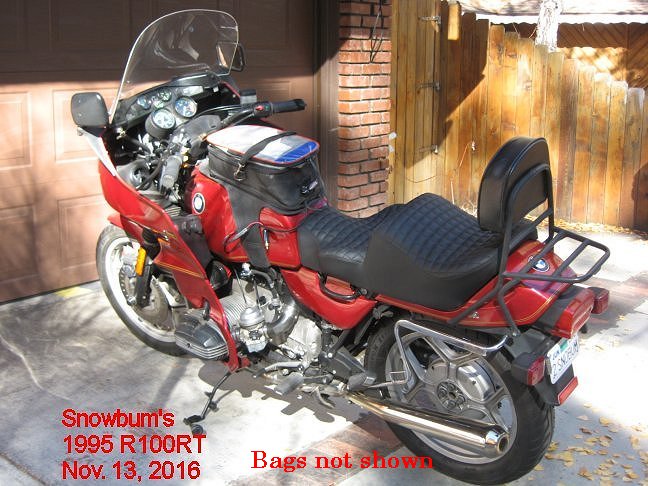 Below, rear view. Notice that the rear turn signal lights have the rare RED lenses that I installed. Of course, the new owner will get the stock items too. The rear also has Run-'N-Lite conversions ...and the tail light has the 50 LED lamps conversion ...and, all the original parts are also included in the sale.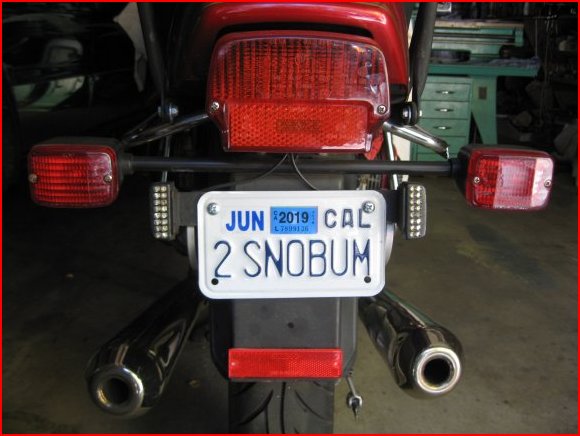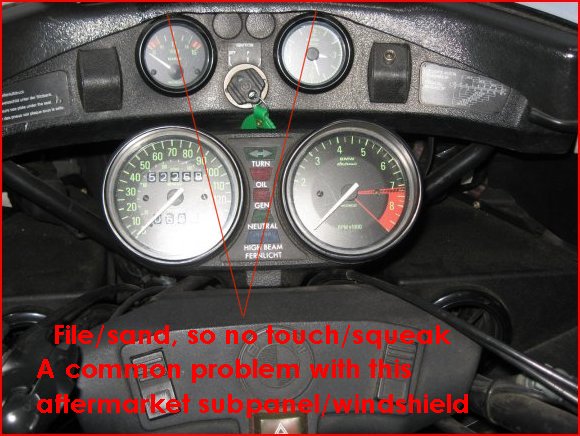 Yeah, that's my LeBlond Regal lathe in the background.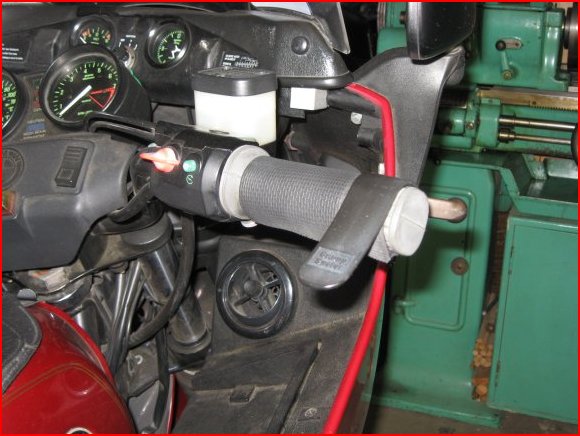 MORE DETAILS:
Mileage: 52268 as of the day the new owner picked up the bike and parts. I put on few miles on this bike, due to a variety of unforeseen problems with my health.
As I noted, I was the second owner. The original owner furnished me the complete history of the bike, maintenance records, etc., since brand new. The buyer got those. I also provided all my records, showing what I did to the motorcycle since I purchased it (a LOT). Records included the normally scheduled maintenance records.
EnDuraLast Permanent Magnet type alternator (usually called the 450) (and, all the original alternator parts).
Almost new MotoBatt battery, to replace the Odyssey which was getting tired.
RAM mount on the handlebars (I probably have enough adaptors for any GPS...?).
Alpha ignition, Dyna coil (and all the original ignition parts).
Lighting conversion at rear:
1. Complete Run-N-Lites conversion (and, I have included the somewhat rare red plastic lenses as well as the originals).
2. Complete Tail light assembly conversion, with 50 LED's, ETC.
All the original parts ARE included.
Power plug outlets: two each DIN (BMW type) (one for passenger, one for rider). Also, one SAE cigarette lighter type.
Headlight or fog light or driving lights relays. I included a pair of auxiliary relays for they buyer, should he ever have a need.
Tires: Avon Roadriders, tubeless, on tubeless type BMW wheels. Plenty of miles left.
Front forks have 'gators; and also included is the original fairing rubber bellows.
Existing windshield: 15", a shortened Parabellum, including Parabellum air-flow dash conversion. I also include an extra-tall Parabellum windshield.
Handling: the buyer is unlikely to have any complaints! High and low speed stability is very good. The shocks work peachy-fine. The steering head is set for very slightly less preload than stock (buyer informed and told about adjusting it for a bit more preload, if riding two-up a lot, and/or with weight on the rear rack).
Brakes: Brembo dual disc brakes with two piston calipers on each disc.... that DO stop well. LOTS of pad material left.
Seat: Custom-made for me by Russell (The Day-Long folks) with high lumbar support and narrowed front, etc;....as described earlier.
Fuel tank: modified for easier filling; and, has all the Pulse-Air and vapor and fuel solenoids items removed, and gas cap modification to match. The buyer had Pulse air items from another removal, so left the Pulse Air items here...in case anyone needs or wants them.
Heated grips (BMW original, not aftermarket); with proper later-style improved-version Grip Buddies over them. There is a CrampBuster on the throttle, besides the BMW style throttle friction special screw assembly.
ALL locks, bike, luggage, etc., are on ONE key (I included several 'real' BMW steel keys).
Tools: Full set of hand tools. Includes tire repair kit, new electric compressor, a new multimeter; ETC.
No mickey-mouse work. No rusting-out. No squeaks, rattles, etc.
I had a couple of shelves-full of spares, heck, even oil, etc. The purchaser got nearly all of it ....and some tools, etc. This included nearly everything I had for maintaining an Airhead. I really had a lot of stuff ....lots of $$ value here.
This motorcycle handles quite well, and does not ride harsh, but it is not a comfy wallowing rubbery couch either...It really will carve canyons. The engine is smooth, the braking excellent, the handling in straights and twisties is very good. The transmission shifts silky-smooth. There are NO PROBLEMS that I know of.
All Servicing was up-to-date on the day of pickup.
I have a lot of time (something well north of 140 hours), and some goodly amount of money in this bike. I debated quite awhile with myself as to what to ask for it. It is exceptionally nice.....AND, you KNOW who serviced and maintained it!
I set the price at a quite reasonable $7500 with ALL parts, tools, spares, both tall and short windshields, literature, records, etc., all as outlined in this article. Thousands of dollars (really!) of tools and spares.
I decided to include in the purchase, the BMW tank bag and various parts for it.
I had two BMW brand heated vests (Widder)...a medium and a small ...with a controller for each, and these were sold cheaply to the bike purchaser.

I still had a lot of Airhead items (including tech literature books, etc), and, other things, such as quality backpacking camping gear. Still have a few things, but most was given away to my godsons, and I sold a lot of stuff too. I may put the remainder of the items in my sale page, now and then. SALE
If you have questions, see my E-mail address, located in a photo, here:
https://bmwmotorcycletech.info/emailimage.jpg
---
rev/release: 10/02/2018
10/16/2018: Fix typo on selling price. Had been $8500.
12/15/2018: Minor updating to reflect it was sold, but here, etc.
03/07/2019: Minor cleanup.
04/14/2019: Modify to reflect the move to CC.
05/11/2019: Modify to reflect the bike is now with the new owner, etc.
01/06/2020: Quickie update, probably not all that complete though.
© Copyright 2020, R. Fleischer
Return to Technical Articles LIST Page
Last check/edit: Saturday, December 12, 2020