The ads above are Google-sponsored.
Clicking on them at every visit helps support this website!
Clicking on something inside an advertisement helps even more!

Photo Gallery #2

© Copyright 2019, R. Fleischer
https://bmwmotorcycletech.info/photogallery2.htm

Before getting further along, into BMW motorcycle things, here is some information on the origins of gasoline-engined cars/bikes/etc.
First a Video; and below is my text to go with the video. VIDEO LINK

German inventor Carl Benz (1844-1929) is one of the many individuals given credit for the creation of the first automobile. In 1885 he invented the motorized tricycle, which became the first "horseless carriage" to be driven by an internal combustion engine.

https://www.daimler.com/company/tradition/company-history/1885-1886.html

On July 3, 1886, mechanical engineer Karl Benz drove the first automobile in Mannheim, Germany, reaching a top speed of 16 km/h (10 mph). The automobile was powered by a 0.75-hp one-cylinder four-stroke gasoline engine. It was the first automobile entirely designed as such to generate its own power, not simply a motorized stage coach or horse carriage, which is why Karl Benz was granted his patent and is regarded as its inventor. The Motorwagen was patented on 29 January 1886 as DRP-37435: "Automobile fueled by gas".

Bertha Ringer, 3 May 1849 – 5 May 1944) was the business partner and wife of automobile inventor Karl Benz. On 5 August 1888, she was the first person to drive an automobile over a long distance. With reference to the video, LIGROIN is a simple petroleum-based solvent, and adequate for use in the first horseless carriage.

Mercedes-Benz got its name this way:
Emil Jellinek, an Austrian automobile entrepreneur who worked with DMG, created the trademark in 1902,
naming the 1901 Mercedes 35 hp after his daughter Mercedes Jellinek. ... In 1901, the name "Mercedes" was
registered by Daimler-Motoren-Gesellschaft (DMG) worldwide as a protected trademark.
BMW M2 B15 engine.
This is not a propeller for an airplane. This is what is called a "Club", has other names too. It's purpose is to act as a load on the engine, simulating the loading effects of a propeller. Usually these are designed to be much shorter than they would be on an airplane.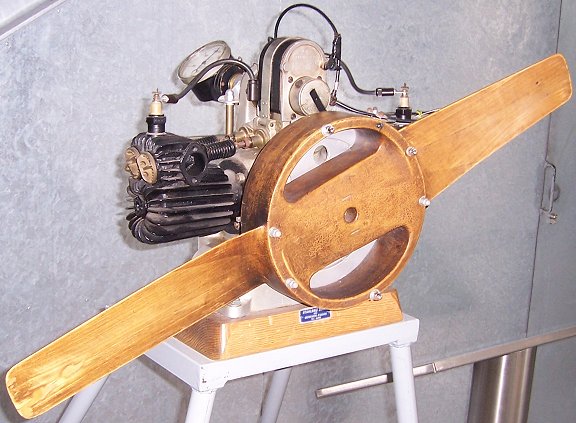 BMW supplied the above boxer engine for airplanes, but especially for the Victoria & later the Helios motorcycles. The Bison also used this engine. For Information on the airplane engine for other makes, etc:
http://en.wikipedia.org/wiki/BMW_M2B15.
The engine was a 1920/1921 development, & produced for a long time. For a complete history of the Roundel, & of BMW, & more information on this engine, see: https://bmwmotorcycletech.info/roundel.htm
It was this type of engine that Max Friz modified & used in the first BMW motorcycle, the R32, first shown to the public in September 1923, where it was a sensation. Friz finished his life-size drawings in late 1922. His design included a clutch, 3 speed gearbox & shaft drive. There were over 100 German companies making motorcycles, the acceptance was quite a feat for BMW. The R32 was introduced at a time of hyper-inflation in Germany; priced rather high, yet it sold well. The R32 was built to last, get good fuel mileage, & looked stunning. Displacement was 494 cc, horsepower 8.5 at 3300 RPM; under 300 pounds, would do 53 mph. About 3000 were built & sold.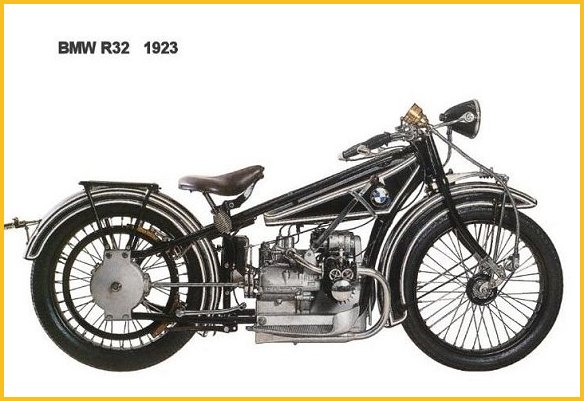 Note that the original version of the engine as used by Victoria, etc., was said to have ~6.5 hp. It is not clear to me if that was true or a typographical error.

Below is a photo of the extremely rare Victoria KR1. This photo is of the un-restored bike in Peter Nettesheim's collection in Long island, N.Y. This motorcycle model was introduced in 1920(?)(with what engine?), has a 2-speed transmission. I do not know the year of this particular bike. NOTE the direction of the cylinders, fore & aft. Victoria was a bicycle maker in Nurnberg, Germany, that made various motorcycles up to the mid-sixties. This Victoria company had nothing to do with the Victoria company of Scotland.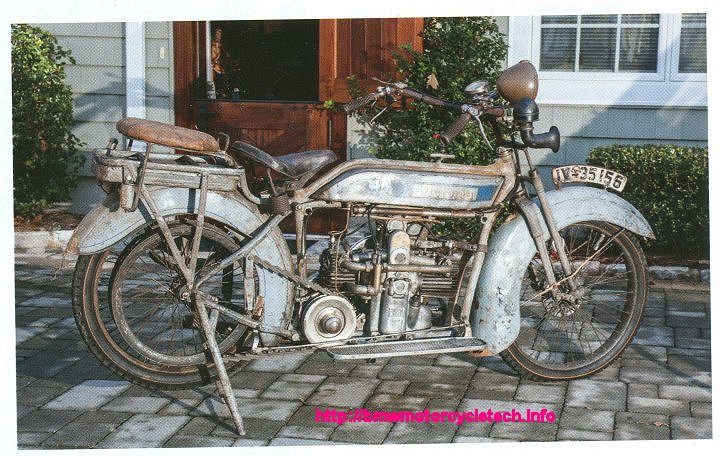 Below are three photos of a nicely restored Victoria. These photos came, I believe, from photos in BMWRA's OTL magazine. More complete photos were not in OTL. I'd love to find more photos of different angles. I think photos may be available from Vetch.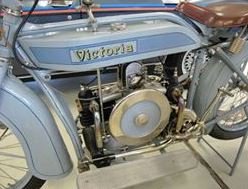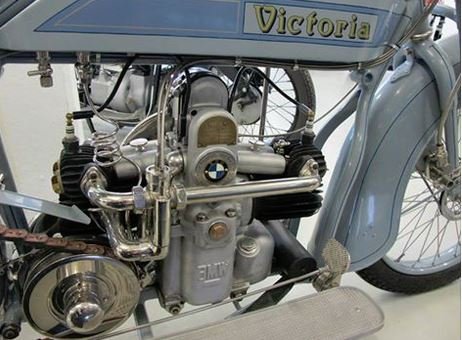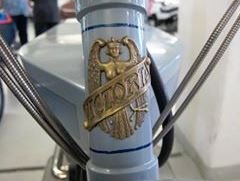 Below is a photo of the Victoria KR1 that "Vetch" restored...LOVERLY!
Compare very carefully to the above Victoria, there ARE differences!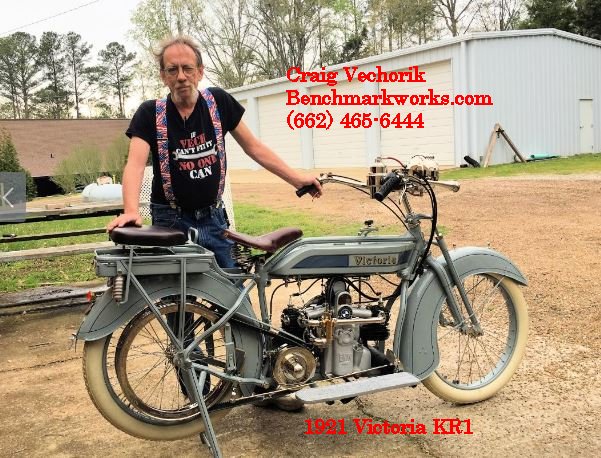 Below is a cutaway view for the R32 engine & gearbox for motorcycle use. Note the changes to the engine to accommodate the gearbox, etc., because the engine was originally used for such as airplanes, etc.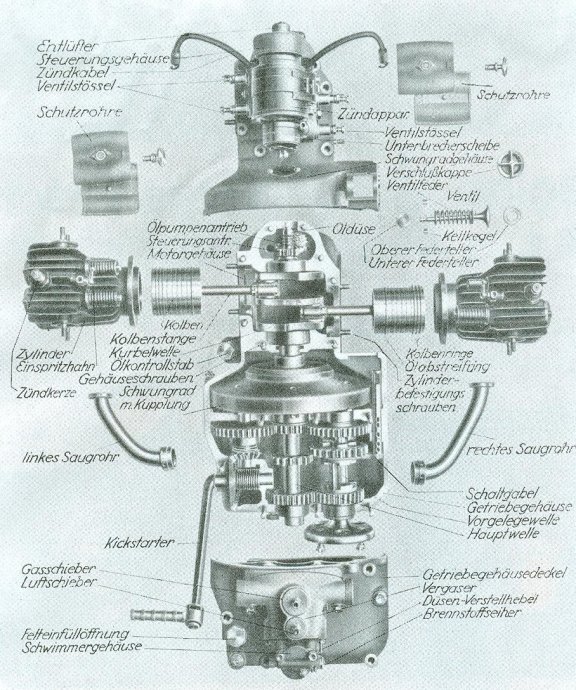 Note that the R32 had the cylinders in the classic cross-wise installation which we all recognize, as opposed (sorry, bad pun!) to the installation in the Victoria motorcycle.
---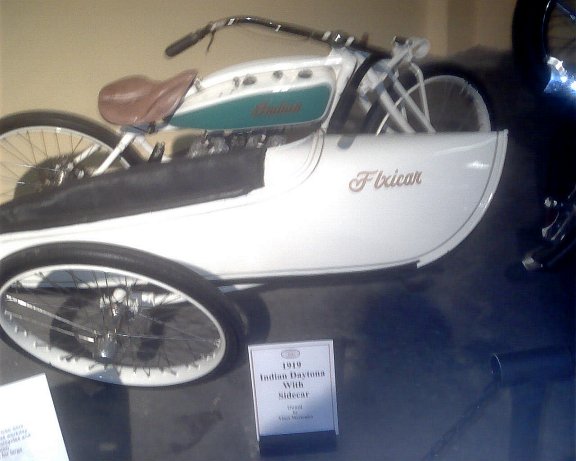 Re: this Flxicar:
John Goff informed me that the patent for Hugo Young's design is readily available, complete with drawings. The design worked, but from an modern day engineering point of view, its function had issues. The nature of the tilting wheel design meant that the sidecar body "dipped" in the lean. If you were to compare it to a modern unison leaner & the Armec Sidewinder, the Flxi Flyer is another half-step in-between in terms of design.
For LOTS more on more modern "leaners", where at least the bike leans in turns, and how to contact John Goff, an authority & historian on leaner sidecar rigs, see: https://bmwmotorcycletech.info/flexit.htm
Here is the patent: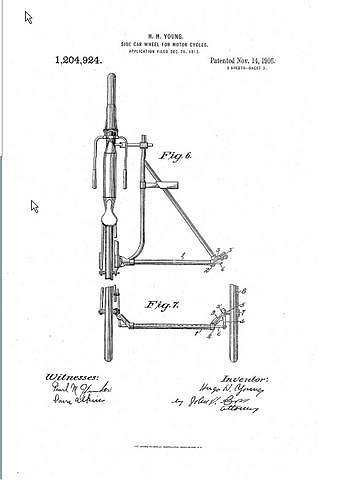 Smith motorized bicycle: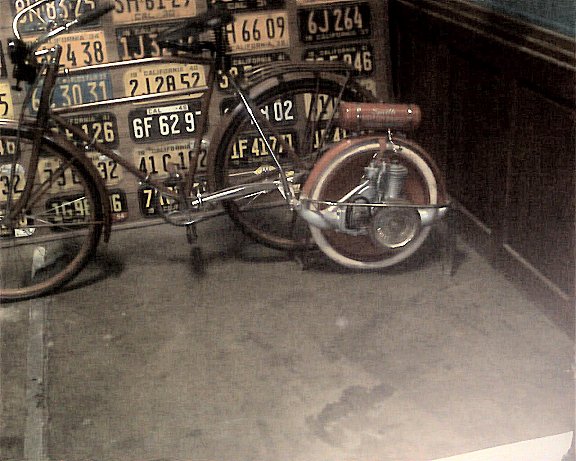 I had two brand-new early Triumphs. My first one was purchased brand-new in 1956, it was a TR6. I used this bike a lot for both street and dirt riding.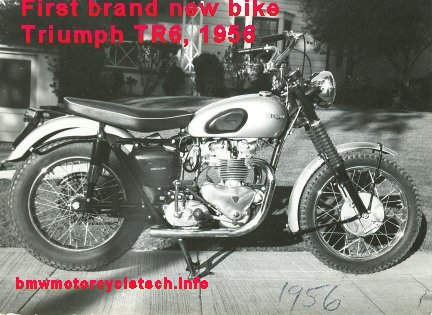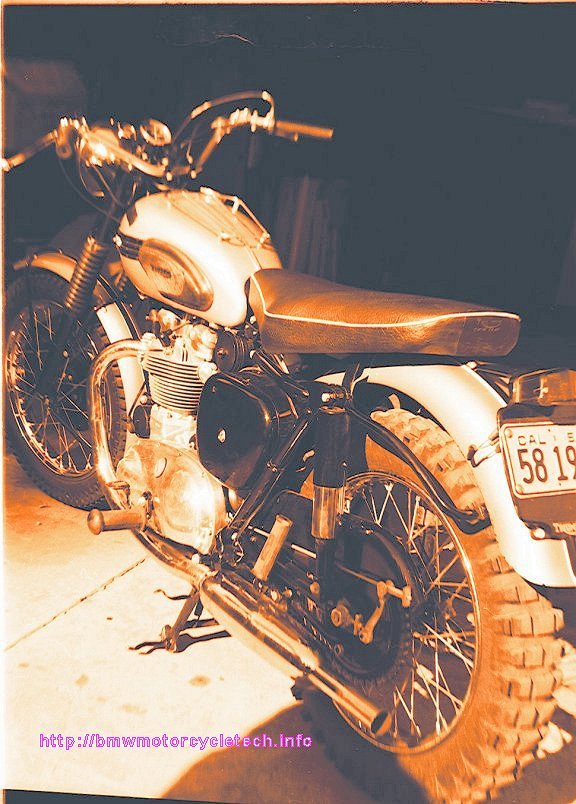 Photo was taken by a friend, this was my first GP bike race, the Catalina Grand Prix, 1957.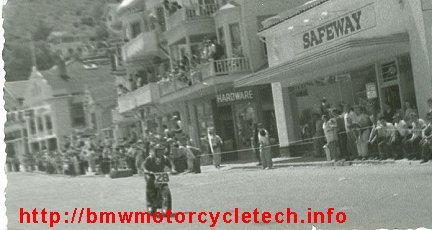 View from the ski slopes at Heavenly Valley, Lake Tahoe: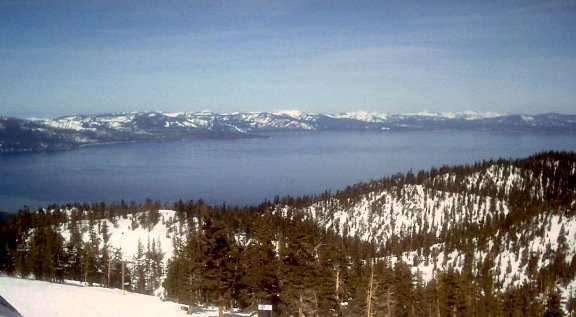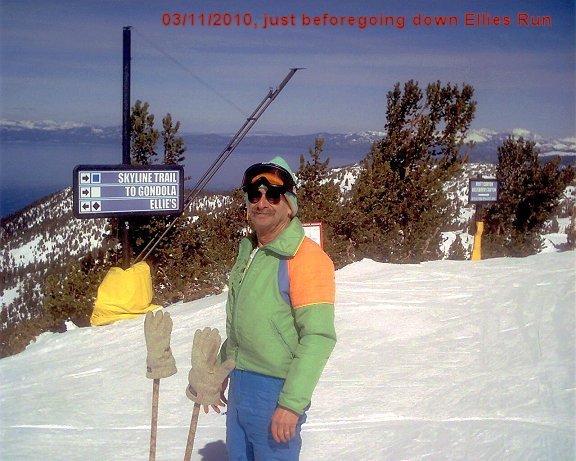 Me, ready for a run down Ellie's. Ellie's is my favorite run at Heavenly Valley Ski Resort (which is only a handful of miles from my home). Ellie's has most types of skiing, including moguls (bumps...), steeps, often some powder at the top ...and too darn often very icy at the top (and, moguls). Plenty of narrows, whoop-de-do's, etc. For tree skiing you do have to go off-piste; and several big bowl areas are not far away. What you see, above, is me on the flat area at the very top, with the beginning of the steep entrance to Ellies to the left side of the photo. Below is a view from a few feet further left. Yes, it is pretty steep, and yes, those are moguls, if somewhat washed-out by the glare in the photo.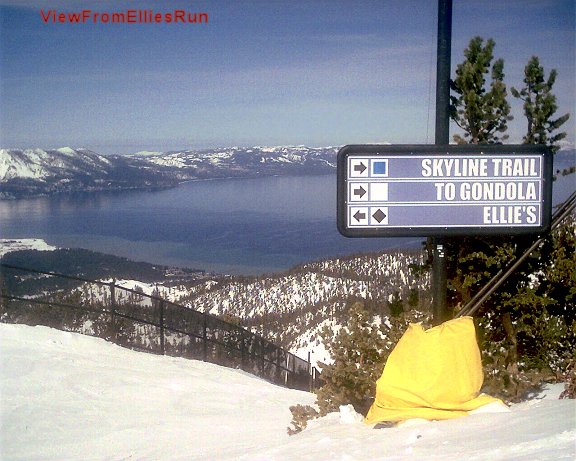 Below are photos of my first 'hot-rod'. This started off life as the lightest Ford, a 1949 Business Coupe. I gutted it. The engine I built from scratch was the original 49 Ford Flathead V-8 but with many modifications, including a longer-stroke Mercury crankshaft, a special cam, Navarro head, Joe Hunt Scintilla Vertex special magneto, and the water-warmed supercharger (worm drive type) that you can clearly see here. There were extensive modifications, many parts I made myself & I did all the work myself under the tutelage of Arthur "Art" Gerrick. For the times, this was a very fast street car. It produced ~300 dyno horsepower. After a few years I decided to cut the car up into pieces & dispose of it (really did that, cheaper than taking the frame, body, etc., to the dump). I then installed this engine into a 1952 M-TD, with numerous modifications to make it fit. That car could raise its nose like a dragster, with the pedal to the metal. Unfortunately, I was on a time schedule & I gave all the photos of the MG to the new owner; who got the car cheaply. When I sold the MG-TD it had the same engine & same supercharger, but with a Norden single low pressure fuel injector I was testing. I had purchased ALL of the last of the Norden items, hundreds of parts, castings, etc, including original non-machined castings, at a sale. One additional item would have been nice on the MG was on the Ford, to avoid axle destroying problems. I obtained a 1-3/8" wide gears "Indianapolis" rear end center section free from a friend, Vic Edelbrock, & with big thick axles, would have been no more twisted off MG axle problems. I knew Vic & many other famous rodders, many of whom opened businesses, way back then. The MG-TD had 16" wheels & tires, faired-in running boards, a 32 Ford radiator shell (cut down & narrowed), & faired-in but otherwise stock rear gas tank. The dash was homemade, & had mostly aircraft instruments. I do wish I had kept photos....but I was off to Service the Service, & decided to get rid of most all my projects. The below photos are almost all I have left of the Ford car, I have nothing of the MG-TD. To this day I greatly regret not keeping photos of the MG-TD. An eagle eye here will reveal aircraft fittings, courtesy of buy-by-the-pound at Douglas Aircraft Company's surplus store, located 3 miles or so from my house. I made many of the metal parts for this car & engine. Some are very visible here. A VERY sharp eye on the second below photo will tell you that those cross-slotted screws on the carburetor intake horns are NOT Phillips, but Reed & Prince aircraft screws.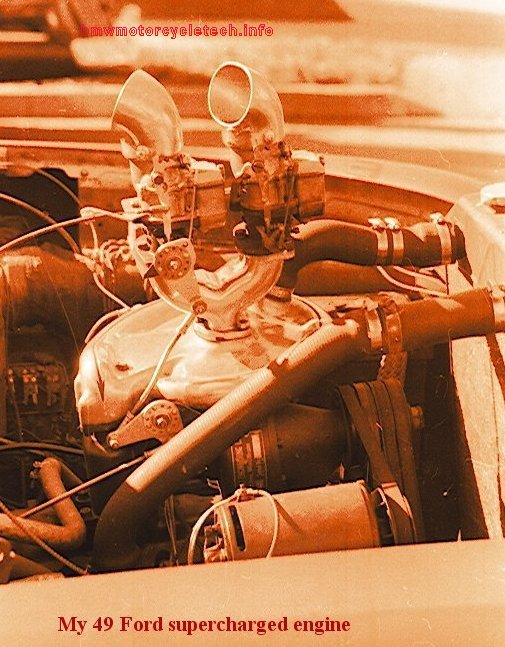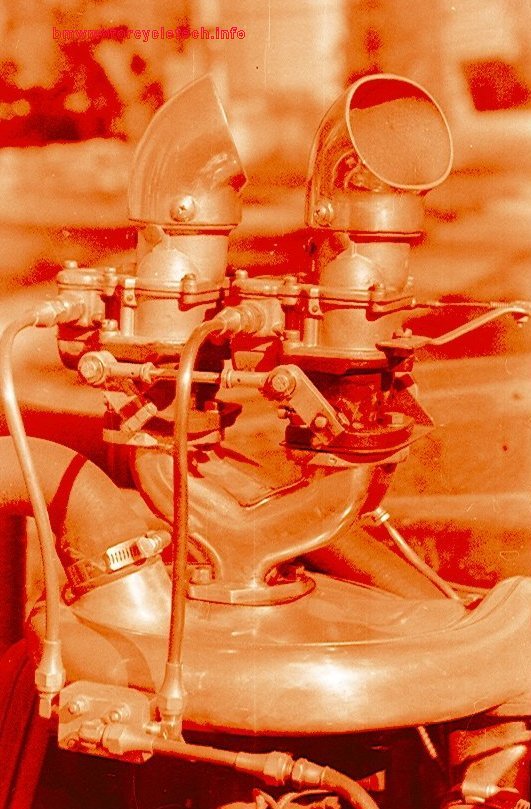 PRE-modifications: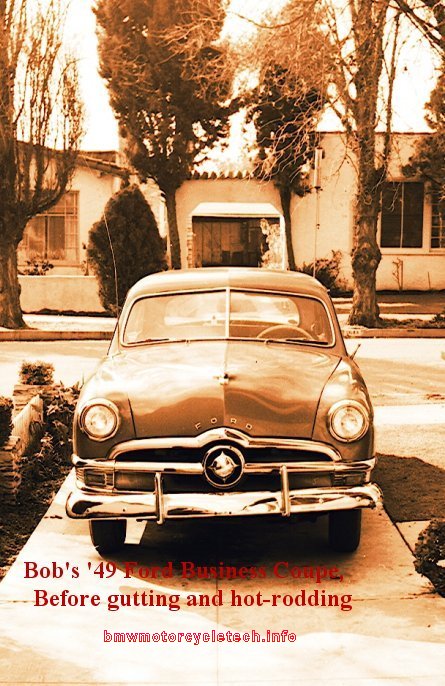 Another Ford/Merc flathead engine: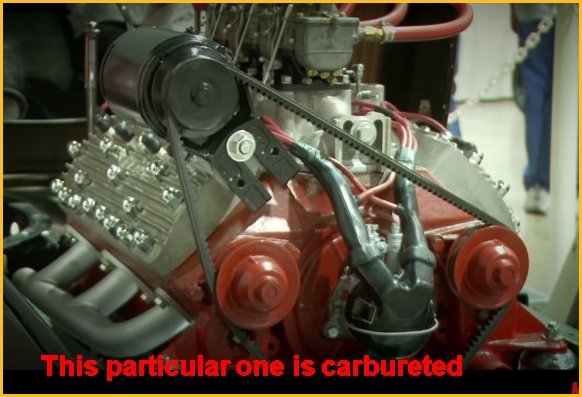 Below is another of my vehicles, a 32 Ford pickup. My 29 Ford A sport coupe is in another Gallery.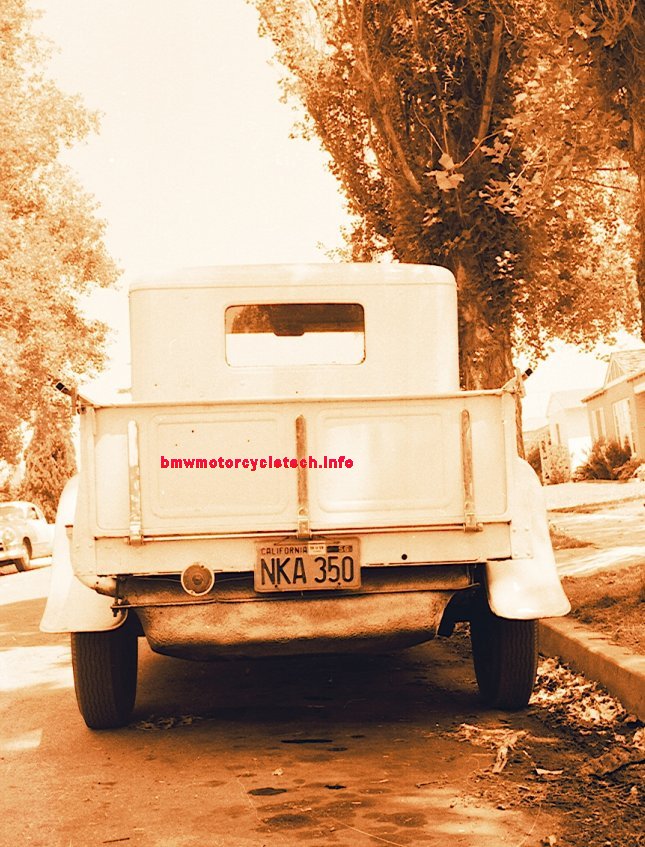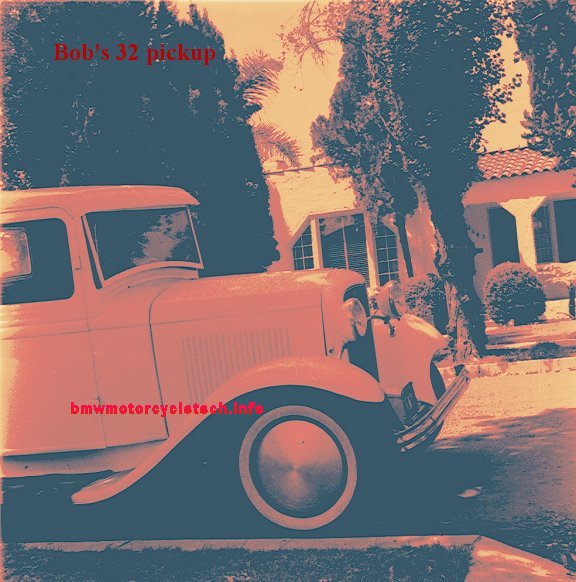 Some say I am old as the hills. As proof, I offer this photo of the unpaved Echo Summit road, which you may know as Highway 50, going into the Tahoe Valley area from Sacramento. Unfortunately, I do not have one showing horse-drawn wagon trains on this particular road.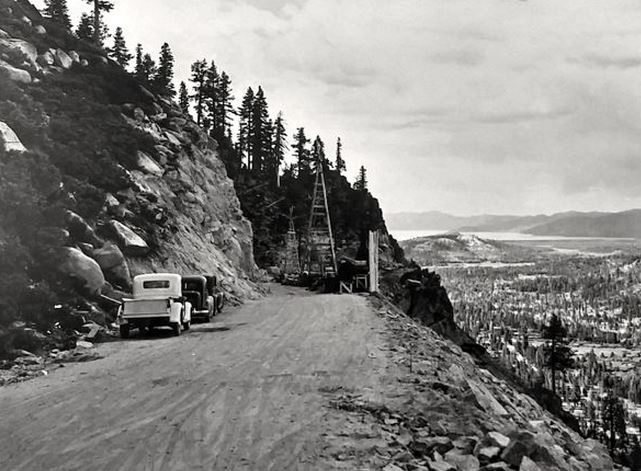 ---
rev:
02/11/2014: Add a bit more information about the BMW engine; correct a typo on model #.
04/17/2015: Add more photos of the Victoria.
08/09/2015: Move the 'table' that holds the info on the BMW, below the aircraft engine, to the left side. Add information: 3 speeds, and HP was at 3300.
08/14/2015: Add the Echo Summit photo and commentary.
10/01/2016: Clean up code.
03/23/2018: Fix layout, fonts, colors, over-all appearance. Reduce excessive html.
04/05/2018: Insert photo of Vetch's Victoria KR1; by permission, and with text as agreed-upon.
03/14/2019: Add video link and commentary at top of article.
© Copyright 2019, R. Fleischer
For Photo Gallery #3: photogallery3.htm
Return to Technical Articles LIST Page
Last check/edit: Monday, July 22, 2019