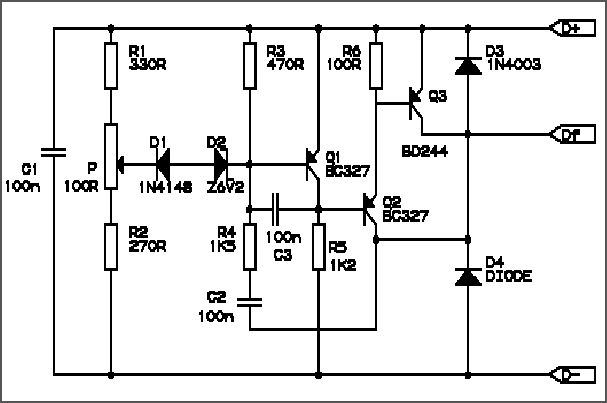 D+ Regulator input, from output of diode board and to alternator telltale lamp.
Df Goes to one brush/slip ring of the alternator rotor.
D- Goes to the other brush/slip ring of the alternator rotor, and to bike ground via a brown wire.
PARTS:
R1 330 ohms resistor
R2 270 ohms resistor
R3 470 ohms resistor
R4 1.5K ohms resistor
R5 1.2K ohms resistor
R6 100 ohms resistor
P 100 ohm potentiometer
C1, C2, C3 100nF ceramic capacitors
Q1,Q2 BC327 transistor
Q3 BD244 series transistor. BD244 rated at 45V; BD244A rated at 60V; BD244B rated at 80V, BD244C rated at 100V. Rating of all are 6 amperes and Vce-sat is max 1.5V ***Snowbum says that if replacing Q3, a higher current rated transistor is a good idea, such as 10 ampere. A lower Vce-sat would also be helpful for longer life.
D1 1N4148 diode
D2 BZX6V2 zener diode, 6.2V
D3 1N4003 diode, can substitute 1N4004, etc.
D4 Diode has no markings, but a 10A, 50V or higher rated diode should be OK.