---
Snowbum's BMW Motorcycle Repair & Information Website









The ads above are Google-sponsored. Clicking at every visit,
and, especially, clicking on something INSIDE an advertisement,
... is appreciated!

Motorcycling to Alaska....
Description, help, hints, details, routing(s), etc.
No hyperbole. No wild stories.

https://bmwmotorcycletech.info/alaska.htm
39D

© Copyright 2020, R. Fleischer
---
This is not a typical travel article. It is not primarily about what to see & do, mileage between points, nor sight-seeing along the way. Yes, there is a bit of all that. This article is, instead, about things you really need to know, well ahead of leaving on your proposed trip. I do give some route planning and ideas for those living, as I do, in the far western USA... and, I have links you will find interesting and informative. You may particularly like to read the link in my Addendum 2, at the end of this long article. The archives of the Airheads LIST, for 11/27/2019 (or, maybe it was 11/28/2019) onwards for a day or three, may be of interest, as they are specifically, more or less, about Airhead riders going to Alaska.
---
Motorcycling to Alaska means, in this article you are reading:
.... either riding through Canada to Alaska; or, taking a ferry boat ride on the Inland Passage with your bike (in one or both directions) to reduce your time on the road.
There is another reason besides reducing time or miles for possibly taking the ferry; many think it was one of the highlights of their trip. I'm not one of them ...perhaps because I have never used the Inland Passage Ferry Service. You might want to. That does not mean I am recommending everyone does ...or does not. I've had conversations with some who did did, & almost all enjoyed it a lot, and others would rather have biked all the way (but did not want to spend the extra time), & there are other comments I have received, none were very negative. I am not trying to discourage you from using the Ferry Service, and, as I said, quite a few folks have told me that it was one of the highlights of their trip. You don't have to use it in both directions either. If you have the time, I suggest you at least consider doing the entire trip by motorcycle, sans ferries. The best experience, for a trip from the lower 48 to Alaska, is when you have enough time, even a surplus of time, & no worries. This means a month+ being available. However, a satisfactory tour can be done in 3 weeks. The bare minimum would be 2 weeks using the Ferry Service. I am undecided whether to specifically recommend taking the ferry, certainly taking the ferry in one direction is a strong option.
A fair amount of this article comes from printed instructions & information hand-outs that I gave to riders who went on my trips north. Usually there were 9 to 12 single-spaced printed pages in the hand-out. In mid-2013 I decided it would be nice to consolidate much of that information & post it on my website. I did some updating. I also solicited comments in mid-2013 on the Airheads & K-bmw lists, & I incorporated a dozen or so short snipped comments, with considerable editing. The comments were helpful as I could not remember everything; although my hand-outs were certainly overly-anal at the time & probably still are. I did not give the folks who provided commentary written credit in this article as I normally would, as I heavily modified & edited their information. The bulk of the material in this article is from my trips. I would love to have reports, comments, and critique....of this article.
---
Many have no idea how large Alaska is, & how long the 'tail' of Alaska is. Some don't even know Alaska has a 'tail'. It comes roughly halfway southward down the west side of British Columbia. I suggest you look at a map on the Internet, or get a paper map of Western Canada and "Alaska". You may be surprised.
Many motorcyclists go to Alaska; quite a few have come long distances, even from Florida, and some come from Mexico, South America, etc. Traveling to Alaska is no longer the extreme trip it was quite a few decades ago.
ONE-WAY DISTANCES IN MILES, WITHOUT SIDE-TRIPS:
From my house in South Lake Tahoe, California, to Coldfoot, Alaska, by ~ the fewest miles route: 3208 miles.
From my house to (or from!) Coldfoot, Alaska, by my Easterly route; this route was sometimes used by me and my fellow riders: 3822 miles.
There can be solid reasons to go to Alaska by the Western route, & return by the Eastern route. One strong reason for this might be that you want to use the Going-To-The-Sun highway through Glacier National Park. That highway is often closed until well into Summer, due to massive amounts of snow ....so returning through Glacier is less iffy, slightly later in the season.
Los Angeles to Seattle; mostly 4-lane Interstate Highway; 1140 miles.
Seattle to Hyder: 990 miles.
Seattle to Fairbanks; mostly two-lane, minimal shoulder; 2,150 miles.
Miami to Deadhorse/Prudhoe Bay: 5,350 miles.
Anchorage to Deadhorse: 852 miles ....and another dozen miles to Prudhoe Bay.
Vancouver to Whitehorse YT: 1,722 miles.
Time available for a tour is often limited by the need to attend to such as your job & other responsibilities. The more time you have available, the nicer your trip will be. That is important!! Think about it a number of times. Trying to do an Alaskan trip in two weeks is likely only for those whose primary interest in the trip may be to brag. You would have hardly time to stop to enjoy the scenery, the people you can meet, the special places, etc. You might well want to use the Inland Ferry service.
For those who went with me on my various trips (7), I was careful to not allow certain types of people to come along. One of those 'types' was the go-go Iron-Butt type that insisted on huge miles every single day. I wanted our group to stop for a day or two, here & there, including being able to do a bit of fishing (fishing in BC, etc., is generally outrageously good), meet people, take in local sights & local's knowledge about things. A local's knowledge may bring about interesting places to go/see/do. There was always many new things going on or to see, on each trip.
Camping all the time is not all that pleasurable to many, so, now & then we'd all use a 'motel'; or whatever accommodations we decided to use, instead of camping. Hot showers can be had in some camping areas, but motels/hotels always have them!
If I go on another Alaskan trip, I want to take 5 weeks to two months. That will be much too long for many of you. Perhaps you'd like to go to Alaska, maybe you are already in the planning stages but you can only go for 2 weeks. Perhaps if you wait another year, you can go for 5 weeks, that is what I advise ...but make certain you don't find any reasons, then, to not go! I have decided that since others talk highly of using the Inland Passage Ferry System, that is what I will do, at least on the going-to, portion of my next Alaska trip.
What type of motorcycle to use is often discussed by those thinking of, or actually planning, an Alaskan trip. Every sort of motorcycle from large touring bikes to small scooters have made the trip. So you think you need a big bike for the trip? How about an article from quite some time ago, nearly 12,000 miles on a Moped. Yes, this would be extreme. http://mopedtrip.com/intro/index.html.
BMW RT's, RS's, GS's, and even R60/2 and single engine BMW's have done the trip. The roads are vastly better now than in the sixties when I did my first trip. Some of the roads have been improved every year. Roads are generally no problem anymore. Maybe I should qualify that .....if you plan to go to Inuvik in the rainy season (a poor idea, but doable). The last "group" tour I did had some route disagreements between folks; and, I've had no desire since then to do more "group" tours. Since then (1997), I have preferred to make 100.00% of my own decisions without the bother of "committees", regarding routes, pace, speed, type of riding, etc. I also prefer to no longer have leadership role responsibility for others. I have one particular friend, an excellent rider, including off-road riding abilities, that I probably will ride with, just us and our bikes ....unless I run out of life and energy.
You may find or have 1 or 2 riding buddies, & you all have similar or otherwise compatible habits. That can be very good, so I am not saying do not ride with others. I get deeper into this groups subject later in this article. I will say that as 'your group' gets over 4 people, there is likely to be increasing problems. On one of my trips there were 7 of us, which was 3 too many, as it turned-out.
Because of the distances & large loads typically carried, I suggest a minimum 500 cc motorcycle in very good condition, fully serviced, with no problems, & with almost brand-new tires. You do NOT need a GS or G/S or other off-road bike unless you seriously plan to go way off road, perhaps in wet slimy slippery deep problem roads. If you take your bike to a shop for pre-trip preparation, I suggest you double check everything they do, make sure it is done, & done correctly. DO NOT take this advice lightly! THIS ADVICE APPLIES NO MATTER THE SHOP'S REPUTATION AND ANY PRIOR EXPERIENCE WITH THAT SHOP. I also recommend that you take several rides after any service work, to be sure everything is correct, right down to adjustment of pedals & footrests. Be sure that the motorcycle is really mechanically ready for a major trip, and, that you can pack things properly. Consider how to pack and tie-on your gear long before the morning you leave for Alaska!
Touring tires are OK, but mixed-use tires are better. You can do fine on tires that are rated for "mostly" paved-roads. I do NOT recommend serious off-road tires (knobbies) as they wear out much too fast, & most are not good at load carrying. They are NOT likely needed on your trip, which is likely to be on PAVED roads, with some stretches of hard pack & gravel (the surface of the Haul Road and some others do eat tires rather fast). Of those roads that are not paved, they are likely solidly hard-packed. You can expect some gravel stretches, but mostly solid and you can make good time on them. Expect lots of chip-sealed roads that eat tires fairly rapidly, compared to the smooth Lower 48 roads. Tires are discussed by brands & models in a different article on this website: https://bmwmotorcycletech.info/section5.htm. Some so-called Enduro tires do particularly well for an Alaskan trip. Don't skimp on quality. Tires that have an accepted ability to deliver fairly high mileage are a good idea. Whether or not to carry extra tires is something to consider; many do, many do not. Some ship a set of tires to a convenient place along the route, perhaps Fairbanks. Some do not need to change tires. I find carrying tires to be quite a bother. I never did. If you select your tires carefully, you may well be able to do the entire trip on one set. But, it is unlikely if you come, say, from Miami. Many have arranged to install new tires at some convenient place before entering Canada, or actually in Canada. Just keep in the back of your mind that tires wear out; and, they wear out faster on the Haul Road.
---
How NOT to pack: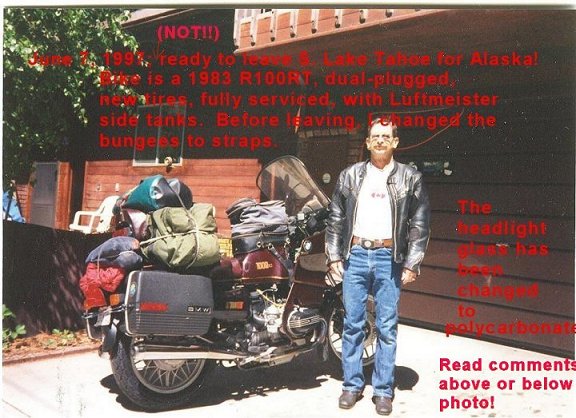 This photo, or similar much earlier versions, were included in my 'packets' for those going on tours with me (from the second tour with others, having learned that folks paid little attention to my WORDS, earlier). This was done to show HOW NOT TO PACK your motorcycle, and HOW NOT TO DRESS. The photo shows me with POORLY SELECTED riding clothes. I wore my usual long distance touring clothes when I left, NOT the clothes shown here! Does this mean you must have an Aerostich outfit, or BMW outfit: NO! ...in fact I don't own such fancy touring clothes. In the above photo, bungees are shown holding the various luggage items, which were NOT used on the actual trip, although I carried a few bungees & some parachute cord. The not-recommended bungees in the above photo were exchanged for high quality straps before departure. The use of quality straps are far more secure against loss, create less height; & are not nearly so messy for anything on the rear rack (rack is invisible in the photo).
The license plate can't be read in the above photo, but I was an active civilian and military pilot, & it was IFLYU2.
Notice the bungee at the REAR of the bags, that go from tour bag to tour bag. There is a similar one on top, between both Tour Bag's top area of the innermost sections. The purpose is to make sure a bag can not fly off & be lost, and, to give a bit of added support to help avoid bag mounts cracking . I did use bungees for that purpose in the nineties, not straps, because my straps would not fit the bungee-buddies mounted to the saddlebags. These days, I might do the same; or, better, use very thin stranded steel cables with a tiny size of carabiner ends with tension adjusters. Some might use belt strapping mounts.
Many folks carry excessively large luggage loads; this is certainly shown in my photo, above. I spent a lot of time condensing my gear, so the above did not happen, ...because the more the size of the load grows, the more it affects bike handling; & there is a tendency for large multiple piece loads to 're-arrange' themselves on a long trip. You also need to consider weight. Use of lighter weight back-packing gear, selected carefully for ruggedness and purpose, is a very good idea!
My motorcycle in the photograph has a Day-Long brand of saddle; dual-plugging, side-tanks, oversize rear tire (120), & a custom-made headlight cover of high impact plastic that replaced the factory tunnel-glass. There is a headlight modulator and extra rear lamps. The side-tanks give 2 extra gallons, total. A 110 size rear tire would be a slightly better choice for ease in repairing flats, and I did change to that size on all later trips. A hard-to-see modification on my bike is to the rear fender, making wheel removals much easier. Those who have Monoshock or Paralever BMW's will have an easier time & tire repairs to tubeless tires are easier. Some have used tubeless tires withOUT tubes, in tube-type Snowflake wheels. There is an article on that subject on this website: https://bmwmotorcycletech.info/section6.htm. The stock tire for this bike is a 4.00, which is also perfectly OK. You do NOT have to have dual-plugging, nor side-tanks, nor oversize tires. Some have used metal guards over the headlight. I prefer a fitting polycarbonate piece that replaces the stock glass. Almost all of my fellow riders to Alaska have had fairings & windshields, some few just windshields or fly-screens. Some use rear trunks. Do not overload the bike, & do not have excessive rear weight!
The tank-bag (I am fond of large tank-bags) is a personal favorite, the BMW Multivario. I put some of my heavier items in the tank-bag. I also have paid attention to the possibility of the tank bag touching the stock emergency kill switch in tight turns. Note the Airheads belt buckle, the ventilated black leather jacket, jeans, etc. I am old-fashioned in many ways, & have never liked pricey fancy riding suits (I am also cheep) ...but the clothing as shown is not the best for an Alaskan trip. If you can afford it, a proper 1 piece waterproof, or highly water resistant riding suit is an excellent choice!
---
Border Crossing Requirements:
This is VERY likely to change over time. DO NOT use this section without checking for the latest information!

Crossing the border is more complicated than it used to be. For U.S. Citizens, as as far as I know, you will need a Passport, or an 'Enhanced' drivers license or 'Enhanced' I.D. card. Some States offer these for a low fee, check with your local department of motor vehicles. If you are not a U.S. Citizen, you may need a Visa, unless you are Canadian-born. If you are bringing someone under 16 years old with you, they need real proof of citizenship. Be sure to check several sources, but particularly your State's motor vehicle department, for the rules, costs, etc. As of early 2016, this is the list of where the enhanced document, called EDL/ID, is available: Washington State; Michigan; Minnesota; New York; British Columbia; Manitoba; Vermont; Ontario; Quebec.

Persons with a felony conviction may be denied entrance into Canada. If you have been convicted of some non-felony crimes in the United States it may be considered a felony in Canada. A Driving While Intoxicated conviction (D.W.I.) (in the USA this is often called a DUI, Driving Under the Influence) is considered a felony in Canada. Visit http://www.cic.gc.ca/english/visit/index.asp for more information.

Border crossing (and return, in some instances) has changed at irregular intervals. For an example, here is information provided as of July, 2015:
If you are staying on the ground, a border card from the State Department will do. If you get injured or have a major medical problem and need to fly, you need a US Passport. Yes, that does, if you think about it a bit, seem strange. You should consider having both. If you have a DWI/DUI arrest you most likely are not going to get into Canada; & if you pay the $$$$ it costs to enable going to Canada, you are not going to drive. The border authorities do not like short guns nor switchblades. Long guns cost $50, each. There is a way to get handguns through, but you have to get it approved by RCMP in Ottawa & every Provence you will be going through. My advice: LEAVE YOUR GUNS AT HOME.

While most travelers never have problems besides maybe a surly customs/border person (on the USA side), some motorcyclists are quite concerned ...so, I assembled a bit of a list for places you can contact for information:

U.S.A.:
Due to problems with some browsers & some links, & the hidden code (not just common cookies) these folks all use to track you if you go to their site & do not do it directly, I have removed those as links. Do a Google search for these names. If you are quite security concerned, use duckduck or similar non-tracking search engines.

U. S. Customs and Border Protection.
Department of Homeland Security.
U. S. Department of State.
U. S. Department of State; Visa Requirements to enter the U. S.




Canada:
Due to problems with some browsers & some links being re-addressed, I have removed links. Do a Google or duckduck search for these names:

Canada Border Services Agency.
Citizenship and Immigration Canada.
Citizenship and Immigration Canada, Visa Requirements to enter Canada
Citizenship and Immigration Canada – Overcoming criminal inadmissibility into Canada




Below are two links, they should work OK, and I have removed their tracking code.

Washington State Department of Licensing/ Enhanced Driver License/ ID Card.

https://www.cbp.gov/travel/us-citizens/western-hemisphere-travel-initiative/faqs

---
Traveling partners, compatibility, & other considerations:
Some people like to travel solo, some prefer to travel with a passenger. Some like to ride with a small group ...and some like to ride with a larger group. I RECOMMEND that you do NOT ride with a passenger, unless using a sidecar rig, due to handling changes, luggage space, & seating problems. I further recommend that you do not ride with a large group as this can be very annoying, & the more riders, the less likelihood of compatibility, & the more likelihood for problems of all sorts. Assuming you will be riding with a group, I suggest you determine well before your trip that you are all compatible with each other. Like other folks, I have found a large increase in compatibility problems, on a steep curve, when over 4 riders are in a group. My suggestion is to go in a group between 2 & 6 bikes. Many years of long distance travel have proven this advice to be good. Ideally, all the Members of your group have ridden with each other before.
Some people like to ride fast & cover big mileages every day; some want a day or two at a place along the way now & then; some want to be in a motel every night; some may want to use the ferry system, some only want to eat in restaurants, some are early risers, some like to party half the night. Be sure you are all compatible. Compromises should be reasonable for all. DO NOT OVERLOOK THIS ADVICE.
Be sure you will all have the TIME to do the trip, although allowances could possibly be made for those having less time. On some of my tours we had some riders meet us part way & do the rest of the trip together.
I suggest you do not travel with anyone without at least 10,000 miles on motorcycles within the last several years.
Can everyone pick up their bike if it falls over? Repair tires? Know basic maintenance & repairs? Can ride on hard-pack & occasionally some gravel & not freak-out? Are your proposed fellow riders safe drivers? Are your fellow riders truly capable of minor repairs & doing tire repairs? Have they ACTUALLY done these things?
Does everyone actually really know how to use their tire repair equipment they will be taking along? HAVE THEY PRACTICED? On the motorcycle they are taking?
If you do not know well all those in your group, ask questions ...likes & dislikes, riding experience, style of riding, comments on long trips, camping, etc. Do they like to get up quite early in the morning & get on the road early? Do they like to stay up and drink and talk late?Are your traveling companions (and you) the types that tend to be self-sufficient, independent, can be in some situation & not freeze-up? Depend nearly entirely on cell-phones or credit cards, or other electronics ...or even dealerships ...for 'emergencies'...???
Your trip is going to include long stretches of possibly boring highway. You may have a sections of many miles of hard-pack, rather than paved. Paved sections may have mild hoop-de-do's (frost upheavals). You are likely to experience some rain ...how are you with riding in the rain? Good rain gear? How are you on wet slippery roads? What if that road had some slippery muddy sections? Roads may be covered with the calcium crap they use to keep dust down ...it gets slippery when wet ...and cakes your bike (and engine!) with something sort-of like removable cement.
The days are long in the North in biking weather ...by that I mean that the period of having a lot of daylight is lengthy. That, perhaps surprisingly, often needs some getting used to. If you do not wear a wrist-watch, I suggest you either do wear one, or have some sort of clock on your bike or in your cell-phone. Otherwise, you may find that you have not the slightest idea of what the time is ....is it day-time or night-time, or anything in-between for that matter. For many, this upsets their daily routines rather considerably, particularly on the more northerly portions of the trip. This is not funny!
Electronics devices:
In some areas radar speed detectors are illegal. If you have devices that need charging, and want to do that from the bike battery while you are traveling, ...be sure all your adaptors, cords, etc. ..really do work. I have run into problems. Did you know that the common USB to USB cords do NOT work with Garmin's later GPS units for charging? Only Garmin's cords will work, and only the proper Garmin cord. These cords contain one or two resistors connected to an otherwise unused pin at one connector, to 'tell' the GPS that a proper cord is connected. Garmin Express program is sensitive to these things. Your equipment may have its own peculiarities!
Fuel:
Gas-up before you run out! Places that used to sell gasoline may have closed. It might even be prudent to phone ahead! Consider carefully your fuel capacity & REAL miles (or Kilometers) per gallon with the loading & speeds to be used, on roads that suck up horsepower and thereby fuel.
Start, before your trip, thinking about kilometers per liter, rather than miles per American Gallon. This requires more thinking than just miles per hour and kilometers per hour, and both are usually shown on your BMW speedometer face. Using a double conversion, kilometers per liter, makes you think and get more familiar with metric fuel amounts & usages. You then add the third item, reading maps in km. You need very little else, except a modest familiarity of Canadian currency; and, perhaps, some knowledge about ATM's and credit cards usage. Even though I am very familiar with these things, & can relatively easily change values in my head, I start ahead of my trips, and every time I think about going someplace, or am refueling car or bike, etc. ...I think about using metric values. When you fill-up in the Lower 48, begin thinking in terms of liters, mileage, etc, that will help when Up North. When you fuel your car or bike, a month+ before leaving, calculate the liters, notice the kilometers per hour indication on your bike speedometer (most have dual scales, miles and km).
Some consider purchasing cheap plastic fuel containers before some particularly long no gas available stretch of road, then abandoning them after their use. I do not, but my bikes almost always have had built-in extra fuel, either from a larger fuel tank, or side-tanks, or I carry extra fuel somehow else. You may want to carry extra fuel. Fuel weighs ~6.3 pounds per American Gallon. You likely will not get the same fuel mileage as you get in the smooth-paved lower 48. Distances can be vast in some areas between availability of gasoline, especially on the Haul Road. You might really want to think about carrying extra fuel for just that particular road. I view fuel as MUCH more important than carrying extra tires.
Special note:
Just because a sign says something like: Next Services, 140 miles, ...does NOT mean they have gasoline!
---
Weather and travel months:
Temperatures shown below, unless noted, are in degrees Fahrenheit for your convenience.
This is what you can expect. I suggest you pay considerable attention to this information.
Contrary to what many seem to think, the far North can have surprisingly mild temperatures. The interiors of BC, Yukon Territory, & Alaska, are generally protected from harsh Arctic winds. Temperatures tend to be steady, the sun shines many hours per day (granted, it may not be directly overhead). The temperatures are quite comfortable, normally, in June, July & into August. Kamloops temperatures can be 85 during the day, & both Whitehorse & Fairbanks can be that, or higher. The elevation of the passes is rather low compared to the Rockies & Sierras. The peninsula will have cooler temperatures, more wind, more rain.
The arctic itself, say around Barrow (I am not suggesting nor recommending that you go there) can be cold, 40's & 50's, sometimes 30's, 24 hours of sunlight, windy, foggy, little rain ...& quite bitingly cold at night. I don't get into deep discussions about Barrow, Prudhow, etc., in the rest of this long article ...but I do have a few things to say about them.
Weather can be hot, or chilly, rainy or dry, so pack accordingly. You must bring rain clothes!
Temperatures tend to be steady & the sun shines for many more hours compared to the lower 48. Fairbanks averages nearly 19 hours of sunlight in May & about 59°; in June about 21 hours & 70°; in July 21 hours & 72°; in August 16 hours & 66°. No matter what various weather charts you see, or what you read, you will find that for practical purposes it is light outside for close to 24 hours in mid-June. For some, this takes getting-used-to, for sleeping, etc.
Both Whitehorse & Fairbanks can be in the 80's or even 90's ....or, a lot cooler. South-Central Alaska, including Anchorage, is typically in the 50's to 70's. Be sure you have appropriate clothing for all conditions. I cannot over-emphasize the idea of making clothing do double & triple duty. You have limited packing room (if you are smart you don't stack your luggage too high). If you do not have really good clothing & equipment, remember that such is only a fraction of the total cost of an Alaskan trip. This does not mean you must have $$$ gear; you can use some of your common ordinary clothes. Carefully select what you take.
Late May, June, & July are the best travel times. I make that recommendation by taking into account weather, tourist population, availability of accommodations, campsites, restaurants, etc.
Because of weather changes & for other factors, which I will discuss, late May to early June is a good time to cross the border from the USA going into Canada. Leaving a bit later in June is also OK, & you may be able to have more choices of Rallies to attend on the way, if so inclined. Departure date can be of more importance than you may initially think. Canadian campgrounds usually open on Victoria Day ...May 25th or closest prior Monday. I generally like to cross the USA-Canada border late May to the first week of June. April in the mountains is generally not a good time to be there. It may be OK in the Calgary area, & lots of motorcyclists will be on the roads there, but the mountainous areas will have ice, & you could run into a week-long snowstorm, with an impassible or closed road being a problem. May & June are better... & better yet is July & August; & September is usually still quite nice. This is why I suggest crossing the border in late May or early June .....assuming you are not trying to do a "2 week wonder-tour". I have specific reasons for liking a "June 1st" crossing, & get into this some, later in this article.
I have received weird questions about "The Arctic". The Arctic Circle in Summer is not the North Pole! The Arctic Circle can have very mild temperatures. BTW ...it is nothing more than a line drawn on a globe of our planet, indicating the furthest south latitude where there is 24 hours of sunlight, for at least one day, during the Summer. That date is, of course, usually June 21st, give or take a day. The sun will dip down a little below the horizon in the Summertime in the far North, so expect June & July to have quite long twilight periods. Thus, you likely will not see the Aurora Borealis!
If you take the CW (clockwise) route (explained previously & more on this later), & go up the West side of the continent & return via Banff, etc., ...you will probably have a better chance at the Going-To-The-Sun Highway (Glacier N.Pk, Montana) being open. That routing direction may well work out better for you...and then I suggest you plan to be at the Solstice bikers celebration at TOK on June 21st. Never heard of TOK? Time for you to get a map of your routing, at least start looking at an Internet or mapping service map.
I prefer old-fashioned paper maps. Some of you may prefer a GPS with maps installed. I prefer my ability to pencil notes onto large paper maps. Yep, real old-fashioned. Maps don't require battery or bike power & I have yet to have an electrical failure with paper maps!
---
There may be some of you contemplating taking a sidecar or trike or pulling a trailer. I have no objections. I plan to do my next trip using my sidecar rig, that will be a first for me!
In Dr. Frazer's book ("Alaska by Motorcycle"), he has certain comments I do not necessarily agree with, or only partially. For example: He makes some comments about wheel-to-wheel distances not matching up with road rut distances. I am not nearly so negative, & anticipate no real problems for anyone. The last time I did a rather full tour to & from Alaska, there were still some unpaved areas on the Cassiar Highway ....maybe only 40 miles or so; & on the UNpaved Hy 2-Dawson-9-5-Tetlin route. These were easily passable by any bike or trike or sidecar rig....
FURTHER, the Cassiar Highway is now fully paved.
---
The Pipeline Road....
Also known as The Haul Road and Hy 11 and "The Dalton" and the James Dalton Highway:
Because so many have heard so many 'stories' about this 400+ mile stretch of road, and so many want to use that road, even just for getting one's photo taken at the Arctic Circle sign, I thought it best for my comments to have its own section.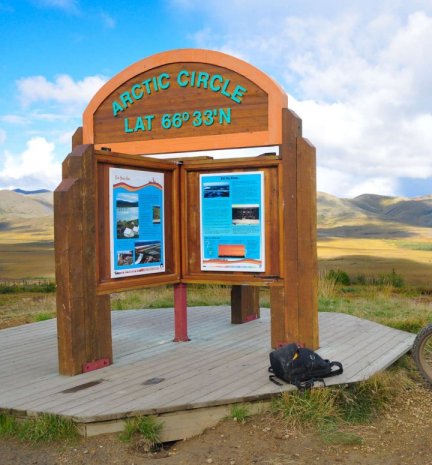 Many riders want to go to Deadhorse for a variety of reasons ....perhaps pride, ego, photos, challenge, whatever. There are NO SERVICES for rather long distances, although certainly much better than back in the old days. Usually a few gallons of extra gasoline is all that is needed, if that. I'd suggest you NOT be doing it on marginal tires. More later in this article on that subject. The Dalton Highway was constructed in 1974, and has been worked on ever since. It is parallel to the oil pipeline that sends oil 800 miles to the port of Valdez. Prudhoe was almost a slang word, the original name was the tiny town of Deadhorse. The Dalton name came in 1981. Deadhorse remains Deadhorse, but is most often called Prudhoe Bay. Confused?
The Alyeska Pipeline folks constructed the highway at not quite 30 feet across, made of a few feet of gravel on top of a plastic foam insulation over the frozen tundra. The road was lengthened & improved to Deadhorse in 1995. "The Dalton" is both hard packed gravel & some part of it is paved, especially when approaching Deadhorse. The Arctic Circle sign, that most want their photos taken at, is just a bit over 100 miles from the southern place you will start at. You can camp at the Arctic Circle sign area, but there is a public campground about 5 miles further. Wiseman has basically nothing. There is a visitors center, motel, post-office, gas, phone, repair shops & restaurant at Coldfoot. Back in the early 2000's, the next gas was over 200 miles ...so think about this!! Check into the actual situation and conditions when you are ready to get on this road. Be prepared!
There really isn't much sense in going to Prudhoe Bay ...not much to see or do, it is flat, barren, cold, windy, sometimes foggy ...& you won't appreciate the night cold. Accommodations at Prudhoe are very limited, if even available. Very expensive too. If you are going to attempt to stay there, arrange to arrive in the numerical morning
If you do plan on going to Deadhorse (Prudhoe Bay), take the bus tour, & have a buddy along to take a photo of you taking a dip in the Arctic Ocean ....it is not as cold as you think! Assuming you insisted on going to Deadhorse, you should stay at the Aurora Hotel, right in Deadhorse, telephone them at (970) 670-0600. This is a very nice place, but not like a hotel or motel you may be used-to. It is also large, with 400 or so rooms, & was built for the oil workers & mostly it is full of oil workers. http://www.theaurorahotel.net/ Call ahead ...maybe quite a bit ahead. You want to be sure a room is available for you. If you can deal with bathroom down the hall type of accommodations, you can save money over a room with such. This is not a luxurious place, but is quite adequate. MEALS ARE INCLUDED in the room price; you can get food 24 hours a day; the food is far better than you might expect! I am not sure what prices will be, but in late 2014, ~ $150-$250 a day. BTW....all the basics are here, including high speed internet. If you travel this far north, stay there and do report back to me.
Back to the Haul Road:
As of 2014 there was still a considerable amount of gravel, but not the deep squirrely gravel (it is squirrely on the shoulders!) that the word implies ...it is hard pack, relatively easy to ride on ....but eats tires as some of the gravel type used has sharp edges (repair & maintenance includes Chip Sealing). The highway is fine for most any rider, but when it gets quite wet (not just a bit wet), the calcium chloride they put on the road (which makes it nice & hard when dry) makes for a very slippery ride. One simply uses simple techniques, & you will be OK with such as standing on the pegs, butt off the seat, as required. This road has some strange characteristics, due to how it was originally constructed. In those hard-packed gravel areas the water that is making the road so slippery (with the calcium chloride), will simply disappear enough & rather quickly ...when the raining stops (or slows to light drizzle), that you can be surprised at how fast you can then go. This road was built for the trucking folks who service Prudhoe Bay; they "Haul Ass" on this road. You must pull over. Be cautious, the sides can be soft; expect cascades of flying stones from the truck's tires. Note that on my Airheads I exchanged the $$$ BMW front glass for a homemade plastic insert. Do something about the headlight glass before you leave on your trip, even if you have to just mount a rock protection shield.
The Haul Road gets a lot of that calcium product put on it. That stuff gets on & into every part of your bike it can, & makes a caked-on mess. Be sure to wash it off at every opportunity. Try not to do that with the engine still hot. It clogs radiators, cakes onto cylinder fins, & manages to get into every nook & cranny of your bike. It is difficult to clean off. I bring along a collapsible fabric bucket, dip it into a stream, & use it to wash the stuff off (taking along a medium stiff brush & two old toothbrushes...one narrowed to fit into the cylinder fins area, all are helpful). I take along a small sponge for the headlight, windshield, washing the bike, etc. I find my collapsible canvas bucket very handy. The Haul Road is not the only place for Calcium Chloride in such large quantities in the far north.
Keep in mind not only fuel & road conditions, but weather. Weather can change drastically in the North. While I don't think you will travel North in the middle of Winter, conditions can certainly change from season to season. Coldfoot is 55 miles north of the Arctic Circle. In the late eighties it had a temperature of minus 82 degrees Fahrenheit a day or two in January; the Summer preceding that Winter it had a plus 97 degree high. I am not trying to discourage you from doing the Dalton, it is beautiful & interesting; I just want you prepared!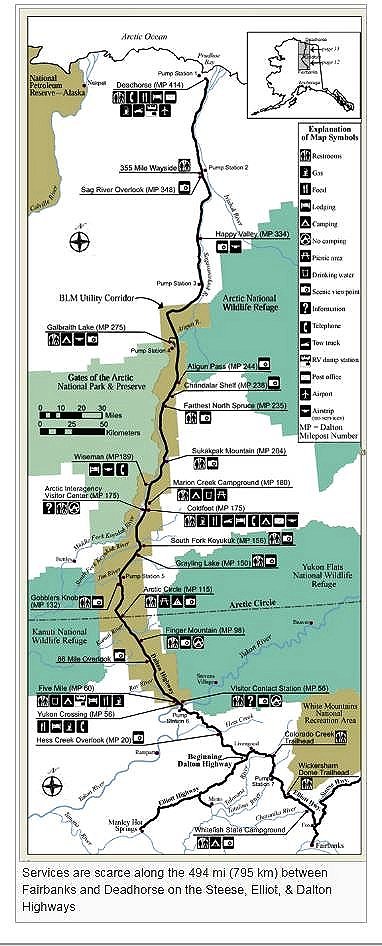 ---
A Few Hints:
DO NOT set up your campsite close to the Haul Road highway. You will be awoken by big trucks. Find a place a few miles away.
Don't lower your tire pressure below normal, unless in quite slippery wet stuff with road tires, as the rubber will certainly be wearing quickly if you reduce pressure on the hard areas; this is, remember, a chip seal type of road.
If you carry extra tires, consider switching to aggressive treads, even knobbies, at the Hot Spot Cafe, located about 144 miles from Fairbanks (about 55 miles before the Arctic Circle). Good burgers, fresh salads & homemade desserts! ...YOU WILL LIKE IT! Repair shop, motel, gasoline, etc., are here! Knobbies are not really needed, although they can be helpful if the road is quite wet & the calcium crap has made it slippery.
If you have a major breakdown, think about things carefully. For example, it might be MUCH cheaper to FLY your bike by Air Cargo means, to Fairbanks.
It is VASTLY cheaper to purchase a plastic gas can or two (say, in Fairbanks), than to purchase a $$$ aftermarket extra large fuel tank for your bike ....unless you already have one.
KNOW how to repair a tire. PRACTICE at least once. Practice someplace away from your nice garage & its nice floor and its 'not carried on bike' tools.
HEADLIGHT ON.
Ease over to the right when a vehicle comes up behind you to pass; this is NOT just being courteous.
Expect soft shoulders; keep away from these soft road shoulders as best you can.
If your bike is water cooled, keep the water radiator clean.
Keep cylinder cooling fins clean as best you can. Use a sponge, a stiff brush, & narrowed toothbrushes I mentioned earlier.
Expect very high prices for everything ....with increasing prices the further north you go. Cash talks, but credit cards are OK most places.
I do not know about present-day conditions for gasoline, but back some time ago, the pumps at Deadhorse took ONLY credit cards. There can be a LONG stretch of no-fuel, after passing Coldfoot. There is a gas station about 140 miles from Fairbanks, at the Yukon River Crossing. CHECK AHEAD! It is very common for gas stations to be self-service and use major credit cards, in Alaska.
CELL PHONE coverage is very spotty in some areas, such as on the Dalton Hy, and CB channel 19 is popular.
---
General stuff:
Because of the type of road surfaces, do not expect to get the same mileage on your tires that you would on the paved lower 48. If your bike gets X miles per tire, a safe assumption is that you could get as little as half that, although you probably will do much better. On these hard-packed roads, faster speeds eat tires at an increasingly faster rate. You could consider shipping some tires to yourself in, say, Anchorage or Fairbanks.
Be cautious about speed ....too much & you will soon-enough find your own nasty personal pothole ....and they can be dangerous at speed, because you can come upon them & have little or no time to brake; even if you did see it you may hit it, hard. Another reason to keep your speed down is that wild animals think nothing of walking or running into your path. Lower speed also means better gas mileage & longer tire life. That applies anyplace, not just an Alaskan trip, but on sharp chip sealed roads, THIS APPLIES CONSIDERABLY MORE.
Some campgrounds have showers. There is no need to be in a commercial campsite. The Canadian Government owns vast amounts of land, which is called "Crown Land" but there are some other names, depending on administration & use. The actual ownership & use is a bit complicated to fully understand. No big need for you to understand it. Just know that nearly 90% of Canada is Government Land & in general, is not fenced ...&, same as in Alaska, you can camp on it. Locals probably call it 'The Bush'. Find a spot well off the road next to a stream & camp, no need to use a formal 'park campground' unless you want to.
Many a side road will have a sign such as "Sportsman's Exit". You probably will like what you find when you take that side road.
You cannot ride your bike in much of the 'bush' area surrounding Jasper ....it is National Parkland ....off-road use of motor vehicles is prohibited.
There are some areas I see few reasons to visit ....Homer, for instance ....I always had a hard time keeping warm in Homer! (OK, OK ...I'm prejudiced about Homer!)
Once in awhile, a storm sweeps into Alaska from the gulf or settles-in from the NWT ...I usually just hunker-down & wait. These storms, if they occur, are more prevalent into early June ....& again from late August.
The State Bird is the Mosquito (well, not really!). DEET works well, even in 15 or 20% concentration. Higher than 50% doesn't help much, but tends to go further as you use less, but does not go as much further as you may think. Do not allow DEET to contact your Nylon clothing or tent ...it dissolves & makes some 'plastics' sticky. DEET is available in liquid, in spray cans, & in sort-of waxy sticks, and other forms. I prefer the liquid. Mosquitoes love dark clothing....this is your chance to wear gaudy bright stuff! http://www.rei.com/ has an excellent selection of DEET products, plus they carry quite a few selections of mosquito-proof clothing including personal mosquito net outfits that have protection for your head, shoulders, arms, legs, etc., all in one. I always take plenty of DEET "Jungle Juice" which is 95 to 100% DEET, but you do not need that high a %. I also I carried a commercially-sold mosquito net head covering that went down over my neck to my shoulders. I also have a long-sleeved cotton flannel shirt (I do wish its color was much brighter) that I almost never wash, preferring to leave residual DEET in it, & even if I do wash it, it is a very quick cold wash with just a bit of soap ...it usually has DEET on it from years of traveling. Yes, I am aware that cotton is not the best, but I like the feel, & it is unaffected by DEET.
NO GUNS when traveling in Canada!!! >>>>No ifs, and's & no buts, NO GUNS! DO NOT DRINK & RIDE/DRIVE! DO NOT USE ILLEGAL DRUGS! The penalties are very severe.
Beers & ales in Canada tend to have more alcohol in them than many places in the lower 48.
Flashing green light means you can go but be cautious ....a pedestrian (?) has probably triggered the light.
I suggest some Canadian currency, through AAA prior to leaving or when visiting a Canadian bank after crossing the border. Canadian money is denominated in the Canadian Dollar, sometimes even called a 'buck', just like in the USA. There is a $1 coin, slangly called the Loonie. Speaking of money, it is a good idea to bring along a substantial amount of cash; not much of which is in your wallet in your pocket. Front pocket use is a reasonably good idea, for reasons of security against loss & to keep from miss-aligning your pelvis. Hide money in various places on your bike & in your gear. Take at least a couple of credit cards; I prefer to take two major credit cards (in case anything happens to one account) and a major gasoline card. Before leaving for your trip, contact your credit card companies. Find out if they charge 'transaction fees' for non-U.S. dollar purchases. Forget about debit cards.
Visa & MasterCard are the prime credit cards. American Express, just like in the USA, is less accepted. Credit cards usually get you the best exchange rate during the billing cycle. ATM's are used a lot in Canada. Some places accept ATM cards (through an exchange house method) for billing. Taxes (such as the Goods & Services Tax, & Provincial Sales Tax) are added in all sorts of strange ways, often combined into the Harmonized Sales Tax; but gasoline at pumps does not have taxes added at the cashier's. Taxes vary across Canada, from a few percent to 15%. Some things are not taxed such as un-packaged groceries. Beer & liquor in some areas is not available in supermarkets, but in 'licensed stores'. You can bring a liter of liquor across the border from the USA, which is cheaper.
Prices can be quite high. How much is the Canadian dollar worth in USA money? Check on-line before you leave the USA.
A few weeks before leaving for Canada, contact your motorcycle insurer & obtain a free "Canadian Non-Resident Inter-Provisional Motor Vehicle Liability Insurance Card".
Your cell-phone may not work in Canada. There is a lot to this, if you are not familiar with international cell-phone usage. Do some Internet work; also contact your phone carrier ....this subject is too complicated for me to treat here.
Internet:
You very likely will not like the rates charged for access using your smart-phone. Internet is available at terminals in libraries. WiFi is quite common in cities at coffee shops, libraries, restaurants; many have WiFi for free, such as at McDonalds, Tim Hortons, Starbucks, etc. You are 'expected' to purchase something ....even if they charge for Internet Service. Buy a cuppa coffee at least. Some Via Rail stations & many Airports have free WiFi too. Use such as https://www.wififreespot.com/ or your favorite WiFi search site.
Canadian roads & maps:
Distances are in km and speeds are in kph. One km is .62 mi. One mile is 1.6 km. 62 mph is 100 kph. Your bike speedometer probably shows both mph & kph ...but your odometer reads in only miles or kilometers. Understand how to convert, at least "approximately", in your head. PRACTICE! You may want to glue a small paper tag onto the speedometer that shows how many Km you get per tank of fuel. Sometimes maps do not follow their own rule on miles & kilometers; on rare occasions the map makers have mixed up miles & kilometers. DO NOT allow yourself to run out of gasoline!
One Liter is a bit over a quart, 19 of them is 5 gallons.
You need to know only some of the above relationships. You may want to put them on a small piece of paper or a label, glued to your speedometer; or, perhaps, have the information in your tank bag map window. It is especially important to calculate so you know what you are going to do about fuel stops. Some fuel stops may be CLOSED! ...phone ahead if you can.
Bring a tire gauge & use it. Do not take this trip unless you know how to repair tires on your bike & have practiced it, and not in some comfortable garage with lots of tools you probably won't be taking. Depending on the bike, you need certain tools & tire repair items. You probably won't have a flat, but if you do, you will want the proper tools, knowledge & experience. Forget about CO2 cartridges. Get a tiny Chinese-made electric compressor (small size, or, remove the innards). Available cheaply from such as WalMart. At least get a spark plug hole type air compressor adaptor kit. There is a really good article on tire repairs & other tire type work on my website, covering both in-garage & on-road work: https://bmwmotorcycletech.info/TireRepair.htm
Waterproof boots.
Plastic baggies for putting over socks.
Bears-bag for food & other things when camping.
Long thin rope (such as parachute cord, which I am very fond of).
Bungees for whatever needs.
Protective grill in front of radiator if you have a water-cooled bike.
Helmet with consideration to visor and venting.
Headlight lens impact resistant cover. I carry a soft small turkish towel for cleaning windshield & helmet faceshield, & use it for nothing else. Use a decent plastic cleaner. See this article: chemicalsetc.htm. Do not use swirl/round motions in cleaning your helmet faceshield, nor windshield.
Extra gasoline as required.
Waterproof tent or tent with waterproof fly cover; good sized ground cloth/tarp for use under the tent. If your tent is the type that is used with stakes, consider steel stakes & small hammer/hatchet tool.
Bring along a good rainsuit; keep it located where it is easy to grab quickly.
Water container. Water purifier is only a maybe.
Copies of: Driver's license, credit cards, bike registration & title, medical insurance ....keep these copies someplace other than in your wallet. Canadian Non-Resident Inter-Provisional Motor Vehicle Liability Insurance Card.
I put money in various hidden areas of my bike.
Radar speed detectors are illegal some places ...hide yours or do not take it; or; at least, turn it off! In the Yukon they are illegal, & the Mounties use VG2 radar detector-detectors.
Spare keys ...a full set...ignition, fuel, saddlebags, etc.
FULL CAMPING GEAR, well thought-out, and know how to use every item. TRY USING THEM BEFORE LEAVING!....be SURE all works fine for you! Bring a thick pad for under your sleeping bag; the ground can be cold. I dislike fluted air mattresses for this, Therm-a-Rests are OK; I prefer them, & they are available in different thicknesses. I prefer having a MULTI-FUEL backpackers stove, type that works on gasoline, but also kerosene, paint thinner, diesel, etc. I carried a jet for it allowing use of diesel fuel or kerosene, etc. Bring along a jet cleaner & the stove's usual teeny tools. If your stove does not work, you will be very unhappy. BTW, use of engine fuel should not be done unless absolutely necessary, as it smokes & leaves deposits, etc.
Fresh prescriptions (copies) if you need to take Rx drugs with you. In addition, I personally took along Loperamide (Lomotil), although never had to use it on any Canadien/Alaska trip. Some might want to take along some of that, plus PeptoBismol & an Rx for Bactrim. I took along aspirin, ibuprofen, Tylenol ....& a few 1 grain codeine tablets. Don't forget to bring anything you have to take regularly. Don't forget a 1st Aid kit, and think about what is in it!....Besides antiseptic, regular bandages, etc.,...I always had some big bandages and plenty of tape.
Pay your bills considerably ahead of time. If your trip is long enough you may want to have a way to pay bills, before their due date, during your trip. My personal method was to pay certain bills way ahead of time, using whatever I had to estimate what I should pay ahead of time...and then increase it some, to be sure. BE SURE that the company understands & codes the account for this, and does not try to issue a refund! I made sure by telephoning them, a week after I mailed the check.
Credit cards are nice to have; one or two major gas cards; perhaps carry both a Visa & MasterCard. I avoided carrying $50 or $100 bills. Prices steadily increase the further you travel north ...so be prepared ...because such as motels can be 2 or 3 times the cost in the lower 48. Do not expect 2+ Star accommodations & food, with some exceptions in such as Anchorage & Fairbanks. Food at the hotel in Deadhorse can be very close to GOURMET. Quality accommodations are available in major places & sharing rooms reduces the cost. Camping saves a lot of money. The private campgrounds, often with good amenities, are much cheaper than motels/hotels. You can camp almost anyplace, no need to pay for a private campground, as I've mentioned.
Gasoline will likely cost about 25 to 50 cents a gallon more than in the lower 48 ....with a few places charging a lot more than that.
Our neighbors to the North have 'mileposts' or 'kilometreposts' along the highways. Due to road straightening & other changes over the years, some of them do not reflect actual distance from some point or another, but you will be happy to save the fuel. Along the Alaskan Highway ('Alcan'), mile zero is in Dawson Creek (do not confuse with Dawson City); distances accumulate from that point. The publication "The Milepost" is quite specific about these mileage posts, and differentiates between historic & true. The mileposts in BC are likely to be accurate.
I am personally fond of Bed & Breakfast places, especially if not overly expensive. You meet interesting people, often have a very nice place to stay, & often an exceptional breakfast, & their use now & then will break up the camp-ride-camp days. I also like hot springs, cold springs, beaches, cocktail time around the camp, airport camping when available, flying machines, & pilots. I am also fond of things I have NO intention of writing down here!
---
Tools, miscl. stuff, modifications ....and parts:
I carry only a few spare parts. YOU should consider carefully. I carry a folding canvas bucket that I consider a tool for carrying water, such as for cleaning the bike, especially of that calcium stuff, and I take along a sponge & a stiff brush & narrowed toothbrushes for cleaning cylinders/head fins, etc. I carry helmet visor and windshield cleaning items, see my favorites, listed in https://bmwmotorcycletech.info/chemicalsetc.htm. I carry a fairly complete tool kit, but most of it is the stock BMW one. For things to think about, look at my tools article: https://bmwmotorcycletech.info/tools.htm . Consider carefully what to take, and consider what is superfluous. I suggest a spark plug hole driven air compressor or small Chinese-made 12 volt electric type compressor, as mentioned earlier. If you have a motorcycle with vulnerable spark plug positions then perhaps 1-spark plug, 1-spark plug cap. Do carry tire/tube repair equipment (checked to be fresh & KNOW how to use these items!). Think about carrying a modest length of fuel line; and a method of bypassing a broken fuel filter. Suppose you break-off a petcock part? ...that is possible on some petcocks with plastic outlets. Perhaps 6 proper fuses. I always carry a clutch cable & I'm sure it really fits lengthwise ...& that the cable end barrels actually smoothly fit, at both ends. I bring appropriate parts for the throttle cable system, maybe a bit of iron 'bailing wire', maybe a few fairing or other screws/nuts/bolts, small roll of premium duct tape (radiator hose repair tape is a better product than duct tape). I bring along a spare set of all cables, to make this quite clear, and I make sure they fit (and the barrels will rotate smoothly wherever they will be fitting. If you install fresh tires, & I hope you do, do install fresh tubes if you run tubes. Carry a spare tube if you use tube type tires. Usually this means one tube that can fit either tire, even if not the correct size tube for both tires.
Before this trip begins, go over every nut & bolt you can get to on your bike. Be sure the motorcycle is in truly good condition, right down to lubricating the barrels in the clutch & throttle cables & making sure the barrels really do rotate smoothly in levers, etc. These have been a particular problem. Replace any lamps whose filaments are sagging. Consider modifying the GEN lamp circuit on a stock alternator system on an Airhead with my parallel resistor method: https://bmwmotorcycletech.info/genlampresistor.htm although gen lamp failure is rare. I don't usually bother to carry headlamps or other lamps myself. Do carry failure-prone parts specific to your brand & model if you want-to, but don't go overboard on this, consider carefully. Some Airhead riders carry a rotor, voltage regulator, even a spare ignition canister. I do NOT. I carefully consider the room things take up, & weight of things; but, I also know that failures are rare and most anything is available quickly anyway.
I think there is a strong tendency for people to take too much & then they end up with excess weight, poor handling, lousy packing, etc.
I recommend a headlight glass protector/replacement of some sort. I made mine from polycarbonate plastic, & it replaced the stock inserted glass in the nose of my RT fairings. Commercial items are available. Some put additional covers in front of their existing headlight glass lens ....whatever fits/works for your motorcycle.
---
Ferries; Introduction:
There is an Alaska Marine Highway service, often just called The Ferry Service (or the Inland Passage Ferry Service), that goes between Haines, Alaska back to the lower 48 (to Bellingham, Washington). If any of your touring buddies, or you, plan to use the ferry service, be sure to look into exactly where to get on the ferry & how to get to that place. For instance, to go southwards from Prince Rupert, one first went to Ketchikan; the BC system ended up at Port Hardy on Vancouver Island ...& you had to ride down the Island & take another. BE SURE to check on what the latest route changes are ...but they don't occur often. The Kitwanda-to-USA route is direct, without the detour to Prince Rupert.
You can spend a fair amount of time messing around with the ferries, dealing with the bikes, deck or cabin accommodations, reservations & standby status, problems, etc. Be sure to look into things well in advance. Alaska Marine Highway Ferries are very large, have ropes or twine to tie down the motorcycles to the deck. Leave the bike in gear, on the side-stand, securely fastened-down, in all directions if possible. Ratcheting tie downs are nice to have. Many use the Super Cycle Ratchet. Ferry rates depend on number of persons (I've previously recommend AGAINST any passenger on your bike), & there are additional costs if one has a trailer or sidecar. Basic rates do not include cabins. Many just sleep on deck & there are real good reasons to do so. If you are thinking of riding (or driving) to Alaska, do look at taking the Alaska Marine Highway, at least part of the way up/down the coast. You may have a lot of fun!
Alaska has a very long coastline, as does Canada. Alaska's ferry system is a very important part of the State highway infrastructure. The ferries carry everything, from hikers to all sizes of trucks & trailers, motorhomes, etc. The only way to get to the capital of Alaska, Juneau, is by airplane or ferry, should you wish to go to Juneau. Several folks have strongly suggested to not get a cabin/room on the ferry. You are camping much of your motorcycling trip, so you already have camping gear, & you don't need much of it for the ferry ...see below. Cabin/rooms are tiny & have tiny portholes. Many have told me that they loved 'camping' on the deck.
Below are some specifics, as supplied to me by a fellow Airhead, that describes his using the Ferry better than my previous (mostly removed) information, & that of some others too, so I have quoted what he said, here, with only slight editing:
""After you tie down your bike (get 4 tie downs from your dealer, the kind that come with each new BMW) (Snowbum says: Ratcheting tie downs), grab your sleeping bag, pillow, sleeping clothes, toiletry kit, etc., & immediately scurry to the fantail of the ship at the stern. (For security reasons you will not be allowed back to your bike until a port is reached). There will be chaise lounges where you can put your sleeping bag, etc., & a roof overhead (it rained on us) with radiant heat, which will be appreciated! Sit/lie there & watch the coast go by, as well as the stars at night. It is captivating. (This is a major route for cruise ships due to the beauty.)
There is a restaurant & shower on board, so you will have all that you need right on the ship. However, you must make a ferry reservation or you may not get aboard. Any combination of stops up the coast can be made, from Washington state all the way to the end of the Aleutian Islands at Dutch Harbor, way out in the Bering Sea! My son & I caught the ferry at Prince Rupert, British Columbia & took the inside passage to Skagway, AK. Beautiful!!
One could even ride the ferry all the way from the State of Washington to near Anchorage or Fairbanks, where there are bikes for rent, & ride to and from Prudhoe Bay! Or fly directly into Anchorage or Fairbanks & rent a bike. BMW and other motorcycle dealers in each city rent bikes (again, get a reservation!). Google bike rental in each city.
NOTE! You can no longer go all the way to the coast at Prudhoe Bay due to security reasons (after 911). But you can make a bus reservation, WELL in advance (so they can check you out) & go all the way.
Do leave from Anchorage or Fairbanks to ride the Dalton Hwy, with NEW fresh knobby tires! (This is a recommendation Snowbum does not necessarily agree with. The Dalton (Haul Road, or Alaska 11) does NOT absolutely require knobby tires! I do agree, however, that tires should be excellent & plenty of tread left, before attempting the Dalton, and that mixed use tires, such as Enduro types, work well on the Dalton).
There is a self spray car wash in Fairbanks on your return so you can clean (most) all the dirt & salt from your bike, but you will need more quarters than you could EVER imagine to wash your bike! (Snowbum says: There are more than one of these, just ask for directions, for a SELF spray place. Snowbum brings along a collapsible canvas bucket & some toothbrushes (one is narrowed for the cylinder fins) & a modest stiff brush & a sponge, & cleans his bike often on the trip, not just at the return to Fairbanks from Coldfoot, etc. The calcium/dirt cakes up on the bike, especially in muddy wet areas (you may be lucky and not go through any of those).
It is a fabulous trip!
""
---
P

reliminary comments .....and then ROUTES:

There are two main routes for the full tours that I always did. The major difference is the direction. One route is what I call Clockwise (CW); & the other is what I call Counter-clockwise (CCW). The actual route you take could be quite different, depending on the amount of time you have for the trip, where you are coming from (which could be your home or any other place, assumed to be in the lower 48 here) .....& whether you use the Ferry Services or not, ....& many other things. Because the differences could be far more than just direction, I am showing both basic routes, and some options, in this article.

I thought about what to put in these two sections, & finally decided to use combined basics and actual group tours. While editing I added specific year 2013 commentary where appropriate, including year 2013 comments given to me by others. My last group trip was a less common direction for me, but is the direction a lot of riders take, since so many come from the eastern side of the lower 48 States. One of the reasons I personally usually try to do the trip in the CW direction & not the CCW shown here in Route #1, was to be in Montana later; thereby the Going-To-The-Sun Highway will be more likely to be open, free of the snow that often blocks it earlier ...yes, June & July it could be closed due to snow. I also think that being on the Eastern side later in the Tour is a bit better for a few other reasons.

It is never out of the question, if you have the time, to do the entire trip by motorcycle, sans ferries. The very best experience is when you have lots of time & no worries, this can mean taking a month or even a bit more. However, a fairly satisfactory tour can be done in 3 weeks, plus time to get to and to return home from the Canadian-US border. I did not incorporate the ferries directly in my hand-outs; but originally offered quite a bit of information about ferry locations, price, lots of small details, etc.

I suggest using mapping program software or a paper map & mark my route(s) below & look-see.

The routes I picked for use of my small groups had few miles on unpaved roads. Besides seasonal repairs, unpaved sections included some on the Cassiar Highway, & the Hy 2>Dawson>Hy 9>Hy 5>Tetlin route. Unpaved roads in the context I use it here are hard-packed; easy to ride on.

Typically, Wiseman was the furthest we would go up the Dalton Highway (Haul Road); it is only a dozen miles past Coldfoot & the Arctic Circle sign.




This is Route #1 of the two basic routes. This is the Counter-Clockwise route:
This is not my preferred route (for that, see Route #2, far below)

A more or less typical tour:
We left South Lake Tahoe (with two riders meeting me at my home the day before) on a Saturday, the first week of June. We used Hy 50>>Hy 395 in Carson City, Nevada. Continuing on the new Hy 580, going northerly >>Reno>>Hy 80>>Battle Mountain; overnight in Battle Mountain at the Best Western Big Chief. The alternate was to stop earlier in Winnemucca, staying at the Town House Motel.

The next day we left early in the morning & continued on Hy 80 to Hy 93 which intersects Hy 80 at the town of Wells, NV; then we continued northerly on Hy 93 to the small town of Jackpot, Nevada. Jackpot is just barely before the Idaho border. This being a Sunday, we enjoyed the Sunday Brunch at Cactus Pete's in Jackpot. We stayed at a motel in Jackpot which was considerably cheaper than rooms at Cactus Pete's. We met two more riders here. There were now five of us, & there was one more rider to meet up with in Missoula, later in this tour.

From Jackpot: Hy 93>>Twin Falls, Idaho>>Hy 93>>Shoshone>>Hy 75>>Ketchum>>Stanley>>Hy 75>>Sunbeam, hardly more than a wee spot at the corner of a side road. We made camp just a fraction of a mile up that side road, which is called Yankee Fork Road, & relaxed & camped there along the river, enjoying the hot spring back at Hy 75, and, at that time still available, the showers, small store with its ice-cream, etc. The Stanley Stomp used to be held in the woods a few miles up that Yankee Fork Road. The Sunbeam store, etc., has opened, closed, opened, closed ...over the many years I have been in that area. There are several campgrounds on the right side of Yankee Fork Road; I usually pick the first or second one due to the convenience & closeness to Hy 75 & the hot spring that comes out of essentially the side of Hy 75. You can sit in hot water, dangle feet in the cold river. As campgrounds, they have been slightly improved over the years, but are small places, but improved enough to be comfortable. There is water, but no showers & no electricity at these campgrounds. That could change if the Sunbeam "resort" re-opens. Usually my groups have ridden their bikes up the Yankee Fork Road sometime during our stay (which might be 1 or 2 days), it changes from asphalt to hard pack dirt/gravel (easily traversed even on the biggest bikes, even with street tires), & you can continue your tour up that road to Custer & then Challis, & then get back on Hy 93. If your mapping program does not show what I am talking about, expand it. Sometimes we went to Custer on my tours; or, we only went far enough to stop & tour the gold mining dredge. There is nothing wrong with that road & Custer is an interesting very tiny old mining town, in the middle of nowhere, that you may well like to visit. Just continue on from there on your tour, if you wish ....we've done that in the past too. Usually we backtrack to our campground as mentioned. BUT....you can continue on Yankee Fork Road; or, go back to Hy 75 & then connect with Hy 93 & go to Challis that way. You will then miss the Yankee Fork road to Challis, which I recommend. If you do take Yankee Fork Road to Challis, be sure to look at an exploded view of your map, as there are intersecting roads, & you will not stay on the one marked Yankee Fork Road all the way to Challis.

There is an additional reason I sometimes take my 'group' this 'back way' to Challis. How do they really handle hard-packed or narrow roads? I have sometimes given a bit of instruction to those who say "I've never ridden on 'dirt' ". Real 'dirt', especially the soft stuff, is NOT what I am talking about here. Again, this is an EASY road, but sometimes anything not paved makes someone nervous. After a mile & finding out how easy it is, everyone always continues that way enjoying the scenery, Custer, etc. When it rains, things can get slippery due to the clay soil.

From Challis: Continue on Hy 93 to Salmon & then into Missoula. The Montana Riders BMW group may still meet on Sundays, & depending on your schedule, you might consider meeting up with them. Missoula is a good place to stop for overnight, this leg is about 250 miles. I usually continued on to Kalispell, which is about 370 total miles for the day. There are a number of places to stay in the greater area of Flathead Lake.

Continuing-on: By whatever route you like or all agree upon, get on Hy 2, go to the WEST entrance of Glacier National Park, go through Glacier National Park (you did bring your Golden Age Passport card, or equivalent?).

If the Going-to-The-Sun highway is closed, just continue around the South side of the Park using Hy 2, take Hy 49, then Hy 89 into Canada. NOTE: There is a motel on a bluff overlooking the road in St. Mary's, Montana. For another choice, you may want to stay & eat here: http://johnsonsofstmary.squarespace.com. Another option & more scenic from St. Mary's, is to continue north on Hy 89 to Hy 17 & cross the border at Chief Mountain. Highway 6 & 22 to Calgary...& many other possible modifications to the route, & not going to Calgary at all, etc.

You can continue to Calgary if you wish, & enjoy some 'big city' life & then take Canada Hy 1 to Banff, but Hy 1-A is MUCH NICER! You could also backtrack to Hy 93 & go up the West side of Banff National Park. I highly suggest you plan for at least a couple of days in the Park area ....Banff, Lake Louise, etc. Hy 93 goes into the Park at Radium Hot Springs. You could continue northwesterly, & the Hy is then Hy 95, not 93. You could camp at or near Fairmont Hot Springs, or many other places. I prefer inside the Park.

HINT: If exchanging some USD for Canadian funds at a bank, consider doing it in Calgary.

I will give more detailed options here:

(1) From Calgary, Hy 1 to Banff (Banff is worth a lingering stop!)>>Lake Louise>>Hy 93 (also called the Icefields Parkway)>>Jasper>>Hy 16>>camp at or around McBride. It is ~180 miles from Banff to Jasper. I suggest you stop reading for a minute, and do another practice of converting MILES to Kilometers, on paper, and then in your head. I suggest you speak OUT-LOUD what you are doing in this conversion ....the brain remembers better out-loud things ....REALLY!. SO: How many Km is 180 miles?_______.

Hy 93 going north intersects Hy 1 somewhat north of Lake Louise. It is lightly traveled during the week, and this road has magnificent mountain vistas. Past the Cline River, before reaching Jasper (a nice little town to spend some time in), consider stopping & taking a day-tour to see the Athabaska Glacier, in one of the special 'buses' that have huge tires, and are way off the ground, and modified to handle very steep terrain. These 'snow machines' are unique. While approaching Banff from the South, take the 2nd Banff turnoff, & ride up to the Norquay ski area. This is a very nice very twisty motorcyclist's road. A few miles further west of Banff is the Sunshine ski area, the twisties are not as sharp, and likely is NO traffic.

If taking Hy 1 or 1A northbound from Banff, take a coffee break at the picnic table in front of the gasoline station at the intersection of Hy 1A and Hy 93. If you wish, you could rent a cabin there.

The highway going northwest from ~Lake Louise (Hy 93 turnoff to Jasper) has a lot of slow-moving big rigs & slow moving camper trailers, & this is a two-lane road. Don't take chances, pass only very carefully.

Jasper beckons, ...but be careful. NOTE that you cannot ride your bike in much of the 'bush' area surrounding Jasper...it is National Parkland ....off-road use of motor vehicles is prohibited. MOSTLY NO CAMPING.

While it is tempting to ride Hy 1 North in the Park; (2), JUST BELOW, SHOULD BE CONSIDERED:

(2) This is another modification to strongly consider. This is to use Hy 93 in/from Montana (or Hy 95 from Idaho). This routes you on the West side of the mountains, through Fairmont Hot Springs and Radium Hot Springs. Hy 93/95 splits off here to Hy 95 going westward and Hy 93 going to Lake Louise & Banff. Hy 93 is delightful here. Another consideration is continuing on Hy 95 from Radium Hot Springs to Revelstoke, then Kamloops, Hy 5 to Hy 16 and Prince George. Delightful area with many small villages, twisties, streams, rivers, lakes, etc. You avoid the road mess north of Lake Louise.

Assuming you camped around McBride, or took (2) just above, continue to Prince George. Shop here for whatever you want or need. There are B & B's here.

Continuing your tour:


Prince George>>Hy 97>>Chetwynd>>Hy 29>>Camp at one of the two campgrounds at Moberly Lake. This is a Provincial Park. If you wish to, Harv's Resort is on the North Shore, and nicer ....with food, showers, laundry, store, etc.

Go back a few miles to Chetwynd, then continue on to Dawson Creek via Hy 97. Take photos of you & your bike & your group at the MilePost Zero point and sign. Continue on Hy 97.

Fort Nelson has fruit, veggies, etc. You could stay overnight in this area.

Fort Nelson>>Hy 97>>Liard River Hot Springs Campground.

Liard River Hot Springs Campground>>Watson Lake>>Whitehorse. Camp at Takhini Hot Springs, or any other place you prefer.

***Now is a very good time to check on the weather again. You need to make a decision on the next part of your route:
Whitehorse>>Hy 1>>Tok. ...or;
Hy 2>>Dawson (camp, B & B's, etc). If doing it this way, you will use Hy 9>>Hy 5>>Tetline>>Hy 2>>TOK.

There is a large motorcycle gathering in TOK on the SOLSTICE. You might consider planning your trip & stops so as to be in TOK on the Solstice, or a day before ...and after.

NOTE! There is a road, A1 from Anchorage eastward to Glennallen & then north on road A4, called the TOK Cutoff, & you can use it to get from Anchorage to TOK, & vice versa, of course. Look at your map, & find GAKONA. This is a place & a JUNCTION of roads, the Richardson Hy (maps may show it as Hy 4) & the TOK cutoff (maps may show it as Hy 1). Gakona Junction Village area is at milepost 128.5 & has a lodge, trading post, restaurant, lodging, cabins too, fuel, groceries, etc. As in most areas of the North, fishing is great!

TOK>>Hy 2>>North Pole. Time for photos! Probably will go to Fairbanks from here.

Next up is the Dalton (or Haul Road) Highway. If the weather is OK, maybe 3 days ahead of you to the Arctic Circle & Coldfoot.

Back to Fairbanks. Take Hy 3 to the Denali area; stay a few days; then, head towards Anchorage, & tour the general area. Many things to do, & a very large area for touring; not all that many roads though, so deciding is not difficult.




You are now starting your return portion of the trip, but with all-new places to see and visit!

Anchorage>>Hy 1>>TOK>>Hy 2>>Hy 1>>Whitehorse>>Hy 1>>Hy 37, the Cassiar Highway.

Take Hy 37 (the Cassiar), & plan to visit Stewart & stay in the HYDER AREA. Don't get Hyderized (ASK a local) or it will cost you a day of recovery.

From Hyder: Hy 37>>Kitwanga, tour the area, see the totems, etc.

Hy 16 to Prince George.

Hy 1>>Hy 8>>Merritt>>Hy 97C/5A>>Hy 5A>>Princeton>>Hy 3>>Osoyoos>>Canadian/US border.

Continue South on Hy 97>97/20>>Washington State, South on Hy 97/20>>Hy 97ALT>>Chelan. Camp in this area. There is often a Rally in this area (Cashmere), & if so, continue on 97ALT to Hy 2 to Cashmere. You HAVE made your plans to visit a rally or whatever, perhaps a local event, that happens during your trip time? If not, why not?

Here I re-begin in Cashmere, any considered rally or not:
Hy 97/2>>Hy 97>>Hy 82/97>>Hy 82>>Zilah. Take a photo of the Teapot building & YOU in Zilah!
Back slightly to Hy 97>>go southerly. There are campgrounds South of Madras, try the one having access by the road South of Metolius, on the river & lake, & this is The Cove Palisades State Park. SHOWERS!

Continue to Redmond, Hy 126>>possibly stay at the KOA, which has tent sites, Kamp Kabins, etc. It is 15 miles West of Bend, 3 Miles East of Sisters. Hot tub, sauna, food. Lots of choices of places. You could also continue on to Sisters. Hy 20>>Bend>>Burns>>etc.

Probably your group will split up earlier, some taking 395 South, others using various routes from here or a bit south, etc. There are a lot of interesting places in Oregon, & some very interesting fun roads that are hardly used. East side: Joseph & Enterprise, Hells Canyon & Snake River, etc.


Here are a few more Rallies that I know of that may coincide with your schedule:
Chief Joseph, in Oregon, mid-June.
Rocky Bow Lunatic Fringe, Alberta, Canada, around July 4th sometimes, other times late July.
Alaska BMW Club Last Frontier Rally, mid-July.
Cascade County Rendezvous, Washington State, being held now in Republic.
The Harley gag-fest, hee hee; Sturgis. There actually is a BMW area, Wispering Pines Campground on Rte 385 at the Silver City turnoff.
BC Beemers "Udder Madness Beemer Rally" ...I think this was in August. Enderby, BC, Canada.

---
This is Route #2 of the two basic routes. This is the Clockwise route; what I call the Cassiar (Hy 37) route:
This is my preferred route. The Cassiar Highway is also called the Alaska-Steward Highway.
Some of you will use the more westerly route when on the way to Alaska, the Cassiar Highway. I have already written about this route. It has sections of pavement that have been added to just about every year, & is now paved! It is a nice way to go to Alaska, with some advantages. Coming back from Alaska using this route was discussed in Route #1. I've already mentioned that I prefer to go to Alaska via this Route #2 way. I have several reasons. One is so I can use the Going-to-the-Sun Highway in Montana on the way back from Alaska, it being then less likely to be blocked by snow. Some will use the Ferry Service, & get onto the Cassiar by getting off the ferry at Prince Rupert & going East for awhile to join the highway. This Route #2 gives you that Ferry Service option. In general, I think you will appreciate Route #2 .....and this includes those of you coming from East of the Rocky Mountains ....even if coming from Miami!
The Cassiar, going north on it, really begins in Kitwanga, B.C. The Cassiar is more properly shown on maps as the Alaska-Steward Highway.
The Cassiar does not begin at or in the United States, as some erroneously believe. From Kitwanga, just a bit north, is Gitanyow/Kitwancool; where the famous line of totem poles are. There are Provincial Parks along the Cassiar, which you will probably use. Head WEST at Meziadin Junction onto 37A, & go to Stewart/Hyder and visit both close-together towns. You might consider the Ripley Creek Inn in Stewart, & a Salmon Glacier side-trip. The Ripley Creek Inn is FAR nicer than it looks on the outside; lots of very interesting rooms, & the prices are, or have been, reasonable. http://www.ripleycreekinn.com/. They have free bicycles & a sauna/exercise room. Eat at the Bitter Creek Cafe. This general area gets a lot of rain, but don't be discouraged, it disappears when upi are back on the Cassiar.
Remember to gas up often. If you like fishing, you might like the Bell-II lodge. See http://www.bell2lodge.com/. They have various sorts of accommodations, a cafe, and fuel. Another place to consider is the Red Goat Lodge, a bit further north: www.redgoatlodge.ca/ B&B, lakeside area, food, etc.
If you find construction work on the Cassiar Highway, you, on a MC, will probably be motioned to go to the head of any line. Finish the Cassiar at Watson Lake area, where the Cassiar ends & Hy 1 begins for you; congratulations, you have reached The Yukon Territory! Here you can go East or West, before turning north westerly ...depending on your planned routing.
---
Additional Resources:
1. The Milepost. Revised and published yearly in MARCH. Highly recommended! A large and thick 8-1/2 x 11 booklet, probably over 800 pages now. http://themilepost.com/ This is one you WILL want to purchase! I purchased one before every Alaskan trip. Many public libraries will have an old copy for you to look at, prior to your purchasing your own copy.
2. AAA MAPS and TOURBOOKS: "Alaska & NW Canada"; "Alberta/British Columbia"; "Western Montana/Nevada"; and whatever else you want. Some like paper maps, some like them on the Internet, some print theirs from software including route planning ...ETC. These maps may have different names now. Tourbooks for all sorts of areas were available.
3. IF YOU PLAN ON USING THE COASTAL FERRIES:
(a) BC Ferries Corp, 1112 Fort St., Victoria, B.C., Canada, V8V 4V2 https://www.bcferries.com/ (250) 381-1401; (250) 624-9627. Get the SUMMER schedule, and ask for Motorcycle Rates. In some areas, the following toll-free number may work: (888) 223-3779. The Prince Rupert ferry terminal phone number is (250) 624-9627; the FAX number is (250) 627-8448
(b) Alaska Marine Highway, get Summer Schedule (800) 585-8445 or (800) 642-0066
http://www.dot.state.ak.us/amhs/
NOTE! There is an "Alaskan Pass", that allows unlimited ...for a set number of days ....use of ferries, buses, and trains. Available for 8, 15, 22, and 30 days. $$$$. (800) 248-7598 http://www.alaskapass.com/
4. "Alaska by Motorcycle", Dr. G. Frazier IBSN 0-935151-47-8, Arrowstar Pub. (800) 532-5557. Originally (I think) published in 1996. You can try such as https://www.amazon.com/ and booksellers, etc.
5. Most tourist offices have toll-free 800 numbers; they WANT to send you maps and literature. The URL and the phone number for these places below are NOT necessarily the same place! USE BOTH!
British Columbia Tourism Office (800) 663-6000, get free Maps and Parks Guide, etc. http://www.hellobc.com/
Alaska Railroads (800) 544-0552 http://alaskarailroad.com/
Alaska Division of Tourism (907) 465-2010 https://www.travelalaska.com/
Vancouver/Coast and Mountains (800) 667-3306
Fairbanks (800) 327-5774 http://www.explorefairbanks.com/
Tourism Yukon, POB 2703, Whitehorse, YT, Y1A 2C6, Canada http://travelyukon.com/
Prince Rupert Convention and Visitors Center (800) 667-1994 http://www.visitprincerupert.com/
Haines Visitors Center (800) 458-3579
6. Don't forget to use the Internet; find Chambers of Commerce & tourism offices everyplace, for printed information and website information.
7. Telephone and other numbers to have:
Alaska statewide weather (907) 456-0389
Alaska roads and weather (800) 478-7675 and also (907) 273-6037
Alaska roads (907) 456-7623 and also (907) 451-2249
BC roads (800) 663-4997 (800) 550-4997 Weather (604) 664-9010
Yukon roads (403) 667-8215. Also, 96.1 on the FM radio dial.
Dalton Highway information: (907) 451-2200 and (907) 451-2249
There are many more AM and FM frequencies for road information in various areas.
Coldfoot services and Arctic Acres Inn at mile 103: (907) 678-5201.
Coldfoot camp is at mile 175 and has food, lodging, fuel.
Two places to stay in Wiseman: http://www.boreallodge.com/; http://www.arcticgetaway.com/
Nearest BMW dealerships? Use your BMW MOA anonymous booklet if you are a Member. Other resources are the BMWMOA phone line (800) 332-4269; the BMW message board (800)-4BMWMOA; Airheads version of the BMW anonymous booklet: Dairectory. These numbers may have changed, or be different BMWMOA services now, as I think some changes have been made recently. I suggest you stop at this point, and get the updated information, write it down on your itinerary, or?
8. Mile-by-Mile, the Stewart Cassiar Highway. http://www.bellsalaska.com/highway/cassiar-highway/
Take a hard look around that site.
9. So you think you need a big bike for the trip? Try a moped: http://mopedtrip.com/intro/index.html
10. Another site to have a long look at, and snoop around: http://bcadventure.com/adventure/explore/
11. British Columbia publishes a nice folding map of B.C., that includes a list of Provincial Parks, and information on Parks and campsites is included on one side of the map.
12. I've occasionally gotten a request for a travel-log, or blog, or whatever, particularly if someone, especially a first-timer newbie, used the Ferry System. I've never written-up my trips much, just sent long messages to my wife, so I searched for something decent. Here is a link to several articles ...and, see Grossjean's ...on using the Ferry system. I think it pretty realistic, but note the date ...1999. In my opinion the roads are MUCH better now. Well worthwhile 100% reading though (keep the improved roads situation in your mind while reading these various stories):
https://ibmwr.org/?s=alaska
---
Miscl. photos. Most of my photos from my Alaskan trips got accidentally destroyed. I'll post some AK photos now and then, when I get around to some scanning.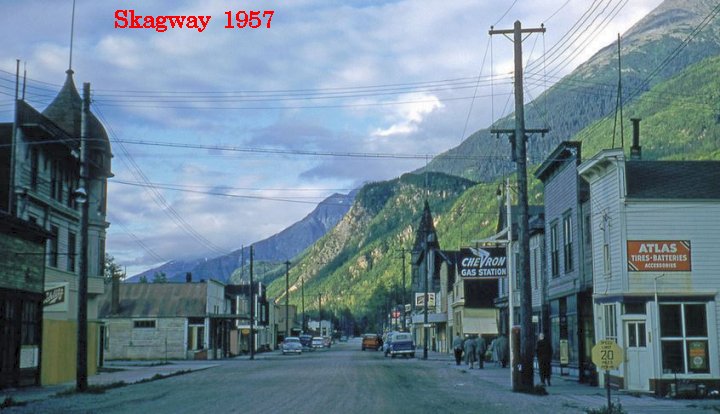 ---
Addendum 1:
This addendum is for 'scratch pad' ideas....for me, the author, and for you, to think about and ...whatever..

1. Going-to-the-sun hy in Glacier>>through Pincher Creek on Hy 6>>hy 22>>west at Long View, up hy 40, then up Icefields pkwy>>Dawson Creek>>Mile 0 of the Alaskan>>onwards.
2. Add history of Prudhoe (Deadhorse), and of the Hy. Describe the road better; the stops/places better, including gas, food, costs. Better information on Yukon River crossing, the visitors center, tire repair shop, etc.

3. Emphasize riding habits better, including packing, not going too far into the road shoulder of the Haul Road, where it is excessively soft. Headlight always on. Cleaning off mud whenever you can. Watching out for road color changes ahead. Knobbies could be put on at Fairbanks, or somewhat later. I still recommend knobbies. Refer folks to my website article Section5.

4. Camping at the Arctic Circle sign. ...and, the cost of rooms at Coldfoot, and that there is a postoffice there, and lots more, including more details about the campgrounds a few miles north of Coldfoot. Emphasize the problems with insufficient fuel, from Coldfoot onwards.

5. ENOUGH mosquito juice.

6. For the wilder and more adventuresome rider (??....hmmm)....provide maybe a page or link to information about the Dust to Dawson UNrally....that's the mostly UN-fee large meetup, held in June, meeting at the Triple J Hotel on Fifth Ave, in Dawson, YT. It's been held for a lot of years now.
...probably give a reference to Adventure Rider website for info on this meetup of 'fun' folks....not politically correct, etc....more hard-er core folks.
Here is a photo of the 2018 meetup DTD, way milder than some of the other photos I could have blatantly grabbed to post here. No dirt, mud, slime, filth, fallen bikes.....at least in this photo. :-)
At least I grabbed the name, etc., at the bottom, 'cause this NOT my own photo. For some thumbnail photos of what Jim Kohl's photos look like (highly recommended by me here), see:
https://www.jimkohl.com/Portfolio/Motorcycle/thumbs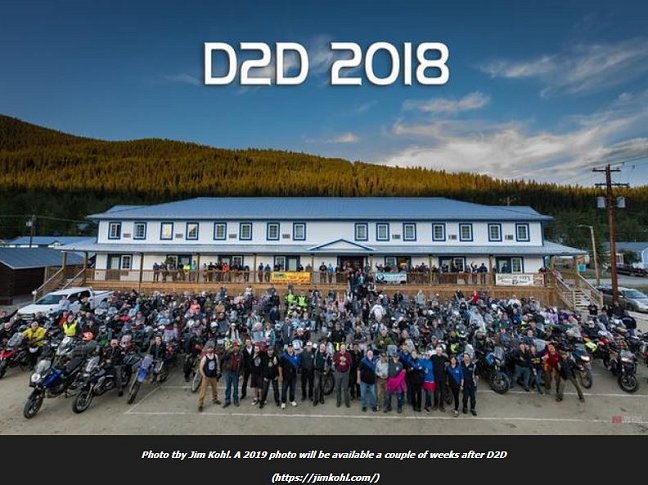 7.
---
Addendum 2:
This is a link to a 1999 Alaskan trip by motorcycle. It is not authored by me. Not Airheads (but, OK, is on BMW bikes). While old, you will probably find this account both fun and interesting to read.
https://ibmwr.org/index.php/1999/06/01/1026/

---
I would appreciate receiving comments and updates for this article.
If you do not already have my E-mail address, it is located at the following page:
https://bmwmotorcycletech.info/emailimage.htm
Snowbum
---
Revisions:
06/24/2013: Removed google translation code script as it was causing design-split-code-preview problems in FrontPage (very excessive time to shift between the four view types). This was done to all pages in website at the same time. There were also JavaScript problems for internet use.
06/27/2013: Began new version of this article.
06/29/2013: Only a few pages left to get into this article........then comes all the editing....
06/30/2013: Did the routing details & the Resources section & began some editing.
07/02/2013: Considerable amount of editing.
07/03/2013: Mostly done. Uploaded.
07/04/2013: Added section on border crossing & added bits & pieces of information & re-arranged the sections; eliminated Part numbers for sections, start fixing typos, etc....especially the reversal of calc. for mi versus km!!!...fixed both such places, later in day.
07/05/2013: Add information on Wifi, more on mosquito-proof clothing, miscl. stuff.
07/23/2013: Enough editing & additions, etc., article is now considered COMPLETE.
01/22/2014: minor updating and clarifications
02/07/2014: Expand section on the Dalton considerably. Add section on Cassiar. Remove Tracking code provided so innocently (?) from U.S. government sites in hidden javascript format.
02/11/2014: A few more additions to the Dalton Highway information.
10/13/2014: another small series of updates & clean-up, & a FEW in December.
04/22/2015: Add #13.
07/09/2015: Add addendum to border crossing information
10/14/2015: Clean up, update a few somewhat minor things, emphasize some items.
10/15/2015: Expand information on the Ferry system.
12/22/2015: Update meta-codes; left justify more; clean up article more.
05/03/2016: Update meta-codes. Some clarifications and also updates of the article. Re-arrange article in several aspects.
11/27/2017: Delete excessive HTML; reduce font and color changes; clean up layout, improve presentation. Update some details, including hyperlinks. Remove site addresses that used tracking code.
08/13/2018: Addendum
11/28/2019: Minor changes. Add Addendum 2.


© Copyright 2020, R. Fleischer

Return to Technical Articles List Page

Last check or edit: Monday, December 14, 2020