---
Snowbum's BMW Motorcycle Repair & Information Website







The ads above are Google-sponsored.
Clicking on them at every visit helps support this website!
Clicking on something in an advertisement helps even more!


Trip Photos ...and, for all practical purposes, sort of a blog...
(subtitle: Driving Miss Penny)

https://bmwmotorcycletech.info/tripphotos.htm
© Copyright 2020, R. Fleischer




We departed South Lake Tahoe at 8:00 a.m, on our K1100LT-EZS-EML sidecar rig. We took the sidecar rig instead of the 2-wheeler (R100RT), because we wanted a lot more storage room; and, Penny (my wife) does not like sitting behind me on a motorcycle, nor does she, with short legs, like getting on or off them. The sidecar rig is equipped comfortably for her, and has a lot of storage space, and is relatively weather-proof.

Our plan, wide open to enroute changes depending on weather, whims, sight-seeing, visiting, etc. ....was to cross Nevada via Highway 50, and then proceed through Utah's southern mountains; then Colorado's southern mountains, to Garden City (Kansas), where we would turn northerly onto Hy 83. We would stay on Highway 83 until the middle of South Dakota, where we'd turn easterly & end up for awhile at the SKUNKS sidecar rally in Cameron, Wisconsin. From there we would meander to the southern part of Lake Superior & then to the United Sidecar Association National Rally in Duluth, Minnesota, for a few days. From Duluth we planned to go north via the north shore of Lake Superior to Ely Minnesota, where we would turn westerly & use Highways 1 & 169 & eventually get onto Highway 2, which we would take all the way into Montana. We planned to go through Glacier National Park if the Going to the Sun Highway was open & then south through Montana into Idaho, & eventually home at Lake Tahoe. I have toured in the West for decades, & every one of my attempts to use the Going-to-the-Sun highway has failed, it being closed, even in late June, by Winter snowfalls. Estimated mileage: as much as 7000. We were equipped for rain or shine, camping, motels, or staying with friends. Penny kept her own detailed diary, and photos, of this trip. This is Snowbum's version.

May 20-21: We stopped overnight in Ely Nevada after 348 miles. We got a room on the 5th floor (of 6) at the old Hotel Nevada, a casino & hotel that is very friendly & offers a discount to 'bikers'. The lobby has an old Indian motorcycle & an old Harley motorcycle on display; the hotel often sells raffle tickets for a new or restored old bike. The prime rib was $8.00 ...but is not on the menu, you have to 'know' & ask for it. Parking for motorcycles is right outside the main entrance, right on the street, & supposedly watched-over all night. The room, with tax, was about $44, which included a free Margarita for both of us. The next morning we dawdled, then left for East Ely to visit the Railroad Museum...& we were allowed to look through at our leisure, no guide or 'tour' for us! (Penny was a well-known docent at the Carson City museum).... the repair shops, with the old lathes, mills, ETC.....these were still in use. A steam locomotive was being restored, and a diesel engine also being overhauled...etc. There is QUITE a collection of railroad equipment including the largest steam driven crane I've ever seen. The 'museum' compared favorably with a few others I have seen, except that this one is in operation, real rolling stock that is actually in use, and the diesel equipment is used for actual work.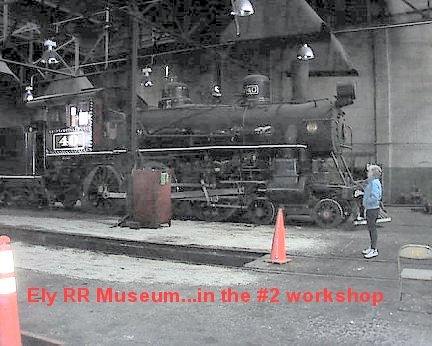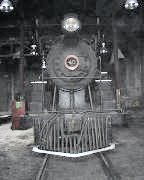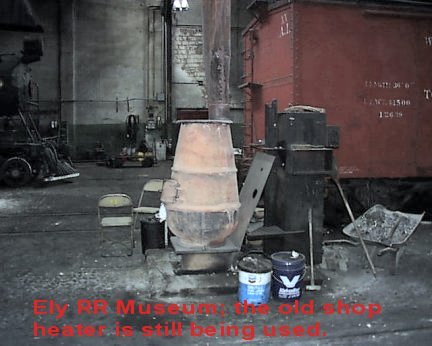 As the weather was getting questionable, we changed our itinerary, and headed directly for Cathedral Gorge State Park, but decided not to camp there. The photo below is of Penny at one of the overlooks: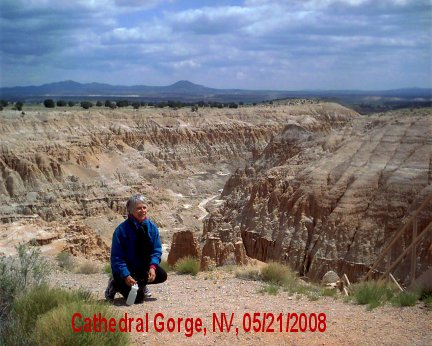 After visiting Cathedral Gorge, we headed easterly on Nevada highway 319, which becomes 56 in Utah. It was on our way to Cedar City, Utah, that the iffy weather caught up with us. We had to put the top on the sidecar; plug in the 12 volt blanket for Penny, as we were getting some cold air plus some light sprinkles. I had to put on my heated vest under my jacket. For those that are new to electric vests, these are best put on over the first shirt, if you are wearing more than one, and that first shirt should normally be a T-shirt or other thin fabric. The heated vests do not work as well if over thick shirts, and are not to be used against skin. Mine has an electrically adjustable thermostat. Finally, about 35 miles from Cedar City, climbing into the mountains, our luck ran out, and we had 35 miles or so of rain. Before we got much of it, I stopped to put on my rain suit. This was a simple plastic two piece rain suit that I'd purchased as a back-up for my last (of 7) 1997 Alaskan motorcycle trip. Nearing Cedar City the rain quit. We arrived without incident at Cedar City, and stopped at the Visitors Center, where some friendly chit-chat got us turned-on to a VERY nice B & B ....and to a VERY nice restaurant for dinner.
No serious problems to speak of so far:......
(1)Two relatively inconsequential screws loosened, that hold two unimportant snaps for the top. These flew apart and one screw and two nuts and one snap cup washer were lost. They were two of three snaps that hold the rear flap of the top to the flip nose top of the sidecar. I suspect I simply forgot to apply Loctite and properly tighten them. Having them, and two layers at 90 degrees of Velcro was overkill anyway. I'd originally been worried that the top I so laboriously made could have a vacuum formed on top from high speeds, lift up, and rip itself off the forward (and other) snaps. However, at speed the top is very stable, and actually has pressure on the top mid-portion...no lifting at all. Probably will eventually go to a hardware store for the screw, nuts, washer. Penny said the roof middle sewn seam weeps a tad of water ...so I need to waterproof that seam better. I thought would be likely we would wait until our return to Lake Tahoe, so as to ask about the exact sealant that is compatible with the exotic boat top material I used ....but we ended up sealing the seams with a tent sealer liquid, which has held up over the years since.
(2) I, apparently, was not watching what I was doing close enough when packing the laptop computer. I had a small remote WiFi antenna, that had some real gain to it, that I carried in the laptop bag. It enables fairly long distance WiFi use (as opposed to the short range one I DID bring). I forgot to pack the very special pigtail wire for the remote antenna ....it was, no doubt, still connected to my 6 foot diameter outdoor parabolic antenna at home. I doubted I would find such a wire on this trip. So, am using the teeny antenna that plugs into the WiFi card on the laptop. The B & B we are staying at tonight ....which is as clean and nice as brand-new and looks almost like it, has WiFi, at least it is operational with the small antenna. I know I won't be so lucky for all of the trip.
(3) More serious....at least it bugs me....is our home living room alarm went off sometime after we left. I was unable to get much information from the alarm company that monitors our home. UNclear what caused the problem. I had recently replaced the battery too. Should not be anything in the living room that would set it off. I think they called the police to check on the house ....but need to talk to someone at the company later today. It turned out to be much ado about nothing.
So, the adventure continued. Fuel mileage had averaged 37.6 so far, for about 500 GPS miles ....which is excellent for a large sidecar rig. I try to drive about 55-70 mph, mostly at 63, as it is a sweet spot. I think the maximum I've done so far...which disturbed Penny somewhat, was when I passed a truck at 84. I set up the GPS to display to Penny not only the usual time of day; map and pointer of where we are, magnetic and true degrees too; but also maximum speed, average speed, and present speed. The GPS is working perfectly. UNfortunately, I don't yet know how to program ROUTES, only WAYPOINTS.
Have to discuss things later this morning with Penny, but looks like we will have to alter our itinerary today. One of the roads we wanted to use to go into Cedar Breaks National Monument, from what we've been told, is closed until this coming Saturday.
May 23rd: We camped last night in Bryce Canyon. LOVELY place, awesome views. It snowed on us late in afternoon and off and on through the wee hours. In the morning, we had breakfast of hot oatmeal w/fruit. We both like that in the mornings, and we actually use the slower cooking stuff...both of us hate the paste taste of instant oatmeal and refuse to eat it. After coffee it was time to hit the road, taking our sweet time about it. We were going to park the sidecar rig near the Park Entrance and then grab the free shuttle and see Bryce Canyon, but it was not yet in operation, so we drove to one of the best view spots, and stretched our legs awhile. The scenery is simply breath-taking, and there was no rush, even though we got corn snowed-upon at various times. No big mileages today, just a relaxing drive. Penny stayed warm with the electric blanket and some clothes layering, and I was pretty toasty with the lower part of my rain clothes, heated vest, and heated grips on the bike. We ended up towards midday in the small town of Escalante (Utah). We tent-camped there, not in the forest, but out behind a group of bunkhouse cabins, restaurant, sportsman's store, and whatever else this place is; including black barnyard chickens all over the place! $14 a night for tent camping, and worth it, with the included hot showers and even towels, ...and, heck!...a wake-up call about 3 a.m. by the rooster! Even managed to get on line, using THEIR computer. We got a fair amount of sun finally in the afternoon and dried our gear.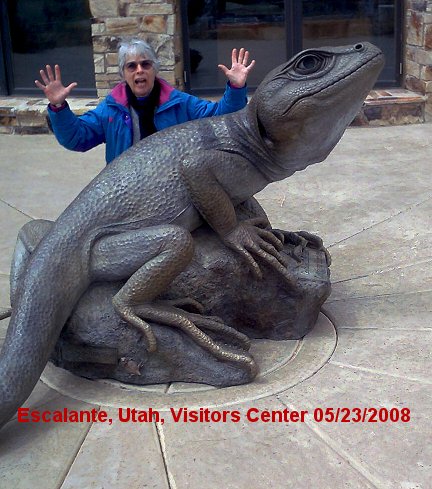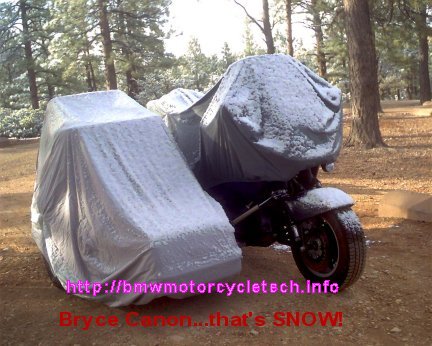 The above photo was taken well after most of the snow on the ground that fell overnight had already melted off in the morning. Still some snow showing on the bike and sidecar covers.
May 24th: We left Escalante this morning about 9:30; with an accumulated total mileage of 691, under overcast skies. The contrast between the riparian areas and the red rock area with the green bottom of the deep gorges on today's route was quite a sight. The scenery continued to be just plain WOW! There is a National Geographic photo at every turn. One realizes that unless one has a huge format type of camera like an antique 8 x 10 inch film type, that no photos from a small camera will document, at least not well, the scenery we saw today. The photos we did take ...two digital cameras and one 35 mm camera are with us ...will NOT show the depth of the canyons nor the 'bigness' of this country. The West, in general, away from cities, is a BIG PLACE. The rock formations are simply unbelievable. We had discussions about how these formations came about; and stopped often to enjoy the scenery for longer periods of time, and sometimes to read interpretive signs. We had a variety of terrain today. There was a fair amount of snow on the ground, particularly on one pass where we reached 9910 feet. We stopped for a picnic lunch at Fruita UTAH (there is a Fruita coming up in Colorado too) at a very nice park. Then we came down a canyon with lots of winds due to the funneling effect of the canyon. We continued on Hy 24, until Hanksville, then we went south on Hy 95, crossed the Colorado River and used two 'interesting' bridges. We arrived in Blanding, Utah, around 5 pm with a total accumulation of 932 miles. We had small amounts of snow falling on us today, some rain, some sun, some clouds; over-all, very nice. Was quite pleasant tonight in Blanding; near perfect weather;....and, we shared a dinner of a large piece of prime rib, soup, salad, biscuits....and we had some chocolate later. Chocolate, and fresh oranges always taste super good when on a trip in the mountains.
Below are photos from today: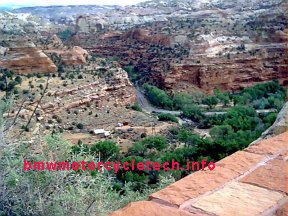 You would not believe how deep this is, and it is only inches from my feet ....thousands of feet deep, I'd say.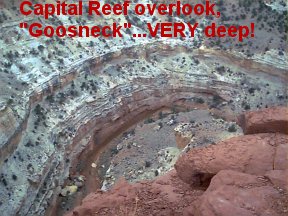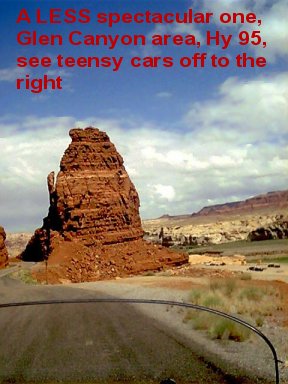 Penny has been keeping meticulous track of fuel mileage, costs, etc.....using the GPS for distance covered. I've also been able to check the odometer calibration on the bike from the GPS. I adjusted the speedometer some months ago to compensate for the smaller diameter of the car tires, but there is no easy way to adjust the digitally driven stepper-motor that drives the odometer. Was a nice thing for me to know, for the future, what the BIKE odometer error is. For the curious, it is about 12%. We've not been hurrying along. The maximum speed I have done on the trip so far was the previously mentioned 84 mph, ONCE, when passing that slow truck. Otherwise, I have not even topped 70. Mostly I am cruising the open highways at 63 mph +-; and the canyons and mountain passes rather a fair amount slower. Some of the Passes have turns vastly too tight to make any sort of speed on. There are plenty of places where even 20 mph is too fast for the tightness of the curves. The sidecar wheel has lifted a few times, but I am gentle about it, and Penny has not even noticed! We've been having 'the usual' conversations when we stop someplace;....as sidecarists all know;....lots of folks like to chat with sidecarists, especially, I think, those with gray hair. We've met a surprising number of long-distance cross-country bicyclists (something Penny has done a lot of).
May 25th-26th: Stayed overnight at Blanding Utah. Went to the Edge of the Cedars State Park Museum for awhile. Some very interesting Indian ruins are just outside. I figured out how they kept comfortable in mid-summer heat, and how they heated their homes in winter. The main room was underground, and they had an interesting way of getting the smoke from that room's fire to the outside, without smoking up the room. Those that think all Native Americans lived in teepees are in for a surprise here. From Blanding we headed up Hy 191 to the Moab area. On the way we stopped for photos at the rather well-known Church Rock and Wilson Arch. Was unable to find the pigtail lead for the computer that I needed, in Moab.
We headed north from Moab, and visited the spectacular Arches National Park. Back to Moab to fuel the bike, and then we turned around and took Hy 128 that begins a bit north of Moab. Up this river canyon for awhile, and then we finally stopped to fix some lunch, and to discuss our options. My intention had been to camp along this Colorado River someplace along this road. Unfortunately, this was apparently a HUGELY popular area, for those rafting, etc., the River .....not to mention HUNDREDS of campers, RV's, tents, etc...enjoying the big Memorial Day Weekend. They were parked all over the place, not just in official campsites. We went into 4 of the camping areas along the road, and found everything booked solid.
Finally, nearing the last camping area, from the road above, I spotted what looked like a burned out area .... the State/Feds had been burning stumps of a non-native tree for some time .....and in that burned area was a campground ...with a spot for us ...the ONLY ONE LEFT; overlooked, I am sure, as it did not look like a campsite. Would have been adequate for us. We parked and were about to take it ....at the usual half-price for camping for us old folks with Golden Age Passes .....that would be $6.
I saw a big 5th wheel trailer (Toy Carrier type ...and LOOOONG) ....some older folks ...with two motorcycles ...a V-Strom and a F650 BMW. I went to talk to them about using an UNUSED parking spot that I thought was part of THEIR campsite ...as a campground spot for us. We lucked out ...it was not a parking spot at all, but a full-on camp site, bench, fire pit, etc. Why not taken before? .....we figured folks drove past it, assumed it belonged to these folks with this 5th wheel monster RV. So, we took that campsite. Turned out to be some very nice folks, who insisted we use one of their 5 gallon jugs of water, as the campground was dry, no water, only pit toilets; although we did have about a gallon of water with us, as usual. We shared their fire in the evening. Was windy, but we were comfortable in the tent that night; which we pitched up almost against some very large bushes that broke the wind pretty well for us. We left the next morning, and had to, horrors! ....do a short stretch on Interstate Hy 70. I'd planned most of our entire "up to 7000 miles" trip to almost completely avoid the Interstates. In this case, a few miles was OK ...after all the narrow BUMPY and WEAVING roads we'd been on so much. We took Hy 70 to Fruita Colorado ...to the Visitors Center. We had been finding the visitor centers to be VERY helpful in finding campgrounds, places to stay, better restaurants, etc. Whilst I had planned well ahead of time for all that sort of thing, these locals OFTEN offered interesting information. Usually staffed by older gray-haired volunteers (or Young Sweet Girls), they don't feel bound to hold their tongues on things, good or bad. Not true for all of these places, but we found that many would not just pass out brochures, but talk about which brochure'd place "might not be the one we might like to stay at or eat ate"....and, SOMEtimes, why. A lesson learned!
From Fruita, we got off the Slab, and took highway 340 (the Rim Rock Drive), about 25 miles in length, very slow and steep, through the Colorado National Monument. VERY pretty place. We then arrived in Grand Junction, and took a side road to the very interesting small town of Palisade ...where I found a place making exotic Mead wines (Honey Meadery). I sampled some of the wines, maybe a total of 2 tablespoons only. I'm very strict on any real amount of alcohol when driving motorcycles. Fruity, surprisingly NOT overly sweet, with interesting flavors from whatever the particular bees were feasting on. I still think I should have purchased a pricey bottle of the cherry sherry mead ....Penny talked me out of buying "....we are already packed to the limits....". I did purchase a bottle of a mild Mead.
From Palisade it was a short drive to Hy 65, and immediately back up into the tall mountains. We got WAY up into the snow area again, 10,900 feet. We, as usual, routed ourselves for a Scenic Byway Route, as designated on State maps.....and from advice by friends and folks I've met from my motorcycle club's E-mailing LISTs. This particular section, Highway 65, is called the Grand Mesa Scenic and Historic Byway. It was a not too long a day...we ended up in Cedaredge, which is on Hy 65. Unable to earlier contact someone we might have stayed with, we got a nice motel, the Tri-R, very nice, very homey and very clean, and nice owners;...and with WiFi. We took showers, hand washed some clothes (which dry overnight easily)...etc. Anything that does not dry overnight is bungeed to the Thermorest's bag on the sidecar trunk, and soon dries. We drove the sidecar rig to a recommended restaurant a couple miles away, and were very pleasantly surprised ....at the quality and type of food, for such a small place as Cedaredge. Total accumulated mileage is about 1220.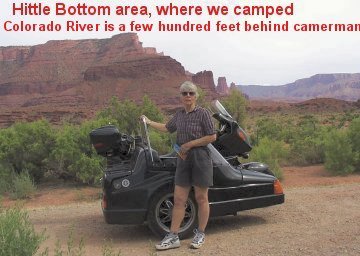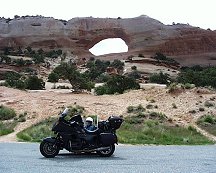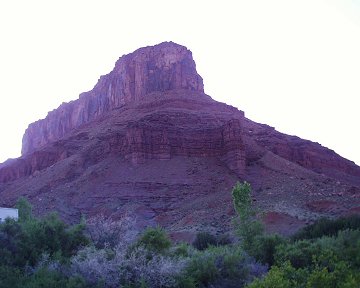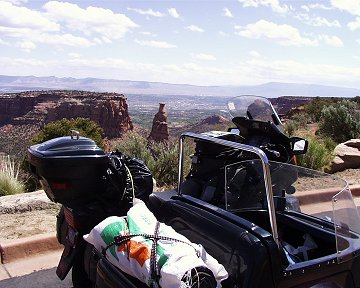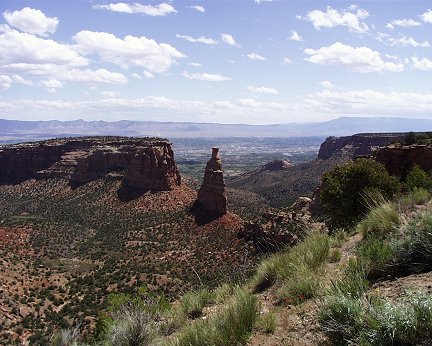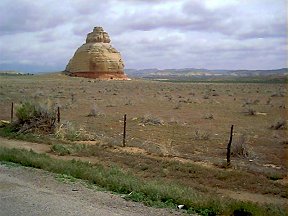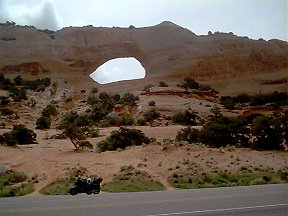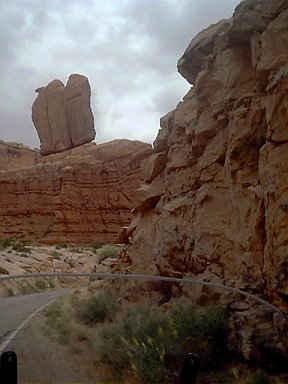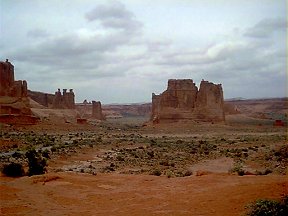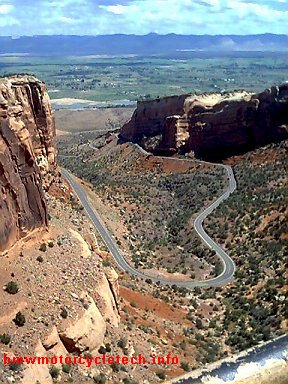 A LOT of roads had seemingly endless twisties like that, above, and many others were 15-25 mph turns, much tighter...a LOT tighter.....and steep. Even with the reduced trail leading link front end on the sidecar rig, because of the car tires (width much more than motorcycle tires) I got QUITE a shoulder and arms workout. The above photo with the wiggly road shows a short straightaway and only one MILD twisty...really only a 30-35 mph sweeper. There were a few others (not shown) that I had to gear down to take them at 10 mph.
May 27th: Up reasonably early, and from our nice motel in Cedaredge, we could walk up a slight hill to a good supermarket, unexpected in such a small town of maybe 1500. Got some fruit, bread, carrots, hot coffee, bran muffins, etc. I checked the bike oil level, we are using very little, no need to add any.....and got together a lot of notes from local visitors flyers and so on, and I planned our day's ride. I do basic planning, and consult with Penny. We had a store to visit for a few minutes, a consignment center so Penny could get a pair of warm long-johns, a natural foods place (I had a few ideas and a surprise or two for Penny)....then it was back on the sidecar rig and to make a few miles.
We had not been doing big mileages every day. We had been doing the ENTIRE trip totally unrushed, with quite moderate speeds. Makes for nicer sight-seeing. We continued south on Hy 65 to the junction with Hy 92. On Hy 92, in Hotchkiss, I found a hardware store right on the main street, and there I found some screws and acorn nuts needed for the sidecar top, and just down the street we had a nice conversation with the owner of a one man upholstery shop, who had the exact snaps we needed. He refused to take any money.
A LOT of the folks we have met are very interested in the sidecar rig, and either have owned sidecar rigs or motorcycles, and many still are riding/driving bikes and rigs. We did not stop to install any of the hardware items yet, no real need. We then used Hy 92 to Gunnison, Colorado. On the way we had a number of occasions to stop and see parts of The Black Canyon of the Gunnison National Park, and the Curecanti National Recreation area. As has been our habit, we stop in pretty places to have a light snack or lunch. Sometimes we cook at a campsite, sometimes we eat at a restaurant. We almost always cook a hot breakfast ...typically dried fruit and brown sugar in REAL cooked oatmeal, and have a piece of fresh fruit with that.
We arrived in Gunnison about 2 pm, and then spent a fair amount of time touring a VERY interesting and LARGE museum of numerous old antique buildings, artifacts, locomotives, cars, telephone equipment from the mechanical switching days, and stuff in general from the 1870's to maybe the 1930's. QUITE a place....called the Pioneer Museum. I recognized and have used in the past some of the items....making me feel OLD! Leaving Gunnison, we were now back on the road we'd started out on, Hy 50. Up and up we went, seeing MANY dozens of Pronghorns (sort of an antelope type of animal, but are not true antelopes), some black wild turkeys, and lots of cattle, even some goats, horses, mules, sheep; and a few working dogs. We finally reached the top of Monarch Pass at 11,312 feet, confirmed by sign, GPS, and my oncoming headache. The real density altitude must have been closer to 14,000 ....but I did not have a way to measure the temperature so as to calculate the density altitude. The top of Monarch Pass is not much to look at, actually. Yes, that is snow.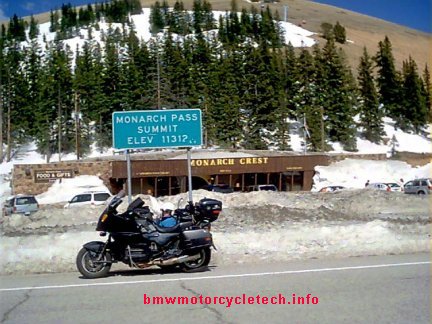 From Monarch Pass was a long downhill drive to the Salida area, where we found a campsite along the Southern Arkansas River. LOTS of river noise to lull us to sleep in our tent. Found a WiFi signal but couldn't use it, was encoded ....and I am not the type to go about trying to break someone's security code.
May 28th: We got an early start for once, I even cooked breakfast early ....and at 8:27 a.m. we headed up highway 291, then highway 285, to Johnson Village, where we transferred to Hy 24. The Pronghorns were QUITE prevalent, in herds as large as maybe 20 or more around Hartsel. Wilkerson Pass had a particularly beautiful Visitor's Center at the top....at 9525 feet. We stayed quite awhile. We continued on Hy 24, and as we approached Colorado Springs, we drove DOWN into a cloud bank, that turned into a wet fog, and then light drizzle....which stopped soon enough, without the need to put on rain clothes for me; nor, even put the top on the sidecar. Down down down Hy 24 we went... all the way to the west side of Colorado Springs, where we stopped and stayed overnight with friends from my Airheads BMW Club, Matt and Susanna Parkhouse. Matt had been quite ill, from problems with a gall bladder surgery gone wrong. He had nearly died, and had been home only a week, from nearly 2 months in the hospital. We tried to make ourselves useful, doing some chores for them.
With a few small tools from Matt....and some Loctite.....I finally installed the screws, acorn nuts, and snap fittings I purchased quite some miles ago. The rig is filthy, but I did not feel like washing it.
May 29th: Doing minor chores for Matt & Susanna. We had stayed a second night. Was 'helping' (hardly!) Matt a bit today with an repair on a '73 Airhead 4 speed transmission. I hadn't touched a /5 tranny in a LONG time; ...some things came back to memory rather quickly. Cutting lawns, cleaning house, laundry ....whatever we can do, which does not seem all that much, actually. We planned to leave in the morning for Garden City, Kansas.
Penny has been very frustrated at trying to use Earthlink's Webmail on our trips. It was particularly egregious for her today, and I was going nuts trying to fix it, and couldn't, easily;....it is our ISP fault: Earthlink; together with some stiff security settings and programs in this WIN98SE O/S in this OLD laptop. I spent a fair amount of time setting up this old laptop today so Penny can use it almost exactly as she does her own computer at home. Seems fine now....and no more frustrated wifey. I have to admit, the Webmail thing was truly awful, in trying to properly address Penny's Family Group; and, message editing was insane; ....just plain frustrating even for me, Mr. Computer Nerd, in trying to help her with it. I hope we don't have to use Webmail much in the future. Right now, we have highspeed, from the next-door house that Matt owns. I cut the lawn there too. Actually, I really did not do all that much in chores for Matt and Susanna.
I got rid of Earthlink as my ISP sometime after we got home; so, that is when my .jps.net address went bye bye; and I purchased my own domain, https://bmwmotorcycletech.info; to which I transferred all of my website after awhile; and, we used my domain for our E-mail addresses. I straightened out all the computer problems by Summer.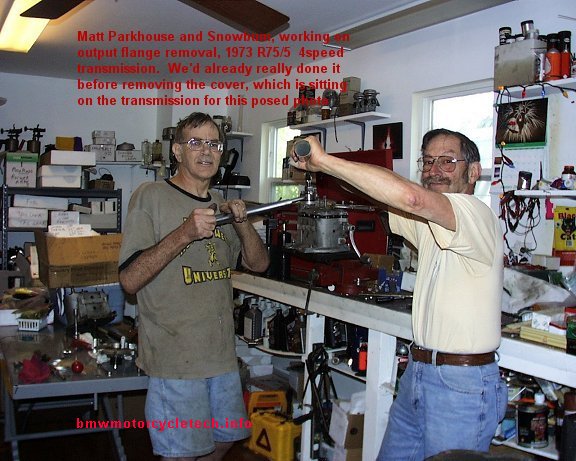 That's a long pipe I'm using, over a long wrench....it is vastly longer than you might think from the photo (3 or 4 feet?). Matt is holding the tool that holds the output flange from turning.
Matt & Susanna drove us around some, including to across the street from a private home in Colorado Springs that is known all over the city as 'The Sculpture House'...or just 'The sculptures'. The owner-artist made these, one monster-sized one was torn down due to a city code complaint! He had some problems with his back, from installing his work., and killed himself in 1995. I believe these sculptures, which all rotate from the natural wind, and have smaller included moving rotating parts, are made of painted steel. They are really unique, the photos hardly do them justice, and you can't really see the internal parts that rotate within the rotating sculptures. Here's a clickable link about Starr Kempf:
http://en.wikipedia.org/wiki/Starr_Kempf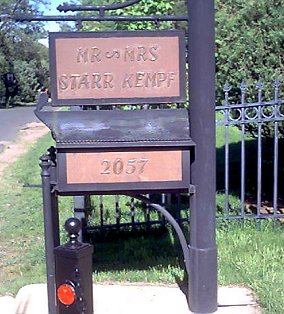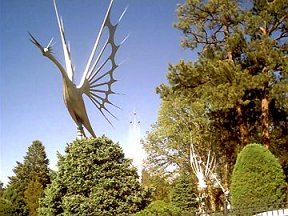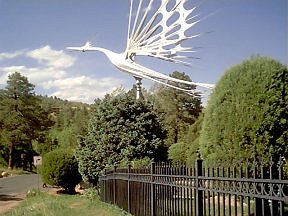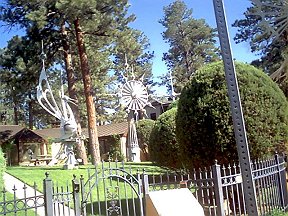 May 30th: Today marked our TENTH day on the road. We left the Parkhouse's just minutes before 8 a.m ....headed South & then East, for Garden City, Kansas. We stopped on the way for snacks, and to continually drink lots of water. I used my cooling vest nearly all the way, as the temperature climbed to the high eighties, and was undoubtedly hotter just above the road surface. We stopped at a Truck Plaza at the intersection of Hy 83/50/400, where the chicken breast sandwich was probably the best I ever have had ....Penny and I split it between us.
We stayed overnight, with Dale and Debra Bolton, Airhead owners. Unbeknown to us ahead of time, which we would have missed if we'd not stayed with Matt & Susanna an extra night, there was a potluck at the Bolton's ....with 26 people ....and DELICIOUS Mediterranean food. Folks brought all sorts of interesting food items ....AND .....Debra is also QUITE the cook; in fact I think she teaches cooking at a local school. We stuffed ourselves with gourmet Greek and other foods. Great folks to chit chat with too. Dale just picked up a '86 R80RT, and also has a '81 R100. We'd hoped to meet up with Ron and Sue Boyson, from Scott City ....~ 35 miles up the road from Garden City ....but they were, I think, out of town, tending Ron's sick mother in the hospital. However, as TWO of those deja vu things that seems to happen, after we left the Bolton's the next morning (May 31st), as we passed through Scott City, I got flagged down by the Boyson's ....they happened to be going up the same highway! ...so we chatted a couple of minutes, then continued onward. Then, somewhat later, we stopped for a few minutes due to road construction, and noticed a Honda GL1100 sidecar rig stopped a few hundred feet back of us. It was Brian Kemsley, from Truth or Consequences, New Mexico ....and he was going our way awhile, then changing to a more northeasterly route. He was also on his way to the same sidecar rallies as we are!
Our route was Hy 83 all the way from Garden City, Kansas, into Nebraska, where I had planned on driving nearly to the So. Dakota border, but we were tired after 282 miles in the relatively hot weather, so we stopped for the night in an apparently abandoned campground in the tiny city of Thedford. I'd driven right by it, looking for two commercial campgrounds, but Penny had spotted the nearly hidden old sign. It was definitely off the highway, and, unfortunately as we found out in a few hours, very close to some busy railroad tracks! .. .with train whistles every half hour all night ....but had running water, park benches, lots of grass, a covered shed with cement floor, and a lamp post, with an electrical socket, and the socket was alive with electricity ....which enabled me to recharge the cell phone, and the laptop computer's battery ....but, unfortunately, no Internet signal around. Peculiarity of the day: I think I drove by an Armadillo, lying dead at the other side of the road. Armadillo's,.... here??
At our Thedford City semi-abandoned campsite area, which was very quiet, except for the trains that came by much too often...and were very noisy ...(WHY do they sound their horns, etc., when no intersections are in front of them?) ....I took the opportunity to wash the rig relatively thoroughly using repeated small containers of water and an old rag ....it had accumulated a lot of dirt and bugs. I was able to get a cell-phone signal, so checked my home answering machine. Accumulated GPS mileage: 2101. Gasoline mileage has dropped off slightly to about 35.5, probably due to the alcohol in the fuel since roughly Blanding, Utah. Fuel is still close to $4 +- for regular grade. Oil usage by the engine has been very low. I checked all levels, while I still had daylight. Our campsite was visited by some rather decent well-fed-looking rabbits ....not jackrabbits either! One problem showed up ....an electrical one in the turn signal circuitry, which can wait until I feel like fixing it.
In North Platte (Nebraska) I had previously made a point of wanting to visit the "Bailey Yard". This is the world's largest railroad "classification" yard ....hundreds of acres in size. We made a special side trip to see it, intending to take photos for my friend, Clas, of Palm Springs, who is a railroad switching yard and system buff ....but the 'new' observation tower was in construction, and was not opening until June 12th. We did watch some of the operations of what we could see from the 'private, restricted, ETC...' roads into the Yard. Every manner of railroad car, locomotive, etc., was being moved about, some from gravity (yes, a small hill had been made for this), and/or from remote electronics automatic controls (yes, NO engineer....no 'driver'...), and who knows what else. HUNDREDS of things going on at the same time. A HUGE place with so many tracks one could not count them.
Before leaving North Platte we filled our tank with gasoline, and then stopped at Cody Park, which has the Challenger locomotive ...a monster ....This locomotive, which weighs over 1 million pounds, is really two complete 6 wheel driven systems, run by one monster boiler. It supposedly could haul a lot of cars and hit 80 mph. There is a bigger one, called a Big Boy, also used by the Union Pacific. The Challenger had 12 driving wheels, 4-6-6-4. The Big Boy had 16, 4-8-8-4. They both were articulated so they could follow a curved track without derailing or tearing up the track.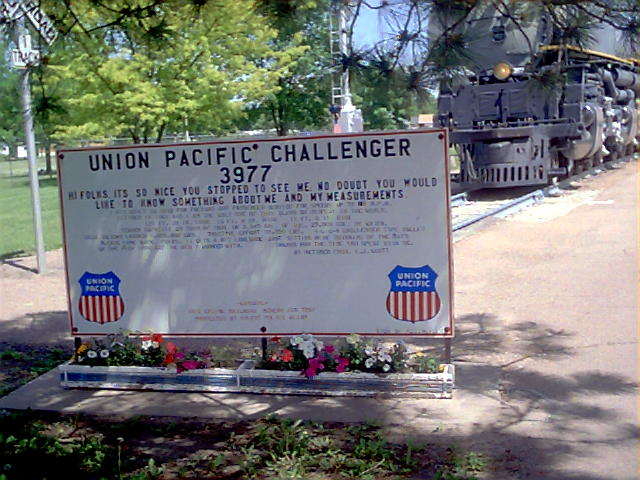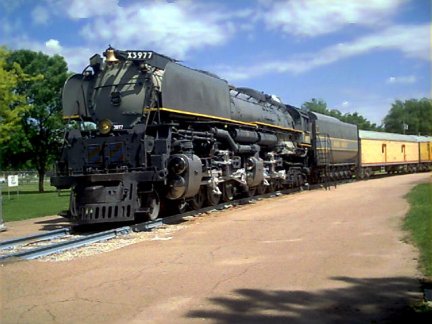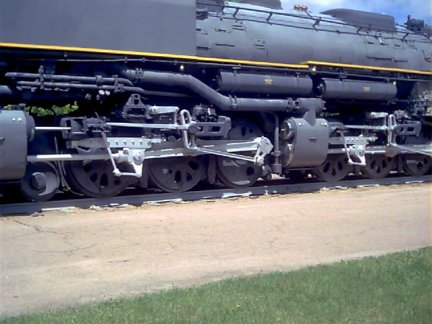 May 30th-June 1st: We had left Thedford's City Park around 8:30 a.m., after a noisy night of train whistles (the tracks were only a couple hundred yards away), and thunder, lightning and rain. We slept on the covered sleeping pads, in the open-sided shed, so we were dry. It was raining in the morning, so I donned my rain suit and put the top on the sidecar. After less than 50 miles, I was able to take off the rain suit ....Penny preferred to have the top left on the sidecar, as it was quieter inside. From here we really began getting into the light green covered sandhills ...although we had seen a lot of them after North Platte. We saw quite a few prairie dog 'villages' ...that appeared to be, from the road, just mounds of dirt. We saw wild turkeys, pheasants, quail, lots of cattle, etc. Later we saw quite a few pig hotels ....small A-frame one-pig cottages, big enough for one pig only ....many at a time, like a large village of tiny cottages ....scattered in various pig/hog farmers fields. Hundreds of miles of rather pretty light green grass covered sand hills were the main feature of these two days of traveling. These hills are not very tall at all ...are rolling, and have a certain 'go forever' and 'peaceful' look. Very pretty in their own way. Some cattle grazed on them, but no huge herds. Many windmills that pumped water from underground sources were seen, each one feeding a round metal water tank only a couple of feet tall, so the cattle could have water all the time. Arriving in South Dakota, we stopped at the Rosebud Indian Casino for a few minutes for fuel and pit stop, it is on the Reservation. Then we were off to Murdo to see the car museum which really includes motorcycles, trucks, horse carriages, and farm implements; and, actually, every which sort of antique thing. Nothing is restored, it is not that type of place. However, there is enough here so that one could spend a whole day. We did not. We did eat at the restaurant ....food OK, service awful. One of the few instances in my life where I did not leave any tip.

Below photo is a steam tractor that I found interesting.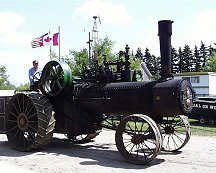 Below is a photo, poor quality, sorry!...of a Russian Neval rig, in that same Pioneer Museum.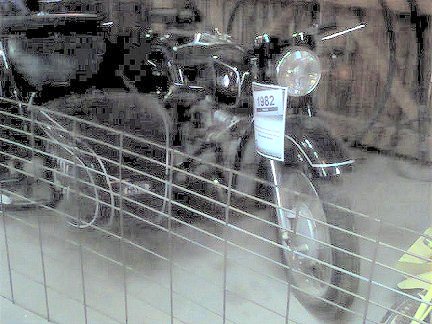 Continuing on Highway 83 at Murdo, we had to get on the Interstate, Hy 90, for a few miles before Hy 83 turned north again. We've been doing rather well, on the entire trip, at avoiding the big Interstate highways. We got to Fort Pierre, where we considered getting a free shower at the City Park, but decided to continue onwards, over the river, to and through Pierre, as too many bikers were already lined up at the free showers. Not too much further north, Penny got bored with Hy 83, so we changed to Hy 212, and quit for the day in the town of Faulkton. Population under 1000. This turned out to be very fortuitous ....the Super-8 motel was extremely clean and exceptionally nice, even for a chain motel. $54.00. After well-needed showers and relaxation time, we did laundry: Penny used the tub and then basin and I did mine whilst taking a shower. The host/clerk suggested the "Steak-out" restaurant and sports bar, that we'd passed about a mile previously. www.steakout.com, I think. Might have originally been some tie-in between that place and this motel ...the card-type room keys have the Steak-out logo and imprinted, "Present this key, good for one free drink with meal!". I would normally never go for that sort of thing ....this time, the clerk was quite right in recommending the Steak-Out. We donned shorts, even though it was 7 p.m. or so it was still plenty warmish and lots of light out.....and I drove the rig to the steakhouse. We received complimentary drinks, by presenting our motel keys. The margarita's were hand-made; and, using the owner's own base stock ...they were exceptional, with none of that canned/bottled lime taste ......and I had a second one. There was a salad bar to enjoy, and I had fresh Walleye for dinner. The Walleye was NOT ruined by being breaded; rather, it was grilled, no breading ...it was delicious; one of my favorite fish. Penny had lemon-pepper chicken that was also excellent with her glass of wine. We split a huge bowl of ice cream with both chocolate caramel syrups for dessert. Very enjoyable place. Total cost for all that was $24 or so plus a decent tip, as the service was quite good. They were not very busy ...their busy time is hunting season. Total accumulated mileage: 2402.
Weather reports tonight show a frontal system crossing our path for the next two days ....with high percentage chances of thunderstorms, even severe ones. I hope we miss all of it.
Jun 2nd: After a typical motel 'continental breakfast'...oatmeal, toast, peanut butter (Penny likes that on her toast), coffee ....we left Faulkton about 8:20 a.m. under gray skies, mixed cloud layers. The weather folks still predicted thunderstorms and hail by that afternoon. Penny was a tad freaked at the prospects, but I said we'd find shelter if we needed it. The weather actually was not bad, no rain, as we proceeded down Hy 212 a short ways to Hy 45, where we turned north for awhile, then we went east on Hy 12, stopping at two places in Aberdeen that I spotted from the highway. First was a Salvation Army thrift store where I purchased, for $1.99, an Eddie Bauer fleece jacket, in exceptional condition ....to use in place of the long-john shirt I inadvertently left with mixed wash/laundry at the Parkhouse's. Leaving Aberdeen I passed a meat company and did a U-turn and went back to purchase a package of jalapeno sausages .....they make everything right there. About 50 miles after Aberdeen it was getting chilly and windy so I stopped to put on the fleece and my electric heated vest ....all over my usual T-shirt. My riding jacket covered all that. I did not bother to put the jacket liner into the jacket. This was an area....many miles actually ....where we saw rather large numbers of colorful pheasants, and cormorants in large flying flocks, and same for pelicans! A bit later we stopped for food, where I overly-satisfied my sweet tooth by purchasing a box deal .....day old stuff .....5 doughnuts, some stuffed and glazed, plus two very large chocolate chip cookies ....for $1.99 .....sheeesh! Sugar rush!!! ....no, we did not eat it all right there!
After coffee and Penny enjoying a bowl of hot soup, we were back onto Hy 12, headed easterly. Weather was gloomy, but held up OK until we crossed the So. Dakota border ....into Minnesota, where I stopped to put on rain clothes. I now looked, with all the clothing and rain clothes, like the Michelin Man. Quite a few big 18 wheelers went by the other direction, sometimes splashing us, but I avoided most of it, by moving to the extreme right side of the road as I saw them approaching....and many in our lane were passing too, which was OK with me, I moved over and waved them to pass. I kept the speed down to high forties or low fifties for quite awhile, as it was raining pretty good. The sidecar still weeps from the roof main seam a tiny amount, as expected, .... but there is a leak on the left side, ....and I believe it is the air pressure between the bike and the sidecar that is blowing a small amount of rain into the left interior. I have not figured out a cure ....yet ....but have ideas ....to await our return home. A simple temporary fix is to stuff a towel into the area. Penny did not even notice the small leak for awhile. As a result, one blanket got a bit wet, but was OK after drying at tonight's campsite. We continued on Hy 12 to Benson, Minnesota, where we picked up Hy 9, and continued to the Hy 71 Junction, where we turned right, off our normal course, to stay overnight at Sibley State Park. We arrived at 2:40 pm and the GPS indicated total trip mileage of 2647. The State Park is located at Lake Andrew. This State Park has numerous massive stone buildings, and the whole place was built by the Veterans Conservation Corp, part of the Civilian Conservation Corps. These were mostly 35-45 year old unemployed WWI soldiers. Dinner tonight was jalapeno sausage, baked beans, a fresh orange .....and a small glass of mead wine .....and, a cigar ....and some of the day-old pastry thingies. Due to drizzles, we fixed dinner inside one of the stone buildings, used as a shelter in case of severe storms. Other buildings close to our campsite included the water tower building and the restroom/shower building.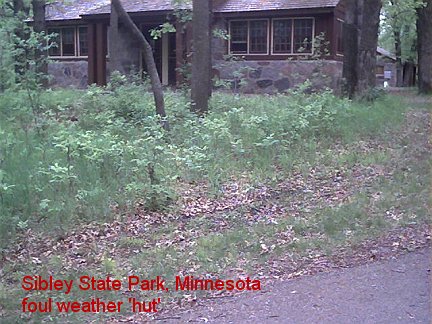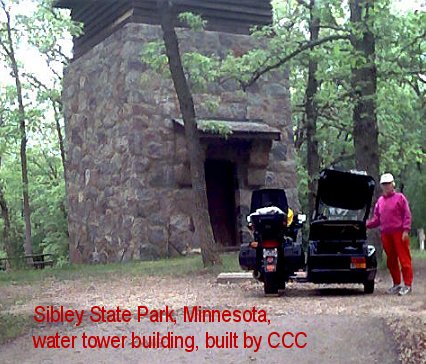 June 3rd: We had the entire upper campground area of to ourselves. Up early after sleeping very soundly. Cooked some breakfast. Onto Hy 9, then almost immediately we transitioned to Hy 23 ....which we stayed on to St. Cloud, where 23 continues onward, merges, and splits. We changed to Hy 95 ....all the way to St. Croix Falls, Wisconsin ...where we changed to Hy 8. We stopped for the day at about 1:30 pm, at a motel and campground (The Barron Motel & RV Campground) in the town of Barron, as Penny did not want to face any more tenting in the rain, which was threatening again, and it was somewhat chilly, so we got a room. I spent 2+ hours trying to get the WiFi to work for me, with no results, even with the sort-of help of the owner. The WiFi had only been installed within the last week or so. Even with the "proper" code, and a strong signal by taking the laptop to the office, I never got it to work at all. Earthlink did not have any free numbers for dialup here. I finally got onto the internet by connecting into the room telephone line, and paying Earthlink 10 cents a minute. The first sidecar rally (SKUNKS rally) we are going to is just down the road a bit, between here and Cameron Wisconsin.....it begins the 6th. Dinner here was sausage (we only ate one each, but cooked them all) and some fresh dark rye bread from a nearby bakery. My brain was buzzing over the strange turn signal electrical problems going on with the bike. Finally got to sleep late evening...with some ideas. Total trip GPS miles is now 2826.
June 4th: Up early. Back to the Internet at 10 cents a minute. It is now costing me $, annoyingly, for those who insist on sending me large files with graphics or photos, almost always they are something THEY found 'cute' ...and insisted on passing on. I don't have an easy way to see what/who is sending something until fully downloaded. The dial-up speed here is about 21K. I am going to, in the near future, BLOCK anyone sending me larger files ....it could be weeks before I get around to looking at them ....or just deleting them. Complain. Complain. Rant. Rant.
This morning, about 6:30 a.m., I was outside doing tests on the electrics of the bike. There were no bad wires I could find in the rats-nest of taillight wires ...where the sidecar gets its running light power. All the fuses on the tug had power on both sides of each and every fuse. That leaves the most likely problem to be the modified lamp monitoring relay, a BMW abomination even when not modified. To get to that, I need to remove the fuel tank and disconnect and plug a fuel line ....all of which I COULD do, but don't feel like it. I don't have a soldering iron with me either; to allow me to modify the relay; as I am fairly sure that a reed switch solder joint in it has failed. I could buy a soldering iron and solder cheap enough; I just don't feel like playing all that much with the bike. The other problem was the lack of a low-beam on the headlight. I removed the modulator plug, removed the rubber boot, removed the lamp ...and the lamp tested bad. I drove to the one and only auto parts store (CarQuest) at their 8 a.m. opening, and purchased a lamp. Their 'book' said the lamp was not a 9003 H4 for my model motorcycle, as I had thought...and it looked like a 9003......but book said it was a BP1260/H4. The old lamp had a weird number on it I did not recognize anyway. I looked at both types of the new lamps ...they both looked identical! Later in the trip I did some research and found that the lamps really are identical nowadays. Back to the motel. I installed the BP1260/H4, and now have a low beam again.
Replacing the headight lamp, of course, did not fix the more important tail lamps and turn signals. Now, with Penny with me, it was back to 'downtown' Barron....for some minor items like cheese, yogurt, fruit, soup. Then the 'Dollar Store' for a small towel, and the Thrift Store for a larger towel. Back to the motel, pack up, and leave for the Senior Center, which was having a pot-luck salads lunch ....$5 per person for those not bringing salads. Lunch was quite decent, and we did the usual thing, of answering questions: ...explaining our trip and method of transportation. From here we left to see the Rally site, closed until 6th as expected. Then we left to find the KOA, listed in the latest phone book, and a fellow at the luncheon had also mentioned that KOA's location. We were going to get a 'Kamping Kabin' ...if they had one ...and maybe they'd have Internet availability. We had the address. We had a map! We'd already left a message on the KOA answering machine a couple hours earlier to call me back. No need to go into it all, but the phone book was wrong, the KOA no longer existed either, someone renamed it; he did not call back for hours; ....and the streets names and streets system drove us nuts. Anyone for 29-3/4 Ave, versus 20-1/2 Street? ....and how about having a Rice Lake address ...but really being in another town some MILES away? How about overcast skies and no references on signs to north, south, east, west, except at widely spaced highway areas. I finally turned on the old Eagle Explorer GPS I'd mounted a long time ago on the bike ...to be sure which direction we were going; it was way too overcast, threatening rain, to tell direction ...and the roads and the locally provided map did not agree. Penny also noticed that we had just started going the wrong way ...from her fancier GPS, ...which she is beginning to appreciate (a LITTLE) ....(she's still not a gadget person). We gave up after actually finding 29-3/4 street at junction Hy 53. 40 mile wild-goose chase. We went back on Hy 53 through Rice Lake and through Cameron. Between Cameron and Chetek is the Veterans Memorial Campground, right on a lake. We arrived there at 2 p.m. N45°23'23.2"; W91°43'02.2". Trip total: 2879 miles.
This is a NICE QUIET PLACE. Got a spot that had electricity. Hardly anyone around at all. The campground Host and Caretakers are very pleasant, if perhaps overly chatty (Yes, THAT from ME!). They have tried to decorate the place nicely and to keep it clean. As usual, I cleaned up our campsite some, from the semi-pigs that had used it previously. I like to always leave a place cleaner and neater than when I arrived. This area is heavily treed, most sites have a lake view, and did I mention... QUIET!! So, we set up camp .....at the crest of a mild hill, overlooking the lake, which was hardly much of a walk at all. A rustic place, pit toilets, only one water spigot which was a bit of a walk .....but a number of electrical outlets! We camped right across from the Caretaker's place ....They were not around until after 6 p.m. ....so we met them later ...real talkers, they were too, as I said. We made an early dinner. Started with the last of our bottle of mead wine. Then it was on to Italian tomato soup with garlic and basil and Thai pepper flakes, and ginger snaps. Main course was fresh thin asparagus fried in butter, and at same time and in the same pan, left-over Jalapeno sausage. Also had fresh black rye bread. I enjoyed an after-dinner cigar and some Aussie licorice. Overnight it rained, but we stayed dry. No sign of the raccoons and bear that had been reported here.
June 5th: Woke up to the usual forest sounds, and light drizzle. The drizzle stopped a bit before 8 a.m., so it was up and time for coffee ....with some chocolate powder in it for a treat. I made oatmeal with cranberries and brown sugar. Then we walked the area more than we had yesterday. We decided to stay a second night ($15/night for electric sites, $10 without), but to move our site a couple hundred feet, to a spot overlooking the lake, closer to the water spigot, and with softer ground for the tent stakes (we stake the rain fly, to help be sure the tent does not blow away in the wind). The new site also was quite near the water pump shed, which was small and had a flat top for cooking, if it should rain again. I took photos of the old and new sites: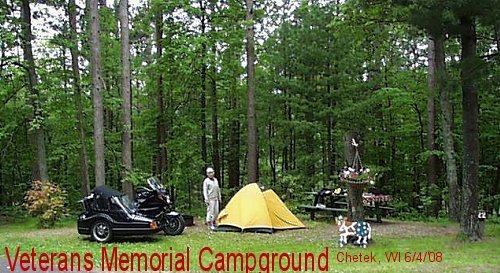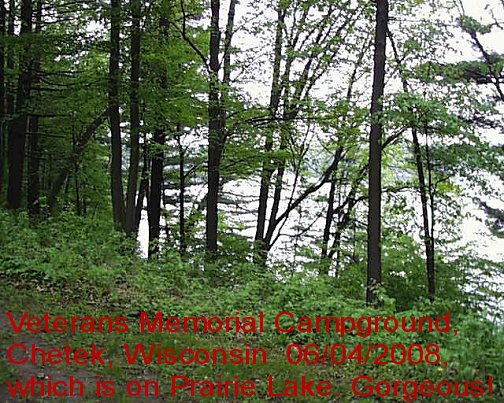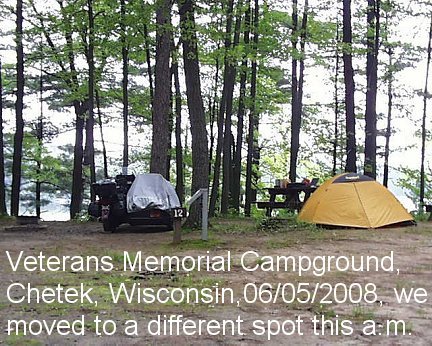 Yes, that is the lake in the background, washed out in the photo.
The sun came out somewhat hazily, and the breeze off the lake was fairly constant. Things dried quickly. We had good cell-phone coverage here. The campground host lady had about 50 grammar school children show up for a short talk, then they left. Penny went for a walk, over the nearby footbridge, to a small island here at the lake...there were wild lilacs in fragrant bloom, saw a piliated woodpecker this morning.....they are quite large, about the size of a crow. The oatmeal breakfast was not lasting for energy, so by 11 it was time for lunch. For lunch we opened a bag of fresh carrots and I made a cooked mixture of scrambled eggs with bits of red bell pepper and other veggies, mixed with the last of our already cooked sausage, and the last of our first loaf of rye bread. Penny had tea and I had coffee and I enjoyed a Felipe Dominicana torpedo cigar, as we each had a piece of chocolate covered caramel. After lunch it was time to hike around the island, looking at the plants, trees, geese, etc. We saw an Oriel, very brightly colored it was, too. The lake gives up quite a lot of various types of panfish, bass, crappie, walleye, etc. Very good fishing. The lake is only about 16 feet deep, and is also fished in the winter. One of a series of interconnected lakes and sloughs, it is a very pretty spot. I went for a longish walk myself. Later, Penny and I did another walk, this time around the 'island'.
Unfortunately, later it began to drizzle, and that turned into some serious thunder and lightning. It was very windy, for hours and hours. It was a spectacular show ....one lightning strike was VERY close; from counting the seconds between seeing the lightning strike and thunder sound and using the standard speed of sound calculation. Penny still remarks upon that night. The tent held up pretty good with the rain fly and the stakes for the fly; so the very strong winds did not blow us into the lake; but there was some leakage, but not really bad, but the undersides of the pads got damp, and a few places around the edges. Overall, it was not a pleasant night for getting much sleep. Trying various local radio stations wasn't helpful on planning the near future for weather either. The male campground host said that in the event of a tornado warning, they had would notify us, so we could evacuate to to a tiny cement building!! ....which housed two smelly filthy pit toilets! He said that if God ever wanted to take him, it was not going to be whilst he was cowering in that building! I'm not known to cower, myself. On the other hand, I don't stand next to large metal structures in lightning storms.
June 6th: It stopped raining, and we were up early. We packed-up, stuffed dirty and wet things like the tent, etc., into bags without paying too much attention to the neatness of how we packed. At 6:30 a.m. I drove us to Cameron, Wisconsin, hardly a handful of miles away. We found a small cafe to have breakfast. A motel across from the cafe had what appeared to be lots of empty parking spots ....had WiFi ...but it was encoded, so I could not use it until given the code. Their office did not open until 8. I sat on a bench in the portico, typing some of the computer code cracking stuff whilst awaiting the clerk. GPS shows a total of 2879 miles on the trip so far. There was a rig parked at one spot, and a K bike next to it .....the rig we recognized from meeting up with him in Kansas ......yep, it was Brian. By 8:15 a.m. we'd secured the end room for two days. I requested the end room (near the grass to help in washing and drying tents, etc.). The next hour+ was spent in cleaning up the gear and drying it....the sun was out...but soon disappearing! By that time it was nearing 9 a.m., and we both needed to take showers. A Laundromat was right across the street so Penny kindly did all our laundry ...a large amount, considering all the dirty things from dealing with the weather. Next door was a place Penny got a haircut. The sky closed in on us again, and began looking quite threatening. I put the now cleaned (and dry) cover over the motorcycle. I spent a lot of time dealing with nearly 200 e-mails, whilst Penny did the two loads of laundry, had that haircut, and took a short well-deserved nap. The weather looked awful, but the sky never dumped on us. I drove the rig to see the museum Rally site and chit chat with folks there, as Penny napped.
The sky looked nasty most of the day..... but, it got better and better. Al Olme and wife, Mary Ann, showed up at this motel. He is the person responsible for the upcoming Duluth National Sidecar Rally we are headed for in a bit over a week ....and, it is Al that I purchased my present sidecar rig from. For dinner we walked to a nearby cafe that stays open to 7pm only on Friday nights for fish dinners. Later we met up with Al and Barbara and went with them to where they had dinner, and we had wine and an overly indulgent chocolate covered cheesecake, and had quite a chit chat about setting up Rallies, since Penny and I are doing a lot of the work for the National Rally to be at Lake Tahoe for 2009; as we are the organizers. Back to the motel room by 8:30 to do E-mail and head for bed....after ..finally for this trip...turning on a TV to see the news, etc.
June 7th: Went for a longish walk with Penny this morning around Cameron. Also went to the Park where they were setting up for Camerona Days, a yearly event ....with games, flea market, blah blah. On the way, whilst walking the streets, I found two one-dollar bills and a five dollar bill in the gutter of the street. I found an electrical gadget at the flea market that I wanted ...at too cheap a price to pass up (I've still never used it, and I'm editing, here, in January, 2017). Then we went to Barron to a recommended place for breakfast and from there we went to the Rally site and toured the Museum buildings ...quite a place! ...visited with old and new friends; analyzed a problem with an 88 Airhead; and came back to the motel for showers, etc. Found a computer store, but they did not have the pigtail I needed. The company I bought it from has been unresponsive to my e-mail.
Late afternoon we returned to the Museum/RallySite; flying the Airhead banner; and, my SKUNK (SideKars Up Nort Klub) flag...... for more conversation, and for dinner ....smoked chicken and pulled-pork, rolls, pasta salad, beans, scalloped potatoes ...and something similar to Apple Betty for desert. Then it was time for 'awards' ...the silly and lots of fun type for the most part. Back to the motel. We spent a bit of time packing up, so we would not have to do it all tomorrow morning. I moved two of the motel room rocking chairs outside and it was a fitting place to have margaritas, read bike magazines, etc. The weather was partly to mostly overcast and threatening today, but cleared a lot by this afternoon, and never rained at all. It was warmish-muggyish. I used the air conditioner in the room tonight for awhile to remove the humidity.
There is no way to do the Museum justice without dozens and dozens of photos ....so I selected just the two below. Unfortunately I added the topmost, unfixable, annotation, before watching what I was doing....and it is blanked-out a lot by the upper windows in the building.
Note the rear tracks!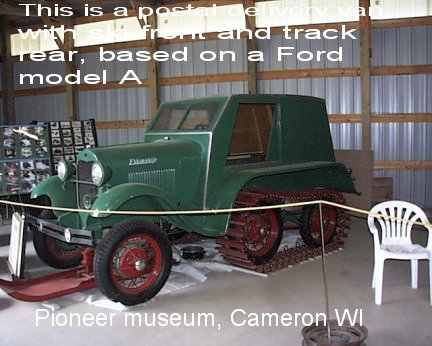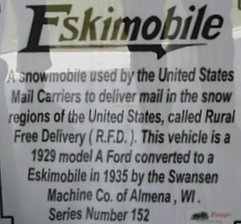 Morning of June 08: Up around sixish. Drizzling. It soon stopped. Shower, e-mail, update this blog, etc. Made tentative plans for the day. First stop was at the Cameron Post Office to mail a card and a credit card payment. Next was to continue up County road SS, to the town of Rice Lake ....to a Super K-mart, for tent and top sealing items. Next we went a bit further in Rice Lake to see a steam engine I was interested in: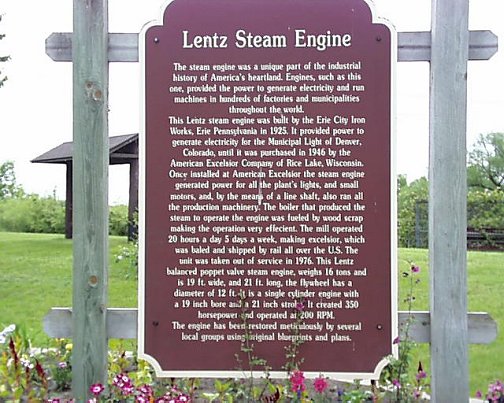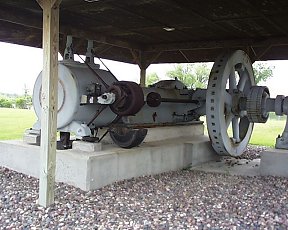 Leaving the steam engine, we went to the end of Rice Lake and took road 48 eastward, past Exeland, where we turned north on road 40 to Radisson, then road 70 to just past Draper. Note for those following our trip on maps ....we are generally headed North and East.
I took the following photo as it seemed to typify what Wisconsin countryside "is supposed to look like", and does in many instances here. Notice the cows, the silos, and particularly the rounded sides look to the top of the big barn.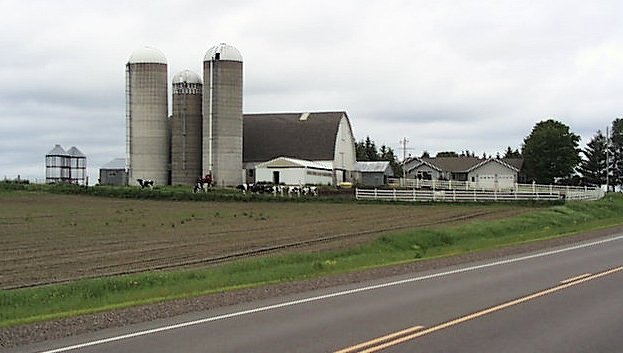 Just past Draper, we took a recommended northerly-going side road, county EE, a bit rough in surface in the beginning, which simply changes name to county road E at one point, which was quite a bit smoother. Perhaps we crossed into another County, being the reason for EE and E? These county roads were narrower, scenic, and pleasant, although I made sure I was scanning for deer all the time, which was a bit tiring (to put so much back and forth attention to the roadsides ....constantly).
Road E ends at the town of Park Falls, where we parked alongside a Dollar Store, using the shade of the building, and snacked from items we had with us; plus, I forced myself to buy some cookies :-). So far, today, we had avoided any weather other than one drizzle for a short distance that did not hardly even dampen the windshield much, and none on me, so I did not bother to put on rain clothes. Very cloudy, very dark and threatening sky, but we stayed ahead of thunderstorms. From my Western States experience, storms move at about 30 mph.
At Park Falls we turned north onto Hy 13, to go through Butternut and nearly to Glidden. We stopped to spend the night at "Camp Rodeo", really a private residence in the countryside, that is the home of David and Mary Ruth Rodel. I'd looked at their '88 R100RT at the Cameron Skunks Rally, and did some more analysis, etc., here at their home. I played 'teacher' to David for awhile (teaching was HIS profession!), instructing him on some finer points of tuning airhead carburetors, etc. They have a great place here, and David has very large areas, to me anyway, of workshop space(s). Out the living room window is the forest and a meadow, and a creek and beaver dams...yep, right outside the house. Conversation flowed pretty good after we got out our large bottle of margaritas. Later, we had a wonderful dinner. Dinner was finished off by one of Mary Ruth's famous homemade pies, tonight's delectable taste was lemon-blueberry. I spent some time trying to figure out how to use their satellite internet connection, but couldn't do it easily; so, reverted to using the phone line. Penny spent some time waterproofing the tent fly and the center seam of the sidecar top in the 'basement'. It drizzled a bit off and on, but nothing much.
Speaking of Internet availability ....and from canvassing three motels in this State ....the motels often, but not always, have WiFi capability (but access codes in many are changed daily, and for each individual guest). They are, for some reason, terribly concerned that some passerby might 'steal' Internet use ....which does NOT cost them per bandwidth use (I asked).
June 9th: We left the Rodel's place at 10:45 a.m., going northerly on Hy 13. Not far up the road was the small town of Mellen, where we turned off Hy 13 for a side trip to Copper Falls State Park, where we had lunch, and where we hiked the 1.7 mile trail to see the river and the two major waterfalls, geological formations, etc. I had a soda and Penny a cold tea before we left. Backtracked to Hy 13, which we took to Ashland. Here we negotiated the rather confusing detours, and then found Hy 13 again. Now we were headed around the northwest shoreline of Chequamegon Bay, headed for the artsy-craftsy-funky-touristy town of Bayfield. Here we drove the sidecar rig to #1 position to await our turn in getting on the ferry (named Madeline) to Madeline Island. On the island we headed for Big Bay State Park....where we eventually made camp...us...the tent...the rig...and the hordes of mosquitoes...for which we had to liberally treat our skin with DEET. Our campsite was less than a minute walk from the shower building, which was nice, with reasonably warm showers ......the hot/cold was not adjustable, however. One got between 9 and 10-1/2 counted seconds between pushes of the button that allowed such spraying of welcomed warmish water. Dutifully reverse engineering the button mechanism, I figured out that by holding it in all the time, the water never stopped. That worked so long as I had no other need for either my left or right hand ....which was seldom. The entrance fee to the campground was already paid for by our Copper Falls State Park paid entrance fee. The CAMPING fee is separate, and was $17 for us for a non-electrified site.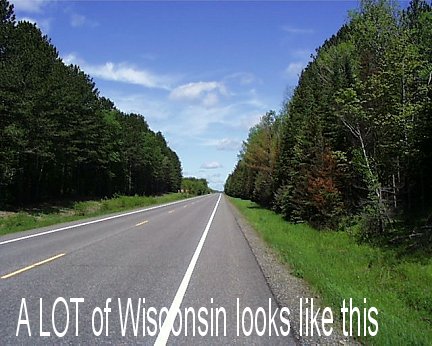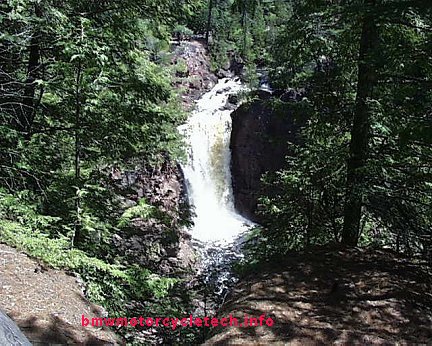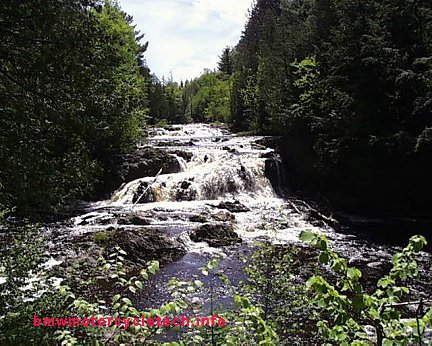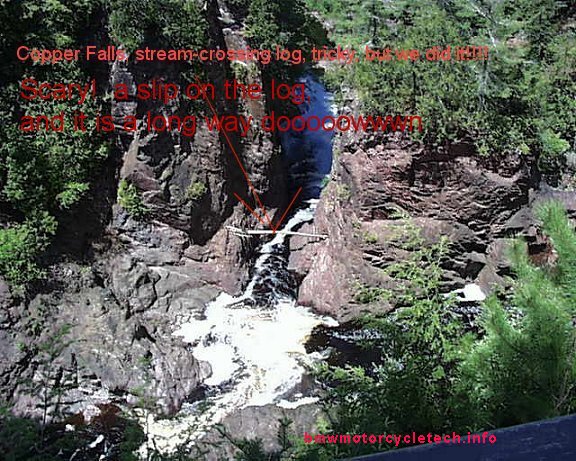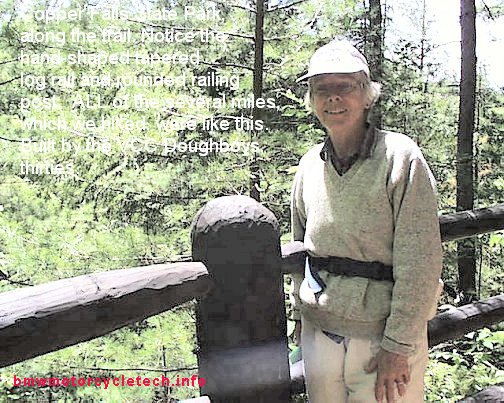 June 10th: Woke up to misting fog, really a fine drizzle ....and dripping trees. We both remembered faint waves sounds last night. Dutifully investigating this morning, it was obviously coming from small waves with occasional white cap, from the Lake, 1/4 mile away ......that sound really carried a distance. After breakfast of oatmeal, dried fruit, and coffee, we went on a longish BOARDwalk nature trail hike in the woods/bog next to the shoreline, and it really WAS mostly on boards, spaced a few inches over the bogs which had the usual purposes of providing decaying matter for green things...and mosquitoes. We could see little of the lake, due to the fog.
We packed up around 10:30 a.m. In light rain, with me wearing a full rain suit and heated vest over a T-shirt, that covered by the genuine Eddie Bauer fleece jacket ($1.99 at Thrift Store a week ago), and that covered by my riding jacket......we left for the 7 mile drive to LaPointe. The rain stopped by the time we arrived, but was threatening. We walked around a bit. We'd been told to see "Tom's Burned-out Place"...or maybe it was called Tom's Burned-Out Cafe. Whatever, he was still operating, but even though it was about 11 a.m., he not open or around well after his 10:00 official opening time, so we could not get inside to see ALL the 'stuff'. This was the type of weird place one sees only in small towns with lots of Eccentric Folk around. It was a combination of junk, folk art, walls of signs of mostly philosophical slogans, etc. We found no place to really eat anything substantial, just a grocery with snacks and a coffee-house with only coffee things, so we were off to the ferry, where Penny took a photo of me about to, and beginning to, get on the ferry .....and on board the ferry. Note that I am still wearing the full rain suit and regalia.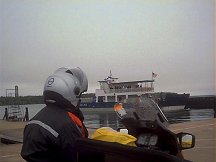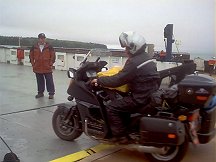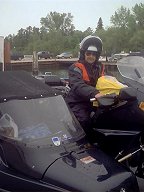 The GPS altitude at the ferry showed 625 feet above sea level, so that confirms the idea, which all of you should know from grammar school, about the elevation of Lake Superior, and the use of the St. Lawrence Seaway. It was a :20 ride to Bayfield on the ferry. The GPS showed the ferry doing about 9 miles per hour.
In Bayfield, we'd originally planned to have lunch at Winnies Hungry Mariner, as had been recommended by someone. Two guys on the ferry that Penny spoke to, said it had been sold, and recommended we eat at "Maggies, The Pink Palace"...that turned out to be a VERY good choice. This place, inside and outside, is decorated in pink flamingo's, Christmas lights, colorful chairs and tablecloths. The building itself is flamingo pink. Some of my gay friends would love the kitsch; others would hate it!!. The menu was highly varied, with homemade soups & pies, breads are baked fresh daily by a nearby bakery, etc. Highly varied hardly describes the menu. As expected, there were selection of cheeses plates with chutney and fresh bread. But, how about Greek dishes, Thai dishes, Mexican dishes ....and all were special!?! No whitefish livers available today though. This strange little restaurant had quite a decent wine and beer list too.
Really different burgers, a big menu too. Fresh fish daily if their monger, Morris, wakes up on time! Burgers here, not cheap ....about $8+, ... were large and delicious ....we both had "Angus Burgers", no mayonnaise is used, no catsup, no 'secret sauce' ...and none-needed. The burgers we ordered had two slices of brie cheese on each 1/3 pound lean patty, REAL carmelized onions for a great flavor. Even though very suitably satiated, with Penny saving half her burger for later, we simply had to have a slice of Rhubarb-Cranberry pie, which we shared. It came with a large dollop of real whipped cream ...not that pressurized-canned stuff. It was thick, and when initially placed by the waitress on the table, we thought she'd mixed up our order, as when we had ordered we had declined the vanilla ice cream, that is, pie-a-la-mode. There was enough of that whipped cream to harden all the arteries in our bodies .....and, some left over for my second cup of coffee. The pies are made fresh from locally grown berries and are really home-made. The pie crust was NOT as tasty or well-made as Mary Ruth Rodel's.
We left Bayfield on Hy 13 for Duluth ....the route was, of course, around the south shore of the lake. One thing not mentioned, that Penny specifically noticed, was that the vegetation on the roads is generally cut back to some distance, which she believes is so motorists have a better chance avoiding deer with a suicide death wish ....and that area is used in the Wintertime for snowmobiles. We saw a LOT of dead deer on this trip ...and we have NO intention of driving at night. Hy 13 joined Highways 2 and 53 outside and we had fun and games with 2/53 inside the town of Superior. We negotiated the Hy changes and detours, and whatever in Superior, and proceeded to West Duluth, going over the Richard Bong Bridge; which I could not stop at to take photos of the nicely engineered column supports. Earlier we'd contacted the Munger Inn and then Al Olme and then the Inn again ....about the possibility of using one of the specially reserved rooms that we'd discussed weeks ago ....and with that granted, and details over who was where and what with the room taken care of ....we soon arrived at the place and settled into Room 202. WiFi did not work in our room ...so in uploading and doing E-mail, I had to move my laptop computer to the office area. This is an older Inn, nicely kept up, our room was pine-paneled, and the whole place was pretty much as Al had described it to me maybe three months previously when we discussed staying here. We both liked the place right away. Quaint is the word here. Dinner was brief and simple, as we were both tired. Penny took a shower, cut her own hair a bit, and we ate the half left-over Angus Burger, splitting that in half. Helping to slide it down was a couple of paper cups-full of Monger Inn OJ with splash of Vodka.
I worked on these photos and blog for some time, then was off to the office to do uploading and some E-mails.
June 11th: Overcast, drizzly, occasional fog. Not an overly pleasant day. Breakfast of cold cereal and milk and fresh coffee at the 'office-dining-room'. Still hungry, I used the waffle mixture and Belgian waffler that is here for our use. We walked four blocks to do a laundry at the campground that is owned by this same Munger Inn. Of the three washing machines, the one we happened to select produced a COLD wash and HOT rinse....Penny noticed this. I looked. This particular machine had its hoses reversed. The drier, only one of the two there that still functioned, was not accepting dimes for service, but, instead absorbed and hid dimes fed to it; ....seemingly unconcerned that my gut said I should destroy the machine; but quarters worked, one per :15 of drying. Three did it....including drying my tennis shoes.
An hour+ later we walked back to the motel room, with it threatening to rain again ....and by 1 pm that was the case. Wind picked up a lot for awhile, blowing the cover off the bike. Fixed that, temporarily. A chore we had to repeat. I ended up installing lots of metal grommets for the top later on, and using parachute cord. A group of late teenagers arrived, wet, soaked, cold, wearing plastic rain ponchos, duct-taped around them ....they'd been on a 65 mile annual three family bicycle ride ....the Munger trail and other trails ....are hardly a stone's throw from here.
I spent the rest of morning and early afternoon in the 'office-dining-area' with my laptop computer, doing all sorts of computer things ....with Penny microwaving some of the foodstuffs we'd brought on the trip for lunch. The heating in the room we have is not functioning. Got that fixed later. The screen door is pulling its hinges out of the jamb ....which we've told the clerk about (as well as the guy running the campground, regarding the washer hoses ...and Mr. Munger). I doubt these things will be fixed anytime soon, if ever...although the screen door will be pulling the door jamb off soon enough. This place is on time-warp-negative. Not much gets done, and considerable laziness is the way it is with the 'help'. Mr. Munger (the original Senator Munger's son) seems a tad oblivious. Ah, well, it is like being on Mexican-time. Later today, Louise and Bruce arrived on a nice Comete-GTS rig. Bruce is the one who did all the work on the SCT website with straightening out the files. Soon, Al and Maryann Olme arrived. Amidst a mild drizzle we went with them (in a car) to 'downtown' for errands. They kindly stopped at a K-mart, where Penny purchased a sleeping bag and fleece bag thing, that could be used as a liner ....she's been unhappy at being cold ....and I don't provide enough heat she says ...in the tent, that is. Our makeshift tent bed and covers has not worked as well as expected. We'll make big changes after we get home. I never did repair the 110/12 volt supply for the heated blanket; which works fine from the 12 volts in the sidecar. Haven't even tried to repair the failed taillights and running lights and on/off functional turn signals ...beyond those tests mentioned a week or more ago ....gads, we've been gone 3 weeks +.
About 9 pm our ordered pizza arrived, and it was gobble time. The pizza was Penny's good idea, she even made sure, as a surprise to me, that it had pineapple and Canadian bacon on it, one of my favorite combinations. Just as the pizza arrived it began to thunder, lightning, & rain heavily. There was lots of wind to ensure that the bike cover top got removed automatically by Mother Nature now and then, and I would have to dash outside to put it back on. I noticed, in the blackness punctuated by lightning flashes, on one of my replace-the-bike-cover adventures, that a yellow & black Oilhead GS was now parked next to my rig ....turned out to be Steve Woodward, next room to the left, and he heard my door open; and ....we exchanged 6 seconds of talk, and then leaped back inside our rooms to avoid the hurricane wind and rain ....it was REALLY coming down. We actually even turned on the TV tonight. That was one of the few and very short periods of time we saw ANY TV on the trip. Since I failed to put the separate tank bag weatherproof cover on early today, let alone last night, I can either hope that my cameras and so on remain dry under the cover that usually stays on over that portion of the bike ...or, go outside, get wet (rain clothes are in the bike trunk.....), and ensure that the cameras are not drenched. So far I have avoided making any decision at all on this matter ....other than to leave my boots on. Eventually, I compromised, and dashed outside to put bungees over the K1100's seat area, to keep the cover on the bike. When I awoke, they had flown off.
On the plus side, the weather is predicted to begin improving tomorrow, and may even be sunny by the time we LEAVE Duluth (isn't a Rally planned, and that is why we are here....). One can only hope that all the hard work by Al and Maryann Olme, Rally Hosts, will work out OK, with weather clearing, by Rally start time.
June 12th: We had slept soundly and awoke to no rain (never fear, it drizzled within an hour or so ...but that quit and SOME sun came out for awhile!), and noticed the bike was soaked ....the cover flew off the rear area overnight; the bungees did not hold. I had a shower before Penny did, went outside, put the cover back on ....noticing the flooded and probably soaked seat, etc. Maybe my treatment of the seat pores with waxy stuff before we had left Tahoe helped avoid a fully soaked seat inside it? YES!! ....the top of the seat was flooded, but NOT soaked AT ALL INTO the seat!
After a few minor chores it was time for me to eat the two left-over pizza slices, heated in the microwave in the office-dining area, instead of the one in our room, whilst I chatted with Steve, Louise, Bruce, etc., and typed away on my old laptop computer. AH, Multi-tasking! Penny unpacked the tent, and coated the tent bottom in the 'patio' area with the waterproofing spray, let it dry some, then put it in a warmer area, the bathroom, to fully dry. I had my own things to do.
About half a dozen women, all of whom were at least fifty, came in on one trike and several large touring solo bikes, ....from Chicago I think ....all going to the Rally. Penny is getting quite an education on just who rides!
Later in the morning we drove the rig to the Rally site, looked around, ate some lunch, checked the camping area carefully, chatted with old and new friends, and so on. We left by a different route than we'd arrived at the Rally site; and, I managed to NOT get lost, and to go directly to the downtown supermarket using my own intelligence (or, whatever was left that was not waterlogged) via Spirit Mountain and backroads...and managed to get us back to the Inn directly too ....without having anyone tell me how to do it. Penny was surprised at that. :-)
It became overcast again, but NOT raining. The weather probably was going to be as predicted, slowly, over-all, improving. Penny decided she wanted to stay one more night here. We planned to leave early the next morning and then set up camp at the Rally. There are some night riding and shopping things going to be going on, we have no need; and, no rear lights now except brakes, so won't go. Wouldn't have gone even if the lights were fixed. However, we probably will do the two museums and other tours/visits, and I am scheduled to teach a Seminar on electrical's, at 4 p.m.
There were a LOT of sidecar rigs at the Rally site, as might be expected. There were at least half a dozen within my view from the Inn's dining area ...and more scattered around the building. It is always interesting to see how others have set up various things and what type of goody (to goofy!) devices and things are on their rigs. Penny, as well as myself and most others, seem more cheerful now that the lightning, thunder, and heavy rainfall has quit. Late this afternoon, the fog rolled in ...bit by bit, and as I typed this at 7:30 p.m., the visibility was about 1/10th mile. It is the heavier feelable mist type of fog ...and I would not be surprised to have rain tonight. Sandberg said that the fog rolls in on little cats paws? We'll eat left-over's tonight, using the microwave oven, etc. We are 1/2 packed in preparation for an early departure from the Inn tomorrow morning.
Yes, the sign does say that there are remote control locomotives used here: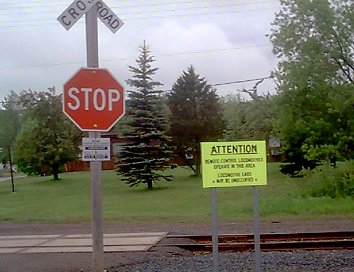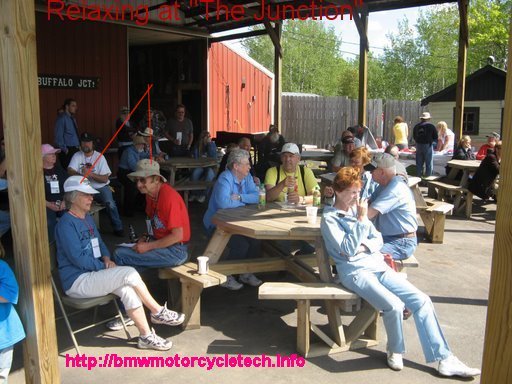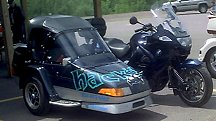 Chris and Gary came on the above rig (Hack'd Magazine, etc.).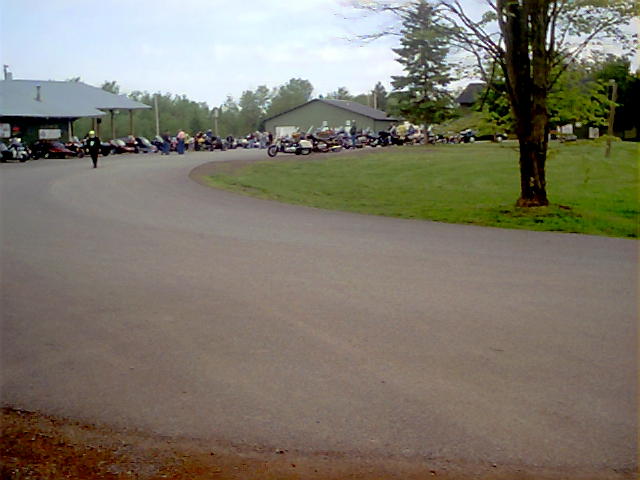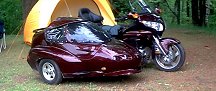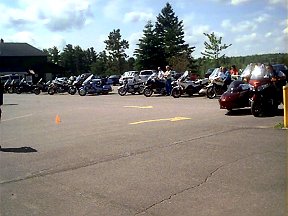 June 15th: The raining stopped and we made our way from the Rally site to Hy 2.
It is my intention...and past planning.... to use Hy 2 most of the way across the USA.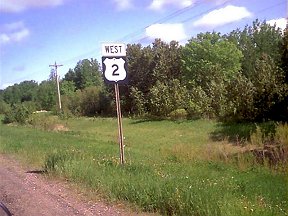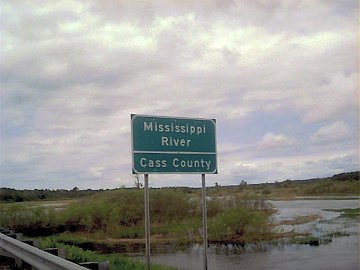 Crossing into the next County ....~~ here....Penny spotted an Eagle & I swerved to miss a duck & ducklings trying to get across the road.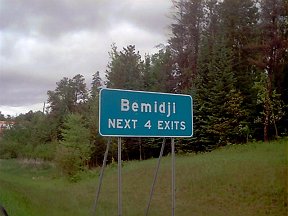 The laptop computer has been acting up. Some keyboard keys are intermittent. I know it is the keyboard switches or connection to the Mother Board, and if I had one, I could plug in a standard keyboard into a jack on the laptop. I decided to NOT visit Bemidji, a considerable side trip, it is not really on Hy 2 (idea was to find a computer store, etc.). At Crookston, no such computer store either. We continued on to East Grand Forks, and Grand Forks itself .....no, don't ask about the crazy road system here. We got a motel, and then walked a half mile to have dinner at Red Lobster. Had a really nice dinner, glasses of wine, etc. Returning to the motel, the desk clerk gave me some information on the one and only independent computer store; and, where the Radio Shack was. I really wanted to see an independent computer store, as substituting just any old keyboard is NOT going to work, as a somewhat unusual plug is needed on its cord. The laptop was manufactured by Dell in 1999 ...I think.
June 16th:
Radio Shack is walking distance, does not open until late morning. Independent computer store's phone has been busy for 2 hours. We pack and leave for that computer store. It is now an election center. Time to leave, instead of hanging around for Radio Shack. Later I found out they did not have ANY keyboards of ANY kind in stock.
Leaving Grand Forks we found Hy 2, in places, was not in good condition ...but later on it got very much better, almost hands off at higher sixties speed.
Heading west, we stop at a Rest Stop in Larimore, to have a snack and discuss options. On the way we notice duck nests at the ponds along the highway sides. NO computer stores so far. We continue onwards. Devils Lake is a moderate sized town ....and it has a Visitors Center ...Chamber of Commerce type. WOW is all I can say, about MidWest hospitality and congeniality..... We've had superb advice and real service at various Visitors Centers on this trip, but this one topped them all. They insisted I use THEIR phone. They made recommendations on computer stores, Radio Shack too, but those calls were not fruitful. We are about to leave to go get gasoline ...and the two gals running the Center bring out armloads of old computer keyboards; the office had upgraded, and they had a closet full of old stuff ....ONE of which will plug into the connector on this laptop! They refused and refused to take any money. When I got home I sent a glowing letter to their boss, after I researched who that might be.
So, I had have a working laptop computer again ...but I must guide the cursor with the laptop fingerpad ....& type on the 'gift' keyboard. It is annoying, but it works! SOME functions I have to do on the laptop keyboard still ...but, as I said...IT WORKS! Would be helpful if I remembered some of the special key stroke commands, but, what the heck!
We make a few phone calls ....I want to see the Dale & Martha Hawk Museum ....MONTHS AGO I put it on my TO DO list for this trip. We decide to detour there, and camp there. Turned out to be a great thing to do. At Churchs Ferry on Hy 2, we turn north on Hy 281 to Cando (pronounced can-dew), and then west on Hy 17 to tiny road #30, north on it aways, but not as far as Hy 66, and some side roads to the Museum. If has a Wolford address, but is not in Wolford itself. (701) 583-2381 www.hawkmuseum.org
THIS PLACE MAY WELL BE A GOOD VENUE FOR A MOTORCYCLE OR SIDECAR RALLY. IT HAS A LARGE ENCLOSED BUILDING CAPABLE OF HOLDING A COUPLE HUNDRED. COMPLETE KITCHEN AND OUTDOORS TABLES AREA, AND MANY OTHER GOOD POINTS. DOGS SEEM OK HERE. Staff seems capable, and has had large groups here, They have an annual Antique Show, which is fairly well attended, the second weekend of June, every year. Live music, parades of antique cars and tractors (steam ones too, and not just one or two!!), grain threshing by steam engines, kids welcome, activities for them, food vendors, ETC. That might be a perfect time to combine with a sidecar rally. The entire place is run by volunteers. This is a museum, a fairly large one of MANY buildings of things ....of ag machinery, cars, steam and kerosene vehicles, a LOT of antique engines, 1900's farmhouse and schools and lawyers office, and many many other things from the early 1900's. What is unique here is one of a kind things here that are almost must-sees if someone is in this area. This place is not very close to the main highway, it is a wonder that it exists, especially the quality and condition of things here. All repairs and restorations are done on site, by volunteers, who spend winters here, it seems. There is a collection of MANY hundreds of blowtorches ....and hundreds of strange clocks...why? The original owners were quite some collectors and restorers! We arrived the day after a BIG special event weekend here...and they were in the process of starting and running some things, unfortunately not the dozen or so steam engines;....and putting many things away. We spent hours looking through the buildings, me taking photos inside and outside....and of the outside photos, these vehicles are being driven!! Luckily for us, they have a RV area with electricity.....and a huge amount of tent camping space.....even showers, etc.....but no Internet connection is available. The GPS shows our actual mileage to date to be 3657, the elevation here is 1631 feet. By the way, many people seem to be annoyed with traveling some States.....and the endless miles in this area.....We found it green, and calming and very nice...miles or not. We put on a bit under 200 miles today, I think. Less than I wanted to, but considering that we have the TIME and likely the great weather will continue ....I am very glad I decided to come here. Penny has volunteered to make left-overs for dinner...bread, cheese, whatever...so I can continue typing on two keyboards at the same time, on this picnic table ....and get photos ready.
Following are maybe 18 or so photos from the museum: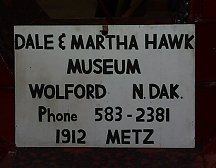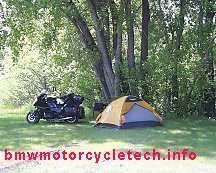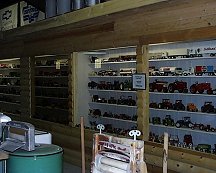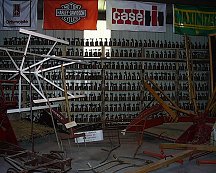 The second row of photos, above, shows 4 panels of 'models'; and the right most is 9 panels of old blowtorches!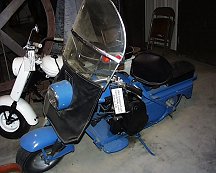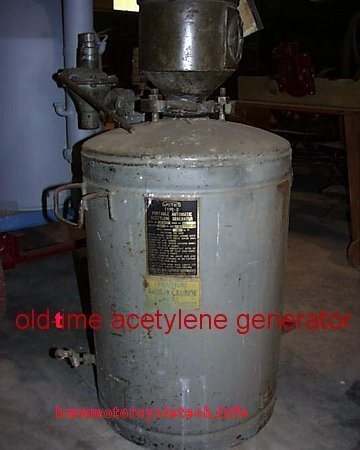 above: old cushman above: old-time acetylene generator for welding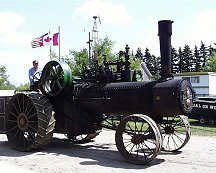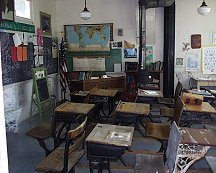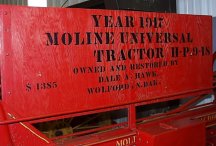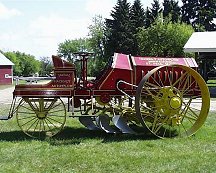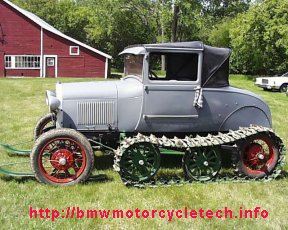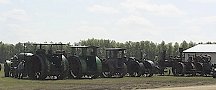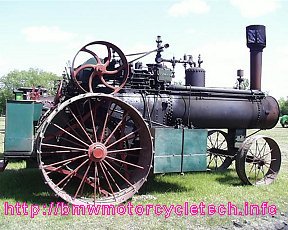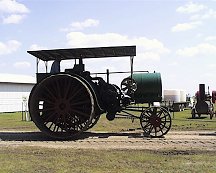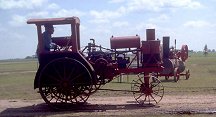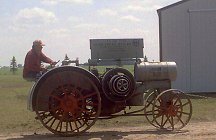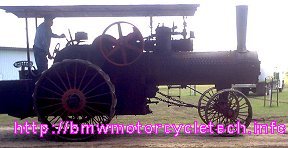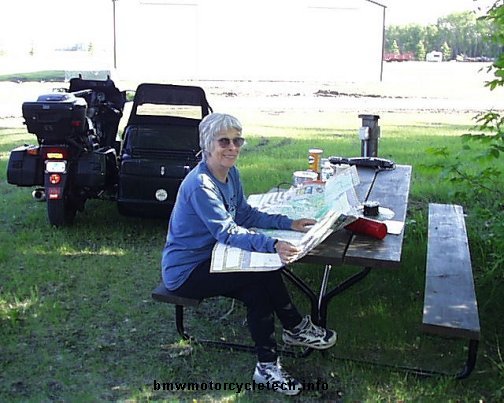 June 17th (I think!):
Up with the sun, and made a typical breakfast of 4 minute cooking oatmeal, tad of brown sugar, and some assorted dried fruit ....washed down with fresh brewed coffee. We spent a bit of time slowly breaking camp and seeing a few more things at this museum-property. Very friendly folks volunteer to run this place, in all capacities, from yard cleanup to restoring things and doing docent chores. Here is my seat of honor as I was processing photos and text at the picnic table at our campsite ...but unable to upload ...no internet service. Note the extra keyboard.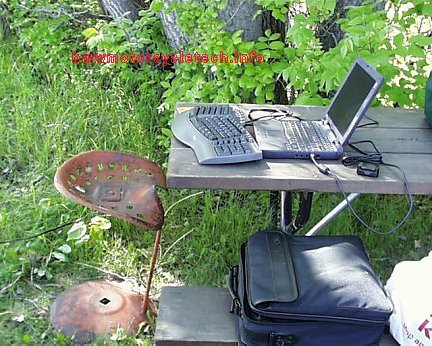 After saying our goodby's, we meandered our way back to highway 17, and headed west to typical Hy 3, where we turned south to Rugby. We then got back onto Hy 2 going westerly.
Below photo: Typical countryside view; either relatively flat like this, or, rolling small hills ...almost like a golf course. Is less green as we get more and more west of Minnesota....showing the change in rainfall, etc. Almost endless terrain, some VERY bright green, it is like never ending golf courses in some areas, with the same sort of very small hills, cutouts, water traps, etc.!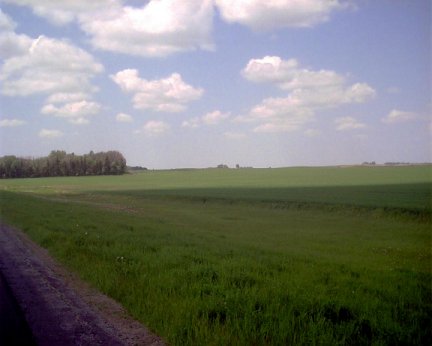 Below: With thousands of lakes; boating & especially fishing are the primary fun for many folks; ....here we see a bait vending machine ....right next to the drug store where we had ice cream at the old soda fountain.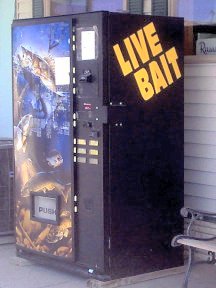 At Stanley, we made a slight off-main-highway trip to the Rexall Drug Store, which has another name now....but still has the original Soda Fountain ....in operation too! Folks were curious about the rig, and our travels ...both at the Counter, and outside. Penny had a strawberry shake, she said it was best ever ...and I had a hot fudge sundae ....then, back to Hy 2. Stopped at Surrey for fuel, we had very little left. Decided not to stop at Ray for the Opera House Museum. We continued to Culbertson, and made calls about a motel room with Internet capability. The recommended place's CLERK had no idea about the Internet being REALLY available and working! ...so ...I made reservations much further down Hy 2, in the town of Wolf Point. The weather today was quite good, if a bit warmish. Early it had been in the low seventies, then warmed to about 90 by afternoon. Scattered clouds today, no threat of rain. We walked a few blocks to a fairly decent diner, for a simple Mexican food dinner ....tostado's for both of us. Noticed nearby supermarket and auto parts store and hardware store ...hmmm ....maybe I can get some plastic scratch remover for my helmet shield tomorrow .....Got back to motel, did HOURS of work to get this blog and photos done ....and then time for bed. Warmish outside tonight....
Wolf Point elevation by our GPS is 1971 feet. As of tonight we have covered 3979 miles.
June 18th:
I've been asked what is going on with the old laptop ...a Dell Latitude CP-M233ST. This was a hand-me-down, originally used by Engineers at Boeing, finally given to me by Joan-Marie, of the Airheads List, beer brewers whatever society ...heee heee .....and a real gadget gal. I added a WiFi card and a few adapters and made a few gadgets for it. It has maximum amount of RAM at 128Mb; processor is 233 Mb, and it has one battery, and a place for either another battery or a 3.5" drive or a CD-ROM drive. I have the drives, not the extra battery. I have an external 8 db gain antenna for it ...forgot the pigtail for this trip! The laptop is old, cranky, has WIN 98SE in it now (I prefer it to the slow booting WIN 2000 it came with). It has worked pretty good for a long time for me. The keyboard suddenly had a failure of a lot of keys. NO moisture near it but high humidity. I suspect a broken wire, actually I suspect a slowly breaking flat ribbon cable. All the usual things like compressed air upside down on the keyboard, leaving in the sun a couple of hours, etc. ....no help at all.
The auxiliary keyboard I was given I have to use with the laptop's keyboard and finger pad. The added keyboard uses a relatively uncommon (nowadays) connector. I cannot use a USB keyboard at the same time I use the USB port for my camera, because there is only one USB port. There are other things going on, but that's descriptive enough for here.
We left Wolf Point this morning, after finding the plastic scratch remover I needed for my face shield; and, doing some food shopping. I also checked the tire pressures, boosted the rear a few pounds for better handling, and checked all oil levels ...all were OK. We finally got on Hy 2 going west about 9:30 or so. The hangar photo, below, was taken at Glasgow, Montana ...note the dinosaur out front too. Dino's are popular here...there is an artist making large statues of them!...many displayed on a hillside, further down the road. A herd of pronghorns managed to avoid my path on the highway, not much later on. There was a very nice Rest Stop at the Fort Belknap junction of highways 2/66 ....but the mosquitoes were intense and drove us off after 5 minutes.
On to Havre we went ...and I found a yogurt shop for a snack/rest stop. We then went to the Chamber of Commerce/Visitors Center ...for some information and advice. I'd found out this morning, directly from the Roads Superintendent for Glacier National Park, that the Going-to-the-Sun highway is not going to be opened for at least another week. I've been trying to see/use that road for 50+ years it seems. Due to that road closure, which I had early-on anticipated could be the case, we are changing to our alternate routing from Havre. We camped tonight at a campground about 4 miles from Havre. The Evergreen Campground, a private, but inexpensive place. Located about 4 miles south of Havre on Hy 87, it is at N48 degrees 30 minutes 31.3 seconds; W109 degrees 47 minutes 23.0 seconds. Interestingly, this quite nice place may be for sale ....I looked around at all the facilities, and there are a variety of buildings including a nice home, laundry building, showers building, lots more ....and lots of 50 ampere full-hookups at sites. I did not want to get tempted, so did not inquire about a price ...the lady owner wants to sell, and do missionary work, I think Penny said. Nice grounds, lots of trees, grass. Close but far enough from Havre ...which is big enough for a K-mart and a Wal-Mart....but not overly large. Havre, by the way, is doing major main street/highway repairs, messy dirt, slimy gravely water ....3 miles of it we did 4 times ....as we returned the next morning ...for fuel, and some minor food items.
Photos for the day follow. Today is our 30th day on this trip. We ended the day with the GPS reading 4198.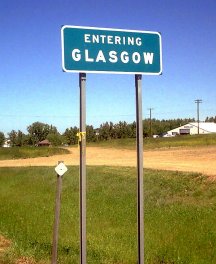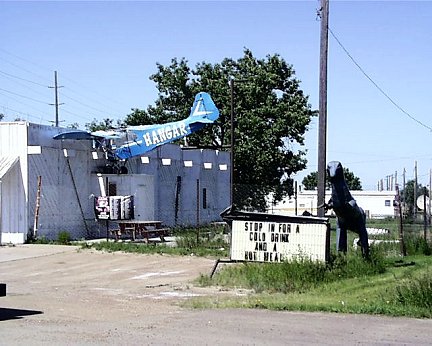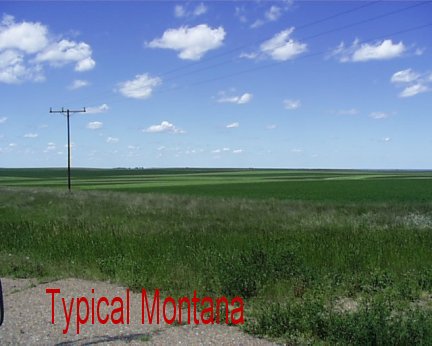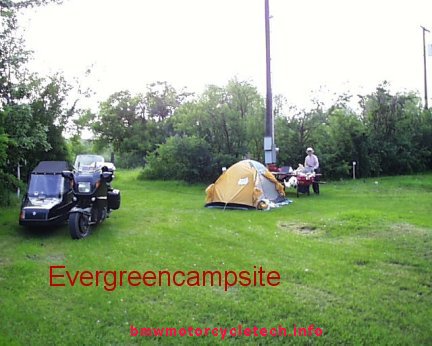 June 19th:
Broke camp, went to Havre for gasoline and a few food items. Negotiated the terrible 3 miles of road repairs ...main street/Hy ....torn up completely, dirt, wet slime. We continued southwards on Hy 87 as planned. First stop was Big Sandy Rest Stop, for an early but very light lunch from our foodstocks. Elevation 2743, GPS 4240. Met a couple of cross-country bicyclists, who had started in Missoula, and were going to a reunion in Ohio. Had a chit chat with them for awhile. Penny had done a cross-country on a tandem bicycle 10 years ago at age 60....pulling a BOB, which stands for Beast Of Burden ...a one-wheel trailer for bicyclists ....from Seattle to Maine.
Continuing on Hy 87 we connected with Hy 80 & made a side trip to see Fort Benton, alongside the Missouri River. Quite a wild place this town was in the 1880's ...and a lot of it remains, including the restored big & elaborately furnished & decorated hotel ...also is a GREAT building on the outside. Just touring the hotel ...which is in full use ...was worth the side trip.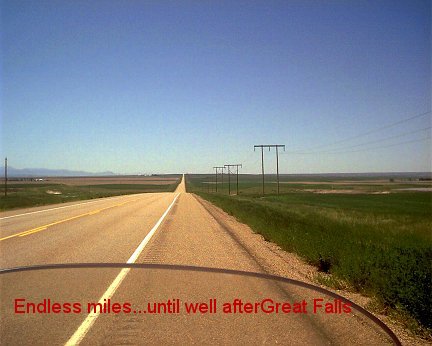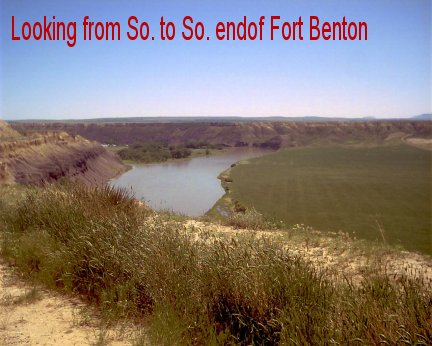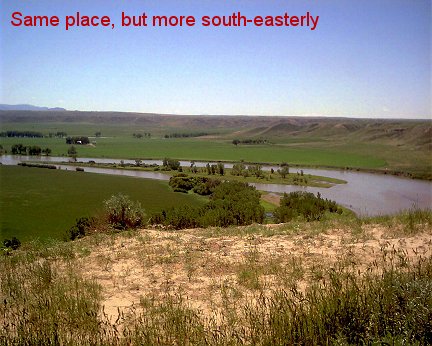 Onward to Great Falls. What a miserable mess of poor signage on the major roads. Great Falls is almost the worst for this I have ever seen. Luckily we made it through town without getting lost. We were going to stay and do tourist things, .....NAH!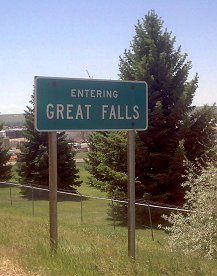 Our next stop was to eat more left-overs and some fresh stuff from the Wal-Mart in Havre ....we did this at Sun River, which is on Hy 200. YOU can figure out how we made it through Great Falls, on what roads (87-15-200, etc), to get to 200 and Sun River. We pulled off into the wee town, down a side road, and parked at the Post Office parking lot ...which was empty ....but had curbs to sit on. We had our second light lunch ....aged cheese on mixed grains bread, with sliced fresh bell-pepper and mustard. The Post Office had a bulletin about a Senior Center down the road a bit. Down the Highway we go again, stopping at that Senior Center at Ft. Shaw ....not for the Liver-Onions on the menu (it was way past lunchtime anyway), but for using the restrooms and getting some water. NO coffee ...they were closing, had just thrown it all out...RATS! Didn't feel overly welcome here anyway.
Down the Hy again we go. Stopped at a weird place for a cup of coffee for me. Continuing on Hy 200, we topped Rogers Pass, GPS showing it to be 5634 (Mapped 5610) feet. There are two National Forest Campgrounds on Hy 200 before the town of Lincoln. We stopped at one and made camp. N 46 degrees 58' 37.7" and W 11 degrees 31' 54.3" I can't get the ASCII degree function to work ....one of the FEW non-functional things with this external keyboard attached is the ASCII code keys availability. The elevation at this campsite is 4778; the total GPS miles on the trip is 4405. This being a National Forest Site, the normal camping fee is $8, but that is halved for us folks with Golden Age Passes. No electricity at anyplace but ONE power place in the entire campsite ....but the battery is holding up OK on the laptop. NO internet, nor cell-coverage here. Was hoping to meet with Richard Kuschel, of Missoula, tomorrow; in Missoula; ...but unable to contact him so far.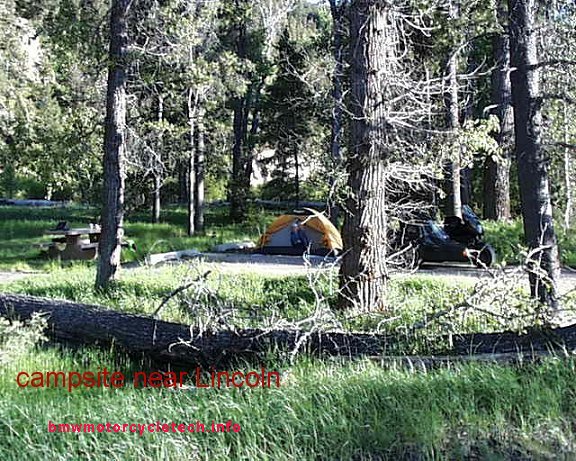 June 20th:
Got up about 8 a.m. Very peaceful place; not hardly any sound but from the water rushing downstream. The river is about 150 feet away. For breakfast Penny had fresh cottage cheese with dried fruit & a mixture of hot chocolate with some fresh coffee in it. I had some cottage cheese myself, but added a bit of sugar and some cinnamon & had fixed myself a strong large cup of coffee. Ranger-type from the Forest Service dropped by for a longish chat. He wanted to warn us about the Grizzlies seen in the area. He said a 850 pounder! ...had been hit by a car a couple days ago. A tad late for all that information, we'd been here overnight already, but HAD read the pamphlets, AND we always put some ammonia (we bring started bringing it along on camping trips after an interesting incident with a bear, best told around a campfire) on a small rag in the trunk with foodstuffs. We'd seen no signs of bear scat, just deer scat ...no signs of bears in any way. We were leaving shortly anyway.
We left going southerly on Hy 200, towards Lincoln and then Missoula. Many log homes and businesses making such, in the Lincoln area. Lush pines, lots of lumbering. Saw some scraggly-looking wild brown goats at the highway, managed to avoid hitting them. Nearing Missoula, I finally got a cell phone signal adequate for use ...but no voicemails indicated on the cell phone itself.. This turned out to be wrong ....as the PHONE did not indicate any, but there WAS one from Richard Kuschel ...I did not find out about all this for hours....and well south of Missoula by then. Missoula had been a mess of street repairs, detours, and meandering about, down Broadway Street in nasty traffic, eventually finding our way to the northwest and then south on 93. A mess ...stop and go traffic and road repairs...for many miles. I'd been to Missoula before, never had such problems ...and had been at both the BMW MOA Nationals here too. Finally getting on Hy 93 going south, we headed for Glen's Cafe in Florence, for food and their famous pie. Continuing on Hy 93 going southerly, we went past Sula, to the Lost Trail Hot Springs. Being unimpressed with $$$ rates and the setup anyway, which seemed shabby, not attractive over-all, and not very convenient for tenters ....and cabins were very much overpriced ....we backtracked part of a mile to the Indian Trees National Forest Campground. Found a VERY nice campsite. It is here that someone kindly gave me a bottle of ale, which I shared with Penny, and the Camp Host kindly let me have some electricity to recharge this laptop, a least partially .... NO internet coverage here. 4585 miles; elevation 5124 feet. Having problems loading camera photos into the computer ...and that continued the next day too.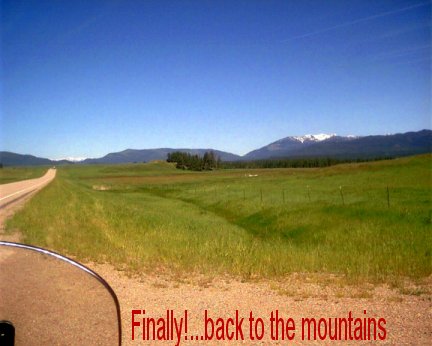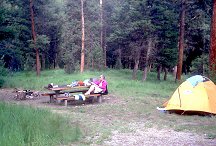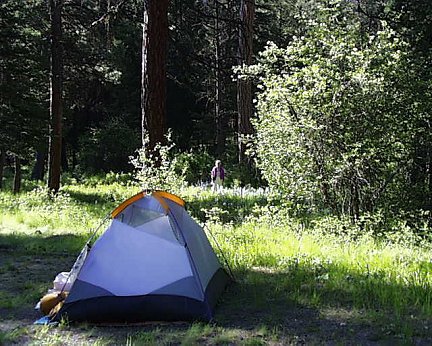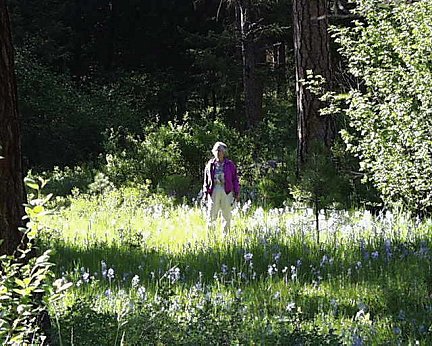 June 21st:
Packed up, with usual coffee and oatmeal breakfast in camp first, and left at 9:19 a.m. Continued Hy 93 to Chief Joseph Pass, elevation 7014. A long twisty downhill, posted for 25 mph. There were two tanker trucks that passed us, I pulled over as a courtesy to them, they were going pretty fast too! I can only imagine what would happen if they lost their brakes, as there was NO runaway truck ramps anyplace on this road. At the bottom of the grade, for some miles, we kept seeing a number of instances of a fish diverting mechanism of various sorts. I took a photo of one, stopped several times to see them, until I saw enough of the various parts, some were hidden/buried on some...until I understood how they worked. Paddle wheels in the waterway ran a gearbox that ran a shaft drive to a porous drum, etc...LOTS of "etc.".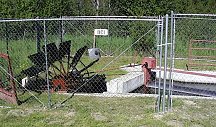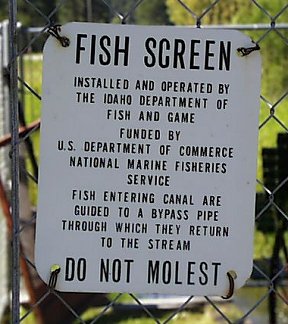 At the approaching edge of the town of Salmon, is North Charles Street road that takes one, on a STEEP gravel road, to a lookout point. I am sure I annoyed Penny, who hates bumpy roads in the sidecar (this one was not that bad) ....but I wanted to see the view from the lookout point. No shade, and we wanted to stop for snacks, so I drove back to Salmon, to get fuel. Continuing on to Challis we stopped at the Visitors Center for that snacking, and a short look-see and asking questions inside the visitors center. NOTEWORTHY was that the Custer Highway, relatively-flat hard gravel, that is about 30 miles long ...that leads from Challis to Sunbeam ....going by a dredge that offers guided tours ...then passes Bonanza ghost town ...and ends at Sunbeam and Hy 75 ....was not passable as the 8800 foot summit was still snow blocked. I had planned on doing that road ...although Penny was not at all thrilled at the prospect, and asked me not to use it. With it closed, there was no reason to blame her for me not having my fun ...HAH!!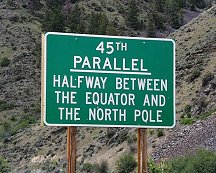 This is a photo of the rushing 'creek'...with LOTS of whitecaps and would be quite a rafting ride ...taken from our Forest Service 013 road campsite, just a half mile or so from Sunbeam.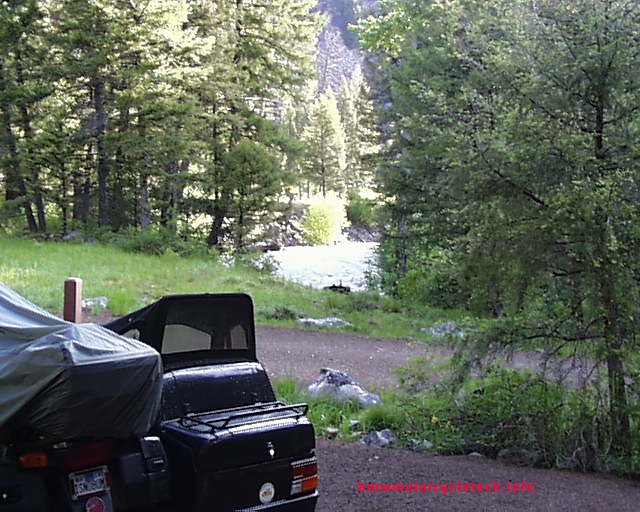 Actually, I was not that enthralled with doing the road from Challis, but wanted Penny to see the Dredge ...but that is much easier to get to from the Sunbeam end. I'd seen the dredge several times before, such as on one of my trips to the Idaho BMW Club's yearly campout's, famously called The Stanley Stomp (the Rally with the big steaks and baked potatoes) ....that used to be held at the ghost town area (Bonanza) ....the dredge is just up the road a few miles from it. It is one of the largest ever dredges, self-powered. On my trip to it, years ago, I explained some of the electrical's and the engine details, for the docents there, who did not know about certain things. This dredge is called the Yankee Fork Gold Dredge. It was assembled a couple miles or maybe less, up the river they call a creek, from our campsite. It was in use for years, moving upstream as it went about its gold dredging and fully separating rocks, gravel, soil, etc ., and the end product from the dredge was gold bars ....it did everything. It is located 8 miles up Forest Service Road 013.
While at the Ranger Station in Challis, we inquired about the roads to Yellowpine, for the yearly Harmonica Festival ...and gathered some good information. Just past Challis, we turned from Hy 93 onto Hy 75. We followed the river, turning off at the wee spot in the road called Sunbeam. The cafe and store was closed up ....that often is the case here ...this time it was posted as being foreclosed-on by a bank some months ago. I had forgotten to purchase a sixer of dark beer in Challis. boo hoo. At Sunbeam, we turned right to go up that Forest Service Road #013 a couple of miles or bit more. One of my favorite camp sites is here; called Blind Creek; on a goodly sized tributary to the Salmon River .....but I have not been here in some years. NOW I find the mechanical hand-operated water pump broken; but the State has added tables, pit toilet, formal camping sites, etc. We took a very nice site. Only about 6 sites total here. We arrived at 3:20 p.m. The elevation here by GPS is 6018. N44 degrees 16' 51.8"; W 114 degrees 43' 58.3".
Having forgotten to purchase any dark beer at Challis, I made the 28 mile round trip to Lower Stanley. That beer, a six pack of Oregon's finest Porter from the Deschutes Brewery, certainly tasted good ....or, two bottles did ...we kept some for the rest of the trip. Later we packed up our trash and walked the half mile or so to the dumpsters at the main highway, and then walked around some at Sunbeam Village ....mostly a big nothing now, and being mostly closed, except for two smallish River-rafters buildings.
Sunday June 22nd:
We'd had a bit of rain overnight, so took our time this morning to get things dried out, well, mostly, in the nice sunshine. After breakfast, and packing up, we drove up the road, which turned into gravel and small stones and whatever, all the way, maybe 9 miles, to the ghost town of Custer.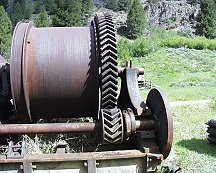 We spent a some time at Custer, but the weather was threatening, so we did not spend as much time as we would have liked-to. Back down the road a mile or so was the dredge, at which we paid our $4 per person fee, declined the free Guided Tour, and we did a self-tour ....as I had been here before ....and I had even added some information for the tour guide on a prior trip, about the functions of certain parts of the electrical generating system.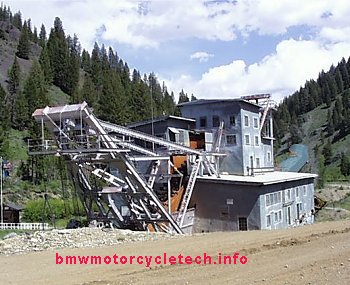 We returned to the highway via the same Forest Service Road 013. We stopped just past Sunbeam, so I could show Penny the place where the hot springs comes out of the hill, flows to the river. I used to sit, naked, on my solo trips, in that hot spring lower area at the river ....feet in river, butt and back in the warm water.
We walked around the area for awhile ....then, we left for Stanley.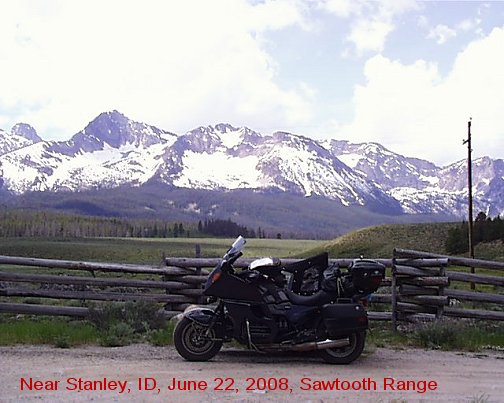 There were snow patches here and there as we rose up the valley. After the summit, we stopped at Galena Lodge for pulled-pork sandwiches. One can get the usual burgers here, pricey ski resort types ...but just about the same $10 for the very lean for Elk burgers....or Bison too....
Not too far down the road the winds picked up and eventually picked up very considerably. I was really getting a workout, as the winds were always from the right. I also was experiencing 90's in temperature, and although I was wearing my cooling vest, suitably soaked in water, I was only barely comfortable .....many know of my intolerance for heat ....and ......the winds were really tiring. The cross-wind from the right in the Shoshone area was especially fierce. For those following our route ...we were still on Hy 75 .....and had already passed Ketchum, Hailey. Soon Hy 75 ended as we joined Hy 93 ...and it was then Hy 93 southbound. The heat and winds continued. Unable to find a good place to stop, we continued to the 4-Jacks Casino/motel in Jackpot, Nevada ...which had Internet coverage, very good senior-special rates, very nice rooms, and a veranda for beer and cigar relaxation ....not to mention conversation with other guests. We had a couple more of our Porter's out on the veranda, talking to fellow bikers and trikers, etc. ...petting the resident cat ....and enjoying showers, etc. I was unable to find a water hose at the one and only gas station ....it was under reconstruction ....and none at the motel ....so I used trash buckets of water from the shower, to try to clean the mud from the radiator of the bike (FROM HAVRE AND MISSOULA) ....which had caused some clogging ....and the over-use of the fan ....it would come on any time I tried to go much over 50 mph ....the heat was not nice on my legs. The radiator washing helped SOME.
After a substantial breakfast in the restaurant, we were off for Elko, to visit Joel, Terri, and family .....Joel is Penny's firstborn son. It was early enough that the winds were not atrocious, but the heat was already into the lower 80's as we proceeded ...tolerable for me with the water-soaked cooling vest.
We arrived after gassing up ....we took nearly 5 gallons on a 5.2 tank! .....at about 12:40 or so, local time. There was a Time Zone change just past Jackpot. I spent about 4-1/2 hours doing E-mail! I hosed the radiator three times here with a nozzle and high water pressure ...got a lot more mud out of the radiator fins. We used our tent, not shown in the photos, in the backyard here .....what we wanted to do tonight. Joel's kids wanted to camp out with us, so they slept in a big tent, see photo. Was a family Bar-B-Q tonight. the "Pup-Tent" in the photo is likely for one of the kids or kids ...and dogs?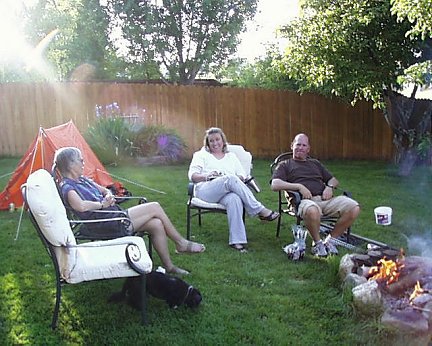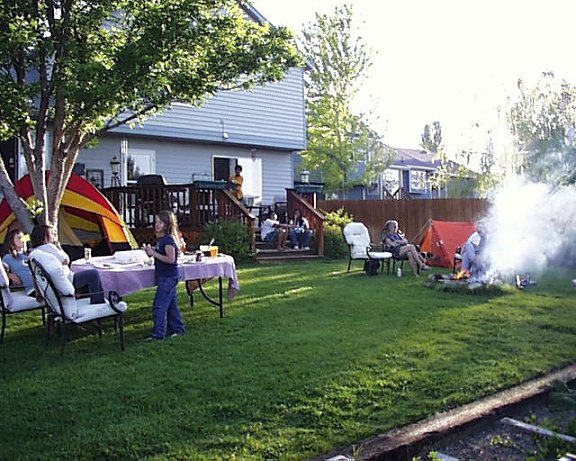 Many forever memories from this trip. Already Penny wants to do more trips ...even a very short one to Grover Hot Springs and campground, only an hour from home! I have a tentative plan for a VERY much longer trip ...we shall see ....I am not breathing a word of it to ANYone at this time.
GPS 5118 miles total on this trip.
The next morning, we are up early and on the road at 7:15 a.m. Route was Hy 80 westerly to Carlin, where we could find no decent place for breakfast ....then we took Hy 278 southerly to Hy 50. Hy 278 is one of the lesser known roads, is a somewhat hidden treasure, particularly the northern section. It is 90 miles long, has a good surface that grippy-tired 2-wheelers will love, and almost no traffic. We saw SEVEN vehicles in total ...one of which was a farmers ATV .....over the entire 90 miles. Early on, many nice sweepers ...later many straightaways .....plenty of room for ...ah ...ah ....magazine tests of top speed of motorcycles. Not that I know anything about this, of course. Lovely banked turns. It is posted at 70 mph ...rather a high posting for a narrow country road. The road has soft shoulders to be careful about. Saw some gas well donkeys in operation.
Scenery is farm land, lots of sagebrush, some cows, some flat alfalfa areas, some horses, moderate hills ...that's about it. In the first 50 miles or so, there are no tar snakes, and in the last portion, what snakes there are, are NO problem, for any 2-wheeler, nor, of course, us on a sidecar rig.
Reaching Hy 50, we went Easterly for 3 miles to Eureka, where one could get a decent breakfast at the Owl Club. Time to gas up ....distances are great between gas stations on Hy 50 in Nevada. Back onto Hy 50 going Westerly, we stopped for gas and to replenish the water in my cooling vest, in Austin. Chevron, strangely, had the cheapest fuel, even cheaper than off-brands, here in Austin. The clerk recognized me from 6 or 7 weeks ago. We got cold drinks at the Chevron mini-store. Gas was $4.539 for 87 octane regular .....reasonable, for Austin; which often has the highest prices in the western USA. The Chevron station is nearly the last thing in town, going Westerly. The "Stokes Castle" ruin is on a gravel side road next to the Chevron, but we had no intention of visiting or camping there so early in the day. The Chevron station was at 6475 feet on the GPS. The 7484 summit we'd already passed over before reaching the town. We dawdled in the shade of a big old tree, with our soft drinks with lots of ice ...then headed West.
About a mile or so before reaching Nevada road 361, there is the famous shoe tree, now another tree is being started up too. These are simply some huge old trees, growing out of a gulch, just off the highway. Folks have continued to nail or thrown pairs of footwear with mostly the laces of the two tied together ...over branches, etc. ...cowboy boots, tennis shoes, sneakers, dancing shoes ...any type of shoe ...mostly tennis shoes/sneakers .....for MANY years.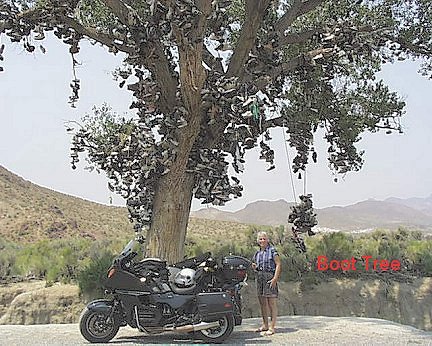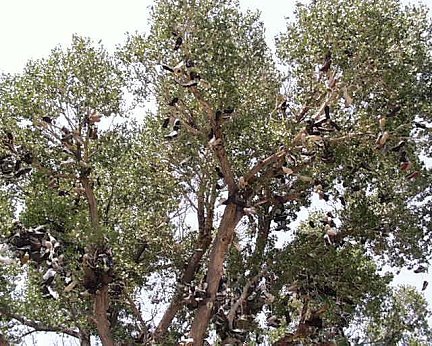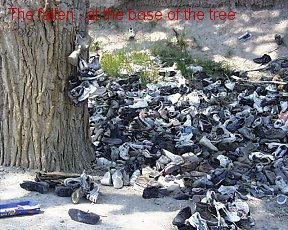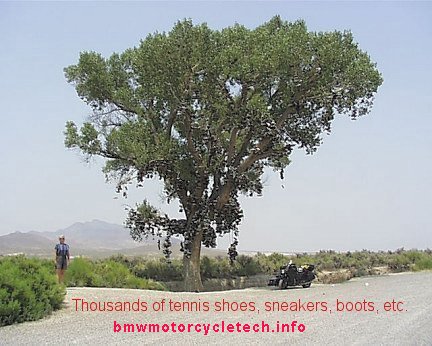 Continuing down the highway one passes one dry lake bed ...a huge one ....and then comes another one. Known as the Salt Wells Region or Basin, these were huge lakes, very alkaline, and sometimes they have lots of water, sometimes the water is below the surface. The lake bed is whitish ...and produced salt, and probably still does ...for roads. Due to how rainfall and winds affect the lakes where they meet the road ...there are some white banks that face the road, on both sides. On the northwest side of the road, there is a peculiarity, of hundreds of acres of small blackish stones, scattered all over the place. Folks have, for years, gathered such small stones and written their name, or family name, or religious slogan, or philosophical slogan or anything really ...mostly personal names .....and these go on for MILES! Some are clever and ornate.
Eventually, we arrive in Fallon, Nevada. We stayed at a recommended Motel 6, and had showers, a snack, and later walked to the Cock 'n Bull for dinner. It was hot here ...mid nineties. Could not get hi-speed Internet to function ...so used very slow dialup.
GPS: 5365 miles
Tomorrow, we will probably be home??
June 25th:
We are up early to VERY smoky skies ...sun can't shine through ...not hardly ...fires someplace? As it turned out, the smoky atmosphere, which was from fires all over California (and?) ....kept the heat way down, as we made our way home from Fallon, Nevada. We left early, 7:40 a.m. First we got some gasoline. Stopped in Carson City for a big breakfast.
Took no photos today.
Total mileage for the trip: 5510.
Engine oil consumption: about 0.7 liter for the entire trip (Mobil 1; 15-50 full synthetic).
Fuel mileage varied, but the average for the entire trip was about 33.4 mpg. That's American size gallons; and the calculation was based on actual GPS mileage, not the odometer on the bike, which reads 12.8% fast, due to the car size of tire on the rear.
Only problems on the trip were:
(1) Failure of the running lamps system ....yet to be fixed.
(2) Top center seam of the hack top weeped water in heavy rainstorm...we fixed that permanently with seam sealer, and there was the several loose or missing screws, washers, nuts, that I mentioned in the article, replaced during the trip.
(3) After we left the Havre area with its very muddy road repairs ....the engine fan was coming on more often than it should. I used a water hose/nozzle on the radiator to clean out some road mud did help, but I need to clean the radiator more thoroughly, using a pressure washer with siphon detergent apparatus. I will also obtain or make some sort of mud flap for the front wheel. The existing fender LOOKS like it should work fine, but DOES allow mud to kick UP, where one would NOT think it would. I will pay more attention to mud buildup on any future trips, cleaning the radiator as soon as possible after exposure to mud.
(4) The sidecar shock went dead. The top seal seems to have failed. I will overhaul it and modify it for a different type of seal, in the near future.
(5) The three-time hand-me-down laptop computer keyboard failure gave me fits. It was very old and very well-used by others, and by me, too. It was also very obsolete. The last three days of the trip, even with the external keyboard connected to it, gave me even more problems. This laptop computer is simply progressively failing. It is vastly too old, in real time usage, as well as being obsolete electronics, to consider repairing. I will find some time very soon to remove all the files and information I need from its hard drive, then I will destroy the hard drive, and toss the rest to the trash. (That IS what I did, but kept the accessories ....).
We'll be busy for a few weeks getting our normal lives back together ....then, I expect, will come more trips, but not super-long ones (for awhile).
Penny is a confirmed sidecar passenger now.
I think I'd better go outside and start the rig cleaning process ....it is VERY muddy ...really disgustingly dirty ....even considering the various cleaning and baths it had on the trip.
A big thanks! to all those wonderful folks we met on the trip, those whose hospitality we used, those we broke bread with, etc...... we enjoyed meeting so many folks that I knew only from E-mails.
---
Follow-up:
Immediately after the trip I fixed the problem with the rig's running lamps. It was poorly-factory-soldered joints inside the lamp monitoring relay. Cleaned the rig. Paid a lot of attention to cleaning the radiator. Added a large mudflap to the front fender. Removed anything I needed from the laptop computer HDD. Opened laptop up, mostly from curiosity and maybe to see if repairable reasonably. Nope. As for this 1999 (1998?) Dell Laptop, I removed the modem, Wifi card, etc. I have a large case of adapters of every sort ...some will be useful for the new laptop computer ....just what type is open for research and debate. I ended up keeping the Dell traveling case for the new laptop, it is very roomy, for all my accessories, etc. The old laptop went to the trash bin.
I did not get around to ordering a new laptop until May of the following year, during which time I investigated them quite thoroughly. I overhauled the sidecar shock absorber, softened its shock action with an internal valving change (Penny complained about the stiff ride), modified its oil sealing (which won't hold up forever ...I will have to machine the top cover for a quality American seal). Made a SS bow for the top center of the sidecar top, so the top would not bang Penny's head at speed. Fixed everything except the small water leak on the sidecar left side .....that I procrastinated about until early 2014!
I took the better part of a year to decide what type of laptop I wanted, and how it was to be equipped. I decided to splurge and ordered a custom-assembled brand-new Lenovo T400 Thinkpad. Lenovo had purchased the laptop business of IBM, and their Thinkpad's had a reputation of being quite reliable, even when traveling by motorcycle. While what I ordered was well over $1000, I decided NOT to get my first choice, a VASTLY more expensive and ruggedized military grade Panasonic, it was twice the price, ++. Even the civilian/commercial TuffBook was extremely costly, so that was also rejected.
I special-ordered my laptop direct from Lenovo. It was equipped with a larger battery, performance WiFi, back-lit LED screen for longer battery run-time, etc. I did not order a SS drive, they were exceptionally costly at that time. I still have and use only that laptop, with its original spinning hard drive. It came with Microsoft Vista, which I hated, and immediately changed to WIN7-Pro. I liked this laptop a lot. I liked it enough to get my wife, Penny, a similar, but improved one, a T410 (with SS drive), as a present. Neither of these laptops has ever had a failure. We are still using them.
I decided that future laptops (if ever) would be purchased slightly used, off Ebay, as they are vastly cheaper and there are a couple of very reliable suppliers, who fully check them out, upgrade things, etc. I did two of these, the first one was the above mentioned one for Penny, a T410 with SS drive, into which I put WIN7-Pro. Another, for a friend, from the same supplier, was also a T410 model with SSD. None of them has ever failed. Certainly worth the $400 or so; both came with new SS drives and new genuine Lenovo batteries, good RAM, etc.
Bob (Snowbum)
---
rev:
11/27/2013: Corrected the information on the Challenger Locomotive. Added some information on it & the Big Boy.
06/28/2014: Minor corrections and fix spelling in two places.
04/26/2016: Update meta codes, layout, add timestamp script, etc.
01/07/2016: Clean up entire article. Fix metas, scripts, layout, html. Clarify a few details. Add Addendum.
12/26/2017: Clean up entire article once more. Reduce excessive html, colors, fonts, etc. Clarify a few very minor things; update the addendum (and changed name of that section to Follow-up).
05/29/2018: Very minor cleanup.
© Copyright 2020, R. Fleischer
Return to Technical Articles LIST Page
Last check/edit: Thursday, December 10, 2020