---
Snowbum's BMW Motorcycle Repair & Information Website







The ads above are Google-sponsored.
Clicking on them at every visit, helps support this website.
Clicking on something inside an ad helps much more!


Motorcycles, cars, trucks, ETC...that I've owned....

https://bmwmotorcycletech.info/mcOwned.htm

© Copyright 2020, R. Fleischer

Introduction:
Even though I never had more than a modest income, which I managed to fritter-away mostly on vehicles, ...still, I managed to do a few good deals, worked pretty hard, & saved a bit of my income. I've had a lot of vehicles for someone who never got higher than lower middle class. I did a huge amount of 'things' in my life, helped by essentially being on my own at an early age, ~14-1/2, and had a go-for-it attitude. I never fully retired; and, as I update this article at the end of 2020, I am 83, and 'still doing new things'; although medical problems and old age are interferring. In my mostly past life now, I carefully used short apprenticeships, had a lot of good friends, and was being willing to spend time as necessary to do whatever it took (and not sleeping enough), ....and I did a lot. Some of the 'airplane toys' I owned were owned by me and the finance company ...and if I made a bit of profit from my labors on those toys, and sold at a profit ....well, I could get more expensive financed toys. That's how it was for a very long time, until I was in my sixties, and started disposing of things. I was never too ashamed to do grunt work either! If really interested, there is a bio in this website: https://bmwmotorcycletech.info/whothehellissnowbum.htm

Motorcycles:
I acquired, over many decades, a lot of antique motorcycles; and restored many. I started collecting them when very young, all 52 of them were sold in the 1980's to museums. I've not listed them here, in accordance with promises made to the museums that purchased them from me. The Contracts specify keeping my mouth pretty well shut. However, some of them are shown in the museums with a placard showing my name and that I did the restoration and road testing. YOU get to guess which museums.

Before & after moving to Lake Tahoe in the early seventies, I rode many motorcycles, but I personally owned only the ones listed below. As noted above, the collection of antiques I had are not in this list, ...nor are those several R100RS/RT and some other bikes that I never transferred title to me:

1951 BSA 500 single, B-33, converted it to a GoldStar (and beyond), raced it, and also modified it for 100% alcohol. This was actually a daily (to work) rider for me for some time. Devil to start when I converted it to alcohol (I got free methanol) with its 14.5:1 CR, even with a compression release.

1949 Vincent Rapide 25-867. This was my first Vincent, and came to me totally apart, I learned a lot from trying to put it all back together.

I was the secretary of the Vincent Owners Club, and at one time I owned EIGHT Vincent's, all kept in my parents garage. I had ...I thought at that time, ...the only Vincent Black Prince in the USA, mine was a 1957 model (yes, 1957), the very last one, series D.

1960 Harley XLCH 116730, I purchased it brand new.

I've had four other Harley's, including a 1948/9 Knucklehead, an XL, a WWI antique, and an 80 stroker in an EL frame/etc. I could not find the information on them when doing this article.

1957 BMW R-60 engine 918165

1943 Indian 45. I probably still have the Title to this one. It was being kept at a friends home, far away, and I lost track of him, and that bike, and finally found out he died. I probably should go find the title, and ask the California DMV if they can trace it.

1962 BMW R69S engine 168948

1964 BMW R60, purchased new engine 261718

1965 Honda 160, purchased new.

1969 Honda 175-K3 model.

Norton-Vincent hybrid. This was a Vincent engine in a Norton Manx Featherbed type frame, which I raced at Bonneville on my birthday weekend in 1972, setting a new World's record in my class. I slightly detuned this bike and rode it on the street for years, AND, raced this bike on various road race tracks, such as at Willow Springs ...>>>and others. I have photos on this website of me and that motorcycle at Bonneville from various magazines (with captions from the magazines), and I have the Records paperwork. I have the records on who I sold it to, then I lost track entirely of it after I moved fully to Lake Tahoe in 1972/1973. Some years ago I traced it down to the then owner, who had taken it apart, and had it in pieces, stored, but never got a reply from him; so I sold some of the racing items I had, and the race suit, etc., in 2017.

1967 Kawasaki 250 Samuraii. I know I owned and rode this, but haven't any solid memory of it at all.

1970 Honda Trail 90, was originally my father's.

1971 BMW R75/5 ...Besides this one I have had three other 1971 and 1971-1/2 R75/5 bikes, PLUS one that was green that I had for only 2 weeks, that was a trade-in to me for my BMW-600 car ...I traded the green R75/5 in on a new R75/5 that wasn't green!

1972 BMW R75/5, full dresser 2986604 ...I put a LOT of S-miles on this one.

The /5 with the full Avon fairing was sold to Jim Vahey, of Sacramento. He was an employee at the main office DMV in Sacramento. No idea of what happened to the motorcycle. He had a backyard of rusty old bikes that I saw once. Jim died in 1990, and I think offspring were James and Jamie Vahey. Additional numbers on an old scribbled sheet of mine were: 4933 46, but have no idea what they mean.

I have had the opportunity to test drive MANY DOZENS of other bikes, from pure dirt bikes, to crotch rockets. Way too long a list to put here. I test rode many bikes that came to my shop for work. I have test-driven bikes on "secret" roads used by some bike magazines, and have been able to ride some never-released or never in production, "factory" bikes. I have pro-wrenched on several race bikes I did not own. That includes another R60 sidecar rig, and a rather infamous Gilera and a V-8 Guzzi (YES!!) ...not to mention my antique collection of 52 bikes, all gone now. I spent some time 'playing' at Harrah's museum, in Reno, before they sold off much of the collection. A very long time ago, just before Honda decided to make a big splash in the USA with their "You meet the nicest people on a Honda" campaign, I was at a racetrack with buddies Don Vesco and McLaughlin; them test riding Honda #1 and Honda #2 racebikes. I 'stole' Donny's bike for a few laps. The exact details will not be set down here ....although some is in my biography on this site. https://bmwmotorcycletech.info/whothehellissnowbum.htm

1983 BMW R100RT. This was purchased brand new by me in 1985 from a Sacramento dealership that had two of them, unsold stock; and, was going out of business. I modified it a lot, but, eventually, in a weak moment, thinking I'd build a K1100LT tug-EML sidecar rig, which I did not end up doing, at least not then, I sold it, and it was out of my hands for 7 months. I bought it back, and put a Ural sidecar on it, using a Lowell Neff sub-frame design and some of my own ideas, and I put a UNIT LL fork on it, and many MANY modifications. I sold it in April 2006.

1984 BMW R100RT. Purchased it from an Oregon owner. Fixed it all up, and, after miles/smiles I sold it to a friend. We had an agreement that whenever it was HERE, I could maintain and RIDE it. That existed for years. It's now gone to him permanently, he lives in Los Angeles now, previously in North Carolina (yes, we shared the bike, even though he lived there). Full dresser set up for touring, Krauser type bags, trunk, radar detector, Luftmeister side tanks, Brown side-stand, Reynolds ride-off, Day-long seat, EnDuraLast Alternator, etc. I pretty much kept my paws off modifying the engine ...it was still single plugged, and basically stock. Does have a turbo-clutch, came to me that way. Radio came with it, since removed and replaced by another by the present owner, who also installed a special ventilated aftermarket windshield.

I've had quite a few R100RS and R100RT bikes, in various situations of ownership, custody, use-of, etc.

I have had, besides the plates on many of my antiques and short-owned bikes, a few permanent motorcycle license plates: 1SNOBUM; 2SNOBUM. I also own XMARINE license plate. These plates, and my 4SNOBUM plate that was on my car, are all from California.

1993 BMW K1100LT with later style single hatch hinge EML GT2 sidecar. Purchased in late 2005 from Al Olme. Full EZS conversion on the tug. I made a number of modifications. Penny and I used it for touring and camping. Sold in June 2019.

In 2015, I acquired what was to be my last motorcycle, a BMW, a 1995 R100RT. WB1046901S6294290. Had an EnDuraLast permanent magnet alternator, Alpha ignition, cut-down Parabellum windscreen, some extra rear lights, ....and that was going to be the extent of its/my modifications. It came from Minnesota, and had license plate 39-640. I sold it in May 2019.




Cars/trucks:
1940 Plymouth 4dr (my first car). My dad gave me this car; which had been our family car for a long time. I learned a LOT about cars by working on it. I especially learned what NOT to do!

1950 Mercury 2 dr FVZ485

1964 Dodge Dart GT. I purchased this from my parents, as they did not need it after they retired. License IOU499, then became license 1-Hi-Fi in 1974.

1949 Ford 2 dr business coupe. My first true HotRod. Super hopped up, supercharged, with big stroked & bored flathead, Navarro heads, Isky cam, Scintilla magneto, and hundreds more things. I built this from the ground-up. Special in my heart. Photos are on this site. SEE BELOW, for the 1950 MG-TD, where the engine eventually ended up.

1929 Ford Model A Sport Coupe. I installed a C engine that I built, big and little tires, big rear gas tank, 49 ford dash (yes, from my 49 Club Coupe, which I had installed a hand-built simple racing dash), etc.

1949 Oldsmobile convertible, straight-8. Left this one stock.

1948 Ford 4 dr sedan

1950 MG-TD, license PNW805. This eventually got the supercharged flathead engine from my 1949 Ford, photos of the engine are on this website. I installed an aircraft instrument dash in the MG, blended-in running boards, 32 Ford radiator grill, Indianapolis quick change rear end, etc. I never had a chance to drive this car much, and I was assigned by the Government for some time, and stored this car and my collection of Norden fuel injection units & bodies (I had purchased Norden's remainders, 100%), etc., in my grandmother's garage. I eventually sold it all before leaving on another government assignment, ...wish I had kept it all.


I regret selling many of the cars I once owned. I have NO photos of the MG, unfortunately.

1931 "A" Ford sport coupe LWY177 I modified it a lot. Put huge mileage on it.

1953 Chrysler "6"....this was a RARE Windsor "Traveler" model, that some insisted did not exist. It did. I had to contact Chrysler Historical to fully prove that. It had the spare tire located at a rear door, the rear seat folded down making a bed from the back of the front seat to the very end of the trunk. Few were made. I had one!

1932 Ford B pickup, LYK607, and NKA350 engine 136522

1960 jeep CJ5, bought new, my first brand-new vehicle TRW509

1958 Porsche Speedster MGG252. I was told that this was the very last Speedster ever built, and had solid disc wheels of the Mercedes knock-off type, and a roller bearing special engine.

1959 BMW 600 engine 131954 license RPU467; yes, the larger version of the Isetta 300. Bought it new. Cheapest car to operate that was available new, back then. Right photo below is of a similar car, a model really, and no rear nerf bars....shown here because I have no side views of mine, whuch was not blue. That right photo of the blue car also seems to make the car much shorter than it was. Uses a flat opposed twin boxer engine, derived from the /2 era, updated, and is somewhat similar to a R60 engine, but one central carburetor, and a cooling blower. The front independent suspension were cast aluminum units that were self-oiling. Top speed 62 mph; unless you removed a VERY stiff spring under the pedal/floorboard, then it would scream up to about 80. VERY low maintenance vehicle. Vulnerable feet in the front, perhaps worse than an old VW bus, for safety! If you are the very curious type, you may want to try to find out about the motor in these. Keep in mind that the BMW600 was sold to me in 1959, and it was in December of 1969 that BMW brought out the /5 bikes ...which had extensive engine block changes, such as moving the camshaft, having a built-in oil filter, and a full oil pressure system. Prior bikes did not....so, what was in this 1959 car??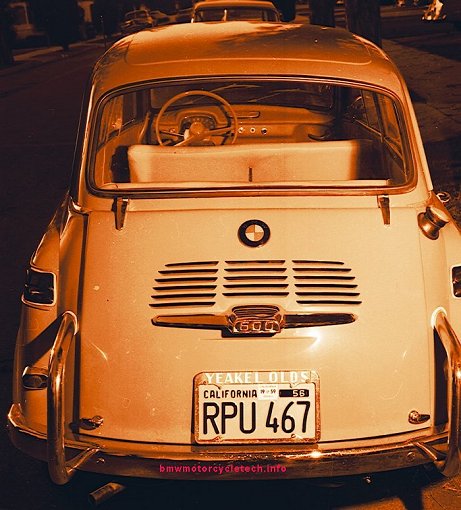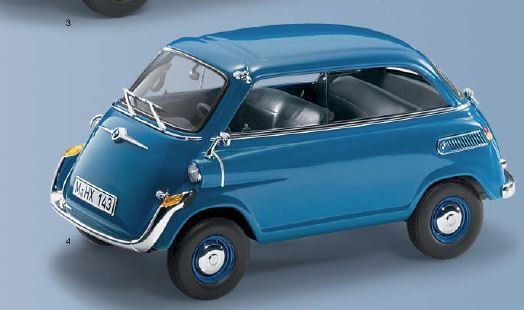 1961 Alfa Sprint Specialé MEF638. Very rare Bertone-bodied car, looks like a Ferrari, eh? Italian, of course! One of my all-time favorite vehicles. It was fun, handled very well (was designed to be raced, and was very light weight too). I can't find my photos of MY car, which did not have the front driving lights and had slightly different side mirrors.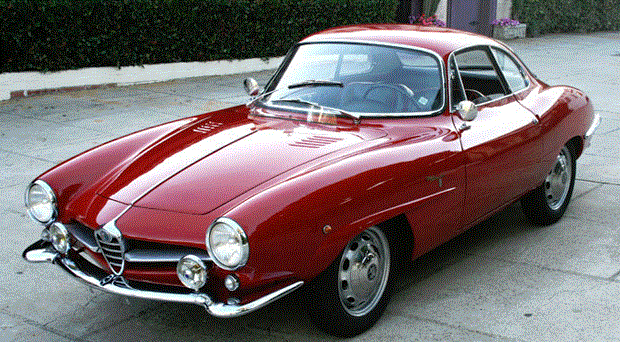 1956 Porsche Spyder RS550-1500 California license plate JFK007. I drove this, somewhat modified, on the street! This is the SAME type car as the one James Dean owned and was killed in. Numerous photos of this aluminum car, with a few of my own modifications, with me driving, etc., in my photo galleries on this site.
1968 VW type 361 squareback sedan, purchased brand-new. ...the first of the electronic fuel injection models. I learned about electronic fuel injection from working on this car. I eventually used injectors of the same types in place of the carburetors, on my R75/5 sleeper:
https://bmwmotorcycletech.info/sleeperr75.htm
1972 Corvette, LT1, factory racer, 380FKN, drove it on the street. Hit the tracks a few times with it.
1962 Cadillac Limousine. Lived in a commune for awhile. Bought this for myself, it held a lot of us, and I even got one of the younger commune guys to dress up like a chauffeur, and drive us around at 5 mph, like celebrities.
1965 Pontiac LeMans, NHL586 .....really my ex-wife's car.
1975 Chevrolet Suburban 3/4 ton 4WD. Purchased brand-new, had a few minor mods, like a 4.10 rear drive. Most of the time I had it, it had NEVADA license 1HiFi.
1983 Dodge Ramcharger 4WD. Can't remember the year. Purchased new. Went to ex-wife, the license plate had been transferred from above vehicle to this one, was 1HiFi.
I had a 1974 VW Dasher for awhile, came from #1 ex-wife; remember little about it; think a Dasher was a rebadged Audi Fox 100. I used this for awhile while I was doing some heavy duty restoration and hopping-up on my 1968 Dodge PowerWagon.
1968 Dodge W100 4WD pickup truck. This I purchased in non-running condition and hauled back to Lake Tahoe. While a W100 means 1/2 ton, that meant very little except a change in suspension springs. In 1968, Chrysler was building 1/2 ton and 3/4 ton pickups (W200), that had exactly the same frame, body, engine, transmission, rear drive, etc. Mine came with a 318 V-8, which I sold to a friend's mother who needed it for her car. I modified my pickup a huge amount over the years. It had a 440 in it when I sold it, but had had a very special built-up marine 520ci much of the time I owned it. This red truck was very well known around So. Lake Tahoe. It weighed around 6000 lbs by the time I finished it, yet was strong and fast. When the 520 was in it, I had a series 90 rear end, two speed transfer case, 435 transmission.....and an airplane turbocharger feeding twin Holley carbs on a much modified engine, etc. A LOT OF ETC!!
1987 Special model 4 cylinder turbo Subaru. It was a rather rare car, special-ordered and I bought it new after I moved to Tahoe, it was a true long tail fastback, looked like a real sports car, and handled like one. Later, needing a pickup truck, I did a swap deal with a local gal (my dance instructor!) and got her 1983/1984 Toyota SR5 1/2 ton pickup. I used that Toyota a long time, whilst finishing the restoring and hopping up of the 1968 Dodge 4WD PowerWagon. The Dodge ended up in its first modification efforts with a 440 modified V-8 engine, stick shift, 4WD. I had that Dodge "Big Red" for MANY years, and it was well-known around Lake Tahoe.
I purchased a brand-new 2000 Miata, and used it a fair amount, for my trips to Palm Springs, where I owned part of a condo. I decided in early 2003 that I had too many vehicles, with the expenses involved, and sold the Dodge pickup at the end of March. I then used the Miata until November of 2003, when I made the final change, which was to swap off the Miata with a guy that wanted it for his mid-life crisis, and who no longer wanted his 1997 Nissan Pathfinder. As I type this in December 2020, I still have that Pathfinder, a reasonably roomy mid-size 4WD SUV.
Penny had a 1994 Subaru Legacy, 2WD; yes, they made some. We sold it in 2012, and have not replaced it.
Pure Race, Only:
500 Norton Manx.
350 Norton Manx.
BSA Gold Star (yes, another one).
R60 BMW with hand-built sidecar.
Husqvarna 400's...two of them.
See well above about the Norton-Vincent bike I raced. That was NOT EXACTLY a pure race only bike, but a bike that was built by me for both street and Bonneville Record attempts.
Special note:
In a partnership with Dan Mizer many years ago, we installed a considerable number (23) of Port-a-Port aircraft hangars, at the Carson City, Nevada, airport. I kept 3 of them for my use. I kept my Robertson-modified Cessna C-182 in one of them. That C-182 was not my first C-182. Eventually, I sold and swapped, but I had one large double hangar that was devoted to my very expansive collection of mostly running condition antique bikes that I noted well above. NONE of which are actually listed on this page you are reading due to restrictions from the museums that purchased my collection. These were true antiques. Many fond memories. I used to ride them now and then. Selling all of them provided enough money to pay off my debts (like my house mortgage).
Airplanes:
1957 Cessna 182.
1967 Cessna 182, FULL Robertson conversion.
1960 Piper Comanche 250.
Jointly-owned: Piper Twin Comanche; Piper Apache; Piper Apache Geronimo Conversion; Cessna 421; Piper SuperCub; two unmentionables; one unmentionable military jet.
Partially owned: Beech Baron.
Special in my heart:
The Porsche 550RS1500, see above.
In my teen years, the 49 Ford with Mercury crank, supercharged and BUILT flathead V-8. The light Club Coupe car was gutted and hopped up; engine of which eventually went into the 1952 MG-TD. THREE photos of the Ford, with my supercharged Flathead V-8, is here, scan down the photos article: https://bmwmotorcycletech.info/photogallery2.htm
My Alfa Sprint Speciale; ....baby Ferrari it was, too. RARE body on the Speciale. Very few ever built. Photos above. I was madly in love with my first wife, Mary Ellen (AKA Jonni), and loved driving that car, particularly with her in it.
1972 Duntov-built Corvette. 'nough said! I actually had TWO of these Duntov 1972 LT-1 Corvettes, both factory race-prepped. A long story.
I built a 1971-2 custom R75/5. This was an all-out Sleeper Bike that I built. It was a HUGE PIA! This bike appeared, unless one was VERY BMW knowledgeable, to be a stock bike. However, the starter motor had been removed, flywheel modified and in place of the starter was a supercharger. The carburetors at the heads were dummies, were bored out internally, and even the cables, etc., were all dummies. The 'carburetion' was by a home-brew pair of electric fuel injectors (made from 68 VW injectors), one for starting, located at the supercharger. The camshaft was custom made for long intake duration, and the entire bike was VERY heavily modified. Even the front brake was heavily modified internally, but looked stock on the outside. Frame beefed in several places, top of engine tied to the backbone too (finally DEmodified ...vibration was awful), forks modified internally, special ignition (dual points gave way to electronics, finally), close ratio gearbox (and modifications to the internals, very extensively for quick shifting), TWO plate clutch (similar to Guzzi). The rear drive contained a very rare ratio gearset. In order to hold the cylinders to the engine, the cylinder studs were hand-made, larger, longer, and the cases modified internally. Oil pump modified for no cavitation. Oil pickup was 'twin-ed'. Just no end to these modifications. The engine was generally kept under 6000, although it could be spun to over 8000 rather easily. There is a more complete article about this bike on this website. https://bmwmotorcycletech.info/sleeperr75.htm
---
Rev:
08/12/2007: Edited slightly for clarity.
11/24/2007: Add photos for BMW 600, and additional description.
02/08/2009: Slight revisions for clarity.
10/10/2012: Add QR code; add language button; update Google Ad-Sense code; update list.
05/03/2015: Small amount of updating.
03/06/2016: Slight updating on content, added Alfa's photos. Updated metacode. Layout.
09/03/2016: Minor updating on metacodes, scripts, a few corrections on content.
02/19/2018: Updated entire article with many more details and also reduced excessive html, colors, fonts.
03/21/2019: Minor updates.
05/26/2019: Minor update.
01/22/2020: Minor update.
© Copyright 2020, R. Fleischer
Return to Technical Articles LIST Page
Last check/edit: Monday, December 07, 2020