The ads above are Google-sponsored. Clicking on them at every visit helps support this website!
Clicking on something inside an advertisement helps even more!!

The FLEXIT leaner sidecar rig.....history, photos, etc.

flexit.htm
sidecar section #SC10
FIRSTLY, a few comments about "leaners". Leaners can be set up to be excellent for use with wheelchairs. Leaner rigs tend to be less frightening to those who are scared of the conventional type of sidecar rig. Leaner rigs can give handling that is much closer to a 2 wheeler, as opposed to a conventional sidecar rig.

http://tiltingvehicles.blogspot.com/2011/02/tilting-sidecar.html
The Flexit technical information, brochure, and photos in the following article, were furnished to me courtesy of John Goff. John Goff has positioned himself, and rightly so, as "THE HISTORIAN" on the Flexit. John appreciates passing on Flexit information...and would love to chit chat with Flexit owners, or those interested in Flexit's. E-mail John at: jg@teleport.com
He also invites those of you with additional Flexit information, knowledge of ownership, etc., to contact him.

Effective November 2009, there is a Yahoo Groups Flexit sidecar information web site and chat list. The Flexit Sidecar Owners Group (FSOG) is dedicated to the promotion, preservation and perpetuation of all of the surviving Flexit sidecars ever produced. Perhaps only 200 were built. Primary objectives of this group include, but are not limited to: Flexit owners support, historical research, parts identification and sources of supply, front & rear mounting bracket build procedures and installation, service & handling trolleys (SHTs), history and any other consideration that helps to keep as many Flexits as possible in service, on the road, and visible to the public. The site states that their primary asset will be freely shared Flexit information. The Group is open to all enthusiasts who have an interest in any articulated sidecars (lean capable sidecar attachments) regardless of type, era, country of origin, whether commercially manufactured or home built.
http://autos.groups.yahoo.com/group/FlexitSidecarOwnersGroup/

Positive attitude, mutual support, and good fellowship are essential to any special interest group. Anything you contribute by way of uploaded files or photos, can be edited or deleted as you choose.

The Flexit Sidecar Owners Group is family oriented ...any or all content may be edited at the discretion of the moderators. As stated, they are not here to solve nor debate the world's problems but to enjoy our time together in spite of them.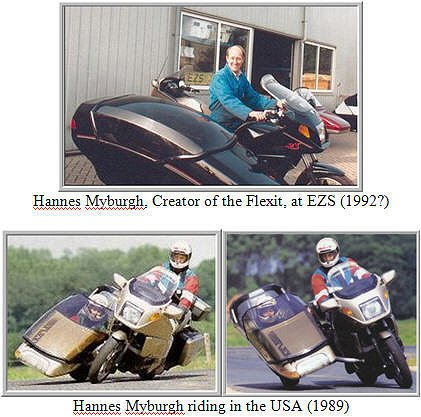 A factory brochure photo: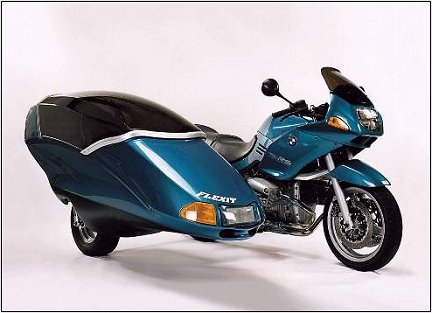 Cover from factory brochure:
Flexit factory information: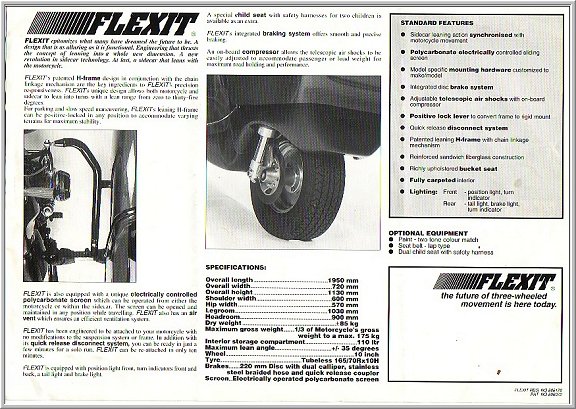 The red Flexit and red Moto-Guzzi rider is Steve Kealy, near Melbourne, Australia, with daughter, Bronwyn.
The red Honda ST1100 is Frank Sumner of UK.
The blue Honda GL1500 is also from the UK.

John Goff, next to his wife's (Char) white Honda GL1500SE Gold Wing.
2007, Crater Lake, Oregon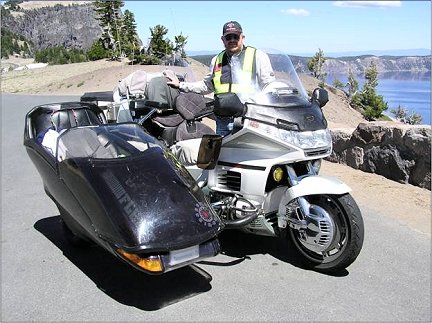 A Short History of Flexit Sidecars
by John Goff
March, 2008


note: this article by John was edited slightly by Snowbum, and is being shown in bold blue, as John preferred.


The Flexit fully articulated sidecar is considered by many to be the best engineering solution to the engineering problem of making a sidecar that leans in unison with the towing motorcycle. The Flexit is one of the very few leaning sidecar designs ever built that features a truly convenient and reliable lock-out device for parking maneuvers.

In the opinion of many I have talked with, this design is the best functioning articulated sidecar yet done, the best engineering solution yet done for a unison or parallel leaner.

The Flexit was the brain child of Hannes Myburgh, an accomplished South African engineer and designer. His creation of the Flexit was a personal "hands-on" effort of dedication and devotion to his concept.

So, how well does a Flexit sidecar work really? Well, there is an anecdote about Myburgh taking one of his Flexits to England to the Triumph high performance test track and hitching it up to one of Triumph's test mules. This motorcycle was equipped with radio telemetry to record all aspects of the test run. Hannes (pronounced "han-ness") plus his Flexit sidecar were looping around their test track reaching speeds of 260 kph (161 mph) in 6th gear in straights, which impressed the Triumph engineers. When Hannes got back to the pits, one engineer quipped that the gear ratios for 6th gear are an overdrive. If he would have left it 5th gear, the bike would have gone "faster". Most riders would say that 161 mph is "FAST" on motorcycle withOUT a sidecar. I have never heard of street legal sidecar with this kind of performance, let alone a unison leaning sidecar, that allows the motorcycle to still be a motorcycle in the curves.

The intriguing story of the Flexit is a traveling story that migrates from South Africa to Europe, to California, and finally back to Europe. It is hard to know (accurately) the total number of Flexit units produced from 1981(?) to 2005. My sources suggest that perhaps 20 units (including original prototype) were made in South Africa – 1981? to 1986?. Between 29 and 50 units were made by California Sidecar (CS) in California – 1989 to 1990. 92 units were made by EZS in Holland (The Netherlands) – 1991 to 1999. (I have a breakdown by destination country of where these 92 went.) And perhaps four or five of the 4th generation Single Sided Swingarm (SSS) Flexits were independently produced after Hannes Myburgh left EZS in 1999; from 2000 to 2005 before all production ended. That's a total of 167+/- Flexits world wide, including both left and right side attachments, of which about 15% were left side attach models. And of all of those, perhaps 70 reside in North America.

Production of the Flexit sidecar happened in 4 phases. In South Africa, Hannes Myburgh independently produced his original rough prototype as proof of concept of his design and then finalized the finished, fully functional design, including the unique electric canopy windshield cockpit enclosure system, and integrated disc brake. And though the numbers were few (perhaps 20 units), it was the beginning of a 3 continent, 20+ year journey.

With a fully developed articulated sidecar design, Hannes' next step was to take an example to a big international motorcycle show in Europe (1987?). When Peter Smith saw his first example of a Flexit at that show, he became both a fan and an advocate. Peter was instrumental in assembling a team of 3 men: Hannes Myburgh, Albert Engbers (of EZS), and Peter Smith, and fostered the idea of bringing the Flexit from Europe to the USA for its first serial production. A key stepping stone in this was the signing of a contract with California Sidecar (CS) for first mass production run of Flexits in 1989 and 1990+. 29 to perhaps 50 units were produced in this first commercial run of Flexits at CS. Smith, Engbers and Myburgh had a falling out with California Sidecar management and terminated their relationship with CS, which ended California Sidecar / Flexit production.

Peter Smith stayed in California and started the Champion Sidecar Company (a traditional rigid sidecar maker that is still in business today). Engbers and Myburgh return to The Netherlands, and in 1991, restart Flexit manufacture at EZS, which continues through 1999. According Albert Engbers at EZS, 92 units were produced (including both left and right attach versions). [And according to one British source, of these 92 there are 12 left side attach Flexits that were sold in England, all sold through and distributed by the Watsonian Sidecar Company. And these were actually badged as Watsonian "Squires". [The exact numbers of "other" left side attach versions of the Flexit outside of the original South African made units is not known to me.]

In 1999, Albert Engbers ended Flexit production at EZS. But Hannes Myburgh continued trying to keep both unit production and design development of the Flexit going forward. After leaving EZS, Myburgh then begins independent production of Flexits in 2000. The last Flexit is thought to have been produced in 2005. I do not know the numbers that Hannes produced between 2000 and 2005, but it was apparently a very small operation, with perhaps 4 or 5 units (that I can document with photos) being made.

The former Flexit sidecar web site was shut down and sold in 2005. Albert and Hannes remain good friends, though due to his health, contact between them is sporadic. Hannes Myburgh still resides in Zelhem, the Netherlands (Holland), which is also the home of Albert Engbers and EZS sidecars.

Hannes Myburgh really was the driving force behind the creation and production of the Flexit, especially in the last ditch effort at the end. Once again Hannes was personally involved in the fiberglass work. With long-term recurrent exposure to Keotone (a solvent) and other fiberglass related chemicals he suffered internal organ and even (it is rumored) neurological damage. It is said that Hannes Myburgh receives a disability income from the government of The Netherlands. I am told that Hannes has good days and bad days, and that he is getting better. I hope so. We all certainly wish him the very best.

For the surviving Flexit owners, one of our biggest long-term worries is the unique polycarbonate Flexit windshield. Thankfully these are amazingly durable, and short of some sort of calamity, the need for windshield replacements is infrequent. Albert Engbers says that Hannes Myburgh still has (owns) the machine that he designed and built that made (blew) those windshields. But in as much as Flexit production has ended, so has the Flexit windshield availability. (I know, because I tried to buy one at EZS when I was there in January, 2007.)

I once had an email from Dave Szkudlarek, the moderator for the Yahoo groups on-line Flexit Sidecar Club, with Dave expressing the view that he thought that around 200 Flexits had been produced. Some believe that as many as 400 may have been produced. So far, my research into this question shows 20? + 50? + 92 + 5? = 167 units (plus or minus a little bit) and suggests that an estimate of 200 might be a little high.

John further said: If there is more information out there, and/ or a more complete history of the Flexit than this meager thumbnail sketch, I hope that you will share that information with me. I, for one, am interested to know the complete history of Flexit sidecars, and as accurately as possible.
---
Here are some photos of Mike Huntzinger's R1100GS-Flexit rig. These were taken at the 2009 USCA Sidecar Rally at Lake Tahoe (The Rally was produced by Snowbum and wife Penny, who live at Lake Tahoe, and have, amongst other 2 and 3 wheelers, a K1100LT-EZS-EML bastardization, well, of sorts! You are probably reading this Flexit article on Snowbum's website: http://bmwmotorcycletech.info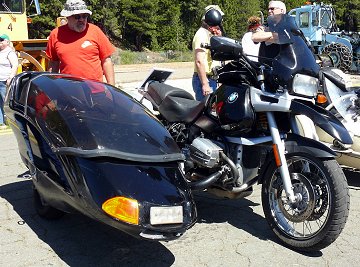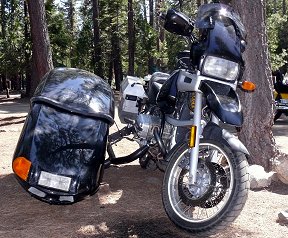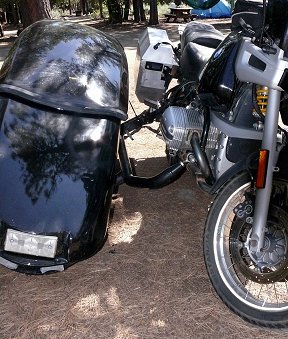 For a not-so-great-photo, and the patent information, etc., for the FLEXCAR, attached to a very old Indian motorcycle, click for my http://bmwmotorcycletech.info/photogallery2.htm
Rev:
03/15/2008: Initial release
03/16/2008: Add photo captions, edit spacing on photos, edit text; add script coding for Google; add
coding for Keywords, Description, Content. Minor other html changes.
03/16/2008: late morning. Add Flexit Euro brochure photos, and edit rest for appearance.
03/18 /2008: to bold blue; as John prefers that; minor editing; added Hannes' photos
03/19/2008: add additional hidden coding for search engines; clean up presentation and spacing, etc.
07/01/2009: Add photos of Mike Huntzinger's rig
07/02/2009: fix messes that somehow happened, and clean up presentation
11/16/2009: Add information on the new Flexit sidecar group, near top of page.
03/12/2010: Add link to photo gallery 2
08/26/2012: Clean up the article.
01/19/2014: Add top section comments by me on two websites for leaners, and others.
04/17/2015: Remove two links. Transfer those (not leaners infor) to Technical Articles LIST, SC section.
01/29/2016: Add link.
Return to Technical Articles LIST Page