The ads above are Google-sponsored.
Clicking on them at every visit helps support this website!
Clicking on something inside an advertisement helps even more!

Snowbum's Sale (and Wanted) page

This is the only page in this entire website where I am offering to sell/barter/buy/trade. Things I WANT are listed at the very bottom of this article.

https://bmwmotorcycletech.info/sale.htm
© Copyright 2020, R. Fleischer
You may contact me at: Snowbum@bmwmotorcycletech.info
---
So....what happened in 2019? Due to health & old age problems for both of us (mostly me), ...and because Penny no longer wanted to live in a big snow area (and surely did not want me on the 2nd story roof, cleaning snow, etc); .....in 2019 Penny and I sold much of what we owned when still living at South Lake Tahoe, the intention being of having a lot less stuff and eventually selling the property and moving to a smaller place. We gave away all our big furniture items. Our original intention was to move to a CCRC in Milwaukie, Oregon called Rose Villa........but there were NO garages/workshop space available. I hated the idea of moving, but realized I was just not up to the type of riding I wanted to do, nor many other things, and, thought I could live without a workshop and place for motorcycles. So: Bye Bye went the big machinery, bikes, my Kawai grand piano.....etc. Unfortunately (or, fortunately??) ....after being on the RoseVilla waiting list for a couple of years for a small cottage at the CCRC, we found out that circumstances at the CCRC had changed, and we'd likely be into our nineties before we actually got a cottage there. We then made the decision to sell out at Lake Tahoe anyway, and the preparations for this began in early 2019. In June we rented a house in Carson City, Nevada, in a 55+ community only 30 miles away, and we very slowly began moving. The Carson City house gets vastly less snow in the Winter, and has a modest-sized two-car garage ....which meant room for a small electronics shop & our car ...but, no motorcycles nor sidecar rig ...they had already been sold, together with most of my BMW repairing tools, parts, jigs, etc.
I kept a few BMW items. I also kept most of my hand tools and some of my numerous small power tools., I kept 90% of everything from the electronics repair shop (the rest went into the trash barrels). I kept an almost new Schuberth helmet (shown below) used in my recog-safety article, and a lot of my sports things (ski's, etc).

This SALE article is where I am posting, now and then, many things I do not need nor want to take up room to store them.....ETC. I have a LOT more stuff to get rid of, as storage space here is limited. I also have a page on my electronics repair shop, for things I wish to sell/trade/whatever:
http://fleischerelectronicsservice.com/bargain-basement.htm
At the rental house I built a new shop for electronics repair work, chores, etc. Penny is quite happy, I am accepting of the situation, and we are doing our best to enjoy what years we have left. We are in our early eighties, and still active. After some fun and games with the various bureaucrats in Carson City, I managed to re-open the shop....and, shortly thereafter, came the Corona Virus, and I had to shut down again to comply with the Governor's edicts. By Mid-May I was again open, part-time. I work just enough (on purpose) to keep me not quite bored, and try to pay all the utilities. I could be working around the clock if I wanted-to (I DO NOT!).
---
1. For Sale! This is my almost brand-new Schuberth helmet. Purchased just barely before my medical problems suddenly arose. It has been worn three times, total is 150 to 200 miles. No scratches, great condition. Only change from brand new is that I have sealed the top vent open for maximum air flow in quite hot weather, and, removed sensors wires, of which there is no trace of having been there. This was the primary helmet I used (I had two of my older helmets and borrowed two also, all due to their colors, needed for the article )in developing my article: https://bmwmotorcycletech.info/recog-safety.htm ). This helmet comes with the original box, original soft-cloth bag, original paperwork, owners booklet, etc.
AFAIK, helmets are measured at eyebrow or tad above level, around the head, and that is where the cm spec comes from. The helmet box says 57. I checked things in this original helmet box, and there is a brand-new Schuberth fog resistant lens (one of those Pinlock types)….says 100% UV protection…package never opened. There is also some further info on some protective covers that the helmet was shipped with, one backs up the box size, saying: 57 M 7-1/8. Also says ECE R22.05 and DOT 218. Another insert/cover, shows size M, 56-57. There is a table on that insert, and Schuberth considers the low end of L to be 58. When I purchased the helmet (God-Awful $$$ it was, too), I tried several brands, and lots of sizes. I wanted one that fit my shape head, besides just my head size. All helmet manufacturer's use different, some a lot different, some hardly much, shape of the wood, or whatever, 'dummy heads' they design for. Rounder heads, oblong heads, ETC. I think Schuberth is in the middle of the pack, size/fit.
It is a Schuberth C3Pro, is, of course, DOT, etc., approved, and the color is high visibility Fluorescent Yellow, one of the two colors that tested best for safety (the other is a sort of a green lime and yellow mix, and not all that attractive, IMO). The size is, as noted, 57-M-7-1/8. It retailed for $799, and I actually paid nearly that much for it. It may be, arguably, the best-ever helmet. I am asking only $200 for it. I'd rather someone use it than it sitting on a shelf here, reminding me of my riding days. If you want what may well be one of the very best & safest lids, ...this could your chance; especially at a super bargain price. Sell, trade, barter, whatever .....help me get this lid out of here!
2. This is a dual-squirrel-cage type of air blower, with a powerful capacitor-start motor, with 3 selectable speeds. I used this as my engine cooler for Airheads, and even K bikes, etc. It was converted from a house heater blower (I've done maybe a dozen of these for friends over the years). PRICE REDUCED TO $25...I want this space-taking item gone! This is vastly better than a circular fan due to its high direct, not circular, cooling flow. I do not want to package and ship this item.


3. RAM type mounts. Assorted styles. 1 lot. $15 total for all these items; plus shipping.

4. "R100RT" Made by Guiloy. You can have it for what it cost me, a long time ago, $58.
5. Below is a quite rare metal model of the famous WWII Zündapp KS750, in 1:10 size, with sidecar (mit beiwagen). It is of very high quality made by Schuco (Germany), and is unique and special. This is not a plastic model, but high quality and movable parts die-cast metal model. It is heavy and substantial, with great attention to details. Yes, the parts move, rotate, etc. The underside of the original box shows the extensive specifications. These, complete, rarely are found for sale ....very particularly with the original box, etc. This was removed from the box for the photos, otherwise it has never been unboxed. In original box these are super pricey on such as Ebay. I am asking $98, same as my original cost before shipping charges to me, long ago. I can ship this, in a large substantial cardboard box, properly packed, to avoid damage in transit.



6.

Singer buttonholer adapter. Like new. Lots of anvils too. $20 plus shipping.



7. A lot of single engine aircraft owners manuals; E6B and E6D computers, old Jepessen books, ETC ETC. FREE to a budding pilot.

8. http://FleischerElectronicsService.com/Bargain-Basement.htm

9. Computer item:
ATI Radeon Graphic Accelerator card. Complete with packaging, box, instructions, and installation disc. Does NOT need a fan, has its own gold plated large heat-sink. A nice item! ATI Radeon 9550 AGP 256 Mb DDR2 8X. There are several versions of the 9550, this is the best one. Just plug it into a slot in your computer. Especially nice if you have integrated video and want to upgrade for such as more intense graphics or gaming work, large monitor size, etc. NEW; Tested and Guaranteed! I was going to put this brand-new unit in my computer, then decided to purchase a computer for which it won't fit. $20. I'll include shipping.
10. Padded camera case. NICE condition inside and outside. $2. You pay USPS shipping. Estimated package weight: just under a pound. Size is about 5-1/2" x 5-1/2"

11. RF modulators. I have two of these. They plug into a wall power socket. These convert audio and/or video signals so that you can use any TV (output is selectable for Channel 3 OR Channel 4). Input can be a Wii, VCR, Video camera, DVD Disc player, FM receiver, any of the popular game boxes, ETC. You simply connect the audio and video output of your goody, to the input of one of these RF modulators. Inputs provided include Right and Left audio, and Video (including a separate S-video jack too). $6 each. Plus shipping. These are small, and fit in a Flat Rate postal box. If you take both, I will toss in some cables.
12. For Olympus D500-L or D600-L: extra memory cards, A.C. Adapter C-7AU, manual, etc. Price reduced to $10.00 + shipping for all of it. I no longer have the camera, it was accidentally destroyed...boooo hoooo (dropping things from high up will do that).
13. I am not going to be able to do any more serious game hunting. I am going to sell my personal hunting knife ...a rare Barry Wood (COLT) folding knife. These keep going up in value, and are unique; but, especially, they are super-functional. Just hunt for 'Barry Wood Colt U1050 knife', on the internet. Or just go to https://www.worthpoint.com/worthopedia/colt-barry-wood-folding-knife-u1050-rare
Take a look at one being offered for sale......and its price!: https://www.ebay.com/itm/Colt-Barry-Wood-Folding-Hunting-Knife-/401974226255
See also: https://www.youtube.com/watch?v=mp9F2qB1Yfw
I bought mine directly from Barry, many decades ago.....I knew him personally. Barry had made a couple very early models (before the Colt editions) with scrimshaw on antler handles ...never could get him to sell me one. There is a longish story about mine, one of the Colt editions, micarta handles.
I want $275 for mine. NO bargaining. I'll leave it listed here for awhile, and if not sold, will put it on Ebay, and it won't be as cheap there!

14. Buffalo pants. Leather belts & various buckles. Workout/Weight lifter's wide/thick belt. Leather chaps.aps.aps.aps.aps.aps.aps.aps.aps.aps.aps.aps.aps.aps.aps.aps.aps.

Genuine buffalo pants. Buffalo leather does not shrink. These are hand made and high quality, and worn only twice for a few hours, so are in exceptionally nice condition. A brand-new pair of Levi's jeans were purchased, and disassembled, to supply the 'pattern' for these. As seen in the photos, the sued side is out (of course, that means the smooth side is in). Essentially straight leg style. These will last forever. $150 plus shipping. Can be available with one or more belt buckles shown a bit further down.

The Buffalo pants size is ~32/33 waist; ~29 inseam.
Buckles with thick leather belts, hand-made.
From the left, top row:
(1) Meling Ranch, Baja Calif.
(2) Marijuana leaf, bronze or brass.
(3) I'd Rather Be Flying, brass.
(4) Genuine hand-made buckle by Finish artist Aulikki Nittiyen. All silver, turquoise insets, wolves howling at the moon, etc. Aulikki was a close friend and roommate of Snowbum; this buckle made of silver was done specifically for Snowbum, quite some time before she became famous for this style of work. It is signed, if faintly, on the rear. Another view of it is to right of first photo.
(5) Airheads emblem buckle.

From the left, bottom row:
(1) "sink drain"
(2) Genuine Tiffany NY buckle. Large. California Fire Department, America's Heroes, horse-drawn pumper, brass.
(3) Polished silvery, large.

Snowbum (that's ME!) made this workout belt when I had a very boring Middle East assignment. It's very thick heavy duty leather and a very large heavy duty buckle. It's quite nice.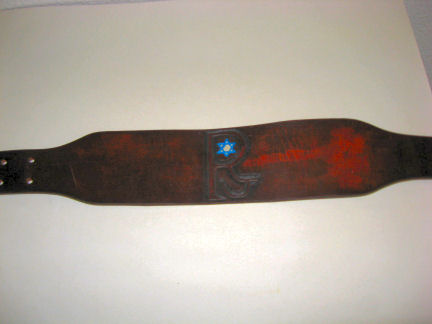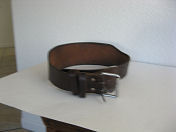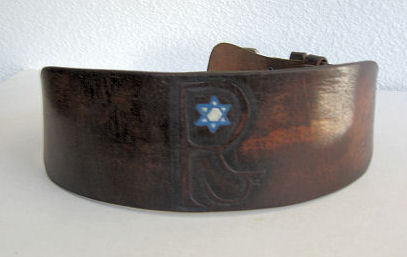 I have a pair of heavy leather chaps...will eventually take a photo and put it here.


15. I have a LOT of speakers I want to get rid of. They take up a huge amount of my shelving....I have them from 18" diameter to a few inches in diameter. Some are brand-new, most are name-brand, some are musician's high power speakers. I have a few that are completely rebuilt. Priced to sell! WAY too many to have photos here for all of them. Ask as to what you want/need. The photos here are just to remind you what a speaker looks like (the really small ones for small radios, etc., are different, of course).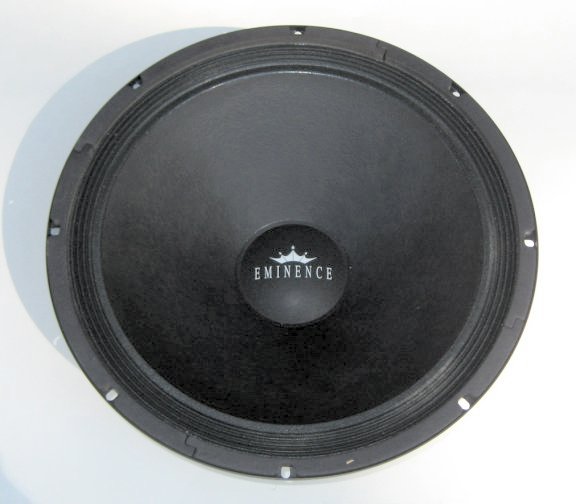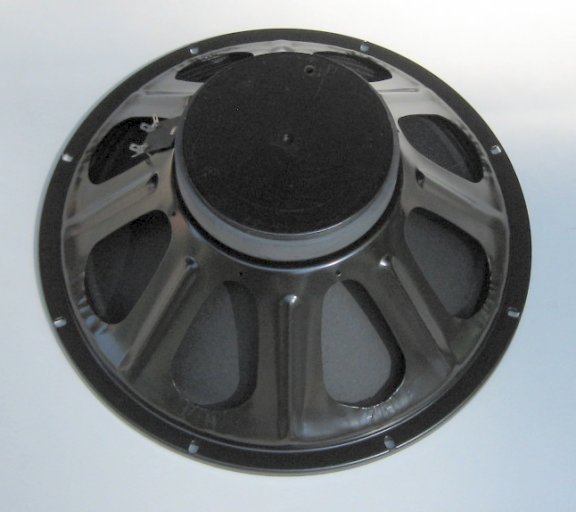 16. LARGE Bureau of Standards type of fan-style dynamometer A.C. voltmeter, mirror scale, jeweled bearings, and in original wood-case with leather handle, etc. An antique, but in perfect working condition, and extremely accurate. Suitable for actual use or for a museum, these are valuable for their preciseness; and, especially, the dynamometer style of movement which eliminates errors normally and regularly found in regular analog or digital meters due to waveform distortion. Accuracy is approximately same as a modern digital meter on a clean signal! Price reduced to $150. GUARANTEED!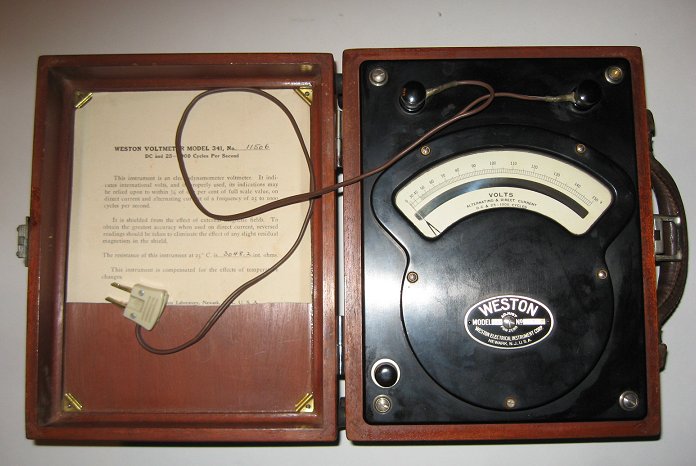 17. Antique, but functioning well, Precision E-200C RF signal generator, with a stabilizing temperature control setup inside that I installed; $60.
18. Some older hifi equipment ...my personal stuff. Some is already sold. Still have the Sony am/fm receiver/amplifier, still have a quite high quality cassette player-recorder, also a CD unit, etc. Will be priced to sell. The Sony pro-T-T is gone; but I have another turntable available.... much cheaper, but functional. Probably ask $45 for it, includes cartridge and needle.
19. HOW BIG IS YOUR EGO? This is a very unique custom-made one-of-a-kind jewelry piece. This is a very heavy (LOTS of real gold) Dragon pendant, with a special ruby 'tongue' and nostrils, a diamond in an eye, and every one of the dragon's claws has a diamond of good quality. On a postal scale the dragon and its gold chain will weigh 3-1/2 ounces. That's not Troy weight (which is about 2.25 troy ounces) (converting it to PURE 24 ct gold for you it is about 1.31 Troy ounces of PURE gold). Go check monex.com for the latest gold price. This is heavy and massive. I have all the specifications that I can e-mail if you are really interested. It is available for sale or trade; ~$9,000. It's melt-down (ugggh!) value varies with the price of rubies, diamonds and gold. The dragon was originally purchased by ME as a thin gold dragon shell, designed and made by a craftsman in the Virgin Islands, where I purchased it in person. I had it filled with gold and had the diamonds and rubies added ...all this by The Jewelry Factory; the exact same place, by the exact same person (Bob Lindner), who made most of Liberace's fancy jewelry. I INCLUDE the paperwork from The Jewelry Factory! This is a very special piece; and with the price of gold and custom pieces is worth an increasing amount of $. I have had a most difficult time trying to photograph it, as the shiny reflective surfaces tend to look black or otherwise be distorted, and the diamonds reflection makes them look out of focus. The photos are the best I've been able to do with my not fancy digital camera equipment...and do not show the large ruby tongue and diamonds very well at all, nor the sharpness of the piece.
The brilliance of the diamonds did not help matters in trying to take these photos. It would be worse now that I have polished the gold. The dragon itself is about 2 inches by 2-1/2 inches, maybe a bit more. You really need to see this piece in person. It is large, heavy, and only someone with an EGO (like mine?) would wear this. It is listed with more information, on this website under https://bmwmotorcycletech.info/dragon.htm

20. Sony tape recorder/player. This is a top-of-the-line unit, it was my own. Serviced and ready for sale. High quality, well-built, high performance and with all the bells & whistles and controls. It has a closed loop dual capstan mechanism with multi-motors. 3 heads. Guaranteed. $120, plus shipping if needed. Nothing even hardly near this good a tape recorder/player is available new now-a-days. Sorry about the reflections in the photo.

21. Royal typewriter. NOT a reproduction! This is the real deal, and was the top of the line, with all the bells and whistles, etc. .... it works perfectly. In super good condition, & very nice appearing...in fact, it looks much nicer than in the photo....its original paint, for example, is not faded; I had to manipulate the photo in order to show the keys properly due to lighting. This is the rare & original round-key model. The narrow white fuzzy vertical streaks above the top row of keys do not exist, they are a reflection from the shiny nickel rims of the keys. I still use this occasionally. True museum quality. Extra ribbons too, and guaranteed to work properly. No problem obtaining ribbons, you an even get them at WalMart. Comes with a nicely made cover. $150.00 including manual/history, etc.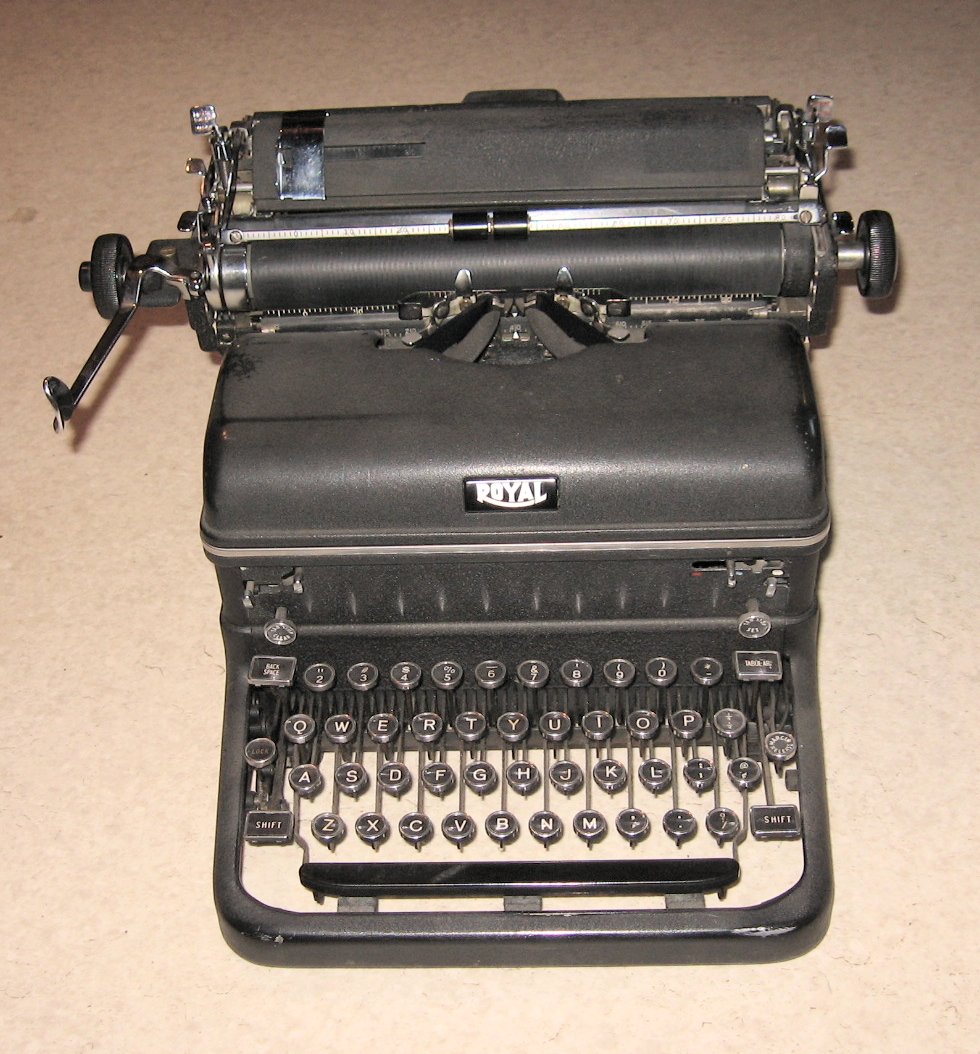 22. Remington, long carriage, office type, typewriter. In daily use. Ask about this one.

23. Fieldsheer brand; 100% nylong/polyamide Rain Clothes for motorcyclist ...or ? Two piece type, size large. Since these are meant to fit over your regular clothes, this size will fit the average size man. I'll put a photo here when I get around to it. These were my emergency rain clothes that I kept in a bag in my sidecar rig, and I only remember wearing them once in quite a gully-washer, in which I stayed dry. No damage to jacket. No burned places. One small slit in legs. Legs have zippers to more easily fit over wide boots. Lower's waist is self-adjusting, same for wrists, etc. Jacket (top) has two large pockets with velcro flaps. Jacket also has a full length flap with velcro AND a zipper, so the jacket is pretty much waterproof-leakproof. These are not the cheap Chinese-made rain clothes that don't last and always leak. These are not flimsy, and are both sewn and bonded (and, backed-up/lined A/R on the inside). Fieldsheer's number on them is R/N #85377. My price to you is $10, a real bargain. Shipping should not be much.
Photo:
End of my list, for now. I have a lot more 'stuff'. I'll try to get around to taking photos and posting more.
---
http://fleischerelectronicsservice.com/bargain-basement.htm
---
Things I'm interested in getting (trade/barter ....and/or ...I will pay cash or add cash as appropriate):
1. BMW SNABB Katalog that is marked on the rear cover outside as 01-01-9-796-621.
2. Replacement for my awfully worn SNABB Katalog which is 01 09 9 796 332 1.5 V/81
3. BMW factory service manual and perhaps parts manual, for 1981+ R65, and OK if it also covers R80ST, etc.
4. Battery powered motorcycle or even a scooter or light weight small bike, such as a later model 100-150 cc, for local grocery shopping purposes. Must be in decent condition, and must be legal for street riding. Cash/trade/whatever.

5. USB hub, POWERED type. 4 or more USB-A connections at a minimum (other USB connection jacks are OK, if there). I don't care if the hub is USB 2.0 or 3.0. I will be needing this for my upcoming revamping of my BMW website system.

---
For anything on this entire page: I may trade/barter. I also may dicker on combining things! Ask or make me an offer.

After we agree about an item and its shipping; you can pay in several ways.
By PayPal:
Click on this link: https://bmwmotorcycletech.info/emailimage.htm which is a photo which shows my full E-mail address which is also my PayPal account number. If you send PayPal funds as "personal", "gift", or similar, I do not have to pay their fees.
Go to http://www.paypal.com, or just use the PayPal logos in this article & pay using my e-mail address as to where you are sending the funds. I can also send a money request to you through PayPal, but my last try at that made me pay their fees.
By personal check or cash (please do NOT send cash via snail mail) or United States Postal Service Money Orders (which I can cash and pay for your item's shipping at the same time at the Post Office). If you wish to send me a personal check or bank draft, money order, etc., my new mailing address is: R. Fleischer; 1903 Teal Drive, Carson City, NV, 89701. ALWAYS let me know how you wish to pay, AHEAD OF TIME.
The United States Postal Service has been improving its "Service". Internet tracking is standard for most all mail, as an example. I always go to USPS.com for the latest information before quoting you costs. I usually ship things to USA addresses via Priority Mail or First Class, or the new version of Parcel Post (if still available).
I ship most packages out of the U.S. by First Class Package International for the lowest postal rates. Insurance for that type of shipping may be available now.
For international mailings, there is also Priority Mail or Express Mail where insurance & tracking are available; although that type of service usually costs much more than First Class Package International. "First Class Package International" shipments seem to take from 2 weeks to 5+ weeks. I will NOT ship First Class Package International to international locations without YOUR understanding that shipment might take as long as 5 weeks, sometimes more. I WILL provide, upon your request, a copy of the mailing receipt, as proof I mailed the item; plus, whatever type of proof of shipment is available (typically via Internet tracking).
For very expensive items there is a USPS service called Insured-Registered mail, which is very secure for expensive items, whether domestic or foreign; it is rather typically slow.
Sometimes, UPS is considerably cheaper than USPS, sometimes that is reversed. I usually check both, and often also check Fedex.
I provide Internet Tracking Numbers and other information to anyplace I ship to.
---
©

Copyright 2020, R. Fleischer

Return to Technical Articles LIST Page

Last check/edit: Monday, July 13, 2020