The ads above are Google-sponsored, ......clicking on them at every visit, and looking at them helps support this website!

Luggage, Windshields, Locks & Keys, Mirrors, Instruments, etc.
Some of the locks/keys information also is for K bikes.
© Copyright, 2014, R. Fleischer

locks-caps-etc.htm-75A

See #73 for products to use; see #44 for repairing luggage/panniers, references for sources, etc.
1. Steering head locks (Airheads): These are not easy to remove, if they were, there would not be any
need for a steering head lock! To remove a steering head lock, remove the swinging plate by prying
the pin out. The next step depends on whether or not you have a proper working key. If you do, insert
it, and turn the key a bit towards the LEFT. The lock should then come out. If you have a broken key in
the lock, and you have not been able to pry it out; OR, you do not have a key and do not wish to
engage the services of a locksmith, then you must drill the lock. Drill the lock with a 10 mm drill, or
start with a 3/8" drill, a/r...be sure to use a powerful vacuum cleaner to suck out what you can as you
drill. Clean carefully to avoid metal getting into the lower steering bearing. Do best as you can with
taking out old parts and cleaning.
I USUALLY advise a lock be changed when steering head bearings are being serviced.
To Install the NEW lock you MUST have the key installed, it all simply snaps in place. Replace the
cover and pin.
2. http://w6rec.com/
A LOT of information and pictures of the keys. Use his SEARCH function for KEYS

More photos: www.motokeys.com same as: http://motokeys.ecrater.com/
This is owned by Eric Johnson, a fellow Airhead rider.

Many other places have keys.
A source for numbered luggage keys: Larry Stonestreet, dba Stoner's Beemer Stash
Ca.stoner@yahoo.com or (951) 813-1704 8:00 a.m. to 6 p.m. PST.

See below in this article, several places, for more key sources.
Info on Krauser luggage:
http://w6rec.com:80/duane/bmw/bags/krauser/index.http

http://users.pandora.be/tups/index.htm
some locks reference materials

On CRAVEN equipment: see REFERENCES, under L for Luggage.

The two "keys" below are exclusive for the ignition/lights on /5 Airheads. There is no coding.
| | |
| --- | --- |
| | |
| /5 normal use key | /5 keyring key |
3. Key blanks: This section #3 applies to all the keys EXCEPT the old cable lock and EXCEPT the
FLAT LATCH luggage....note that KRAUSER KEYS are different on some versions (2 I know of) (but,
see references later on this page regarding the FLAT LATCHES on the luggage). See also above
references in 2. See information on Krauser bags, later in this article.
Also ...see my REFERENCES page, under LUGGAGE.
BMW genuine steel key blanks made by Neiman are by far the best! That being said, here is
information on other makes of key blanks: Ilco SR61N (these are brass, NOT STEEL like BMW
keys!); Euro style JMA-NE-7; B69F; Volvo V77; Volvo V07; Ilco's Key blank V06 can be made to
work. Other usable blanks are numbers RT15 as on Renault and Silca NE 5, Curtis MC44.

NOTE: Your locksmith may want to look at Taylor Lock Company #071V, which is supposedly the same as Ilco #L62VN. Note that the company was acquired by Simpson Hardware in 1983. It was reported that an Italian key, Silca brand, is available in Europe, and the model to use is NE5 and NE5P.
Here is a URL that shows how to make your own key! http://www.thisoldtractor.com/gtbender/print/print_loopframe_body_keys_for_tool_boxes_and_fork_lock.htm
http://www.motorcyclekeys.com
Generally, this is for the more conventional looking keys.

Original coded keys are orderable, already cut, from your dealer, for such as the ignition. You need the code that came with the keys with your new bike. Otherwise, you need the correct blank, and to find a locksmith willing to cut the STEEL key. You may well find that your BMW dealer will cut the keys. Many locksmiths will NOT cut steel keys....in that case try your friendly hardware store to cut YOUR blank from YOUR original key. You can order coded keys via the above URL, or your dealer. The BMW keys are made of STEEL, both straight and folding type. Here are TWO of the BMW BLANK (uncut) numbers:
straight: 51-25-1-233-554
folding: 51-25-1-453-659 (K bike style)....see next section on all the little details about various folding keys!
Here is a website with some 'information', if you can understand it, on how the keys are cut, versus the coding numbers:
http://www.stephenbottcher.net/BMW/keys.htm

Folding keys:

NOTE! The folding key comes apart by pushing the "axle" or hinge pin out of the head. That can be helpful, because some otherwise-cooperative key cutters in your area may balk at copying your key just because the floppy head restricts it from fitting in the slots of their automatic machines.
If you have been trying to find BMW numbers for folding key blanks from the on-line dealerships with parts catalogs, you might have trouble. For instance, just because RealOem.com does not recognize numbers, does not mean the number is not good.....or, did not ever exist, or doesn't now. A thread on the Airheads list in May of 2011 had someone trying to find 51251243275 on RealOEM.com. I found it at Max BMW's site.
The popular on-line parts catalogs, all of them showing things differently, and working a bit differently, are:
Max BMW, RealOem, A & S, Chicago (devoid of much info though).

HINT! When using BMW type numbers, do NOT use hyphens NOR blank spaces when entering BMW numbers into the various websites.

51-25-1-243-275 folding key was replaced by 51-25-2-301-763 a long time ago. You will possibly find it difficult to use some of the various websites to find out this sort of thing. Sometimes BMW supersedes a part number numerous times. I have even seen them go BACK to an earlier part number.

Further, there were NUMEROUS styles of folding keys. One early key, used in the /6 era, was 51-25-1-233-555.

They all fit the ignition lock, seat lock, etc.

At one time, BMW discontinued a folding key, and cross-referenced to a NON-folding type, then I think that got reversed after a couple years (my memory is thin on that).

Describing these various keys...well, some of them (and see SOME photos later in this article):
One folding key has a tiny BMW roundel showing in blue and white COLORS, and that folding key has a D shaped slot in it for the key ring. Another type has the roundel with no color, just the plastic body black, and the roundel is molded-in, as part of the black folding key plastic. This type of key has a ROUND hole for the key ring. These two folding keys have very slightly differing lengths in the key metal showing WHEN folded FLAT...but same length when at 90° (unfolded). Both are Neiman key units (most keys will say Neiman, and they are STEEL, NOT BRASS). Because they are STEEL, BMW keys last forever. Locksmiths may not like cutting steel, however. BMW dealers will; so will many hardware stores.

Aside note: In the early key days, BMW would have a ONE digit change in the part number for when the key was already cut for your bike. Thus, -275 became -276. That was discontinued.

Another type of FOLDING key was a much larger type. The projecting metal part of the key is longer. It is the SAME fitment into any of the locks, however. On this large folding key, the plastic body is more or less square, is thicker, the key ring hole is a somewhat flatter D, and the relatively large BMW roundel (not quite the size of a dime) is in key plastic black...but is a PUSH BUTTON, that operates a tiny incandescent lamp, from an internal battery. This type was often seen seen used on K bikes....yes, the key can fit into Airhead's locks. NOTE that this particular key can not be actually used in the BENT 90° POSITION on pod instrument Airheads (not sure about R45/65/ST/GS ones though), as the pod will possibly contact the key plastic when the key is bent. The key still is usable in those airheads though.

The -555 folding all-metal flat key was nickel-plated if I remember correctly, had a small round hole, and had two edges square to each other, and a sort of rounded projection at an opposing corner.

There were some other folding keys, long gone, and I don't think they came into common use....I think they were used during promotions and special BMW events. The two that I specifically remember were fancy, with fancy large and colored Roundels.

NOTE that you can fit an Airhead key and a K bike key into each other's locks.

There are more details that I will probably remember later, after I post this MESS. I may have even made mistakes someplace in this posting.....hard to remember all the details and numbers after so many years.

One folding key not mentioned was this one: 51-25-1-453-659; which is the K-bike style. Yes, fits Airheads too.
Cloisonne insert roundel


note key tag with number
and steel key (Neiman)

Also as folding type. NOTE the round hole.

Push-button light, K-bike

There are many sources for BMW keys; first choice should be your independent BMW service center and/or your BMW motorcycle dealership.

4. The BMW tour bags with the flat locks can be converted to the tubular style locks...a riveting job (no pun intended), but care must be taken to align the rear bag lock, to be SURE that it will actually latch onto the bag mount properly.

Saddle bags loose? vibrate? locks sloppy? Going to lose a bag whilst traveling?.....read on:
Luggage problems are common. Once in a while, a rear flat latch will get worn enough to break, leaving your bag all over the highway, and you may not notice the bag disappearing from the bike. FLAT latches means, here, the type that has a rather flat handle, and there is a small flip lever to allow the key to be inserted. Those that venture off-road, in particular, should be conscious of this possibility. Some of us put Bungy-Buddies on the rear of our bags, and bungee one bag to the other (some do it to the rear, even tops, of the lids). The bungee(s) go between the two bags. Other folks use a variety of straps....even ropes!...between the bags....or on individual bags around that bag's mounting frame. The standard bag frames have some round holes in them. Install a standard timing hole rubber in the two top holes, front and rear. That will stop some of the bag vibration. Bag vibration wears the rear latch. It is worse if the bag is very heavily loaded. If the front of the bag fits too loosely, build up the frame tubing with a few layers of tape. Same can be done for the rear, for the flat latch. There are numerous types of metal frames to which you affix the bags. Some of these frames have a hole at the left and right top areas (where an angular flat brace is welded), and you will find that the standard black rubber timing plug will fit and help with vibration/looseness.

There is a great tendency for folks to overload the bags, far beyond their rating, and that gives a lot of extra inertia over bumps, etc. That inertia can cause problems. It is possible for the bag frame to normally bend a bit in rough going, and with a worn rear latch, and a goodly bump, the bag can depart. I won't take the chance, and both my TourBags on one bike, and my Krausers on the other bike, have bungee cords. I've never had a bag depart from one of my rides, and that includes some worn rear latches and some 'flying' over Alaskan frost-heaves. Some dislike that bungee bodge, some use straps around the bag and frame....ETC. Some hate the idea of anything. Extra weight in the bags tends to be hard on the bag frames too, and they can crack, often near the front lower mounting.
The worst of the bag frames is the simple one with NO lower front mounting.

NOTE! The TourBag and some Krauser's use the same FLAT latch at the REAR, with only the early BMW TourBag having flat latches of the SAME type on top. Keys, etc., are treated much earlier in this article.

The flat latches are replaceable by the later, better, tubular latches, although the TOP flat ones don't fail all that often, like the rear (and vastly more important one) do. KEYING to match, is possible, as the tubular latches come without key locks, you purchase them separately, and with some clever playing, you can match your key. I have one bag that has the original flat top latches and one rear tubular. No one seems to notice the disparity. NOTE that roughly or vigorously snapping the latches closed tends to wear the latch prongs...which is where they break and let the bag go flying down the road. The tubular later latches are stronger in this respect.

NOTE!!! I have done a few changes for myself....and for several customer's bikes....from the flat latch to the tubular rear latch, and I have found that the tubular latches are not always a perfect fit to the old rivet holes. BE SURE that your new tubular latch, if you go that way, matches the holes when the latch is shut, fully clamped that is, on the frame.... and make it match, if that is needed. USUALLY what happens is that you rivet the new tubular latch to the existing holes, and the new tubular latch needs to be tightly forced, to close all the way. BAAAD! I found this out on the first one I did, and had to drill out the rivets and > move the hole centering a tiny amount. Bag keys are coded, and the latches have the same code on them someplace. The later tubular style lock (that tubular portion is the handle, so-to-speak) are better, use a more standard looking type of key.

There is a rubber insert on the original latches, there is no part number. The rubber tends to deteriorate over the years, even get lost. The rubber part can help at a latch, but if the latch is well-worn....worn considerably......you can have a problem. But...the rubber will tighten things up considerably, if you make the rubber part out of reasonably dense material. I use to use the rubber from common rubber mats as used on gym floors, using a very tough 'glue'....the same glue as for engine labels (and I use it at fairing bellows on RT's too) which is 3M Super Weatherstrip Adhesive. Yellow Gorilla Snot. Black if you want it, is available, not sure how commonly. Clean surfaces and apply EXACTLY per the tube. NOTE that if the fingers are really well worn, they can bust, and you become a loser, in both meanings of that word.
Note: The old flat tour bag latches (and rack clamping flat latch on some Krauser's) wear out, especially from 'snapping' the latches closed. It IS possible to mix and match various flat latch parts...and the secret to disassembly, when needed, is to drill out the rivets.
For OLD Krauser parts: Michael Krauser GmbH; 86415 Mering-kornblumenring 12
Tel 08233-1461 Fax 08233-1445
krauser.motorrad@t-online.de (michael Krauser GmbH)
Krauser is now owned by Hepco and Becker and they still make the classic Krauser panniers. They now have Hepco Quick Release Locks. One CAN remove the Hepco badge and use a BMW badge.

Here is a hyperlink to a How-To article, where someone replaces bad Krauser luggage locks with hardware store items:
http://www.vintagebmw.org/v7/node/6637

For CRAVEN parts and luggage: see REFERENCES, under L for luggage
5. The cheap-looking 'luggage' style keys used on the Krauser top latches and the flat BMW style Krauser rear latch, and the BMW Tour Bag flat latches, top and rear, are special. Very difficult to get from a U.S. locksmith. These keys are made in TWO GENERAL styles, with the ground-down flat area on opposite sides being the major difference. Another differences between them MAY, in some instances, be the style and side with the groove. The locks themselves have a part number on them, and that number corresponds to the stamped number on the keys. There are TWO systems of key markings and locks markings for Krauser locks. The TOP locking latches may have a stamped number such as S150 or 505, etc., on the top. That number applies if the SECOND number does NOT appear. The second number on those top two Krauser locking latches is on the OUTside, the side FACING you as you look at the bag from the side. It is stamped, in very small letters. You may have to open the bag and latch and use a flashlight to see them. The stamped number is a similar number as with the BMW Tour Bags, below. One version of Krauser bags have a REAR latch that is the same as the BMW flat latch, on the Krauser it holds the bag to the bag frame. The numbers are as follows for the BMW tour bag latches:
On the BMW tour bags with the flat top and flat rear latches, the number is stamped someplace on the latch after opening. That number could be something like 050; 051; 065, etc. SOME keys are still available by special order from your BMW dealer....and some may well be still in dealer stock, you will have to contact a few different dealers, such as your local favorite dealer, and I can also recommend REPSYCLE and Bob's BMW.
Here are friendly and helpful locksmiths named Trudy and Alex (and their white dog Maggie). They have quite a collection of the 3-digit coded keys for various BMW item locks, even has a ring of masters to attempt to make copies of any that they does not have a supply of. Lots of vintage keys, knowledge, etc.
Key Kraft 1585 Church Street at 28th Street; San Francisco, CA 94131 (415) 285-0134 Open Monday through Friday 9:30 a.m. to 6 p.m.

Key numbers apply to the BMW flat latches and one system of the Krauser top latches and Krauser BMW-style flat rear latch. Here is a hyperlink to a How-To article, where someone replaces bad Krauser luggage locks with hardware store items:
http://www.vintagebmw.org/v7/node/6637
If you do a search, you will find that a S150 key may be shown as an obsolete BMW number 46-54-1-237-764. You can ask the old-time dealers for keys.
BMW does not stock, nor have available, all the various old keys anymore. Keys in BMW stock are likely to not be made again, and you will have to purchase new lock assemblies. I have obtained some information on SOME of the OLD keys, superceded numbers. MANY of these keys ARE AVAILABLE from dealerships, for special order; and, many old dealerships have assortments of keys. Get the lock number off your lock, or key, and see your dealership.
Another source for the luggage keys: Larry Stonestreet, dba Stoner's Beemer Stash Ca.stoner@yahoo.com or (951) 813-1704 8:00 a.m. to 6 p.m. PST.

Note that key numbers may or may not start with a zero. Note that BMW has superceded the earliest part numbers a couple of times. ALL are listed below, as are a couple of photos of the types of keys.
Old part number

Key number

New part number OLD FLAT STYLE
Part#

95-00-2-300-006

39

039 71-60-1-467-560

7

40

71-60-1-467-561

040 51-25-0-418-950

8

41

562 041 951

9

42

563 042 952

10

43

564 043 953

11

44

565 044 954

12

45

566 045 955

13

46

567 046 956

14

47

568 047 957
| | | |
| --- | --- | --- |
| 15 | 48 | 569 048 958 |
| 16 | 49 | 570 049 959 |
| 17 | 50 | 571 050 960 |
| 18 | 51 | 572 051 961 |
| 19 | 52 | 573 052 962 |
| 20 | 53 | 574 053 963 |
| 21 | 54 | 575 054 964 |
| 22 | 55 | 576 055 965 |
| 23 | 56 | 577 056 966 |
| 24 | 57 | 578 057 967 |
| | | |
| --- | --- | --- |
| 25 | 58 | 579 058 968 |
| 26 | 59 | 580 059 969 |
| 27 | 60 | 581 060 970 |
| 28 | 61 | 582 061 971 |
| 29 | 62 | 583 062 972 |
| 30 | 63 | 584 063 973 |
| 31 | 64 | 585 064 974 |
| 32 | 65 | 586 065 975 |
| 33 | 66 | 587 066 976 |
| 34 | 67 | 588 067 977 |
| | | |
| --- | --- | --- |
| 35 | 68 | 589 068 978 |
| 36 | 69 | 590 069 979 |
| | | |
| | | |
| | | |
NOTE! When searching on-line dealership fiche, NEVER use the hyphens in part numbers.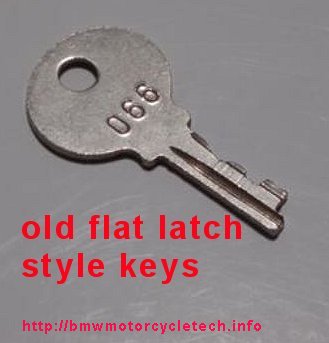 KRAUSER type keys


6. Truck bed liner paint, in rattle cans, works well on sanded luggage
7. Gas Caps locks:

BMW has issued two Service Bulletins on the gas caps, and they leave out valuable information. The first bulletin I have was dated 11-79-11S, and came from Butler & Smith (this was before BMWNA entered the picture). This bulletin, signed by Gene T. Shirley, the B & S Service Manager, is on Lock Exchange on filler caps. This bulletin was really for the situation where a cap was to be replaced for reasons OTHER than a lock failure, and one wanted to retain the SINGLE KEY system used originally on the airhead. The bulletin said to remove the lock cylinder from the defective cap, and install it into a new cap. UNfortunately, there was zero information about removing the old lock withOUT destroying the old cap!! It was in this bulletin that the information about drilling the emblem was found, for those caps that could not be removed normally. BMW suggested just drilling through the emblem and the white plastic inner liner, and through it, and leaving the drill in place to lock the cap mechanism, to enable removal.
BMW offered the following information on removing the lock, and this is verbatim:
a. Remove the rubber splash ring from the cap. Using a hacksaw, placed in the groove for the splash
ring, saw off the top of the cap. During this cut, the cap must be rotated so that the hacksaw blade
does not cut into the lock.
b. Once the top is removed, the lock movement, complete with the installed lock cylinder, can now
easily be removed from the housing.
c. The lock cylinder is now removed from the lock movement by depressing the locking tumbler pin and
simultaneously pulling out on the lock cylinder. The locking tumbler pin is visible through the slot
found midway down the body of the lock movement, with the lock turned to either stop, and can be
depressed with a paper clip or other suitable tool.
d. The lock cylinder can now be installed into the new cap by aligning the locking tumbler pin with the
ramp in the lock movement and pushing the lock cylinder fully into the lock movement.
The other bulletin is dated June 1986, 16-012-86 (2212), it is from BMWNA, and entitled 'Matching New Fuel Cap Locks to Existing Keys. It is THIS bulletin that REALLY confuses the issue (about how to remove, intact, an existing lock cylinder), due to the wording of the initial paragraph: ""In many cases, a dealer will find it necessary to replace the lock cylinder in a fuel cap due to shortage or failure of the original fuel cap/lock cylinder. In these cases, it is possible to retain the one-key locking system by RECODING A NEW LOCK CYLINDER AT YOUR DEALERSHIP"". You could be confused if you read this the wrong way. It is not REALLY saying that one removes the OLD lock cylinder intact, ...OR...that one places the the NEW lock cylinder in a new cap by using your original key.
I will quote, verbatim, the entire pertinent part of the rest of this bulletin:
""Purchase the appropriate uncoded lock cylinder by ordering:
Boxers (all) 51-25-1-243-797
K's (all) 51-25-1-455-109
This lock cylinder accepts the standard ignition key used on all BMW motorcycle models since 1974.
Install your original ignition key into the new lock cylinder. Observe the brass blades (tumblers) that protrude above the surface of the cylinder. With the key inserted into the new lock cylinder, grind or sand the brass blades down until they are smooth with the outside contour of the cylinder.
IMPORTANT: Do not disturb the last blade located at the bottom of the cylinder. This blade secures the lock cylinder into the fuel cap. When sanding the blades, hold this one down to protect it. Remove any burrs if necessary, lubricate with an aerosol lubricant and clean with a jet of compressed air. Install the newly recoded cylinder into the replacement fuel cap.""
---
****A message from O. Okleshen, aka OAK, was published to the Airheads LIST on 08/03/2003. I am reprinting it without editing:
The gas cap lock mystery has been reasonably solved with some hard core digging in the archives. Here is the way it sits at present:
If you have a gas cap (77/later models with screw in flush cap) that is ruined in terms of corrosion, damage to the cap proper or its locking mechanism etc, and would likely involve needing a new cap, there are several options:

If you have the key code from your original key (stamped on the key), you can order a new cap from your dealer that will fit your key but you must supply the key code number when ordering. The older keys had the number stamped on the key. Some of the newer keys had a knockout with the number on it. If you kept the knockout or its number in a safe place and still have it, you are in business. The part number for the custom keyed cap is 51-25-2-307-173 and seems still available to date. Cost is about 50 dollars.

If you do NOT have a key code and want a new cap with a new key (that will no t match the rest of the locks), the part number for the cap with new key is 51-25-2-307-168. Cost is about 50 dollars.

NOTE: There is sometimes confusion over what is what with the caps and parts. The above -168 number is a locking cap, with 2 keys, for 1977+ bikes, it is round, and it will click if turned far enough. Early gas caps had a metal top. The 1977 had a RECESSED lock, while the 1978 and later had a FLUSH lock. Later caps were plastic. The early caps had the rubber dust ring, later were plastic.
Caps were available with custom keying, from YOUR key number.
That cap/order number was 51-25-2-307-173. For the lock cylinder part only, it is 51-25-2-307-166.

If you can carefully drill out the tumbler cylinder without damaging the lock interior, you can order a new lock cylinder with a new coded key that will NOT operate the rest of the locks as part number 51-25-2-307-166. Cost is about 30 dollars. There is no official known way to otherwise remove the original lock tumbler except by carefully drilling and nibbling away from the top of the cap. Procedure to the best of knowledge was never published and the Motobins procedure previously discussed hadn't been successful and if "force" tried as they suggest is likely to end up with a permanently damaged unusable cap.

At one time there was a new cap available with no cylinder and a blank " stretch socks" cylinder that could be surgeried by the local dealer to fit your existing key, coded or not. But according to the latest records that part is no longer available (since at least 1995) and if available would be old stocks on the dealer shelf. You would have to inquire. Cost for that part circa 1995 was about 18 dollars.

The most sensible approach if your cap and lock is in trouble is to order the cap with a factory tuned lock cylinder to match your key code (first option listed.) That way you get an all new replacement cap and is operable with your existing key and matches your remaining locks. You may have to wait for the cap as a special order. May take a month or so.

This is a somewhat complex issue and if you make a move, measure twice and cut once. The parts and availability as well as the price are certainly subject to change. And you might run into a counter parts man who is not adept at this level of intelligence need so be patient in dealing with him and if it gets too heavy try another dealer.

Hope that helps clarify the mysteries about the elusive gas cap..........Oak--ABC #35.......
---
Classic K bike gas caps:

If the key is broken off, you may be able to remove it, using small tools like a thin needle-nose pliers.
If the mechanism is fully frozen, you need to drill the lock, or have a locksmith remove it….or, well, read on, for MY method. The K fuel cap is quite different from the problems of the Airheads later type caps. The K fuel cap key mechanism is one in which a metal tab that locks the cap to the tank, is moved inwards, when the key is turned in the proper direction. This tab, as you may suspect, moves in and out horizontally. There is a way I have done it, that will allow the cap to be opened whether or not a key is broken off. First, note where the hinge is. Directly opposite the hinge, on the other side of the cap, is a depression in the edge of the cap, Which is for your fingers to grab if the cap does not spring slightly open when the normal use of the key is accomplished. Locate the center of that finger opening, as far as around the cap circumference is concerned. At that point, make a mark 7/16" towards the cap center.
Drill that mark down into the cap with a ¼" drill. Best to start with a smaller drill. Do not drill too far.
What you are doing is making a hole that is just a wee bit to the outside of where that movable internal tab is. Manipulate the tab inwards, while you put mild pressure on the cap, downwards, so the tab moves more easily. The cap will open. There is another way to accomplish this, and that is to, at the same outer circumference EDGE point, Dremel away the EDGE of the cap, for maybe 1/8" or so. This is right next to the tank, so be careful. You can now stick a common nail sideways into that place and push the tab inwards, at which point the cap will open.

Because of the B & S and BMW bulletins, and reading between the lines, and while I think this may be a dead-end, still, I have theorized that it might be possible to remove the old original lock cylinder, intact, from a faulty ratcheting cap...perhaps by some sort of home-made tool through the side holes or? of the original cap. I await having some old caps and a key, to play with in this regard. If you wish to donate to that cause, contact me.

8. Windshields:
Windshields which come already drilled, so the holes line up: Clearview brand. Very slippery fairing,
that may even have less wind resistance than the stock BMW RS/RT: Hannigan STe.
Pesky BMW rivet problem?.....the BMW rivet tool is NOT the way to go for those rivets you need to
install. The best way is to use a common hardened drywall screw, these have a taper head. Get a
long one. Carefully grind the threads off, just enough so they fit your pop-rivet tool. Do not grind too
fast and hard, do this slowly, quenching the screw in water often...don't take temper, hardness, or
toughness out of the screw by overheating it. It is now easy to use that tool to make the proper rivet
shape. Windshields mount on rubber tits, underlying structure is rivets; look and you will understand.

9. Tank bags: Some tank bags can restrict the fuel cap venting.

10. STEM MIRRORS: LOOK at these at your dealers, before buying. For same, L & R, 1985+ R80 cow
bar euro mirrors. Big head mirrors 2 each 51-16-1-452-415, that is for the LEFT, and black in color,
for the right use -416. These are fine with the S or other low bars, have longer stems, not quite as
much rise, better for viewing to the rear; needing 2 each M8 wave washers 07-11-9-932-121; and 2
each Nylock nuts 17-12-9-964-675. Plastic caps (2) 46-51-1-234-785.

For large round plastic head mirrors, as from the 1985-1987 R80: They have LONG threaded stems
for the RIGHT side, fitting the master cylinder mount; and the LEFT side has a shorter thread to fit the
clutch lever perch. These are nice, don't vibrate much, lighter than the metal types.
51-16-1-452-417 black, left. 51-16-1-452-418 black, right.

note: Early airheads can use 1998 R1200C mirrors.

INSTRUMENTS:

Information on cleaning, lubricating, fixing slipping odometer gears, and adjusting the speedometer, will probably be found on the Airheads Club Website, click on left for Technical Tips. The URL for the site is: http://www.airheads.org

An article on how to open and repair the electric clock found on Airheads, is to be found at:
http://www.flickr.com/photos/getproductions/sets/72157627860750305/
The article is useful for working on the voltmeter and other instruments too, as far as how to deal with the bezel/glass/crimping.
When looking at that article, be sure to click on each picture separately, otherwise you will not see the comments.


BMW purposely calibrates its speedometers to never read slower than the actual speed the motorcycle is traveling at; taking into account tire variations, temperature, instrument changes with conditions, and so on. BMW has a bulletin on this, #2756, dated 10-21-1996. The bulletin states that the MAXIMUM amount the speedometer will read fast is: 10% of true speed, PLUS 2.4 mph.
The colors on the face of the instruments vary with some years and models. BMW used white numbers for many years. 1977 models had red needles, blah blah. Some of these differences, in depth, will be found in the models page.
Revisions:
11/02/2006: All prior revisions incorporated and some minor editing.
12/29/2006: Add #9, to be greatly added to when I can
01/16/2007: add a bit more to item 9.
02/01/2007: some clarifications on gas cap numbers and what they are.
02/19/2007: #6 added
04/15/2007: Update item #3 with more blanks information; correct a few other places for typos
05/08/2007: Edit & revise this entire article. Try to clarify details, put things in proper context, add more
information.
10/02/2009: Add Trudy's name and her locksmithing company
12/05/2009: Add #10
01/20/2010: Fix typo for newer part number for key 39; clean up table/column, so numbers are completely
in-line with each other.
02/01/2010: Add photos of gas cap drilling
07/21/2010: Update info on Key Kraft
04/26/2011: Add more information to item 10.
05/09/2011: Expand information on Krauser locks
05/29/2011: Expand information greatly on the folding keys
11/06/2011: Add hyperlink and notes on the Flickr article on the electric clock repair.
04/03/2012: Delete and move some items on the fuel caps to article 1.
10/02/2012: Add QR code; add language button; update google ad-sense code; add Stoner for source
for keys
04/30/2013: Remove Cravens information, and add hyperlink for Cravens items, to References.htm
08/31/2013: Add section to chart of keys, to include keys beginning with 0, and part numbers associated beginning with 51-;
plus a few notes on using.
12/20/2013: Change this article identification; was 75, now is 75A
01/22/2014: Add K caps section
© Copyright, 2014, R. Fleischer
Return to Technical Articles Index