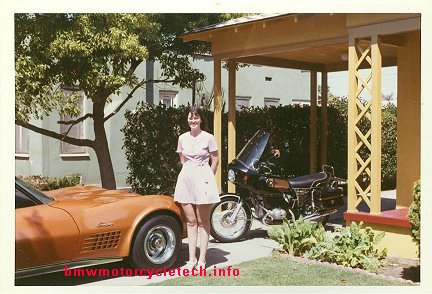 Before I moved to Lake Tahoe, I lived in Mar Vista, a suburb of the Venice-W. Los Angeles area. That's my 72 Corvette, and one of my R75/5 BMW motorcycles; this one has an Avon Fairing. This photo was taken at the front of the same house (shown with the huge garage and description), in a prior Photo Gallery. This Corvette was specially ordered in full-race condition, modified, before delivery to me, by Chevrolet Racing Division, from a stock LT1 Corvette. It came with such as air conditioning, but with the compressor, etc., REMOVED! I, naturally, put all the 'comfort' stuff back into operational condition, modifying a few things to enable them to work. I did have to make a few modifications for street reliability. I had it on the racetrack too, several times.

It is not a secret that I cook. Early childhood years were spent living over a bakery run by my grandparents, who made Fine Pastries for the best hotels. I learned a fair amount. As an adult, I had always wanted something akin to the finest stoneware pottery of the middle ages, as used at Royal Palaces. I also have a big thing for the Baroque era. In the early seventies I met a pottery instructor from the University at Santa Barbara; I was very fond of his work. I commissioned him THREE times, to make stoneware to my ideas. These included over-sized dinner plates and very thin-wall goblets, etc., all of the finest quality. What you see in this photo is the result of the first two Commissions. I presently have filled that cabinet and larger items are on top of the cabinet, all from the final Commission.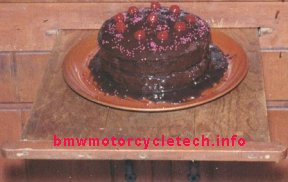 This tort, which is not quite finished here, needing proper final coating and trimming, was one of my creations just days after I moved to Lake Tahoe. I'd been cooking since I was not even a teenager, doing pastries, and specializing in special meat dishes. I have a lot of photographs of my 'creations'.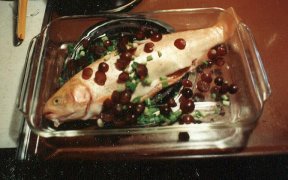 Not long after I moved to Lake Tahoe, I resumed an interest I had in hand-tying flies and fly fishing. I spent the better part of one Summer finding a rather hidden and unknown fishing spot, half a day's hike into a wilderness area south of Ebbett's Pass. It is still the only place I would hike-to for Golden Trout, my favorite trout for eating taste and texture. I would pack the trout home in my backpack, surrounding it with snow from a nearby snowfield.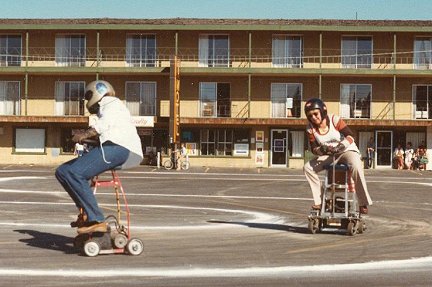 One of the fun things at So. Lake Tahoe was the yearly motorized bar-stool races, at large motel parking lot. I had a fair amount to do with design & preparation of winning entries. Power was not a problem, I used a hand re-wound 6 volt truck starter & a 12 volt battery. THE problem was handling in turns, these things loved to fall over. I designed a hidden suspension system. NO other entry EVER had a suspension. I made it so that no one could easily see that there was a sway-bar & vertical suspension. We won the first year & came in second the final year, would have been first, but for a collision time-waster. Yes, the GALS did the racing!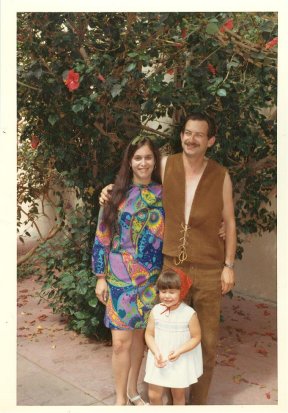 Ilene Giardina & daughter Lisa... & me. Lisa wasn't all that happy about having to pose for the photographer.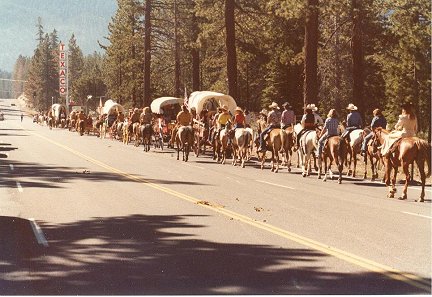 A yearly event at South Lake Tahoe is the passage of the Wagon Train through town, on its way to Meyers, and then down Hy 50 to Placerville. I was part of the group one year.

We had an unexpectedly large snowstorm. This is my 1958 Cessna 182. N9917B. Here I am digging out the airplane. That's my 1975 Chevy Suburban on the right.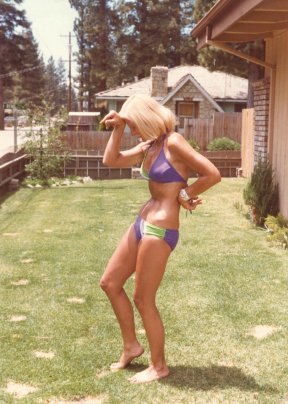 In 1977 my landlady, from whom I had rented a house since I moved to Lake Tahoe, suddenly decided to retire & wanted her house back.
I found a house & purchased it. Here, Jean, who is clowning, is in the front yard. This photo was taken within a year of purchase, the meager lawn I planted has urine spots from my Malamute. I already had finished work on the brick trimming of the house and the fence. I did a tremendous amount of work on this house over the years, and still live here. It's also lot nicer now.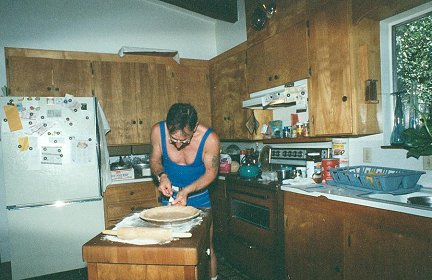 I moved into the house in early 1977, and decided a nice fresh berry pie was going to be a good celebratory dessert for that evening. I had brought my large-size English Pie tins with me from Los Angeles. I planted raspberries and strawberries later on...for hand eating ...and pies.

In 1977, I started on a backpacking trip that I had dreamed about for a dozen+ years, wanting to do the entire Pacific Crest National Scenic Trail, from Mexico to Canada. It is ~ 2650 miles. I did it in 3 sections due to my work load. With careful planning I started the first section at the Mexican border on February 12th. In 1978 I did a longer section. I finished the final section the day before my birthday in late 1979. I have the certificate from the PCT Association. My trail name was FLASH. My only ever super-long backpacking trip. Other trips were a few miles to a few hundred.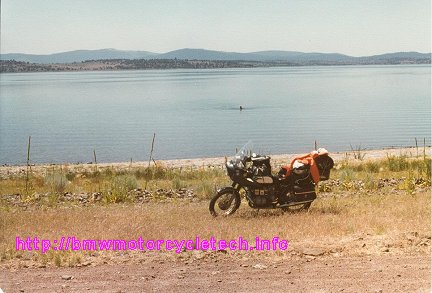 The second year in the new house I probably only rode a few thousand miles. By early Summer I was feeling I needed a break from all the construction work & business. I packed the supercharged R75/5 & headed for Oregon to visit friends. It was well over 100°F when the above lake appeared, I rode over a barrier & went skinny-dipping. Someone was passing by & took this photo of me & my R75/5; then sent it to me.

When on a very lonely stretch of road in Oregon, I twisted the throttle somewhat on the bike......well, WOT...the supercharger pressure was really coming up. I got stopped by an Oregon county police officer. I could have outrun him, but would need gas soon enough and have to stop. He had clocked me at WAY over twice the speed limit. We had a chat. He did NOT write me a citation! I was LUCKY!

As purchased there was a fireplace, surrounded by brickwork. The fireplace had a terrific appetite for wood in the Winter. I re-designed the fireplace to efficiently burn anything, be adjustable to burn slowly, such as overnight without needing attention. I purchased the firewood stove insert you see here, modifying it extensively. The insert has a second steel wall & a hidden blower forces air through the enclosed space into the room. I converted the fireplace into what you see here. The ceiling box contains a triple insulated jackshaft. The 15" pipe & hood, etc., were hand-made right here on my driveway from flat steel. Even the doors, not shown well here, were hand made. It is not quite as efficient as a full-on catalytic burner. One final modification was made around 1988, to install an 8" SS pipe INSIDE the 15" pipe, separating them by extreme heat rated ceramic wool pad material. This enabled rapid heating of the stack & the ability to go up to 15 hours before adding more wood. I sometimes remove the triangular section in front. We can cook or boil water on the hidden shelf of the insert.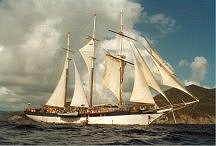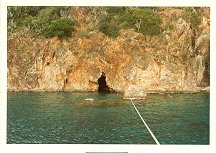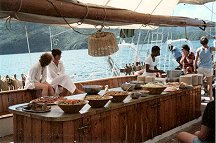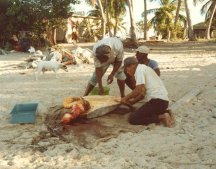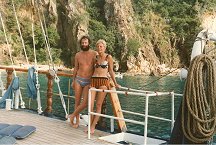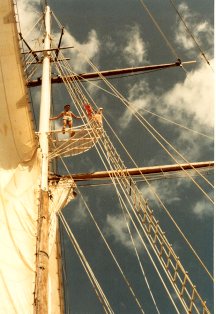 In the late seventies, Jean & I took two lengthy trips to the British Virgin Islands, both times in this 215 foot tall ship, called the Flying Cloud. Photos show the ship, lunch time; Jean & me with the ship anchored off Norman Island. That cave is THE ACTUAL Treasure Cave of Robert Louis Stevenson's Treasure Island book. Jean & I dove off the perch you see us at, it is a LONG way to the ocean below! The natives are cutting up a turtle for our dinner!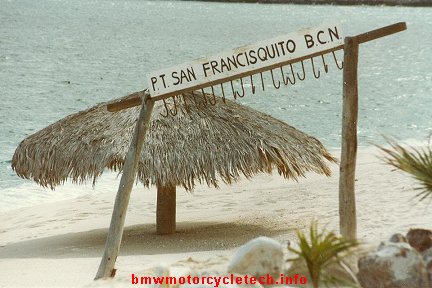 We usually managed to take our airplane to Baja California once or twice a year. We'd sometimes sleep on the beach, under a palapa, as in the photo. We made other trips in the airplane all over the West.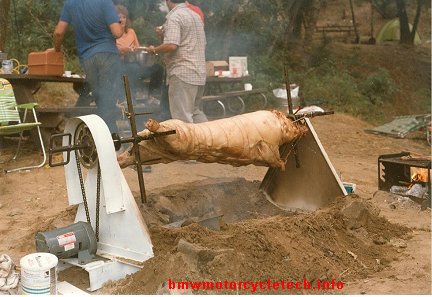 I made this spit using scrap metal; a purchased gear motor; old used motorcycle chain & a rear sprocket. Yes, that's a pig (hog?) being bar-b-q'd. I later modified the spit with more arms, etc.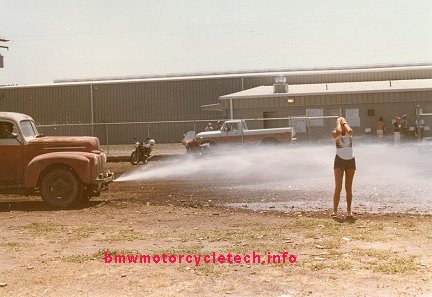 In 1980 the BMW Motorcycle Owners of America was having its National Rally in Prineville, Oregon. Jean agreed to go, sitting on the back of the supercharged R75/5. In Prineville it was a very uncomfortably hot 112° F. Here is Jean, cooling herself off.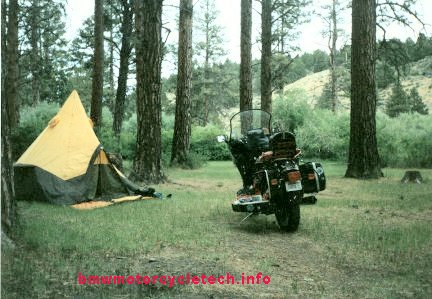 I often entered Southern Oregon from Hy 395. One day, long ago, I tried a "rest stop', near Lakeside, called Chandler Wayside, that is NOT supposed to be used for overnight camping. Restrooms, water, coyotes to sing with in the evening, a small but nice flat grassy area. Afterwards, I camped there often. I never had a problem with any Authorities for doing so. That's one of my R100RT bikes....probably the 1983, before I installed a sidecar to it. The tent is a custom modified Talkeetna.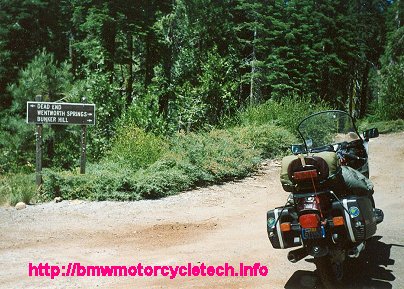 Long before any paved road went even near Wentworth Springs (California) there was only a dirt/gravel/narrow trail. The original narrow dirt/gravel road began a very short distance ahead of the wide stretch in this photo, circa 1986. At that time the road ahead was a Jeepers Delight. It would wash out sometimes, becoming un-passable. For a considerable portion of its final length, it was only a hiking trail, you could NOT get a Jeep through that section. One year, that section 'disappeared', due to weather. Some guys I ride with that had 2 stroke light weight dirt bikes (I had none that year) bet me a case of microbrew that I could not get my R100RT through that section. I figured that the way to get through was to actually ride the creek bed, not the game trail. They doubled the bet if I did (yes). Eventually the State made it much wider & paved it...so wide that RV's now travel the road.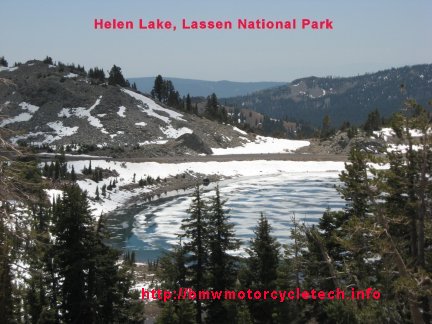 This is Helen Lake, not far into Lassen National Park, which I seem to pass through rather regularly!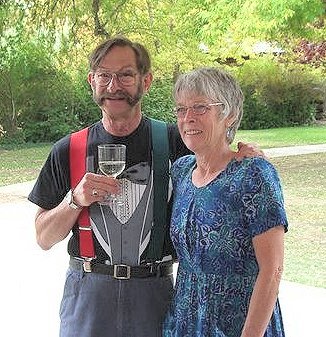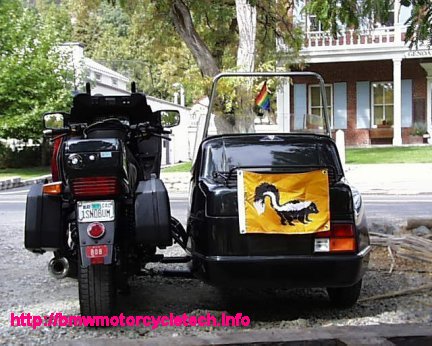 After 15 very long years as a bachelor, I remarried. Penny & I have been very happy ever since. We were married at the State of Nevada's Genoa Park, which I had completely rented for the occasion. We made our arrival...and departure... on the 2nd sidecar rig I owned for street use. I still have that sidecar rig & use it regularly, occasionally even in Winter snow. That is a tux-T-shirt; the suspenders are known as the Green-Red's, an 'in' thing then, and refers to a TV program from Canada.

The skunk 'flag' on the rear of the sidecar trunk was from a trip back-East on the sidecar rig, where we attended two sidecar Rallies....one was the Skunks 'up Nort'; the other was the USCA National, in Duluth. We did 5500++ miles on that round-the-USA trip, on the sidecar rig.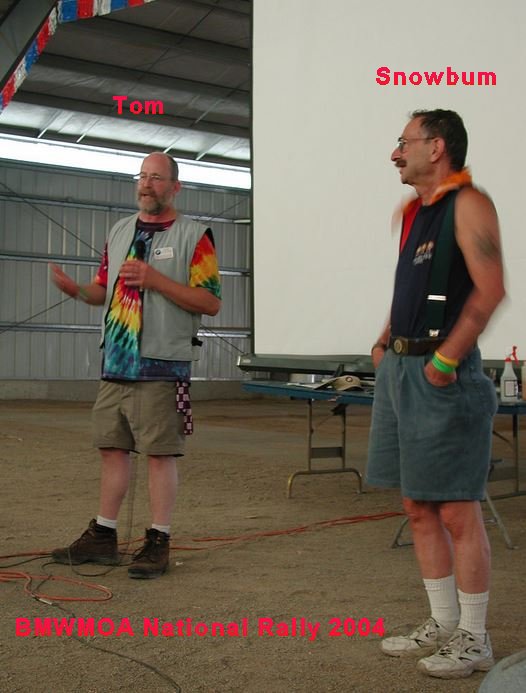 In 2004, a month or so before my 66th birthday, BMWMOA held its National Rally in Spokane, Washington. I was scheduled to do some seminars, Tom Cutter was too, & so was Oak. Oak got sick & went to the hospital. Tom, Matt Parkhouse, and I, stepped-in to do Oak's scheduled seminars. It was about 100° in the 'barn' this, above, seminar was held at. I was not feeling well....I had a virus attack that I did not even find out about for a few days. The Seminars went well. Tom monopolized the conversation, which he tends to do :-) .... whilst I mostly had my hands in my pockets.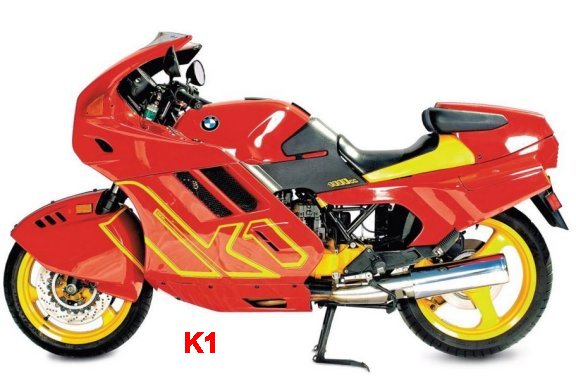 Had a K1 here at my shop. We put a turbo on it, and a lot more. It was VERY fast.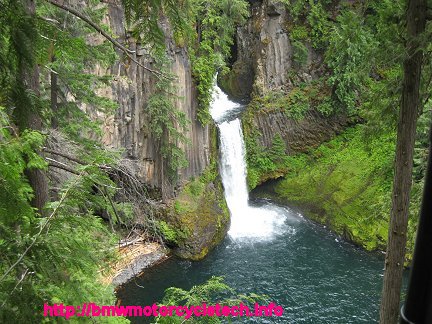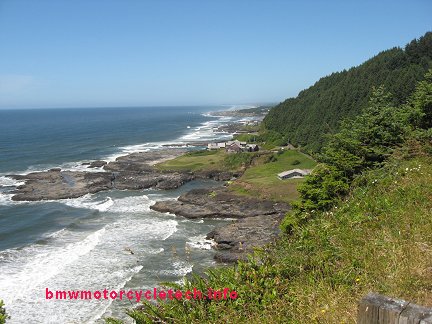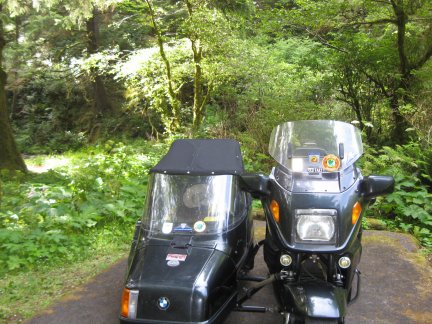 2014:
I was unable to go to the Salem Oregon BMWMOA National Rally. Two weeks later, I took the sidecar rig to Oregon to visit old friends, make some new ones, see places I hadn't seen before & do a lot of camping (forests & sea-coast areas). I had ESPECIALLY wanted to spend a full day at the Salem/Keizer Antique Powerland. I also visited some independent BMW motorcycle repair places to evaluate them & visited a small family factory making motorcycle covers. Instead of doing any of the Eastern part of Oregon for this trip, I generally stayed West of Hy 97 for the entire N-S length of Oregon. I hiked rather more than just a bit to get to see the above waterfall, etc. This was off Hy 138. Toketee Falls, a bit of a hike up the off-road mountainside. This spot in the very narrow steep canyon is a hidden treasure, & just plain gorgeous. The hike into the forest & up the mountain was a bit much, but wonderfully worth it. The photo does NOT do justice to this MARVELOUS waterfall, so hidden & surrounded by the CLOSE-IN surrounding mountains. If you are ever near this place, DO HIKE IN.

I had never spent any time in Portland, & a new friend offered to put me up & to be my guide for a few days. I got a really good feel for that City, & what special things it had. I am a museum & outdoors things nut, and Portland has many. I also found the College scene & outdoor restaurants very nice; and, we used the really nice transit system. I may someday move there.

After Salem & the 42 acre Antique Powerland, I went to the Coast. I found the above photo hidden spot within 1/2 mile walking distance of the ocean. The Coast itself can have cold biting winds, & the campsite was very nice, no wind, comfortable temperatures, peaceful & quiet, with only the rushing of a strong stream just behind my bike & my tent (not shown here). Good water; lots of various berries to pick & eat. It was a good place to make camp, cook, have a glass of Port & a cigar. I was quite happy to see the Coast, but camping a few hundred yards inland with no wind was nice. Later, more southerly, I did end up finding, thanks to a Local's advice, a protected cove to camp right alongside the ocean, riding the sidecar rig through a gate, & then a lot of sand, to get there. The local guy who had advised me, an hour + or so earlier, had thought I'd park the rig at the highway. NO WAY! ...I can make it through sand situations (testing for sinking first!) The ocean was quite chilly, a quick skinny-dip was BRRRRIISSK. Lots of sea lions & other critters. I saw no evidence of tourists ever camping here. The "road" had no postings at all. I find Locals to be great sources of information IF you can get them to talk about 'their private places to go to'.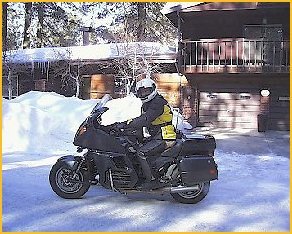 Another snowy day ride.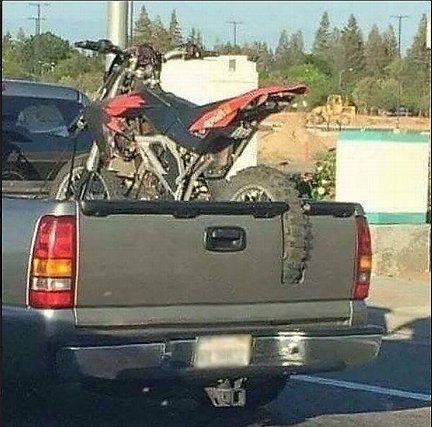 How to get your dirt bike into a short-bed-pickup truck!