The advertisements above are Google-sponsored.
Clicking on them at every visit helps support this website.
Clicking on something inside an advertisement helps even more.
and....thanks for the occasional donation!


Snowbum's sidecar rig,
and spare parts, tools, etc. ....
was for sale, as one lot....now sold.

http://bmwmotorcycletech.info/sidecar-rig-4sale.htm
© Copyright 2019, R. Fleischer
It's the end of an era. Due to age & health problems (return of prostate cancer and its unpleasant treatment ....which seems to be working, so far), and our future move to a 55+ Community, I am quitting motorcycling ...that means quitting sidecaring too.

So.....my sidecar rig was offered for sale. This page is only for the sidecar rig. As I update this article on 05/11/2019, the sidecar rig has been sold, paid for, and it will be picked-up mid-June 2019.

For those who asked;....The two-wheeler, the 1995 R100RT, has its own for sale page:
http://bmwmotorcycletech.info/1995-R100RT-Sale.htm. It has been sold and is no longer here.
---
For the sidecar rig, the EML sidecar and EZS fitments are widely considered to be "premium, high end".
I am 81+ years old. I have had a recurrence of prostate cancer that is being treated, successfully and as expected so far, but that won't last forever. The side-effects of the treatment are unpleasant. My wife, Penny, wants us to sell out at Tahoe, and move to a rental house in a 55+ Community before we are too old to do so. Penny especially liked Rose Villa, a non-profit CCRC, located for decades in Milwaukee, Oregon; where we have visited several times; and, Penny's older sister lives there in a cottage. We were on their waiting list for a small cottage for 2 years, and gave up due to hardly any movement in our position on that list. We will be moving to a rental house in a 55+ community iun Carson City Nevada in 2019. We need to downsize. It's time to dispose of things I won't be using ...and have no place for ...after we move. I would prefer to drive the sidecar rig (and, my R100RT) for the years I have left, but there was no electrified garage nor workshop area available at or even close to where we originally planned to be moving-to, and, my health is telling me to quit. The house where we live in South Lake Tahoe, California, with furnishings, baby grand piano, electronics repair business, tools, machinery, etc. ...all will have to be sold. I find this all to be quite stressful. Some items have been sold, many more to go before the house can be put on the market.
Below is how the sidecar looks, mated to the 'canvas' (Sunbrella ...THE BEST product!) top I designed and built. Sunbrella material is of quite high quality (and probably overbuilt for a sidecar top ....I'm known for being anal), pretty weatherproof, and has soft plastic side windows that can be rolled up. The right side photo is of us, in 2006.
Complete information on how I designed and built the sidecar top, is in the following link (scan down the article a bit):
http://bmwmotorcycletech.info/emltops.htm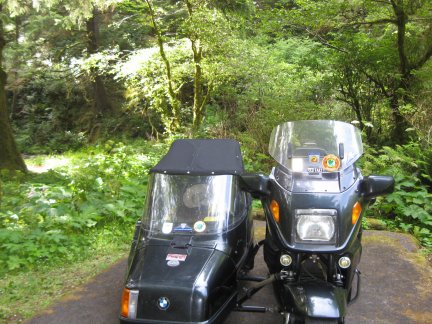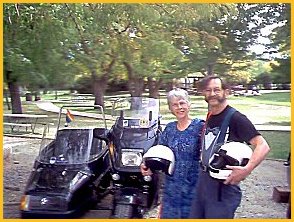 Both left photos below shows the sidecar rig with the original Police-type of trunk, looks nice, but carries little. I no longer have it, in favor of the much larger BMW lockable/removable, rear trunk.
Below, the top left photo shows the sidecar rig with the BMW Touring Case on left side of the motorcycle, City Case on the right. I HAVE BOTH SETS OF CASES FOR THE BUYER, two Tour cases, two City cases ...all on the same key. Yes, the large tour case WILL fit on the right, if you wanted to use it, and we did on our longest tours. This photo has the SKUNKS flag on the back of the sidecar. The police trunk is in that view, as noted.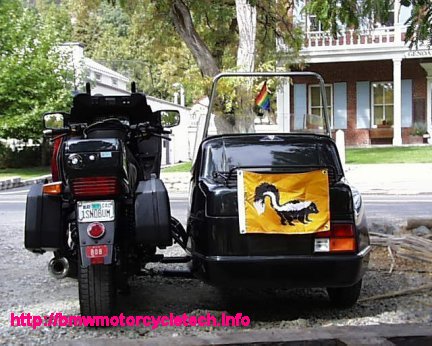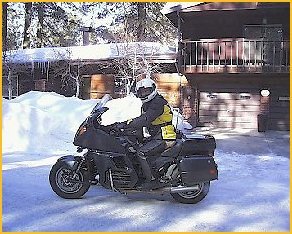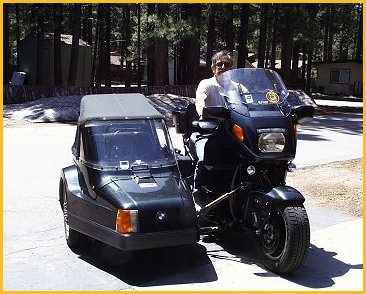 EML of Holland built an early and a later version of the model GT2 sidecar. The first version had two front hinges, and opened directly forward. Mine is the later version, that uses one massive cast alloy hinge, designed so the hatch opens on an angle; that is, as you open the hatch, it swings away somewhat from the motorcycle, giving extra clearance. It is also easy for the sidecar passenger to enter.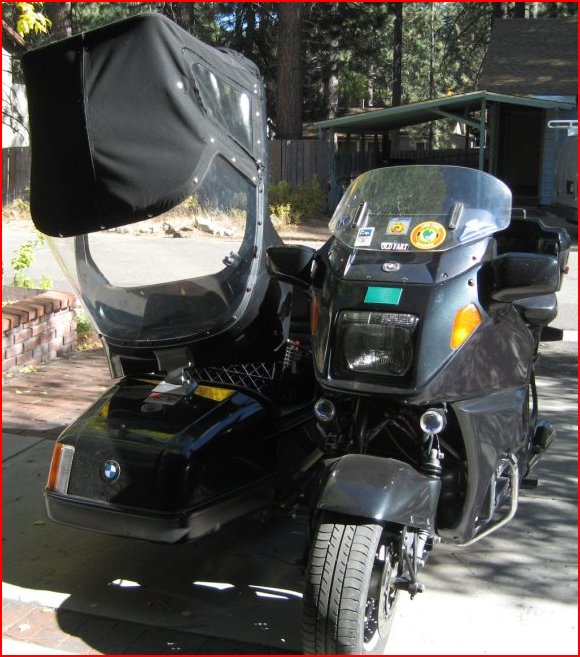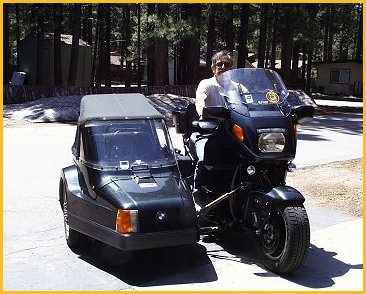 Sorry about the reflections. The 2 photos above, and all below, show the BMW trunk as the rig is now.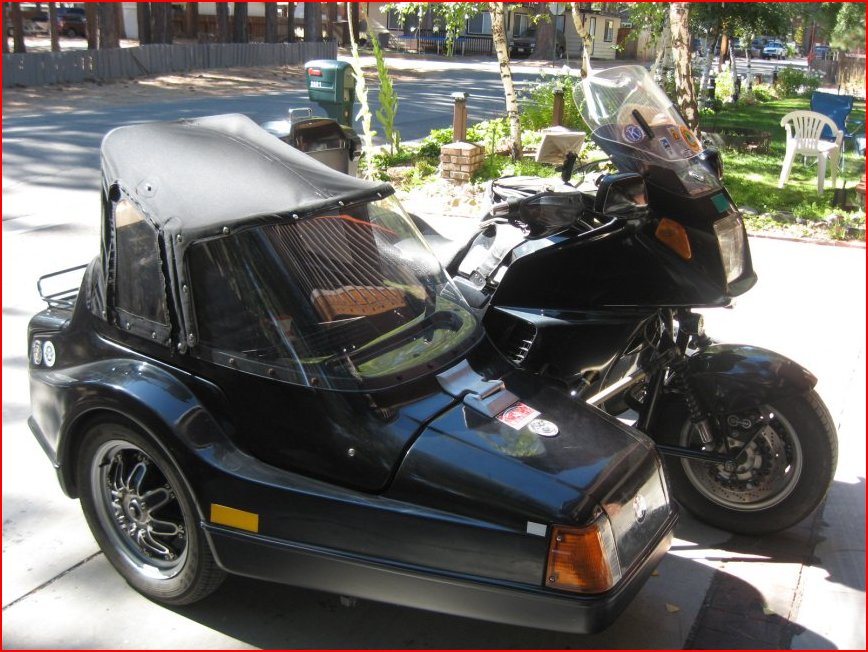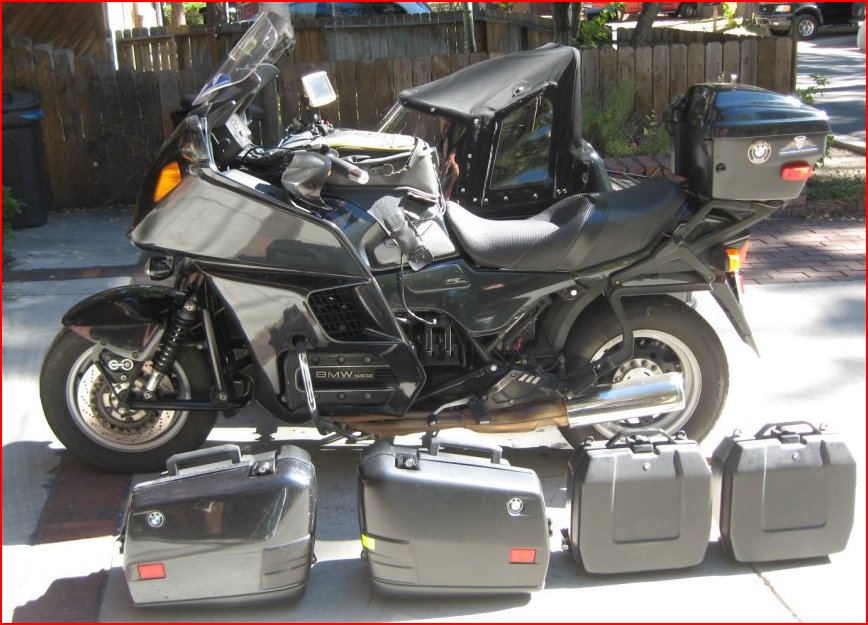 The black tape in the below photo covers the two holes for setting the clock;
and I have not gotten around to finding a suitable hole plugs.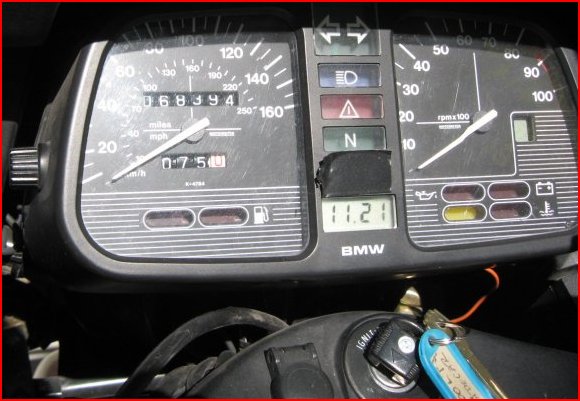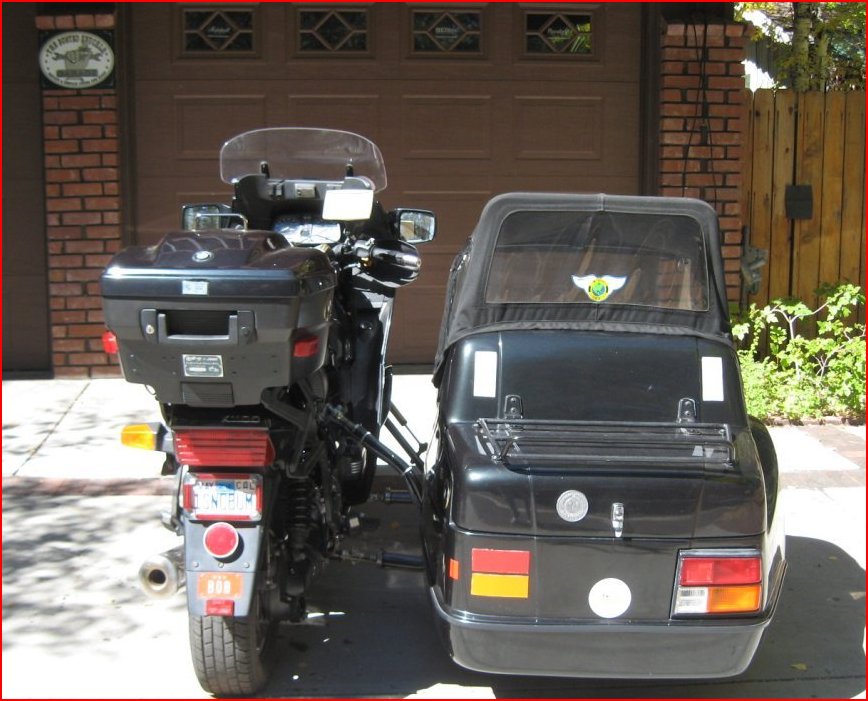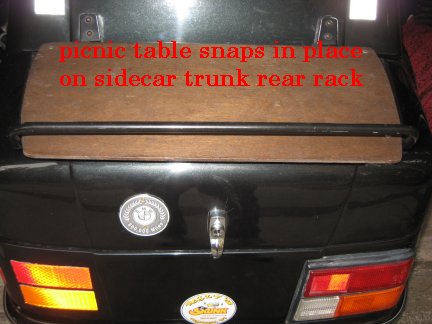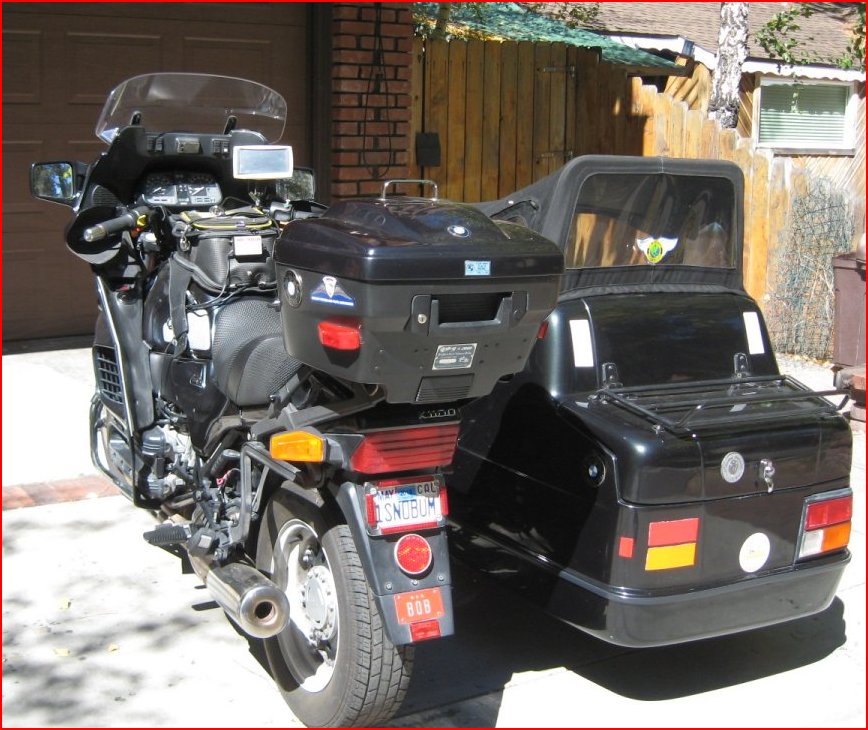 What are those vertical shiny white-looking stripes above the trunk, lower left, ETC? See
http://bmwmotorcycletech.info/recog-safety.htm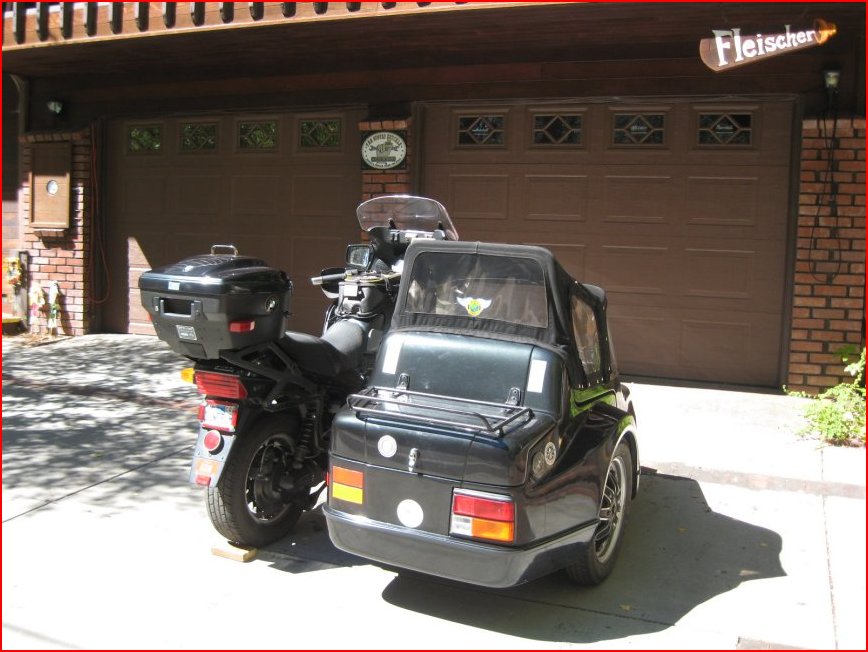 Sorry about the sunlight reflections (both white and blackish areas) in the photos.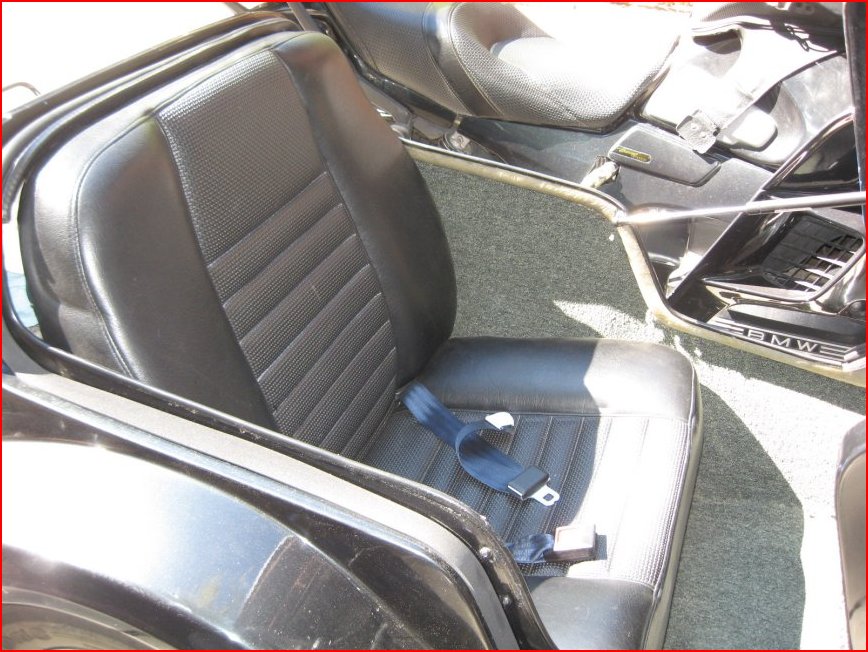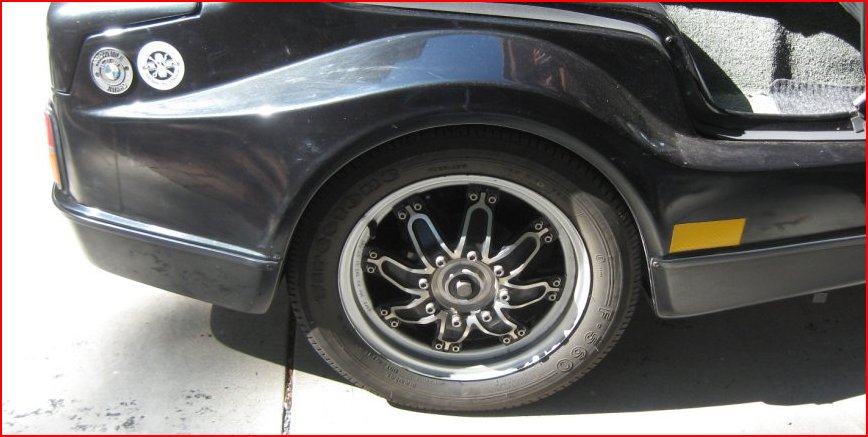 Sorry about the reflections in the below photo.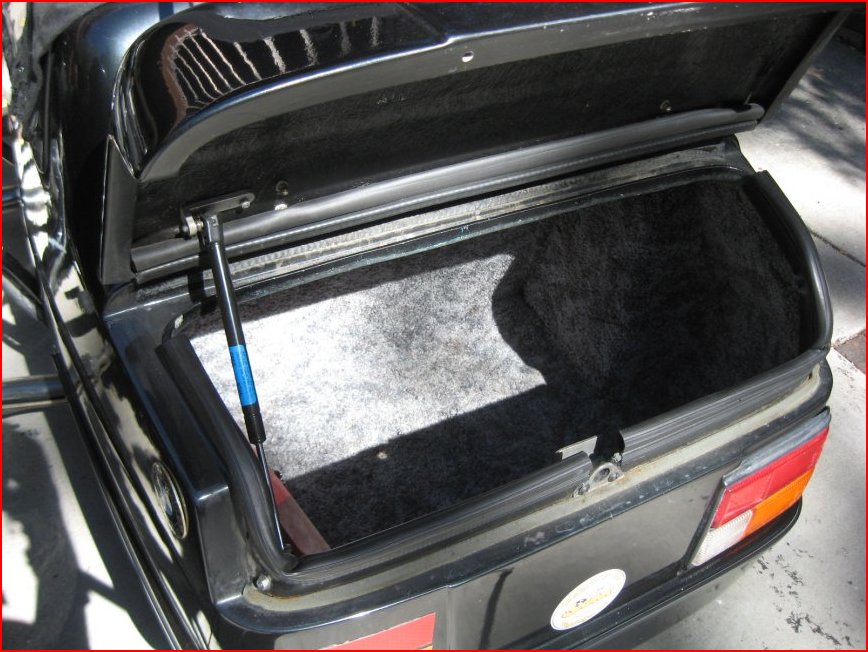 The trunk is much deeper than it looks/appears in the above and below photos.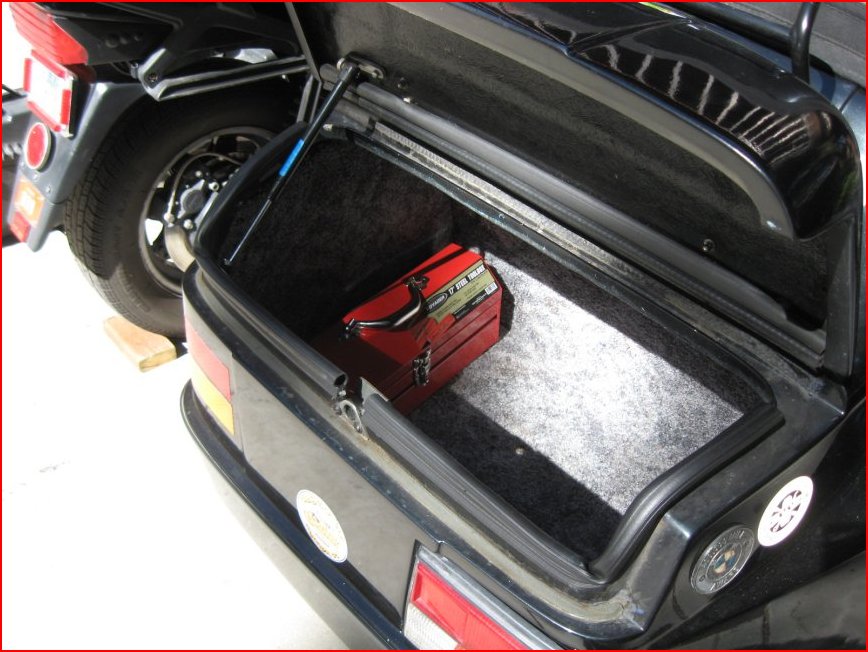 The sidecar and the motorcycle, have my high mileage BMW Roundels mounted. I'd like to keep them; but, if you want to keep them on the sidecar rig and motorcycle, that will be OK with me.


This sidecar rig uses high-end conversion items. The sidecar was made by the famous EML company, and the fitments, wheels, front end, etc., on the tug (the BMW K1100LT) are by the famous EZS company. The construction of everything is massive ...that is, it is VERY sturdy, which is required for a properly handling rig that is also built to last near forever.

Some specifications, including empty and loaded weights & dimensions; plus factory brochure pages, and a large amount of service information for the EML sidecar, and some EZS information; all will be found on this website, HERE:
http://bmwmotorcycletech.info/EMLsidecar8.htm

Article on the steering dampener (damper):http://bmwmotorcycletech.info/ezs-steering-damper.htm
Additional information: http://bmwmotorcycletech.info/K1100LT-EML GT2.htm
Article on BrushGuards: http://bmwmotorcycletech.info/Kguards.htm
---
INCLUDED with the sale of the sidecar rig are two BMW City-Cases & two BMW Touring saddlebags. These all are on the same key as is the entire bike, trunk too!
Included are two quality rainproof covers, one for the motorcycle, one for the sidecar.
Also included is, as shown, the genuine later type long-life BMW tank bag that is the type designed for this K1100LT.
Included, IF BUYER WANTS THEM: TWO each, quite-long square steel tubing pieces, used to check toe-in and other alignment. Known straight.
Extensive on-bike tool kit. Lots of spare parts. Spares include a lot of brand-new things like cables; fuel, oil and air filters; fittings, nuts, bolts, washers, gaskets; and a lot of other 'stuff'. Even engine and gearbox and rear drive oil is included. In the large metal tools box in the trunk is included full tire repair equipment, including a bike electric powered mini air compressor, multi-meter, etc. A new rear tire is included, it is not yet mounted as I type this.
You are basically getting everything I have for the sidecar rig and for K bikes ....which is A LOT. I have available a lot of technical literature too.
Included is all the past history that I have on the tug, etc.
Tug wheels custom by EZS: 4.5" x 14" size.
Tug tire, REAR: automobile car tire, 175/70-R14, tubeless. Will return to original size P165/70R14 at next tire change (as noted, the new tire is included). The tug has a BMW accessory at the front-lower area of rear fender mudguard which helps keep dirt out of the transmission-located lever for operating the clutch.
Tug Tire, FRONT: automobile car tire, 165/70-R14, tubeless.
Sidecar wheel: EML 15 inch #300, with Firestone tire F560, rated 72S, 135R15, tubeless, almost new.
Electrics: Kisan headlight modulator. 700 watt later model BMW alternator. White forward facing plug-in LED lamp on right front of sidecar in the recessed assembly. NO hanging ugly lights on this sidecar! Special license plate frame with multiple red lighting effects. High quality digital voltmeter built into the fairing. Multiple electric outlets, both DIN (BMW Hella) and cigarette types on the motorcycle and also in the sidecar, for accessories. Everything is properly fused. Proper and legal setup for directional signals. Modified Bulb Monitor relay unit. Modified RAM ball mounts for GPS (etc.). Built-in Smart Charger for the motorcycle battery, which is a large VRLA Panasonic. Two Fog Lights on separate BMW switch.
Standard electrically adjustable height BMW windshield.
Front fork:
Massive EZS Leading Link front forks, with special wide fender to accommodate the tire.
Handguards (brushguards).
BMW two-level heated grips.
Front shocks: Two each modified Koni 7610-1282 shocks; adjustable for height and damping.
BMW rear shock on the motorcycle; EML special shock on the sidecar. Included is a spare Koni shock for the sidecar (not yet gone through by me, but is operational if you were to install it, which is NOT now necessary, it is strictly a spare item for you). The existing EML sidecar shock unit either should be replaced by the Koni when the EML unit fails (internal flex disc), or, it can be overhauled or replaced by EML, or?
Two multiple piston Brembo brake calipers on front wheel. Floating discs and floating calipers, and with torque arms. You WILL like these quite powerful brakes!
The very heavy ABS system has been removed (spirited and even many not-so-spirited sidecar drivers do NOT want ABS, due to the possible effects on handling with use of brakes in corners). The ABS power/signal-cable was purposely not removed. The unneeded front toothed ABS wheel can be removed at the next front tire change.
Disc rear brake is a Brembo two-piston 38 mm P108 caliper. It has almost new pads.
Rear master cylinder is a stock type 16 mm Magura (BMW).
Sidecar brake: Brembo F05 plumbed to the tug's rear braking system via high quality brake hose with outer SS braid & covering, T connector, etc. A brand new spare disc is included, but is not needed now, and possibly never, as the original disc is not worn but the slightest amount in thickness. I just couldn't turn down buying the new disc when I found it available in Europe.
NO mickey-mouse fittings nor workmanship, etc.
Alignment:
Front wheel offset: to right, 1-3/8".
Sidecar wheel lead 13-1/4".
Toe-in is presently 3/8".
Any need for the EZS hydraulic steering dampener, included (with my own modifications), is quite minimal. I have driven the rig with it removed, when setting up alignment. Damping is low, on purpose, because if damping is not needed, having it excessively will simply make steering more tiresome.
R1100S modified hand-guards (brush guards). For extremely cold weather, I suggest you use some sort of hippo hand covers for at least the right side (air flows between tug and sidecar body).
Hotel-quality rug material in chair and chair trunk. I have some spare rug material for you too.
Over-designed & over-built TOP, designed & made HERE and made to LAST! Two side windows can be removed (zippers), or, zippers partially up, and windows can be rolled up and secured with built-in snaps. Top has internal flat blade strut, covered, to maintain the middle shape and avoid top fluttering on passenger's helmet.
Speedometer: Re-calibrated to match rear tire size. Accuracy ~ +- approx. 1mph.
Odometer: Stock. Reads ~12% fast, depending on rear tire size. Thus, the actual mileage is less than indicated which means less than shown in this article.
Clock: Has been converted by me to 12 hour indication, but it is relatively easy to convert back to 24 hour indication. I have covered the holes for the time settings with a piece of black electrical tape....having not yet found something nice to put into the holes. I thought about making some buttons on my lathe, or finding something at a local hardware store.
Factory updates and service bulletins are complied with. This includes the transmission grub screw.
Handling: Heavy and stable. Lean-out set for my particular more often used roads. Car type front tire will tend to somewhat follow any highway rain grooves, but there is no oscillation. Brakes are superb. Power is very considerable, and torque is rather prodigious. There is no need for added ballast in the sidecar (often done on some rigs to reduce wheel lifting on right turns), unless you are a beginner and wish to have such ballast. The chair wheel does NOT easily lift on this rig, ....that effect, often called Flying The Chair ....which it is NOT unless very extreme ....is easily controllable if you are driving quite briskly in turns. This is a very solid rig.
Fun little item (there are numerous fun little things....):
I love camping, and Penny has done a lot of sidecar rig camping with me. Penny complained, and rightly so, that some places we camped at had no camping table. We really needed a place for our little stove, a cooking area, etc. After a bit of thinking, which included realizing that we never camp anyplace without opening the trunk, as that is where we keep our 'kitchen' items ....I made a thin wooden working area platform, that is kept in the trunk, but snaps-in-place onto the rear rack. Such a simple thing, but has become very handy.
I have a lot of quality backpacking camping gear, and might consider selling all of it quite cheaply with the sidecar rig, if you are the camping type. Very handy at Rallies, or in the woods.
I have a very large display (6") GPS that is available cheaply, fits on the RAM mount ....very sturdy, easy to use, etc. That GPS is shown in some of the photos, above. It has a white cloth surround, so strong and hot sunlight won't cause its battery temperature to rise towards automatic shutdown. Also have a near new 12 volt blender for those important in-camp Margaritas.
I have many items not listed in this article.
---
WHAT ELSE IS INCLUDED; or, details?
The already mentioned Tour bags and also City cases are all BMW, and in matched sets.
Both a BRAND NEW front sidecar lamp housing assembly with lens, ETC....also a rear lamp housing assemblies ...all for use as spare parts, in case you smash them (I've never damaged any such thing on this rig).
VERY complete documentation, such as service history and documents and other records going back to when the motorcycle was brand-new. Parts and service invoices are included, and just about anything else you could think of that you might want. A Clymers book manual. A Haynes book copy.
Available: a huge binder containing a printed version of BMW's own factory service book (and CD as well), and with my personal notes....covers early Oilhead and 650 too.
More... I probably don't remember what, at the moment.
What about the condition, mileage, etc?
There is approximately 68,000 documented/indicated miles on the K1100LT, since brand-new. The actual mileage is lower due to the smaller tires, compared to the stock original motorcycle tire. The mileage is, as you probably know, very low for a K bike, which are well known for their exceptionally long life ....and you can probably expect HUNDREDS OF THOUSANDS of miles without removing the engine covers for anything except the quite rare valve clearance check or valve gear chain guide check or replacement. The entire rig has been well-kept-up. Recent repairs have included an all-new clutch (ALL clutch parts replaced and all are genuine BMW); and an all-new BMW driveshaft, new BMW Paralever and swing arm bearings, etc. Only quality lubricants have been used. The engine is run on Mobil 1, 15W50 full-synthetic oil, as that is best for not only the engine as a whole, but especially for the starter-motor free-running clutch. I even overhauled the starter motor, and installed a new battery (Panasonic AGM/VRLA), Smart Charger, etc. There are NO UNMENTIONED PROBLEMS that I know of. The scheduled service was up-to-date in 2018.
OK...OK...so...you've told me about all the good stuff, why a new clutch? ...and, heck, why a new driveshaft? What about the hatch hinge change? What about the hatch lift strut? Where's the original windshield?
I am meticulous (well, anal+) about maintenance. Upon inspecting the transmission input shaft splines, they were found to be in need of lubrication. In the same way that Airhead's transmission splines are lubricated at intervals, so are K bike's splines. However, the K bike transmission splines need a lubrication check only at MUCH higher mileage than Airhead's splines do. With the transmission removed for spline lubrication, the clutch was inspected, and while a lot of mileage was left on the friction disc, I thought it a good idea to replace the entire clutch (I never replace just the clutch disc, if there is any noticeable wear on the other clutch parts) and associated seals in the area, as long as everything rearwards of the clutch was already removed. So, the complete clutch is new. I kept the old parts, the new owner gets them, to keep or toss.
In late 2016, the driveshaft U-joint failed at close to 68,000 miles. This put tiny metal pieces/dust into the Paralever bearings and the swing arm bearings, so everything was cleaned-out, and every bearing, as well as the entire driveshaft unit, was replaced at very considerable cost. Genuine BMW parts were used. Since the driveshaft failed while I was on the road (and, yes, I admit I was using a very large handful of throttle, accelerating ferociously at the time), I had the rig towed to my favorite BMW dealership. A large flat bed vehicle hauler & towing company was hired for this. The tug was put onto that hauler in the wrong direction, and the hatch of the sidecar was not tied down to the sidecar tub. At something around 65 mph, the wind over the top of the truck's cab was enough to grab the sidecar hatch, and toss it forwards, breaking the costly EML cast hinge and breaking the not-costly support lift-strut for the hatch, and ..... breaking the windshield at several places. The dealership cleaned out the driveshaft housing, installed a new driveshaft, new bearings, etc. I drove the sidecar rig home. I was having back/leg/hip problems, and I did not get very much of my own work done but in small amounts here and there, for some longish time afterwards. I finally obtained a new hinge ($$$) from EML and got that installed (and I added rubber gasketing I made, etc.). I also removed the old weather stripping from the hatch and tub. I purchased a new lift support strut of a newer and more sturdy type with better-quality fittings than the original, and installed it using new and proper metal ball mountings for the strut (original parts were not correct, IMO).
I obtained a brand-new windshield from EML ($$$). I installed it using appropriate flat rubber protection and also silicone molding and used special plastic mounting screws and nuts and rubber washers. I did all the drilling and fitting myself, of course; with proper drills made for plastic, proper hole treatment after drilling, ETC. I matched the new windshield, properly shock mounted, to the fancy Sunbrella 'canvas' material top that I made earlier (with the help/advice of a master boat top maker). It is a very nice setup.
All maintenance was current just before storing for the 2018-2019 Winter, this includes re-coating of the ignition module with fresh heat sink paste (something BMW never mentioned); brakes bleeding; some lubrication work; and, recently, fresh Long Life coolant. It will soon be time for a new rear tire, so that will be done by the time the new owner picks up the sidecar rig, after I have done some test drives.
---
Is there anything else that should be done in the near or moderate future?
(1) I think the motorcycle's seat (saddle) should be reupholstered (recovered) very soon. One seam, the rear one, has greatly deteriorated, and while it will last for a bit, the seat should be recovered. The seat should be done to match the new owner's desires. I have not done this because I felt that the new owner will want to reshape the seat to fit his/her posterior, as opposed to my skinny boney butt.
(2) The front tire will need replacement, although there are considerable miles left in it. Front tires on sidecar rigs wear VERY SLOWLY, and 40,000 to 50,000 miles between front tire changes on this rig is typical for even use on occasionally rough roads. If mostly on smooth roads, you might well get 80,000. At tire time I suggest the front wheel bearings be inspected, regreased or replaced upon inspection, and the same for the pivot arm bearings and you could add zerks if you wanted to. Simple cleaning and lubrication is probably all that would actually be required. I suggest removing the ABS toothed wheel at the same time, just because it is not needed.
(3) I do not anticipate other work being needed for a long time & many miles, other than oil & oil filter (kits included) changes & the rare inspection or cleaning of the air filter (I think I have included 1 or 2 new ones) & occasional replacement of the fuel filter (new ones included). The brake pads will not require replacing again for a large number of miles. The front pads last an exceptional amount of time (same for the sidecar disc brake pads), the tug's rear pads are replaced more often, even though the front brake is mostly used. Probably a valve adjustment check and maybe a chain guide, eventually will need to be done, perhaps towards 80 to 100K miles.
(4) I think that for the next oil change interval, I suggest considering a magnetic drain plug (not sure if I had already installed one).
(5) I have a modification in mind to add a grease zerk to the clutch lever at the rear of the transmission.
(6) There is a screw at the handlebars throttle assembly that I have considered removing, because it is frozen; and removing it will enable easy access to clean and re-grease the internal parts (instead of oiling).....but, I did not want to damage the heated grip.
There is nothing else I can think of.
---
This sidecar rig is VERY substantially built, with a large wide sidecar, that will comfortably accommodate two smaller or one way-large passenger; or a passenger with a good sized dog, etc. It is a road cruiser, with substantial power and braking, and a fairly wide stance for stability. Raising the sidecar wheel some, for showing-off, or just in spirited driving, can be done, but is not easy to initiate, due to the rig's stability. The available power is at least twice what an R100 Airhead can supply. For sidecarists, this would probably be type of sidecar rig they might purchase last, as they gain experience. For a beginner, there really isn't any problem in learning how to drive a sidecar; and, one can be reasonably safely competent after a weekend of instruction and practice. Just as with motorcycles, there are advanced techniques that can be learned later.
This rig is capable of carrying a LOT of luggage. I expect it will be quite reliable.
---
If you were to build a rig like this from scratch, you would be into it $30,000 & quite possibly a LOT more, including starting with a really good used motorcycle....and a new EML sidecar; ....and the cost would still be quite high even if the EML sidecar was previously owned. EML makes premium products. The cost for the EZS front fork, wheels, etc., is $$$$. Just the top for the sidecar would be hundreds. Sidecar rigs costing $40K++ are NOT unusual.
I have over $25,000 (probably well-over), in this outfit. Only the last handful of years ...usually due to my bad back and leg; and now the cancer recurrence ...have I had to farm anything out ...Ted Porter (Beemershop) did the clutch; and, Sierra BMW did the driveshaft work.
I originally priced the rig at $16K, which I thought quite fair. I thought it over and decided to lower the price to a bargain for the rig, all accessories, and all parts and tools, $10,000, ....purposely to sell the rig quickly. Those trying to get it even cheaper were invited to pay more! It's been sold, so, obviously, it is no longer available.
When I first let folks know it was for sale, I said that I might offer to guarantee the rig, in writing, (increasing the price for doing that) ....I've offered it with most motorcycles and sidecar rigs I have sold, upon request by the purchaser; but that was not necessary for this rig.
I also usually offer to driving it to the buyer's home (or?) for expenses, assuming my health allowed. Or, the buyer could fly into Reno, take the cheap shuttle to South Lake Tahoe, and could stay here with us for a day or three, then drive the rig home after some instruction/practice, etc. (if you need it). OR??

This sidecar rig is fully capable of being driven across the Country, anyplace.
We could also have arranged shipment. I have two favorite reliable shippers.
If you are interested in any more details, even though the rig is sold, you can contact me via E-mail, see the address in the image on the following page:
http://bmwmotorcycletech.info/emailimage.htm
Last item; Title and Registration, full disclosure:
When I originally purchased this rig, I had a pretty good idea of its past, since the tug was new, and the sidecar originally attached, and the maintenance. However, before the tug was converted and sidecar attached, the tug had fallen over, I think at less than 5 mph, if I remember correctly (I think I have the paperwork), on its left side, damaging the fairing. There was nothing else damaged, and the fairing had scrape markings, probably extensive (I don't have photos). You, the purchaser, get the info on the original owner anyway, and could contact him, if you wanted to. The fairing is a very expensive item. My understanding is that the original owner's insurance company total'd the bike, due to the fairing and associated labor costs (painting, alone, is $$$). The original owner, I think, purchased the bike back from the insurance company. I think the entire fairing was replaced. When I got the title from Al Olme, who sold the rig to me, the title was completely clear, with no notations. Apparently that is how a 'salvaged' bike is titled in Minnesota. That is NOT so, in California, and California DMV has access, as do all States, to the National Insurance Database. My title shows the bike as 'salvaged'. The bike is currently insured, registered, and has a clear title in my name (in my personal Trust, actually). None of all this information should make any difference, as the bike HAS BEEN formally inspected by the CHP (which, only, does such inspections here in California) since it was brought in from out of State by me. That means that I also had a BMW Dealership inspect the bike and sign off on it (brakes, lights...blah blah).
I have no idea what YOUR State does with salvage-titled bikes.
BTW ...in California, the rig is registered as a motorcycle ....California has no formal way of registering as a sidecar rig, and I strongly suggest you do not. Insurance companies hardly know how to deal with sidecar rigs; and, my information from three quite knowledgeable agents is: insure it as a motorcycle, with appropriate amount of insurance for 'accessories', which need NOT be identified, but you should keep photos, and records. This is very common with sidecar rigs. If there were tens of thousands of them on the road, I suspect they'd have their own DMV and insurance classifications.
Any questions, feel free to contact me.
http://bmwmotorcycletech.info/emailimage.htm
---
---
01/01/2019: Updated the article, to properly identify text with associated photos; fix miss-spellings and a few grammar problems; clean up messy HTML code, add details on the title, minor clarifications, add e-mail image link, etc.
02/18/2019: I should have updated this long ago, to show that the rig was sold, but, failed to do so. So, modified the text to show that, throughout, ETC. On 03/07/2019, I cleaned up the article some.
04/14/2019: Updated to reflect our move to Carson City, and not to Rose Villa.
05/11/2019: Bring up to date.
© Copyright 2019, R. Fleischer
Return to Technical Articles List Page
Last check/edit: Saturday, May 11, 2019