This is the only article on this entire website where I am selling you something;
or, buying something from you....
Things I WANT are listed at the very bottom of this article.
I am going to start by showing some modest number of things here in this Sale article.
FIRST, the sale of my 1995 R100RT, and, sale of my sidecar rig:


http://bmwmotorcycletech.info/1995-R100RT-sale.htm
http://bmwmotorcycletech.info/sidecar-rig-4sale.htm
---
My electronics business is for sale for $15K, on the web at: http://fleischerelectronicsservice.com/


On that website is an article that has some of the things on the sale page you are now looking at, and more (including the piano):
http://fleischerelectronicsservice.com/bargain-basement.htm

The details are on the following page: http://FleischerElectronicsService.com/business-4-sale.htm
If interested either way, or, whatever, contact me. http://bmwmotorcycletech.info/emailimage.htm

There may be some test instruments for sale, see well below.
---
This section is entirely BMW Airhead or K, except for one Zundapp die cast model.
1. Three of what appear to be BMW luggage keys for the flat type of locks, as used on the BMW tour bags and at the rear of some Krauser bags. Two are identical, and marked 42. The third has the reversed slot and not sure of number. I think that the ones marked 42 are also called 042, and the BMW parts are, I think: 71-60-1-467-563 & 51-25-0-418-952 (both part numbers have been used for #42 keys). $1 each.
2. Possibly for sale in future: Last version, Bosch alternator, complete (rotor, stator, diode board, regulator). (off my 1995 Airhead, so has the latest stator and rotor, etc.). I might hold onto it all and include it with my 95 Airhead when I eventually sell it.

3. Possibly for sale in future: Last version, canister ignition (off my 1995 Airhead), including the canister, turquoise coded module, coil, etc. I might hold onto it and include it with that Airhead when I eventually sell it.

4. BMW Airhead Tachometer, fits R80ST, R45, and R65 series. Clean clear glass, no rust, minor bezel marks (see photo) which can be touched-up with black paint. Not available from BMW anymore, and hard to find in good condition. I've seen them on Ebay, UNtested, AS-IS, for what I am asking for this one. I have tested every capacitor, resistor, chip, meter movement, etc. during the repair. NO micky-mouse stuff! NO bezel pry/crimp marks, etc! Be sure your ignition is OK, as problems with even such as a bad spark plug cap can influence your tachometer. I can furnish full specifications on the internal circuitry, if you are nerdy enough to want it...that includes parts, schematic, test circuit, etc. If not sold in a reasonable amount of time, here on my Sale page, it goes on Ebay for a higher price.

IN ORDER TO PURCHASE THIS FROM ME OFF THIS PAGE AT THIS PRICE YOU MUST PROVE TO ME THAT YOU ARE A MEMBER OF THE AIRHEADS BEEMER CLUB. That restriction MAY be applied to more of my BMW parts as I offer them for sale. PRICE IS REDUCED TO $200 for an Airheads Beemer Club Member. SHIPPING INCLUDED.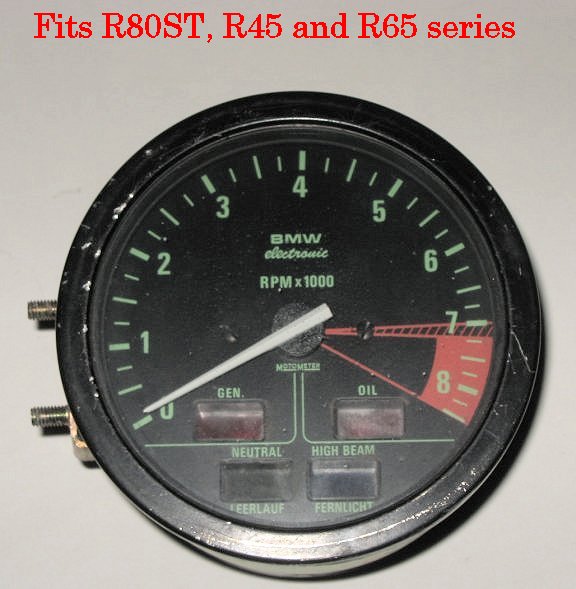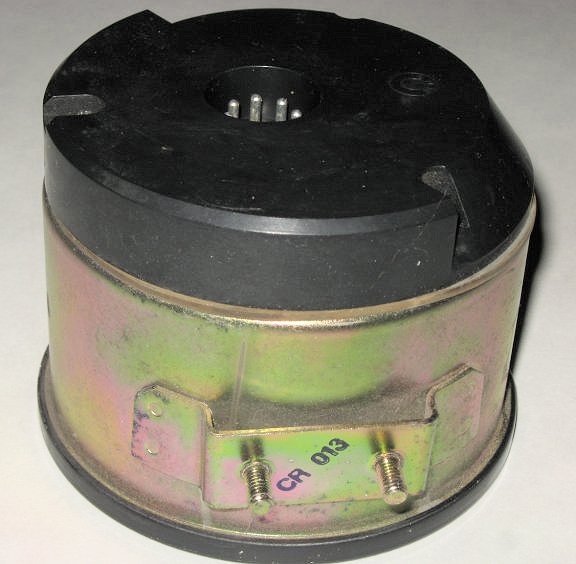 5. GONE



6. Rare display model. A "R100RT" ??...YES>>>but it is a R-100-S,
produced as an RT, I think it is a 1979 model. Made by Guiloy.
Would be very pricey if you could even find one of these now.
You can have it for what it cost me, a long time ago, $58.





7. This is a higher quality 1/10 display model. Made by Schuco of Germany,
well-known for their high quality and attention to details.
As in the above item #6, you can have this one for what it cost me, long ago,
$96. Very highly detailed, and even the trunk of the sidecar opens up.
Includes the original box as shown. The entire model is tied to the display
base, which easily is removable.
Official description is R60/2SW mit Seitenwagen.


8. My last model is the highest quality display model, also a Schuco.
Very unique and very special! This is not a plastic model, but a highest quality
die-cast model. It is HEAVY and substantial, with great attention to details.
The underside of the original box shows the specifications. This is,
of course, the famous WWII Zündapp KS750, in 1:10 size.
These, complete, rarely are found for sale.
Here is a listing for one, NLA, for 120 Euros, which is only about $140 these days:
https://www.carmodel.com/schuco/06515/1-10/zundapp/ks750-with-sidecar-1941/58162
I am asking $98, same as my original cost before shipping charges to me.



I can ship these above models, but will cost you a modest amount,
as the packing needs to be substantial to prevent damage as best
I can do so. If you purchase all three models, and pick them up
here, I will make you a deal!

9 & 10 SOLD!


11. I have a number of brand-new adaptors (charge or run your devices! ...such as your phone, GPS, etc.) for use in cars & motorcycles. These were obtained for testing purposes. That is one of the things I do with the $ from donations and from Google advertising clicks income from this website. I obtain various things for testing, test them, and then re-sell them at a substantial discount, thus your ad clicks and donations go a long way, over and over.
These standard 5 volt USB output adaptors fit either DIN (Hella) standard power accessory jacks on your BMW; or, fit common cigarette lighter sockets; all as noted in the photo. There are 3 styles for the group of three on the right side of the photo, as noted. One is rated at 2.1 amperes, but I rate it like the other two, 1 ampere. Prices in the photo. Lots cheaper than you can purchase these for, even on the Internet. Shipping is cheap.

12. GONE!


13. LOTS MORE BMW stuff, ....I MAY eventually get around to posting it here.
---
OK...the rest is not BMW Airhead nor BMW K bike stuff:
1. I have some machinery that is PRESENTLY up for sale. MUCH has already been sold.

a. LeBlond Regal 12"+ metal working lathe with quick change gearbox. This Regal was the top of the line tool room lathe. An oldy, but goody, in very nice condition, with no problems, and it is complete with large 3 jaw chuck, large 4 jaw chuck, both chucks with reversible jaws; faceplates, and a lot more. I have a VERY LARGE AMOUNT of tooling, etc., for this lathe, everything from a tool post grinder to every sort of adaptor you can think of, taper making attachment, full set of taper drive drill bits (and a lot of standard shank ones too), drawer full of high quality cutting bits, many brand new, etc. WAY too much to list. This lathe comes with an antique dentists cabinet with swing-out drawers, bevel glass front, etc. It also comes with a lot of micrometers and other measuring tools/instruments. $2100, and it's yours. You must arrange pickup. Promised to someone, awaiting payment & pickup.

b. Twin shaft motor, on 4 leg pedestal, with special grinding wheels, this unit was strictly used for grinding/shaping very hard lathe cutting tools. $120. Promised to someone and awaiting payment and pickup.

c. Sometime in the near future, I will be disposing of my electronics shop, parts, furniture, etc., tools, test equipment. ~$15K. It's available as a working business, of course.
At the same time, I will have for sale my bench grinders, vice's, drill press, sanders, and a lot of electric tools, such as drills, sanders, saw-all, circular saws, etc....a LOT of etc....and the prices will be excellent!
2. Nokia E-65 small slider-type World Smart Phone. Quad band. Has camera, calendar, Bluetooth, WiFi, etc. Included is battery, 12 volt car adapter, 120/240 volt battery charger, data cord, and 120/240 volt adapter. Works fine! Used by a world traveler & by me on the ATT network here in the USA; he used it on trips around the world on other phone systems. Use as emergency phone, or, install your mini-sim card and have all functions. Data plan not needed unless you want every function. Only things it does not have is a touch-type screen & GPS. Sorry about the out of focus photos, just me not holding another camera steady-enough while trying to take a closeup. PRICE REDUCED TO $20, for everything.

3. GONE!
4. http://FleischerElectronicsService.com/Bargain-Basement.htm
5. Very High Power Woofer or Sub-Woofer. Originally a Carvin SCx1118A, it is now an non-powered Carvin SCx1118. This is a massive woofer in its proper original Carvin cabinet, that can be used as a very low frequency sub-woofer, or a straight woofer. Original Carvin Bass Reflex enclosure, made of 13 ply Russian Birch. The recommended amplifier is 500 to 1000 watts, but it will work well at lower power input, particularly if used as a straight woofer.
The Carvin speaker is 18", 8 ohms, 3" voice coil, air core cooled, rated at 500 to 1000 watts program material, 500 to 700 watts RMS, and 2,000 watts peak power. The base response extends BELOW 35 Hz! Frequency response of the woofer and its matching cabinet is: 35 Hz-1.5 Khz at -10db; and 40 Hz-1 Khz at -3db. The recommended crossover network (or, settings for the amplifier) for use as a sub-woofer is 200 Hz. For the nerdy, I suggest using the factory recommendations of low-pass 80 to 120 Hz at 24 db/oct. Low-cut at 30 to 35 hz.
This black Tolex-covered cabinet is equipped with heavy duty roller wheels. There are stock recessed handles on the sides. The entire cabinet is in very nice condition. If you want really solid bass, this is a way to get it, reliably. The photo below does not show well how NICE this entire cabinet really is (Including the Tolex). My price is $150.00....which INCLUDES installing any sort of special speaker jack you would like and bring us; and, a safety fuse in the rear panel. If the existing 1/4" jack is not what you want, please supply your jack with purchase, or, ask us. ***If we do NOT install a special jack nor fuse for you, the price is $125.00. Guarantee, of course!
We may still have a 400 watt Hartke amplifier that will work well with this speaker; and it has sophisticated tone controls to restrict high response to work with this speaker.
6. Computer item:
ATI Radeon Graphic Accelerator card. Complete with packaging, box, instructions, and installation disc. Does NOT need a fan, has its own gold plated large heat-sink A nice item! ATI Radeon 9550 AGP 256 Mb DDR2 8X. There are several versions of the 9550, this is the best one. Just plug it into a slot in your computer. Especially nice if you have integrated video and want to upgrade for such as more intense graphics or gaming work, large monitor size, etc. NEW; Tested and Guaranteed! I was going to put this new unit in my computer, then decided to purchase a computer for which it won't work. Only $20; plus shipping. Moght consider giving it away free, with sale of other stuff.
7.
---
FREE ...or extra-cheap!
(1) GONE!
(2) Olympus Accura Zoom 80 camera; autofocus, with manual. NO problems. Free
(3) FREE! RF modulators. I have two of these. They plug into a wall power socket. These convert audio and/or video signals so that you can use any TV (output is selectable for Channel 3 OR Channel 4). Input can be a Wii, VCR, Video camera, DVD Disc player, FM receiver, any of the popular game boxes, ETC. You simply connect the audio and video output of your goody, to the input of one of these RF modulators. Inputs provided include Right and Left audio, and Video (including a separate S-video jack too). My price is: FREE. Plus shipping. These are small, and easily fit in a flat rate postal box. If you take both, I will toss in some cables.
(4) FREE! For Olympus D500-L or D600-L: extra memory cards, A.C. Adapter C-7AU, manual, etc. $13.00 + shipping for all of it. I no longer have the camera, it was accidentally destroyed...boooo hoooo (dropping things from high up will do that).
(5) FREE! Audio/Video Enhancer, model FA-310, in like-new condition throughout, made by Niippon Shokuhin Sangyo Co, of Japan. Two channels of Left and Right audio input and video input; and same for outputs. Can be used as mono or stereo. 120VAC 50 or 60 Hz input, 6 watts. Video inputs and outputs are standard 1Vp-p, 75 ohms, unbalanced. Audio input is 500mv 47k; and output 500mv 1k. Sharpness effectivness is +14db at 2mhz. Audio noise reduction 9 db minimum at 8Khz. This item is well-built mechanically and electronically, and heavier than it looks from it's size; which is approximately 3 inches by 2 inches by 8 inches. Expected shipping weight is 4 pounds. It has been tested and is guaranteed to be working properly. Comes with Instruction Manual (manual is very usable, but has some spilt coffee staining). The original purpose of this unit was to enhance video during transfer/copying/dubbing. The unit decreased the drop in resolution and improved the signal-to-noise ratio. Videos would have snowy smeared pictures greatly improved. Fading was cancelled, and in general picture quality improved overall. This unit uses the double-delay-line approach, which improved the leading edge and the trailing edge of waveforms; rather than cheaper and lesser quality enhancers that only operated on the leading edge of waveforms. Ease of operation too, only one knob controls sharpness. A noise suppression circuit is included that works on BOTH audio AND video. Hiss is reduced, and NOT from 'cutting highs' as done in lesser units. You can't beat the price, FREE, and you get a $$$ unit! (you pay postage, and I'll always accept a 'donation').
---
NOT free section:
1. 1 pound bottle of liquid mercury. NF high purity grade, make offer, sell or trade. Can be used in gold mining, cleaning lead out of gun barrels, and many other things. Bargain at $125.00. Will NOT sell to anyone not willing to listen to me tell you how to handle it safely.
2. Items from my electronics repair business. I seldom sell test equipment, but a few items will be offered now and then.
a. LARGE Bureau of Standards type of fan-style dynamometer A.C. voltmeter, mirror scale, jeweled bearings, and in original wood-case with leather handle, etc. An antique, but in perfect working condition, and extremely accurate. Suitable for actual use or for a museum, these are valuable for their preciseness and the dynamometer style of movement which eliminates errors in regular analog or digital meters due to waveform distortion. Accuracy is approximately same as a modern digital meter! $250. GUARANTEED!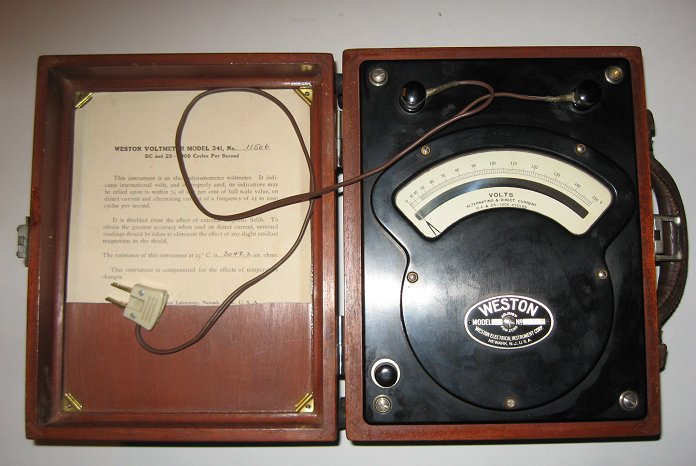 b. Precision E-200C RF signal generator, with a stabilizing temperature control setup inside that I installed; $60.

c. Some asked about my three oscilloscopes. I sold one, and I have decided to sell only one more. It is Leader brand 5" round CRT oscilloscope, single channel, 10Mhz response, that is quite adequate for use in a repair shop. It has all the usual sensitivity and sweep controls, sync, etc. It is available with or without THREE EXTRA (and BRAND NEW) CRT tubes, that you can keep or sell. $50 for the oscilloscope and $80 for the extra CRT's....a real bargain. This particular oscilloscope has been my workhorse for audio and receiver alignment, etc. Can provide photo on request.


Ask about the two channel power meter, oscillator, and AM/FM/FM stereo alignment generator, etc....an all in one instrument. I haven't taken a photo or priced this yet. Used with an oscilloscope, you have what you need. Best this goes with the shop/biz.

3, 4, & 5: SOLD

6. Thousands of electronics parts, from tubes to relays to transistors and every other type of part you can imagine (or, can't!). Way too much stuff to list here....so best to ask. I have all sorts of semiconductors (especially $$ power types) ...and, generally, all the stuff you might find in an electronics repair shop with a long long history of working with industrial stuff; musician's, HiFi; ETC. I'd rather sell the business, parts, test equipment, etc., to someone who wants to start up an audio repair shop....got $15K ?...but will sell a few parts, etc, until a buyer for all shows up ...which now appears unlikely. I will even trade for small items, or even the whole shop.

7. Very good older hifi equipment...my personal stuff. All sorts of stuff, including Sony top-of-the-line TT, with Shure top of line cartridge...just a lot of stuff. No room for any of it, where we will move to.

8. PRICE REDUCED!
A very good solidly built 35 mm pro camera outfit, for sale or trade. I purchased this entire outfit brand new for one commercial project, it had only light use, and has been in my storage FOR YEARS ....and is in absolutely wonderful condition. It all is fitted into a Halliburton 'Zero' aluminum carrying case. The camera is a Minolta XD11; with the Minolta DataBack fitted (regular back also included). This camera is a true focal-plane type, yet has automatic aperature and shutter modes, selectable, programmable. Minolta was the first maker to do this, and it was so good that elements of its design were used by Leica in the R4. This camera is rugged, metal and substantial (NOT plastic!).

It comes with a variety of lenses and goodies:
Minolta Rokkor-X, 20 mm F2.8
Minolta Rokkor-X, 50 mm F1.4
Vivitar Zoom lens...this is the Macro focusing Auto Zoom, F3.5, 70-210 mm
The lenses are all auto-coupled.

3X telXtender ...and, yes, it is also coupled. This will increase the focal length by three times.
Telescopic lens adapter, you can use your eyeball and the long lens with this!
Spiratone Vignetar adapter, adjustable.
I think there is available an adapter made by some company that would even enable the use of these excellent lenses on digital cameras.
I have more not listed above that goes with this outfit. Includes all sorts of filters (including Hoya 67 mm '80A' used for daylight with 3200° lamps), both 55mm and 67 mm polarizing filters, lens adaptors, extenders, Minolta high magnification adapter for viewfinder, Rollei 134B Automatic Electronic Flash (16" to 20 feet coverage and battery OR AC powered), literature, manuals, various shutter releases, lens cases, lipstick type lens brush, you really shouldn't need anything else.

Will trade/barter.
****PRICE REDUCED****: $200 plus shipping
9. SOLD
10. Video camera. Coby camcorder. BRAND NEW. NEVER OUT OF THE STILL-SEALED PACKAGE. Very simple to operate. 1.3 Mp, 2.4" bright color display flip-out & rotatable viewer. ~3 hours recording time on any standard 4 Mb SD-SDHC type memory card. Supports up to a 16Gb memory card. AVI, M-JPEG format. Will play into a TV, cable is included. Features include still capture, LED low-light assist, 4 X digital zoom, USB transfer port. Uses 3 each AAA common batteries. Comes with installation CD. Will work with most computers ...and it DOES support Windows 7, Vista, etc. I bought this in a charity raffle. YOUR price is $15.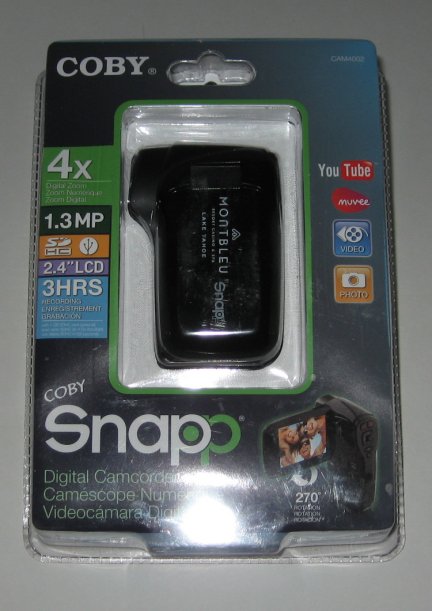 11. HOW BIG IS YOUR EGO? This is a very unique custom-made one-of-a-kind jewelry piece. This is a very heavy (LOTS of real gold) Dragon pendant, with a special ruby 'tongue' and nostrils, a diamond in an eye, and every one of the dragon's claws has a diamond of good quality. On a postal scale the dragon and its gold chain will weigh 3-1/2 ounces. That's not Troy weight (which is about 2.25 troy ounces) (converting it to PURE 24 ct gold for you it is about 1.31 Troy ounces of PURE gold). Go check monex.com for the latest gold price. This is heavy and massive. I have all the specifications that I can e-mail if you are really interested. It is available for sale or trade; $12,000 minimum. It's melt-down (ugggh!) value varies with the price of rubies, diamonds and gold. The dragon was originally purchased by ME as a gold dragon shell, designed and made by a craftsman in the Virgin Islands, where I purchased it in person. I had it filled with gold and had the diamonds and rubies added...all this by The Jewelry Factory; the exact same place, by the exact same person (Bob Lindner), who made most of Liberace's fancy jewelry. I INCLUDE the paperwork from The Jewelry Factory! This is a very special piece; and with the price of gold and custom pieces rising, is worth an increasing amount of $. I have had a most difficult time trying to photograph it, as the shiny reflective surfaces tend to look black or otherwise be distorted, and the diamonds reflection makes them look out of focus. The photos are the best I've been able to do with my not fancy digital camera equipment...and do not show the large ruby tongue and diamonds very well at all, nor the sharpness of the piece.

The brilliance of the diamonds did not help matters in trying to take these photos. It would be worse, now, that I have polished the gold. The dragon itself is about 2 inches by 2-1/2 inches, maybe a bit more. You really need to see this piece in person. It is large, heavy, and only someone with an EGO (like mine?) would wear this. It is listed with more information, on this website under http://bmwmotorcycletech.info/dragon.htm

12; 13; 14; 15: All are GONE!


16. REAL Dental picks. Sharp! Great for those little jobs ....like cleaning-up female spade connectors; cleaning-up the junction of the insulator-to-metal-body of neutral switches on the BMW Airhead 5 speed transmissions prior to epoxying to prevent oil leaks; snagging pesky ignition springs; etc. LOTS of uses. I often grind mine for special shapes. These are real surgical steel picks, not Chinese cheapos. If you grind on them, be very careful not to overheat the metal, otherwise you loose the hardness.

I have NONE left right now; this listing is being left here, as I hope to obtain some more for you.
17; 18; 19; 20; 21: ALL SOLD and GONE!



---
My electronics business is for sale. $15,000.
When sold, I will retire to mostly BMW work for website articles for the Airheads Club, magazines, etc.
http://fleischerelectronicsservice.com/ has a link to the sale-of-the-business page.
I may consider selling the furnished house and the motorcycles machinery and business too, as one lot. Penny and I need to downsize before Summer of 2019, and I need to retire to hobbies (yes, including BMW stuff).
On that website is an article that has some of the things on the sale page you are now looking at, but usually lots more:
http://fleischerelectronicsservice.com/bargain-basement.htm
---
Things I'm interested in getting (trade/barter ....and/or ...I will pay cash or add cash as appropriate):
1. BMW SNABB Katalog that is marked on the rear cover outside as 01-01-9-796-621.
2. Replacement for my awfully well worn SNABB Katalog which is 01 09 9 796 332 1.5 V/81
3. BMW factory service manual and perhaps parts manual, for 1981+ R65, and OK if it also covers R80ST, etc.

Penny and I MAY make our guest room available now and then. PCT 'thru-hikers' and BMW bike enthusiasts/owners, who are Members of the Airheads Club....>>ONLY! You can ask.
---
For anything on this entire page: I may trade/barter. I also may dicker on combining things! Ask or make me an offer.

After we agree about an item and its shipping; you can pay in several ways.
By PayPal:
Click on this link: http://bmwmotorcycletech.info/emailimage.htm which is a photo which shows my full E-mail address which is also my PayPal account number. If you send PayPal funds as "personal">> "gift", or similar, I may not have to pay their fees.
Go to http://www.paypal.com, or just use the PayPal logos in this article & pay using my e-mail address as to where you are sending the funds. I can also send a money request to you through PayPal, but my last try at that made me pay their fees.
By personal check or cash (please do NOT send cash via snail mail) or United States Postal Service Money Orders (which I can cash and pay for your item's shipping at the same time at the Post Office):
If you wish to send me a personal check or bank draft, money order, etc., my mailing address is: R. Fleischer; 2601 Alma Avenue; So. Lake Tahoe, CA 96150-3036. ALWAYS let me know how you wish to pay, AHEAD OF TIME.
The United States Postal Service has been improving its "Service". Internet tracking is standard for most all mail, as an example. I always go to USPS.com for the latest information before quoting you costs. I usually ship things to USA addresses via Priority Mail or First Class, or the new version of Parcel Post. I have some used cardboard boxes, and good packing materials; at no cost to you.
I ship packages out of the U.S. by First Class Package International for the lowest postal rates. Insurance for that type of shipping may be available now.
For international mailings, there is also Priority Mail or Express Mail where insurance & tracking are available; although that type of service usually costs much more than First Class Package International. "First Class Package International" shipments seem to take from 2 weeks to 5+ weeks. I will NOT ship First Class Package International to international locations without YOUR understanding that shipment might take as long as 5 weeks, sometimes more. I WILL provide, upon your request, a copy of the mailing receipt, as proof I mailed the item; plus, whatever type of proof of shipment is available (typically via Internet tracking).
For very expensive items there is a USPS service called Insured-Registered mail, which is very secure for expensive items, whether domestic or foreign.
Sometimes, UPS is considerably cheaper than USPS, sometimes that is reversed. I usually check both.
I almost always provide the Internet tracking number and information (when available or if purchased) to anyplace I ship to.
---
© Copyright 2018, R. Fleischer