The ads above are Google-sponsored.
Clicking on them at every visit, helps support this website.
Clicking on something inside an ad helps much more!

Motorcycles, cars, trucks I've owned...etc.

http://bmwmotorcycletech.info/mcOwned.htm

© Copyright, 2012, R. Fleischer


I had acquired, over many decades, a lot of antique motorcycles; and restored many. I started collecting them when very young, all 52 of them were sold in the late 1980's to museums. I've not listed them here, in accordance with promises made to the museums that purchased them from me. The Contracts specify keeping my mouth pretty well shut. However, two of them are shown, in the museums, with a placard, showing my name and that I did the restoration and road testing. YOU get to guess which museums.

BEFORE MOVING TO TAHOE in the early seventies, I rode a number of motorcycles, but I personally owned and rode only these motorcycles. The big collection of antiques I had are not in this list, nor are those R100RT bikes that I never transferred title to me):

1951 BSA 500 single, B-33, converted it to a GoldStar, raced it, and also modified it for 100% alcohol.

1949 Vincent Rapide 25-867

I was the secretary of the Vincent Owners Club, and at one time I had EIGHT Vincent's I OWNED, in my garage. I had ...I thought ...the only Vincent Black Prince in the USA.

1960 Harley XLCH 116730, I purchased bought it brand new.

I've had three other Harley's, including a 1948/9 Knucklehead, an XL, and a WWI antique.

1957 BMW R-60 918165

1943 Indian 45

1962 BMW R69S 168948

1964 BMW R60, purchased new 261718

1965 Honda 160, purchased new; also had two each Honda 175's, 1969 models, 175-K3

Norton-Vincent hybrid. This was a Vincent engine in a Norton Manx Featherbed type frame, which I raced at Bonneville on my birthday weekend in 1972, setting a new World's record in my class. I slightly detuned this bike and rode it on the street for years.

1967 Kawasaki 250 Samuraii. I know I owned and rode this, but haven't much memory of it.

1970 Honda Trail 90, was originally my father's.

1971 BMW R75/5 ...BESIDES that one I have had three other 1971 and 1971-1/2 R75/5 bikes, PLUS one that was green that I had for only 2 weeks, that was a trade-in to me for my BMW-600 car ...I traded the green R75/5 in on a new one ...can't stand green motorcycles!

1972 BMW R75/5, full dresser 2986604...I put a LOT of miles on this one.

I have had the opportunity to test drive MANY DOZENS of other bikes, from pure dirt bikes, to crotch rockets. Way too long a list to put here. I have test-driven bikes on "secret" roads used by some bike magazines, and have been able to ride some never-released or never in production, "factory" bikes. I have pro-wrenched on several race bikes I did not own. That includes another R60 sidecar rig, and a rather infamous Gilera and a V-8 Guzzi ...not to mention my antique collection of 52 bikes, all gone now. I spent some time 'playing' at Harrah's museum, in Reno, before they sold off much of the collection. A very long time ago, just before Honda decided to make a big splash in the USA with their "You meet the nicest people on a Honda" campaign, I was at a racetrack with buddies Don Vesco and McLaughlin; them test riding Honda #1 and Honda #2 racebikes. I 'stole' Donnies bike for a few laps. The exact details will not be set down here....although some is in my biography on this site. http://bmwmotorcycletech.info/whothehellissnowbum.htm

1983 BMW R100RT. This was purchased brand new by me in 1985. I modified it a lot, but, eventually, in a weak moment, thinking I'd build a K1100LT tug-EML sidecar rig, which I did not end up doing, at least not then, I sold it, and it was out of my hands for 7 months. I bought it back, and put a Ural sidecar on it, using a Lowell Neff sub-frame design and some of my own ideas, and I put a UNIT LL fork on it, and many MANY modifications. I sold it in April 2006.

1984 BMW R100RT. Fixed it all up, and, after miles/smiles I sold it, but the agreement was that when it was HERE, I could maintain and RIDE it. That existed for years. It's now gone. Full dresser set up for touring, Krauser type bags, trunk, radar detector, Luftmeister side tanks, Brown side-stand, Reynolds ride-off, Day-long seat, EnDuraLast Alternator, etc. I pretty much kept my paws off modifying the engine ...it is still single plugged, and basically stock. Does have a turbo-clutch, came to me that way. Radio came with it, since removed and replaced by another by the present owner. http://bmwmotorcycletech.info/R100RTsale.htm for this bike's page.

I've had quite a few R100RS and R100RT bikes, in various situations of ownership, custody, use-of, etc.

1993 BMW K1100LT with later style single hinge EML GT2 sidecar. Purchased in late 2005 from Al Olme. Full EZS conversion on the tug. I made a number of modifications, and probably will keep this rig until too physically unable to drive it well. Penny and I use it for touring and camping. A rather full write-up on it is in this website.

In 2015, I acquired what is very likely to be my last motorcycle, another BMW, a 1995 R100RT. It will remain mostly stock. Has an EnDuraLast permanent magnet alternator, Alpha ignition, cut-down Parabellum windscreen, some extra rear lights, and that is probably going to be the extent of the modifications.



Cars/trucks:


1940 Plymouth 4dr (my first car). My dad gave me this car. I learned a LOT about cars by working on it. I especially learned what NOT to do!

1950 Mercury 2 dr FVZ485

1949 Ford 2 dr business coupe....super hopped up, supercharged, with big stroked & bored flathead, Navarro heads, Isky cam, Scintilla magneto, and hundreds more things. Special in my heart. SEE BELOW, for the 1950 MG-TD

1929 Ford Model A Sport Coupe. I installed a C engine, big and little tires, big rear gas tank, 49 ford dash, etc.

1949 Oldsmobile convertible, straight-8

1948 Ford 4 dr sedan

1950 MG-TD, lic. PNW805, this eventually got the supercharged engine from the 1949 Ford.

1931 "A" Ford sport coupe LWY177 I modified it a lot. Put huge mileage on it.

1953 Chrysler "6"....this was a RARE Windsor "Traveler" model, that some insist did not exist. It did.

1932 Ford B pickup, LYK607, and NKA350 engine 136522

1960 jeep CJ5, bought new, my first brand-new vehicle TRW509

1958 Porsche Speedster MGG252. I was told that this was the very last Speedster ever built, and had solid disc wheels of the Mercedes knock-off type, and a roller bearing special engine.

1959 BMW 600 engine 131954 license RPU467; yes, the larger version of the Isetta 300. Bought it new. Cheapest car to operate that was available new, back then. Photos below are of a similar car; mine was blue. Uses a flat opposed twin boxer engine, derived from the /2 era, updated, and is somewhat similar to a R60 engine, but one central carburetor, and a cooling blower. The front suspension was cast aluminum, self-oiling. Top speed 62 mph; unless you remove a VERY stiff spring under the pedal/floorboard, then it would scream up to about 80. VERY low maintenance vehicle. Vulnerable feet in the front!
If you are the very curious type, you may want to try to find out about the motor in these. Keep in mind that the BMW600 was sold to me in 19

5

9, and it was in December of 19

6

9 that BMW brought out the /5 bikes ...which had large engine block changes, such as moving the camshaft, having a built-in oil filter, and a full oil pressure system. Prior bikes did not....so, what was in this 1959 car?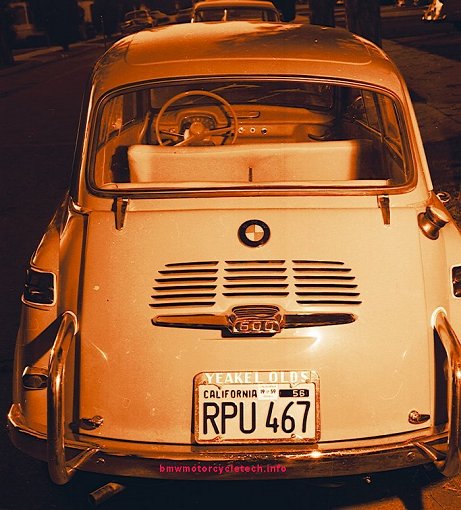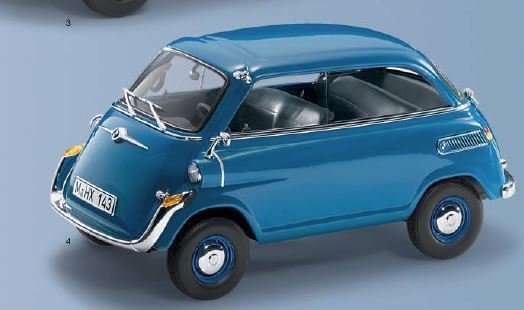 1961 Alfa Sprint Specialé MEF638. Very rare car, looked like a Ferrari. Italian red, of course!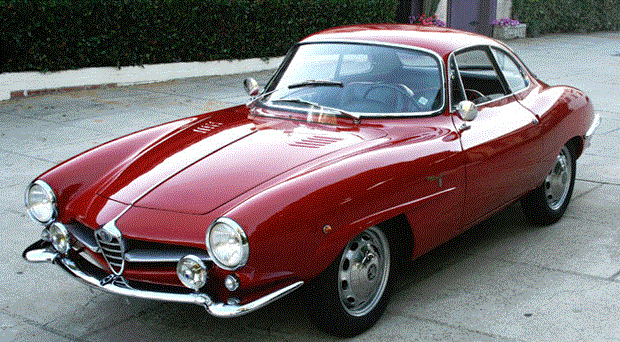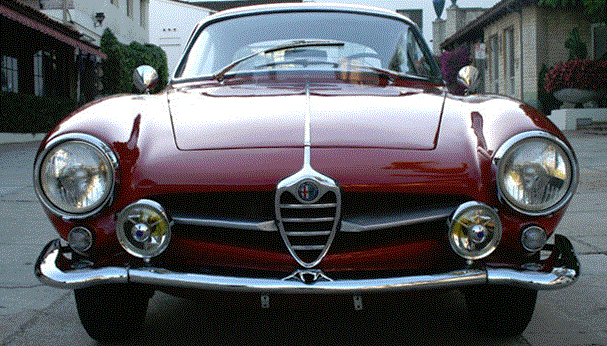 1956 Porsche Spyder RS550-1500 JFK007. I drove this, somewhat modified, on the street! This is the SAME type car as the James Dean one he owned and was killed in.

1968 VW type 361 squareback sedan ...the first of the electronic fuel injection models. I learned about electronic fuel injection from working on this car, eventually used an injector of the same type in place of the carburetors, on my R75/5 sleeper:
http://bmwmotorcycletech.info/sleeperr75.htm

1972 Corvette, LT1, factory racer 380FKN, drove it on the street. Hit the tracks a few times with it.

1962 Cadillac Limousine. Lived in a commune for awhile. Bought this for myself, it held a lot of us, and I even got one of the younger commune guys to dress up like a chauffeur, and drive us around at 5 mph, like celebrities.

1965 Pontiac LeMans NHL586.....really my ex-wife's car.

1975 Chevrolet Suburban 3/4 ton 4WD. Purchased new.

??? Dodge Ramcharger 4WD. Can't remember the year. Purchased new. Went to #1 X-wife.

??? VW Dasher. Can't remember year. Purchased from my X-wife, whilst I was doing some restoration on a 1968 Dodge PowerWagon.
197X custom model 4 cylinder turbo Subaru. It was a rather rare car, special-ordered and bought it new after I moved to Tahoe, it was a true fastback, looked like a real sports car. I did a swap deal with a local gal and got her seventies Toyota pickup, don't remember much about it either. I used that Toyota here a long time, whilst finishing the restoring and hopping up the 1968 Dodge 4WD PowerWagon. The Dodge ended up with a 440 modified engine, stick shift, 4WD. I had that Dodge "Big Red" for MANY years, and it was well-known around Lake Tahoe.
I purchased a brand-new 2000 Miata, and used it a fair amount, for my trips to Palm Springs, where I owned part of a condo. I decided in early 2003 that I had too many vehicles, with the expenses involved, and sold the Dodge pickup at the end of March. I then used the Miata until November of 2003, when I made the final change, which was to swap off the Miata with a guy that wanted it, and who no longer wanted his 1997 Nissan Pathfinder. I still have that Pathfinder, a reasonably roomy mid-size 4WD SUV.
Penny had a 1994 Subaru Legacy, 2WD. We sold it in 2012, and have not replaced it.

Pure Race, ONLY:
500 Norton Manx
350 Norton Manx
BSA Gold Star
R60 BMW with hand-built sidecar
Husqvarna 400's...two of them
See well above about the Norton-Vincent bike I raced. This was NOT EXACTLY a pure race only bike, but a bike that was built by me for both street and Bonneville Record attempts.
Special note:
In a partnership with Dan Mizer many years ago, we put up a considerable number of Port-a-Port aircraft hangars, at the Carson City, Nevada, airport. I kept 3 of them for my use. I kept my Robertson-modified Cessna C-182 in one of them. That C-182 was hardly my first C-182. Eventually, I sold and swapped, but I had one large hangar that was devoted to the very expansive collection of mostly running condition antique bikes that I noted well above. NONE of which are actually listed on the page you are reading due to restrictions from the museums that purchased my collection. These were true antiques. Many fond memories. I used to ride them now and then. I eventually sold all of them, and the money paid off my properties.
Airplanes:
1957 Cessna 182
1967 Cessna 182, FULL Robertson conversion
1960 Piper Comanche 250
Jointly: Piper Twin Comanche; Piper Apache; Piper Apache Geronimo Conversion; Cessna 421; Piper SuperCub
Special in my heart:

I probably should list the Porsche 550RS1500, see above....but:
My teen years: 49 Ford, flathead V-8 of course. The Club Coupe car was gutted and hopped up; engine of which eventually went into the 1952 MG-TD. THREE photos of the Ford, with my supercharged Flathead V-8, is here, scan down the photos article: http://bmwmotorcycletech.info/photogallery2.htm

My Alfa Sprint Speciale....baby Ferrari it was, too. RARE body on the Speciale. Very few ever built. Photos above.
1972 Duntov-built Corvette. 'nough said! I actually had TWO of these Duntov 1972 LT-1 Corvettes, both factory race-prepped. Long story.

I built a 1971-2 custom R75/5. This bike was built specifically to be a total 'sleeper'. This bike appeared, unless one was VERY BMW knowledgeable, to be a stock bike. However, the starter motor had been removed, flywheel modified and in place of the starter was a supercharger. The carburetors at the heads were dummies, were bored out internally, and even the cables, etc., were all dummies. The 'carburetion' was by a home-brew pair of electric fuel injectors (made from 68 VW injectors), one for starting, located at the supercharger. The camshaft was custom made for long intake duration, and the entire bike was VERY heavily modified. Even the front brake was heavily modified internally, but looked stock on the outside. Frame beefed in several places, top of engine tied to the backbone too (finally DEmodified...vibration was awful), forks modified internally, special ignition (dual points gave way to electronics, finally), close ratio gearbox (and modifications to the internals, very extensively for quick shifting), TWO plate clutch (similar to Guzzi). The rear drive contained a very rare ratio gearset. In order to hold the cylinders to the engine, the cylinder studs were hand-made, larger, longer, and the cases modified internally. Oil pump modified for no cavitation. Oil pickup was 'twin-ed'. Just no end to these modifications. The engine was generally kept under 6000, although it could be spun to over 8000 rather easily. There is a more complete article about this bike on this website, http://bmwmotorcycletech.info/sleeperr75.htm

---
Rev:
08/12/2007: edited slightly for clarity
11/24/2007: add photos for BMW 600, and additional description
02/08/2009: slight revisions for clarity
10/10/2012: Add QR code; add language button; update Google Ad-Sense code; update list
05/03/2015: small amount of updating
03/06/2016: Slight updating on content, added Alfa's photos. Updated metacode. Layout.
09/03/2016: Minor updating on metacodes, scripts, a few corrections on content.
© Copyright, 2012, R. Fleischer

Return to Technical Articles LIST Page

Back to the HomePage
Last check/edit: Monday, January 15, 2018