I originally purchased this motorcycle when I was going crazy not having 2 wheels, during the time (approximately early 2000) I was building up a 'street' sidecar rig for myself, using my 1983 R100RT (which I had purchased brand new in 1985). The street side-car rig has been gone for some time, as it was replaced by a K1100LT-EML rig, details are on this website.
I went through a considerable portion of this 1984 R100RT after I purchased it, and I documented everything I did to it, as I like to have a pretty good idea of what my bike's condition is, and know it is reliable, before taking off on long trips, ...and the next owner gets all my paperwork. After I finished it, it was my major 2-wheel touring ride.
Unfortunately, I began having more and more leg and back problems, and old age was creeping up ...and my riding miles decreased; and, Penny never did like sitting behind me on any motorcycle ...she disliked getting on and off (short legs), banging heads/helmets, having to 'look around me to see ahead', etc. Penny preferred the comfortable sidecar, with its weatherproof top (removable), etc. She's also hardly as motorcycle crazy as I have been nearly all my life!
This 1984 R100RT Airhead Motorcycle, with its expanded tool tray tools plus several shelves-full of special tools & large amount of parts, maybe 85% or more of everything and anything I had for Airheads, is no longer owned by me. As of January 7th, 2014, it was no longer at my home. This page is for reference information. I had use of this bike & could ride it when it was 'stored' and maintained by me at my home or if I was where it was. This bike was sold by me in a 'special deal', & many of the details are below.
I have had numerous touring bikes. I toured, often long distances, on Harley's, even Honda 160's and 175's, several Vincent's, and several R100RT bikes, some assorted Brit bikes ....and also a couple of thirties era antiques. My "last-ever" two-wheel touring bike was to be this 1984 R100RT. It was not to be, and this bike was offered for sale or trade with or without many or most of my Airhead tools and parts. Not included were a few major repair jigs.
I had ~860,000 miles on various motorcycles, probably ~500K+ on BMW's, and I 'thought' I had faced-up (HAH! ...) ...if ever so slowly! ...to my deteriorating back & left leg and hip problems, which affected my 2-wheel riding, particularly in parking lots or at stop lights. Those things, coupled with a general weakening of my muscles, & the fact that my short-legged wife, Penny, did not like getting on or off the back of the bike; and, in fact, won't ride pillion on it at all, made me decide to sell it...but, well, selling and it going away, is not exactly what happened. ...at least not for a long time....
When I reached 76 years of age, my riding abilities were still very good with excellent eyesight & reflexes, but my ability to hold a very precise 'line' through corners, without extra effort, was not what I'd like. Not bad, just not great. I always prided myself on my riding abilities. I would also find it harder to get a bike back up if I dumped it (luckily, never happened on the street in all those miles).
I decided it was time to think seriously about giving up some things ...such as my wrenching on other folks' bikes, perhaps even wrenching on Airheads for myself ...and to give up my hoard of parts and tools; and not ride 2-wheels very often, if at all. I was still riding, just not much; and the riding I was really looking forward to was no longer the solo camping/touring rides on 2-wheels, but similar trips with my wife, Penny, but on the sidecar rig. More room, more comfort, ability to take along more, etc. My decision was to keep the K1100LT-EML sidecar rig; but to reduce, & eventually stop riding, 2 wheels on the street. But, when?
This 1984 bike was being little ridden; not much sense in keeping it if I did not ride it. I also had a deteriorating ability to 'accommodate' ...safely at my usual pace ...any SUDDEN changes in lighting (sunlight, shade versus well illuminated) on the mountain roads I enjoy so much. Thus, the only time I found it pleasurable to ride these mountains was, at best, between about 10:30 a.m. & about 2:30 p.m. ....when the sun is, more or less, overhead, & shadows were minimized. I was not riding two-wheels much, except a friends dirt bike, IN THE DIRT...which was not great for my back either.
I shut down my BMW repair business. I have never revived it, and don't intend to.
Most of my Airhead tools and parts were to be included with the 1984 R100RT ...IF the buyer wanted them. Those tools and parts were to be offered FIRST to the purchaser of the bike. The bike buyer thus got the choice of buying the several shelves-full of tools and parts ...or partially, or not. I would not sell the tools and parts separately before selling the bike. As it turned out, the buyer wanted the motorcycle and the vast majority of tools and parts ...all of which were stored for him at my shop until he wanted to pick them up.
The only tools that I initially decided to keep were the spring compressors; specialized shock rebuilding tools I made; the wheel balancing stand; the front fork dial indicator jigs; the transmission overhaul jigs; the rear drive overhaul jigs; a Walus gauge; and a few handfuls of certain washers, nuts and bolts; and, various things useful for me for my K bike sidecar rig. I eventually disposed of most of the jigs, and the rest was still here through 2012. The purchaser wanted just about everything I had left, even small hardware, even my collection of the cleverly designed and useful Ed Korn tools. I had a LOT of parts that went with the sale.
First, photos ...followed by extensive list of details.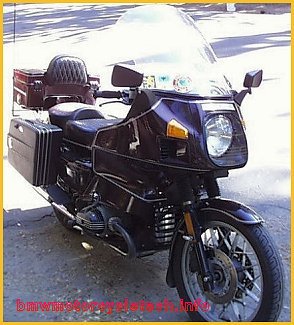 That's not a crack on the fairing ....just a reflection.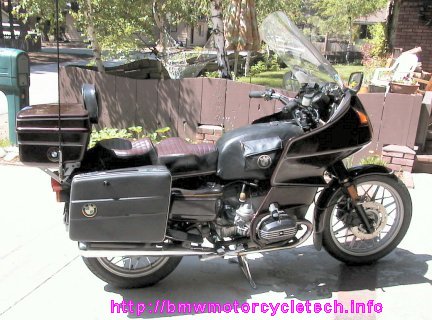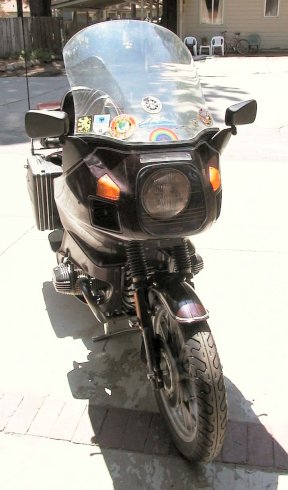 Yes, those ARE 'deer whistles' ...the motorcycle came with them. Deer Whistles do not work, never have, never will, no matter what some people think about them. I left them on the bike ...just Snowbum being his usual perverse self. There is an article about deer whistles on this website: http://bmwmotorcycletech.info/deerwhistles.htm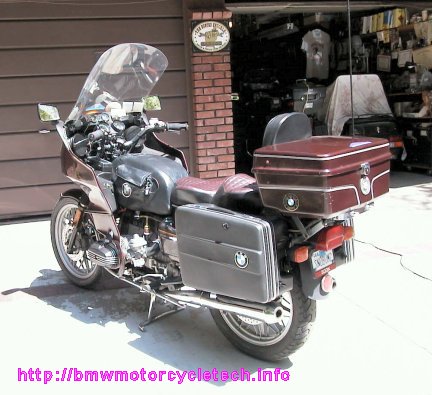 The Luftmeister trunk was on the bike when I bought it. The photos were taken in front of my Busted Knuckle garage at Lake Tahoe.
---
The sale included maintenance information, service bills, receipts, ownership records ...all going back to when brand-new. The motorcycle was serviced since new (before I acquired it) ...almost exclusively at Hansen's BMW, Medford, Oregon, a reputable shop. They rebuilt the rear drive splines, which they have an excellent reputation for; and did the top end job with (I think) the updated valve seats. They also did some sort transmission work (not sure what) ...all before I purchased the bike. I got quite deeply into the electrical's and many other things when I purchased it; ...to be sure things met my requirements for reliability.
Color: Some sort of brown ...I have the receipts for the paint when the fairing was repainted by the previous owner. I don't like the paint color. The new owner will probably re-paint it.
This bike has left and right Luftmeister side tanks, in matching bike color, which gives ~2 gallons additional; so total fuel is about 8 gallons; it is in 'my' type of closed system, so there is little or no smelly venting. If you are interested in Luftmeister auxilliary fuel tanks, there is an extensive article on them on this website: http://bmwmotorcycletech.info/luftmstrtanks.htm
I did a lot of things to the bike:
EnDuraLast permanent magnet alternator system:
I used this bike as a test mule for and during Euromotoelectric's development of the EnDuraLast system, so it has a full early version of the EnDuraLast, although not strictly installed as they originally or presently recommended (I helped develop updated instructions; and some recommended kit changes). The battery in the bike was the original flooded type that the bike came to me with, and up until mid-2011 it was still OK. I had been rigorously testing it for very long term. A brand-new Panasonic 28 AH battery was installed in late Spring 2011, for the new owner. The Bosch starter motor was getting tired. After agreement with the new owner, I removed it, overhauled it, including a new solenoid switch, overhauled the original solenoid switch too, and these items also went with the bike. The starter I actually put into the motorcycle was a new up-dated version of the Valeo, purchased from Euromotoelectrics.
Accessory sockets (DIN and American). Running lights conversion. Kisan headlight modulator. Panasonic radio AM/FM/TAPE, with Alpine co-axial in-dash speakers in mounts/boxes specifically designed for the RT and with earphones output also. This radio failed in September 2009, and I did not replace it, at the buyers request, who wanted his own electronics in the radio compartment, so an AM/FM radio with USB and SD card inputs was installed in August 2011. Whistler G1200 Radar Detector ...with output that was wired to the radio, earphones, etc. The bike came to me with this, but not the output wiring.
Late style main tank fuel screens ...and 4 external filters, one per each of 4 petcocks. Polished carburetor tops and BMW emblems. Pulse Air removed and capped. Modified shift linkage, so fits thick boots better. Excellent condition for the brake discs. Front discs are floating EBC types. Front and rear flaps. Modified rear fender for easier removal of wheel/tire. E.T.A. Passenger platform footrests (also included were the originals). Luftmeister large rear trunk and back rest with Reynolds rack/mounts ...the type that extends for seat opening.
"Tall" National aftermarket windshield, adjustable; properly mounted to the BMW as BMW designed it. Some hazing, etc, but useable. Will accommodate short and tall riders. This is no longer on the motorcycle, as the new owner purchased a new fancy/premium windshield, with contains a Gold Wing type vent, but it had yet to be installed when the new owner took the bike permanently away in January 2014.
Original side covers, painted to match (removed when the matching paint Luftmeister tanks were installed). Krauser bags in quite good condition, fully lockable. Louvered front grill as on later models for better alternator cooling, hardly needed with the EnDuraLast. Reynolds Ride-Off center stand. This had worn some on the bottom where it contacts the pavement, so the new owner had it welded up. I did not like the workmanship, so I removed it and cleaned it up and then re-installed it.
Brown side-stand. Fork Brace. Believed to have the Luftmeister Stage 1 Turbo Clutch. Bing alcohol proof carb kits ...which are properly adjusted, and they now DO work correctly. Carbs are up-to-date on maintenance, and will not need work for a long time. Tank cover; which also has side pockets and cloth Roundels. I've never taken this cover off since I got the bike. I think this cover was made by Mustang, and is no longer available except used, for $$. From the bike records it probably has the San Jose fork kit ...top springs, anti-bottoming springs, etc. .I'd not had to take the forks apart. The new owner intends to service the forks innards himself.
Mayer two-color seat ("Russell DayLong"). There is a small blemish on the seat, about an inch round, where, I think, a hot trouble-lamp touched it. I did a mini-fix there, but you can still see it. Throttle friction screw. Throttle Rocker. Deer whistles (I do not believe these things work, but previous owner had them on this bike when I got it, so I left them as a conversation piece, since everyone knows I think them worthless!). There is a deer whistles article on this website, http://bmwmotorcycletech.info/deerwhistles.htm.
At the time of the original sale, there were near new Bridgestone tires (with new tubes and balanced when I changed rubber) ...with lots of rubber left. I automatically always service the wheel bearings when I change tires ...that includes measuring preload and adjusting that, and greasing and new seals. The rear tires wore out after enough miles, and the new owner selected a new set of proper Pilot Activ's in inch sizes and had them shipped to me. I installed the rear, serviced the bearings and seals, and the same was to be done for the front when the front tire was more worn. The bike went permanently to the new owner before I installed the new front tire. I had intended to experiment with tire pressures, road surfaces and conditions, and then add the information to my article that covers tires, providing the bike was here ...but, the motorcycle left.
http://bmwmotorcycletech.info/section5.htm
Included: a rather complete set of tool tray tools, way beyond stock, and even a bike cover. See below on the other tools and parts.
DID NOT include my BMW mileage roundels that were on the bike. These were removed and put on my sidecar rig.
Maintenance since I purchased it was by me, Snowbum (you expected someone else? ), except for whatever minor maintenance, such as checking valve clearances, and removal of the center stand for first rework, and some fluid changes, done by the new owner when he had it on a long tour, and had it at his house in North Carolina, for awhile ...before it came back to me for quite some time.
I added, with purchaser's approval, lighter throttle pull springs. The throttle is a bit grumbly, so eventually the throttle tube will have to be replaced, probably with the associated cam gear.
Mileage, total since new: 99193, as of November 2013; when I put it into Winter Storage here. The valves are quite stable, the engine oil usage is practically zero. The bike was permanently taken away by the owner two months later.
In the original For-Sale article on this website, the following was part of the article:
""The bike tracks straight, rides straight, handles good. Because of the heavy-duty turbo clutch, the clutch has to be used a bit more gingerly than stock, until the engine warms up some. This takes a very short time to get used to ...the clutch is more positive than the stock type; yet the handlebar clutch lever effort is not high. When I purchased this bike it had several keys to operate the locks on the bags, trunk, ignition, etc. I never bothered converting to using less keys; and I had several full sets for the purchaser. Looks decent-enough, but is not a 100% 10 point garage queen…..an example of which is some "sand pitting" or something similar, on the front fairing LOWERS; that might have come from heat on lightly cured paint, not sure...and the left lower was repaired, messily, on the inside at the lower place it joins the bracket below the cylinder head;...a common problem. I think this should be cleaned-up some, but have not done it. The only other somewhat messy area is where the front fairing fork bellows affix to the fairing...the gluing is messy. The dash rubber cover has been removed, but I still have it & also have an extra front lower middle louvered cover for the purchaser. The bike burns no oil to hardly mention, burns cleanly on both cylinders, starts easily, and there is no metallic nastiness in the oil filter paper when examined, nor any on the magnetic drain plugs, etc. The bike is equipped with Nivomat rear shock units, which work OK. Whilst other rear shocks would give tighter handling, these are vastly more comfortable, which was what I installed, as I wanted them, considering my degenerative disc disease. The Nivomat's are usually considered to be just a self-leveling shock unit, but they are much more comfortable on bumps that do not involve excessive suspension movement. Because, primarily, of the Nivomat's, a small amount oil will be transferred from driveshaft housing to the transmission over some miles; worse going downhill in steeps; ...a minor unimportant thing, easily dealt with. The Nivomat's worked OK when the new owner rode the bike several times before taking it on a long trip, but one never knows about Nivomat's, they can lose their charge at any time. They were still working OK when the bike was returned to me in mid-September 2012, and still work OK. So, you might ask, what needed to be 'done' to the bike? Well, the front forks have not yet been serviced, since they work fine, but they probably are due for a fork oil change and bumpers removed. The fairing bellows that the forks rise up into will need cleanup and re-gluing. The windshield will be replaced; eventually the throttle tube and cam gears. ""
---
I wanted this bike to go to another Airhead nut. BUT, it should be someone who really wants to also get just about everything he/she might need (tools, parts, etc.) ...and who would AND COULD maintain it properly. I also really wanted to pass things along to a younger generation.
All of this was accomplished, and that is who it went to. The new owner is quite capable and has done just about every Airhead maintenance or overhaul, is a long-distance rider, and is of a younger generation.
---
WHERE WAS IT; WHERE IS IT ...and what's with it???
Short version: It was in my garage at Lake Tahoe; and I maintained it, and rode it occasionally; ...until early January 2014, when the long-time owner finally brought a trailer and picked it up and took it to his home in North Carolina.
In the below photo, the purchaser's trailer arrived, and was found to need some work. We fixed up lights for the trailer, added the metal storage box, and in the photo we have the wheels off in order to install new wheel bearings, and Bearing-Buddies. Two days later it was wrapped extensively in plastic film, and it all left.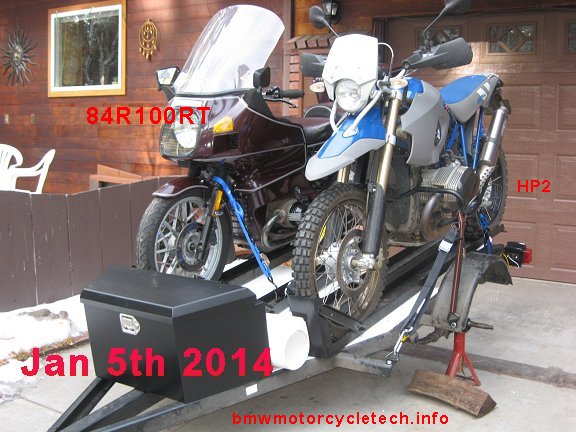 It is a more complicated, however, so here is the longer version:
The motorcycle was at my home at Lake Tahoe, California, for well over a year after it was sold. Our written agreement was that we'd share the bike, and I'd maintain it when it was here. Finally, it was picked up by the new owner, who is a friend of mine, title and registration transferred, insurance transferred (with me still on the policy as a Named Insured). The new owner then went touring on it in the USA and Canada, ...and the bike was left by him in North Carolina, where he usually lives. He then had business and personal reasons to return to his family home, which is in Australia. He expected to be gone for at least a year. In 2012 we discussed either having me fly East and pick up the bike and ride it back here; or, for it to be shipped to me. Since the costs to fly East, pick it up, and ride it to the West Coast, considering all expenses, was likely higher than shipping it, his decision was that it would be shipped, and back in my hands; which it was, mid-September, 2012. I live in snow country, and the street in front of my house eventually gets icy and the ice does not disappear until Spring, so I rode it some when the weather was OK; ....and then did a pre-Winter service, and stored the bike here over the Winter. Ufortunately, my intentions of riding the bike lots more did not work out for physical reasons, and also due to Penny's dislike of getting on and off the bike and especially of sitting behind me. I rode the bike much less than I wanted-to. I still feel guilty because the owner paid for the shipping of the bike to me.
I guess the best way to describe the agreement between us was that he eventually legally owned and had the bike registered to him, but we shared its use and maintenance, were co-insured, and the tools and parts were here at my shop ...up until January 2014. He had paid me for the bike and tools very much earlier.
It remained a California-licensed vehicle, and the owner wanted to keep my license plate as a sort of honor to me, SNOBUM2 ...so I transferred my license plate rights to him. He may have changed to SNDBUM by now, not sure.
The arrangement between the owner and myself worked out well. I think I got the much better end of 'the deal'; and, I would have preferred to put a lot more miles on it than I did.
When the motorcycle was returned to me, the owner had shipped along with it, new Pilot Activ tires, tubes, and special custom ventilated windshield. A Toaster-Tan top triple clamp came too. Eventually the new owner was expected to be here, install those things, we'd have some fun for a week or two, and he'd then take the bike. In the interim, he decided he had to have an HP2 ...I found a very nice one here at Lake Tahoe for him, purchased it for him, and it, too, was then kept in my garage, until he picked up both bikes, in January, 2014.
In late December 2013 the owner traveled from his home in North Carolina, to Reno, where he had earlier arranged to purchase a two-rail bike trailer, and then drove to my home, arriving just before Christmas with that trailer; which ended-up needing a lot of work. We worked together on the trailer, preparing the electrics and changing wheel bearings, installing a very large tool box, etc.. Both of us were not feeling well (bad cold/mild flu?); but, finally, the two bikes (The R100RT in this article, and the BMW HP2 that I got for him and had stored here), left with him January 7th, 2014 ...for the long drive back to North Carolina (in the WINTER WEATHER!). The R100RT, and the HP2, and just about every Airhead tool and part I had, as previously described in this article, all left with him. I think the new owner has completed the installation of the fancy windshield, installed a new fairing or lowers (I think he disliked, intensely, the lousy workmanship of the guy I purchased the bike from, in the left lowers), and probably a number of things. The new owner is pretty anal about things; so, while I have not seen (nor ridden!) the bike since he took it in January 2014, I imagine it is in superb condition.
I HAD NOT INTENDED to get another 2 wheeler, but just occasionally ride the Ninja 250 and 500 and a dirt bike that I have access to, when my back was up to it. I intended to do some vintage racing (don't ask on what bike). Things changed in Spring of 2015. I just could not stand not having an Airhead to ride for over a year ...so ...I purchased one ...a 1995 R100RT, and had it shipped to me from Minnesota.
Below is that 95RT, with the seat and windshield as received from the seller, photographed by him before it was shipped to me. That is NOT the seat I ended up with!...see further below on what I did about a seat.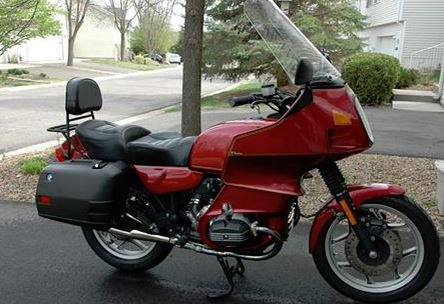 SO.....I made the 'final decision' that I would fix it up to what I wanted, and it would definitely be my last motorcycle; mine until I hung up the keys and quit riding 2 wheels entirely. I've made quite a few changes, and quite a bit of service was done by me (who else?). 100% in-depth service (and removal of everything rear of the clutch, for just one example). As things went, they went awfully slowly, for a variety of reasons, none of which had anything to do with work on the bike, besides my laziness, energy level, and life's responsibilities (such as my work with the Kiwanis). The results were that it was a year and a half before the "I'm done, time for a Test Ride".
One of these many changes was to try out a new idea for side-stand modifications, that worked OK. Details and photos of that experimental side-stand are in here: http://bmwmotorcycletech.info/FarleyBrownSurefoot.htm
The 1995 R100RT presently has a EnDuraLast permanent magnet alternator & Alpha ignition. It has BMW heated grips. I have kept the original alternator and ignition for the next owner. I installed special electrical outlets, 13" height Parabellum windshield (I cut down the taller Parabellum the bike came with, and I have the original owner's even taller windshield on my storage shelf (he was original owner, purchased it new, and he is 6'7" tall, and 38" inseam....). I've changed/modified a few other items, improving reliability, etc.
I left possibly the most important modification for last. This last thing was to modify the seat to fit me and my particular riding position, which is somewhat RS style (13" windshield was noted). The next photo shows a side-view of how the bike appeared for its 'finished' test ride, Nov. 13, 2016. Note the much lower windshield (It is Parabellum style, with a low air venting), different seat style, etc. I left the bags off for these photos. I sort-of hated to have the seat re-done because it was like new (see photo a few paragraphs above), but it would not be comfortable for me on a tour. The seat was removed and sent to Day-Long. They made it to my specifications. It is their Sport model, so the seat wings are softer and much less prominent and the front of the seat is narrowed from normal. That was done for help in reaching the sidestand, and side-gripping the seat with my thighs (I do like riding in a sporting mode!). I asked for a very high lumbar support, which is not overly clear from this photo. I need a side-view for you all. My longish test ride in November 2016 was wonderful.
The photo shows my usual tank-bag, electric heated vest controller mounted to the back of the tankbag, the extra-sturdy rear rack, etc. The motorcycle came to me with a BMW rear trunk and different rack mounting....I sold it all. This is not going to be a camping bike (except quite rarely)...as I have a sidecar rig for serious camping. Notice that the rear turn signal lights have RED lenses.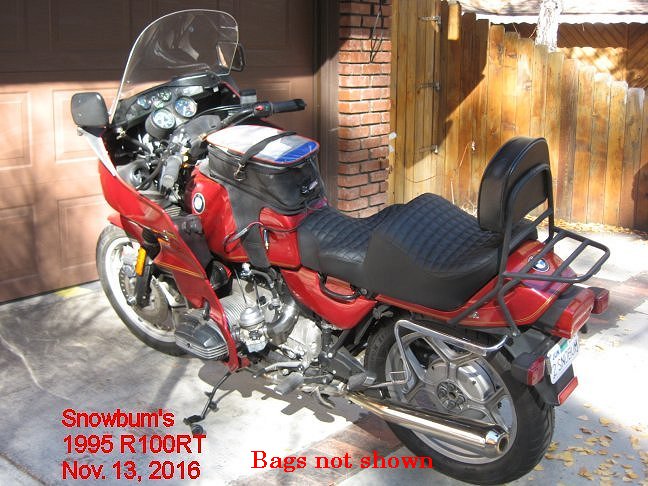 ---
rev: 04/02/2018

© Copyright 2018, R. Fleischer

Return to Technical Articles LIST Page

Last check/edit: Monday, April 02, 2018